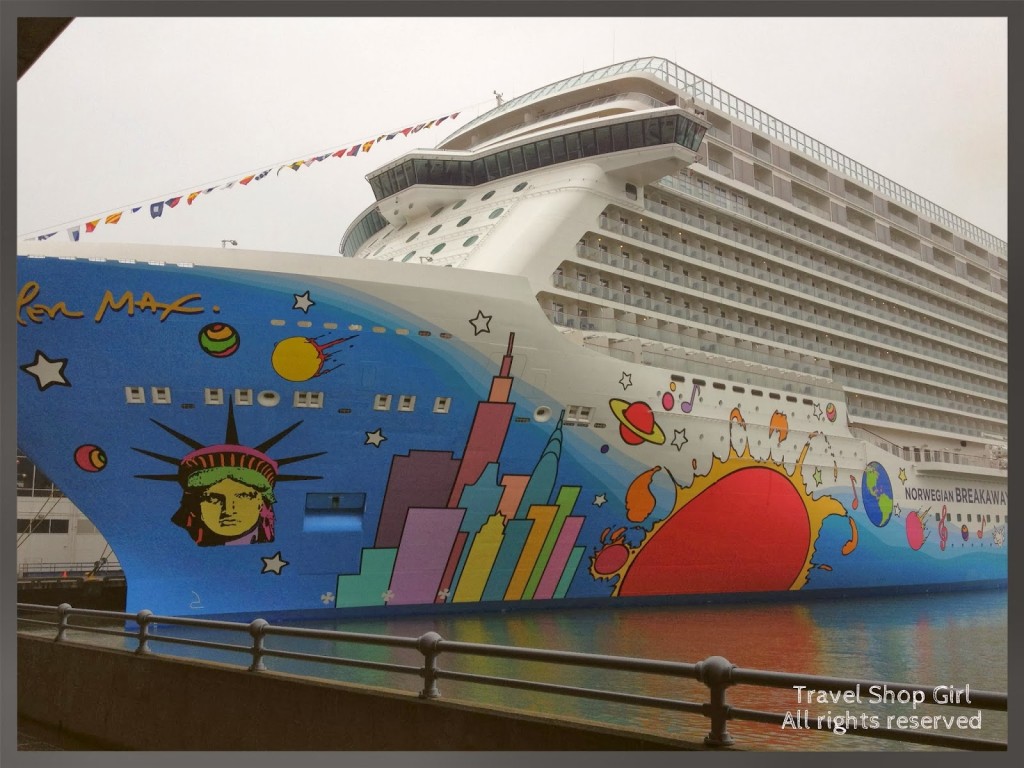 When Norwegian Cruise Line was thinking of a ship that would sail out of New York City, the natural fit for designing the hull's artwork was the iconic pop artist, Peter Max.  A world renowned  artist with paintings on exhibition in hundreds of museums and galleries around the globe, although Max has painted a Boeing 777 jumbo jet and a stage for the Woodstock Music Festival, this was his first ship. A tribute to New York City, Max's artwork is front and center on the new Norwegian Breakaway.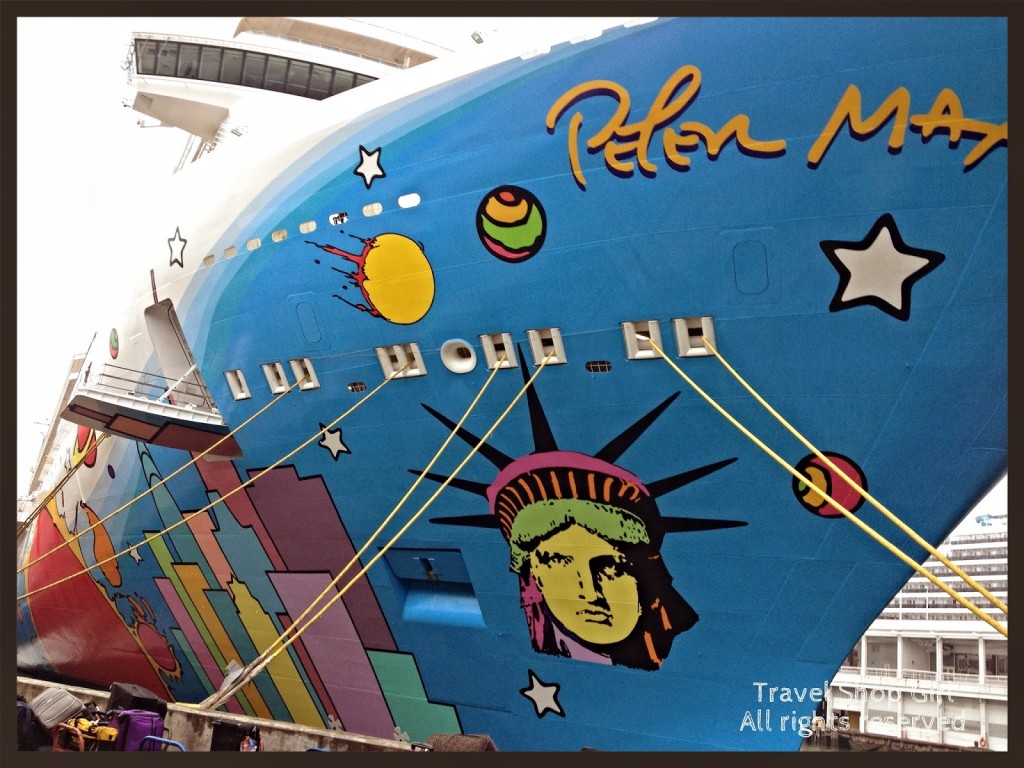 A tribute to New York City, Max's artwork is front and center on the new Norwegian Breakaway. The Breakaway is the largest cruise ship to home port out of New York City.  Her maiden voyage was on April 30, 2013 and she sets sail out of New York to Bermuda from May through September; the  Bahamas and Florida from October through April; 12-day Southern Caribbean cruises in January of 2014 and January and February 2015;  14-day Bermuda, Bahamas and Florida cruises in May 2014 and September of 2014; and 2-night sampler cruises in January and February.
Peter Max says that the artwork on the hull represents not only him and New York City, but also the universe as seen in the planets, sun, and stars above the skyline.
More specifically, Max said the following: "The artwork is a composite of New York City and cosmic imagery— the Statue of Liberty, the Manhattan skyline, a giant sunburst, planets, stars, and musical notes. That's my New York! And now Norwegian Breakaway is my New York cruise ship 'canvas.'"
If you're from New York or are familiar with Peter Max's work, then you will instantly recognize and appreciate the artwork on the ship.  The colors pop and work both as Peter Max art and the Norwegian Cruise Line brand. After all, Norwegian Cruise Line prides itself in pushing the envelope and trying something new.  They were the first to introduce a private island on the cruising scene, "Freestyle Dining," which allows guests to free themselves from set dinner times, and of course, "Freestyle Cruising," which means you can do pretty much what you want, when you want on your schedule, not the cruise line's.
Although the artwork has met with controversy (looks like a billboard, not classic enough, etc.), when you see the ship up close and personal, there is no denying that Peter Max did an outstanding job on his concept for this New York based ship.  Compared to other cruise lines that are massive white structures, the Norwegian Breakaway is easily identifiable and striking.
If you're lucky enough to book a cruise on the Norwegian Breakaway, you'll definitely enjoy this ship, both inside and out.  If you live in the New York City area and are anywhere near the Manhattan Cruise Terminal, you'll immediately notice this large, bright ship towering over her competitor's ships.  If not, come back and read other posts of the Norwegian Breakaway as I tour the public spaces and cabins.