Like big ships? Like brand new ships? The Norwegian Breakaway is Norwegian Cruise Line's newest ship that calls New York City it's home. With a passenger capacity of 3,969 and and overall length of 1068.3 feet, the Breakaway is the newest and largest ship embarking from New York City. I recently had the opportunity to tour the ship on November 17, 2013 and I took so many pictures and notes that there will be several parts to this review in order to cover the entire ship.
Upon arrival to Pier 88 at Manhattan Cruise Terminal at about 10:30 am, it was pretty much a ghost town. As I like to avoid unnecessary crowds, I would highly recommend arriving here at this time to get checked in for your cruise. Granted, they recommend that you show up at 11 am to begin boarding around noon, but clearly people were showing up before that time.
What a difference a few hours make! This is the same area at 12:30 pm when most of the people were showing up to check in and it was a zoo. When you consider that this is the beginning of your vacation, why not show up as early as possible to get it started? Your choices are that you can stay at home and clean, cook, talk to your in-laws, etc. or run down to the terminal to start your cruise.
After getting your cabin card, you can have your picture taken and then you'll either have to sit and wait or you'll be allowed to board the ship. If you'd like to see more exterior shots of the Breakaway, read my earlier post about the artwork on the ship done by Peter Max. You can also visit the Travel Shop Girl FaceBook page for more pictures, which will be up by the end of the week.
At this point you'll enter the ship on deck 7 with O'Sheehan's Neighborhood Bar & Grill to your left and the Box Office and Breakaway Theater to your right. The Box Office is a nice addition and is a dedicated area for guests to pick up their tickets to one of the many entertainment venues on the ship. Compared to other cruise lines that set up tables in public areas to distribute tickets, this is by far the most organized and professional looking way to get tickets.
The Breakaway Theater, in a word, is purple. Lots and lots of purple. Normally the theater has high impact with a big stage, tall velvet curtains, and tiers of seating. I was surprised at how the theater seemed to not fit with the overall ship in terms of design. The rest of the ship is modern and stylish while the theater seemed underwhelming. I can only liken it to a chain hotel's conference room where everything is the same from one hotel to the next. The stage itself is rather small and I get that it's not the only venue on the ship for entertainment, but it wasn't as extraordinary as you might expect. Additionally, it only seats 800 people so if there is a really good act you want to see, better get there early to find a seat.
Passengers have access to decks 5-18 with deck 5 being the bottom passenger deck. Looking down from deck 7 to deck in the Atrium, you can see the seating area around the large screen that is a Norwegian Cruise Line signature amenity. No matter what time of day, you'll see people sitting together watching a movie or sporting event. There are many things to do down on deck 5 besides sitting, but we'll get to that later.
O'Sheehan's Neighborhood Bar & Grill was first introduced on the Epic and was such a hit that it's also found on the Breakaway. Here you can enjoy Irish/American classics in a relaxed, pub atmosphere 24-hours a day. Best of all, this restaurant is included in your cruise fare although beverages, of course, are additional. It's also a great restaurant to enjoy as you first enter the ship if you're looking for something other than the buffet.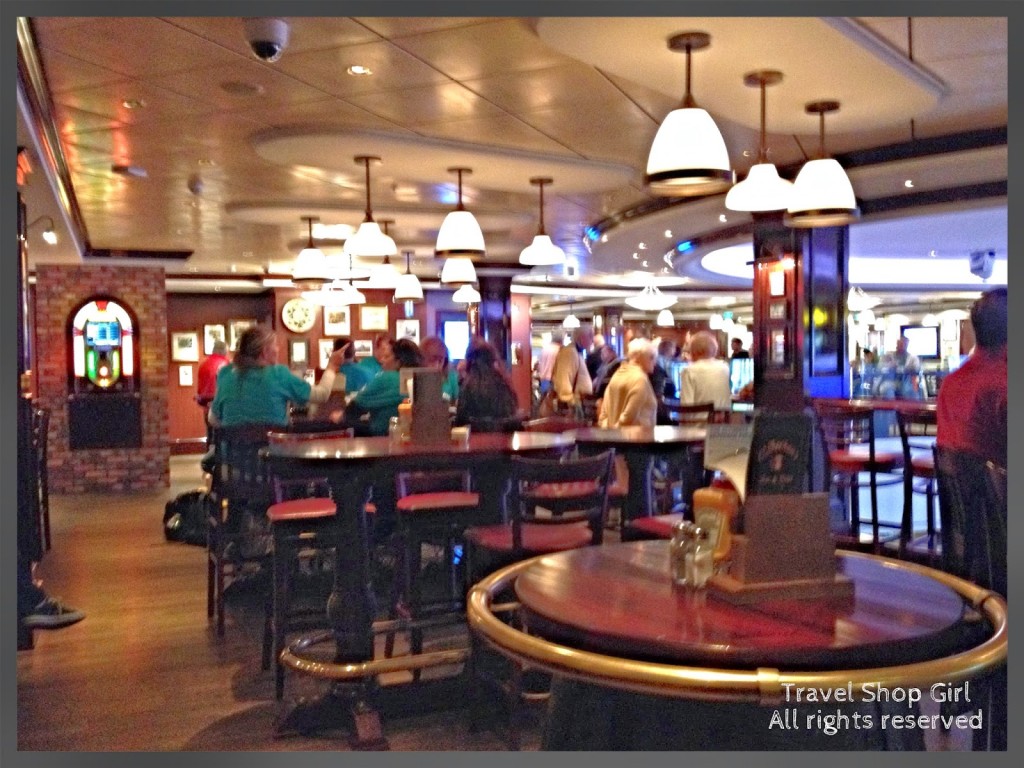 Named after Norwegian Cruise Line's CEO, Kevin Sheehan, the bar and grill wraps around the open area to the Atrium below and not only has a bar and a place to eat, but also has a bowling alley, dart boards, pool tables, and arcade games. The arcade features a range of games like the shooting fishing game for reward game you can find through sites similar to casino-vet.com.
In case you missed that, yes, I said bowling alley! Unlike the Epic, which has full-sized bowling lanes, the Breakaway has smaller lanes with smaller pins and balls. At $5 per game, it's still fun and entertaining so you'll have to decide if the smaller version will keep you away from playing a game.
From here as you walk across deck 7, there is another opening to the deck below with a large sculptural light structure that is not to be missed.
This part of deck 7 is the open Breakaway Casino, which has slot machines and table games similar to those on uk casino scratch. At over 18,000 square feet, it has 26 gaming tables and countless machines in this open casino. What that means is that in order to pass through to some of the areas on deck 7, you'll need to walk through the casino. While this is probably ok for adults, parents might want to ask if they'll walk their children through this area or if they'll even want them to walk through here unescorted.
Just past the casino is Bliss Ultra Lounge, a sexy little place to hang out. This picture, unfortunately, does it no justice as it was during the day when it was closed and the overhead lights were on, but it is super sexy. Here's what Norwegian Cruise Line says about it: "Cruise into the clubbing scene at Bliss. Dance to a different beat and feel the excitement as you walk through the lit tunnel to the illuminated bar. It's electric. Bliss is a top hot spot every night of the week. Experience it."
Opposite Bliss Ultra Lounge is Shanghai's Noodle Bar where you can sit at the counter and watch the chefs prepare authentic dim sum, fried rice, noodle dishes, and appetizers. The area where the chef's prepare the food is more toward the back of the restaurant and tucked away vs. on the Epic where it was at the very front. Priced a la carte, enjoy a quick bite or a meal at a communal type table with your fellow cruise guests.
The last stop on deck 7 is the Manhattan Room, which has impressive high ceilings and a dance floor, both of which make this is must visit destination for this cruise ship. One of the ship's three complimentary main dining rooms, it's designed like a private New York City supper club. I have to say it is one of the most beautiful dining rooms I have ever witnessed on a cruise ship.
Next up is the Fitness Center located on deck 15. To get there, you'll need to walk down a long hall decorated with artwork, but you'll absolutely agree that it's worth it when you see what's at the end.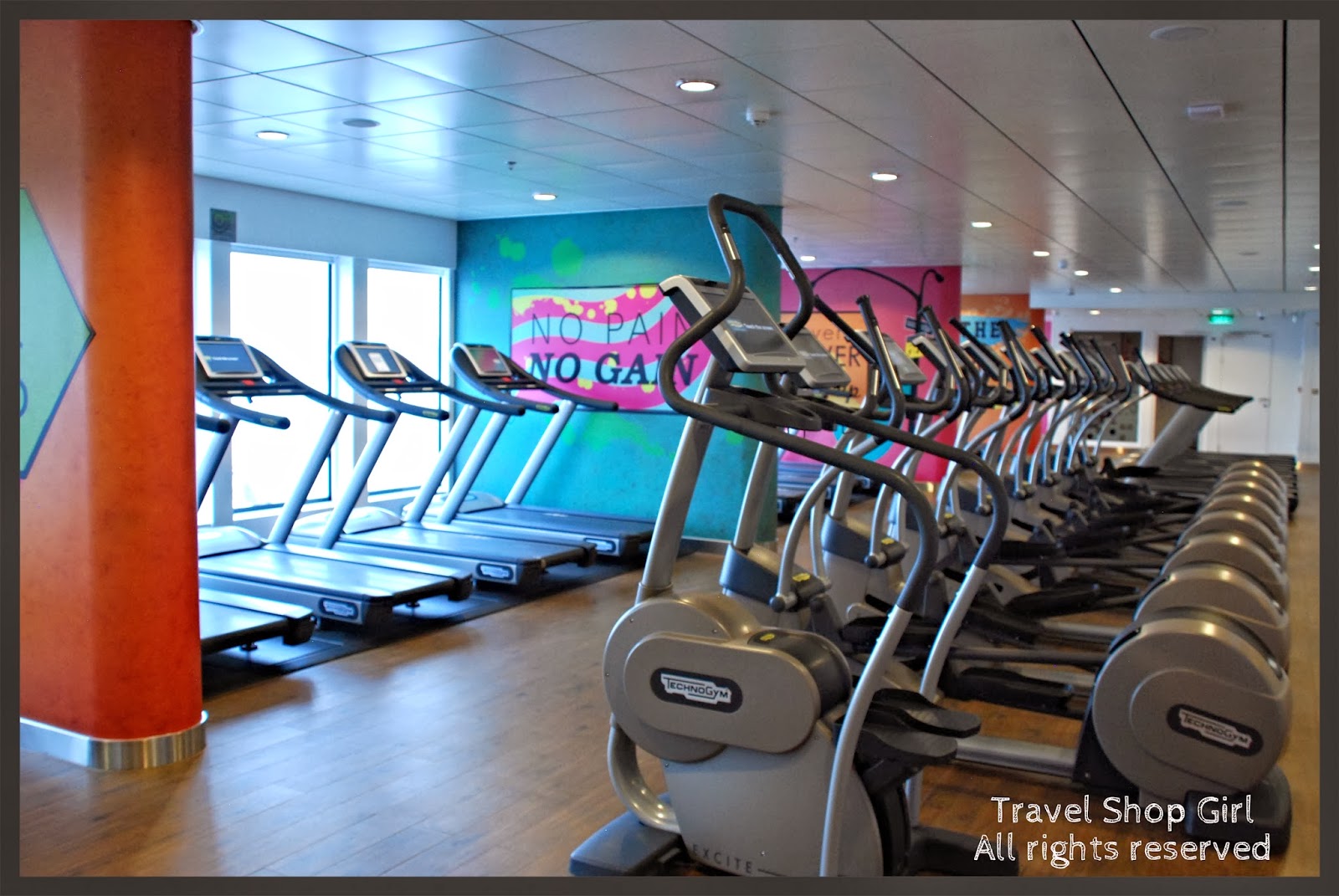 There are plenty of people who say they will use the fitness center on their cruise and never do, but believe me, I am now completely dedicated to working out on a cruise. So when I saw the layout of this fitness center, I was super excited! The area is divided into two rooms across the hall from one another. The first room is exclusively cardio with treadmills that face the windows as well as ellipticals and stationary bicycles. In addition to the cardio equipment, they also offer TRX training and fitness classes like aerobics, spinning, and kickboxing as well as an exclusive fitness class designed by The Rockettes® training team.
The second room is the weight room which, like the cardio room, is outfitted with equipment from TechoGym. What I like about this is that if you are doing cardio, you won't be distracted or interrupted by someone grunting while lifting. Yeah — you know who you are.
If you continue down the hall, you'll end up in the Mandara Spa, which includes a day spa, medi spa, salon, and barber shop as well as the first ever Salt Room at sea. The Mandara Spa offers over 50 treatments from hot stone massages to oxygen facials and age defying treatments, among otheres. Total square footage of the spa and fitness center is 23,000 square feet!
From here, continue outside to the pool area, which has so much to offer kids of all ages, including adults. Here you'll find two swimming pools and four hot tubs, which are great for relaxing with perhaps a beverage of your choice. For nearly 4,000 guests, this may seem like not enough pool options for everyone, something I can't comprehend that they didn't consider when they designed the ship.
If the pool is too tame for you, consider jumping onto one of the five multi-story waterslides located seventeen decks above water in the Aqua Park. If that's not appealing, you can always hop on over to Waves Pool Bar for a cool drink.
For the kids there's the Kid's Aqua Park, which is outfitted with Nickelodeon characters like SpongeBob and his friends. There's a shallow pool, squirting water, and lots of fun things to do for the little ones!
Can you believe that's a visit to only two of the decks onboard? There's so much more to see so do come back to learn more about this great new ship!