Whether you want to admit it or not, everyone has an idealized version of Hollywood in their minds.  Granted, I know mine is colored by movies and television, but I wanted to stay at a hotel that Hollywood starlets and even bad boy rockers would want to stay at as well.  When I found the Sunset Marquis between Beverly Hills and Hollywood in West Hollywood, I knew I had found the perfect hotel.
From their website:
For the past 50 years, Sunset Marquis has been the home away from home for actors, comedians, writers, artists, filmmakers, fashion designers, supermodels, restaurateurs, billionaire entrepreneurs, and the newest breed of entertainer when the hotel opened its doors in 1963: rock stars.
In a city where few careers last more than fifteen minutes, Sunset Marquis has prospered over five decades as a luxury Hollywood hotel. What started out as a well-kept secret on a secluded residential street has matured into a world-class destination with fine dining, luxurious suites and villas, a recording studio where dozens of Grammy-winning songs have been recorded, tranquil gardens, and one of the most notorious bars anywhere.
Sunset Marquis is 3.5 acres of Mediterranean oasis nestled on a hill just off The Sunset Strip, featuring casual luxury, an accommodating – and might we add discreet – staff, and a history that is the stuff of legend. "Party like a rock star" has become a cliché, a song lyric, and even an energy drink, but at Sunset Marquis, you can relax, dine, create and rejuvenate in the place where the phrase was invented. And at our West Hollywood hotel, you can even park your tour bus underground, if you happen to have one.
Located on a quiet side street in West Hollywood behind a modest and unassuming exterior, The Sunset Marquis is the perfect hotel to stay at to get away from the hoards of paparazzi.  If you're unfamiliar with this area, let's just say that you're only steps away from the Sunset Strip as well as legendary venues such as the House of Blues, the Comedy Store, Viper Room, and Whisky a Go-Go.  Location is everything!
Alta Loma Road is a sublimely peaceful street conveniently situated between Sunset Boulevard and Santa Monica Boulevard.  Although we had a car, we couldn't resist walking the area as well as going out for a morning run nearby.
We left our car with the valet who took care of our car and bags while walked toward the entrance and into the hotel.  The wide open space and the wall of glass make the entrance inviting, especially as you can see straight through the lobby to the pool area.
Here is another view of the lobby looking out to the street.  The lobby is always light and bright, whether lit with natural light or at night with perfect ambient lighting.
On one side of the lobby is the Morrison Hotel Gallery, a gallery full of fine art photography from an archive of world class music and sports photographers.  Photographs are displayed throughout the hotel in public areas and are for sale.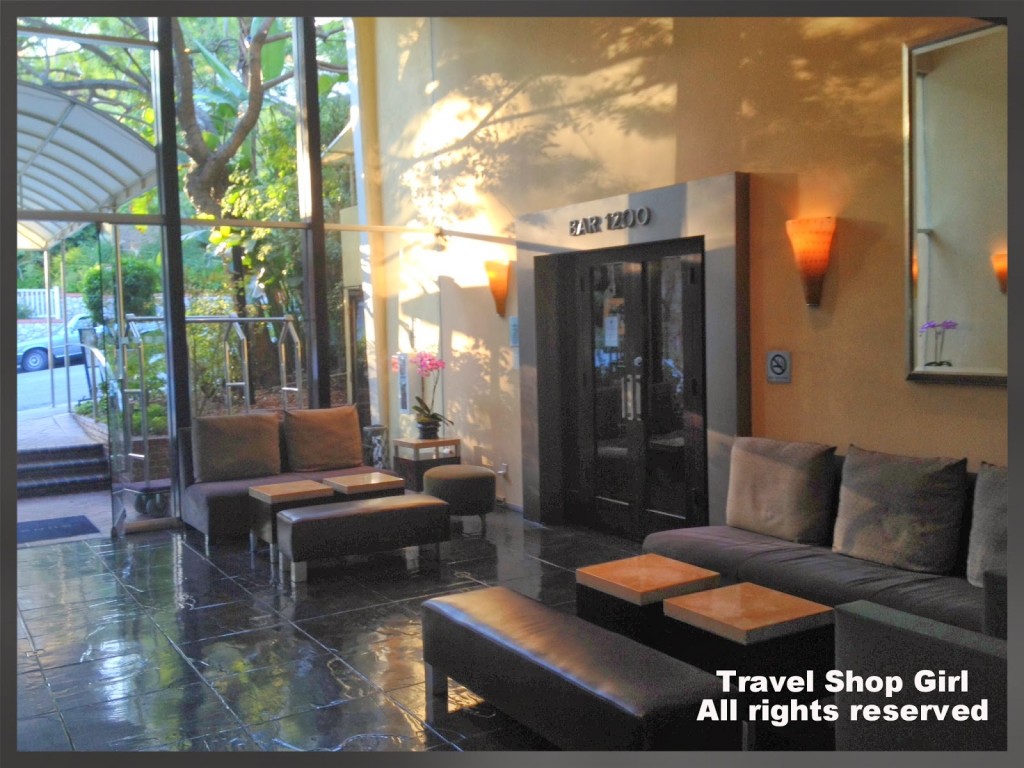 Across from the Morrison Hotel Gallery is Bar 1200, which the hotel has groomed into a local bar and not just a hotel bar.  Seating an intimate 40 people inside and 25 in the patio, Bar 1200 has a history of amazing stories of guests who have imbibed a drink or two with musicians, models, and Academy Award winning actors, directors, and writers.
Later that night we enjoyed a drink in the bar and were lucky enough to watch the Red Sox play the Detroit Tigers in the American League championship game, which they won.
Walking toward the front desk you'll also find the Concierge office on the left.  From their website:
It's no exaggeration to say that over the course of 50 years of catering to the needs of "creative types," there's little our concierges haven't seen or have wished they hadn't seen as they turned their head and closed their eyes while cringing. Concierge services at Sunset Marquis are an art form. Seriously, these people pride themselves on being able to secure virtually anything not prohibited by local, state, or federal law. And apparently there are places Homeland Security won't let you fly a helicopter. But other than that, our team and the hotel's network of restaurants and industry movers and shakers really do lend us the opportunity to get just about anything done from restaurant reservations to Hollywood Bowl, Greek Theatre and LA Live tickets.
Feel like a rock star when you check in and the staff discreetly checks you in and ushers you quickly to your room.  While we aren't rock stars, it's nice to know that we still can be treated like we are.  Every single member of the staff at Sunset Marquis was so incredibly friendly and professional that it felt like we were receiving extraordinary treatment from people we already knew, if that makes any sense.  When I say that the staff, especially Logan the bellman and Roxan at the front desk, is genuinely amazing, it's absolutely not an exaggeration, but the truth.
I couldn't help but sneak a peak at the pool area, but once I did, I really didn't want to go anywhere else.  Can you blame me?  Does this not look like a scene from an amazing movie?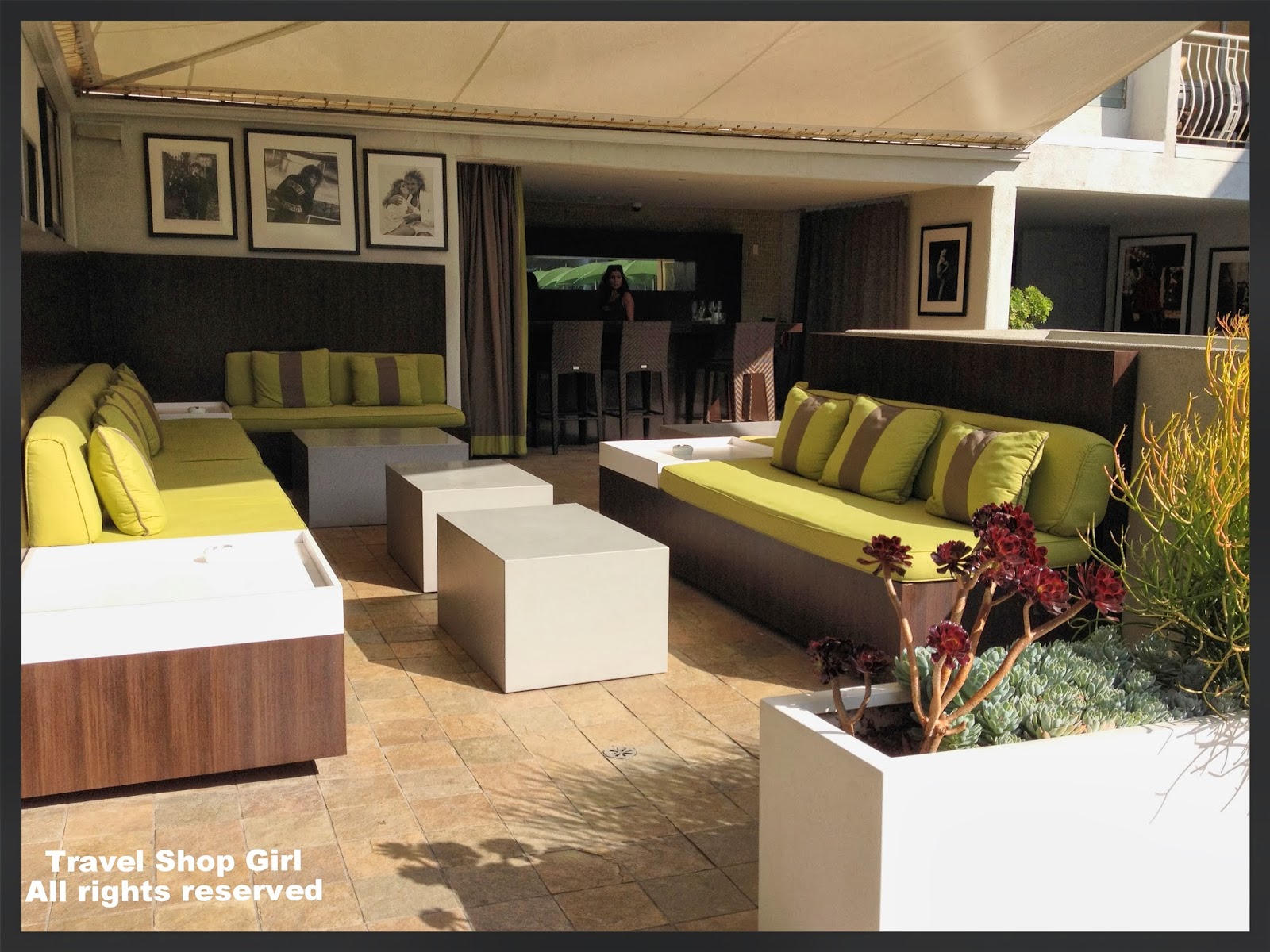 I was tempted to sit down and have a drink and forget about the rest of my trip, but my husband, in his infinite wisdom, brought me back down to reality and we hurried onto our room and no, I didn't detour directly to the on site Spa.  Yes, they also have a full service 1,800 square foot Spa on property where they offer, you guessed it, Rockstar Spa Services.  You can view the menu of services here for things like the Body Tune or the Syncopation.  Don't want to mingle with others? In room services are also available.
After lusting for the pool, we wound our way through the halls to our room.  The hotel has a wide array of room types available from their 152 suites and villas.  Choose from the Junior, One-, and Two-Bedroom Suites to the Villas (Junior, One- or Two-Bedroom, Hospitality, and Presidential Villas).  I had chosen the Junior Suite, which I can say without a doubt was quite expansive at 480 square feet.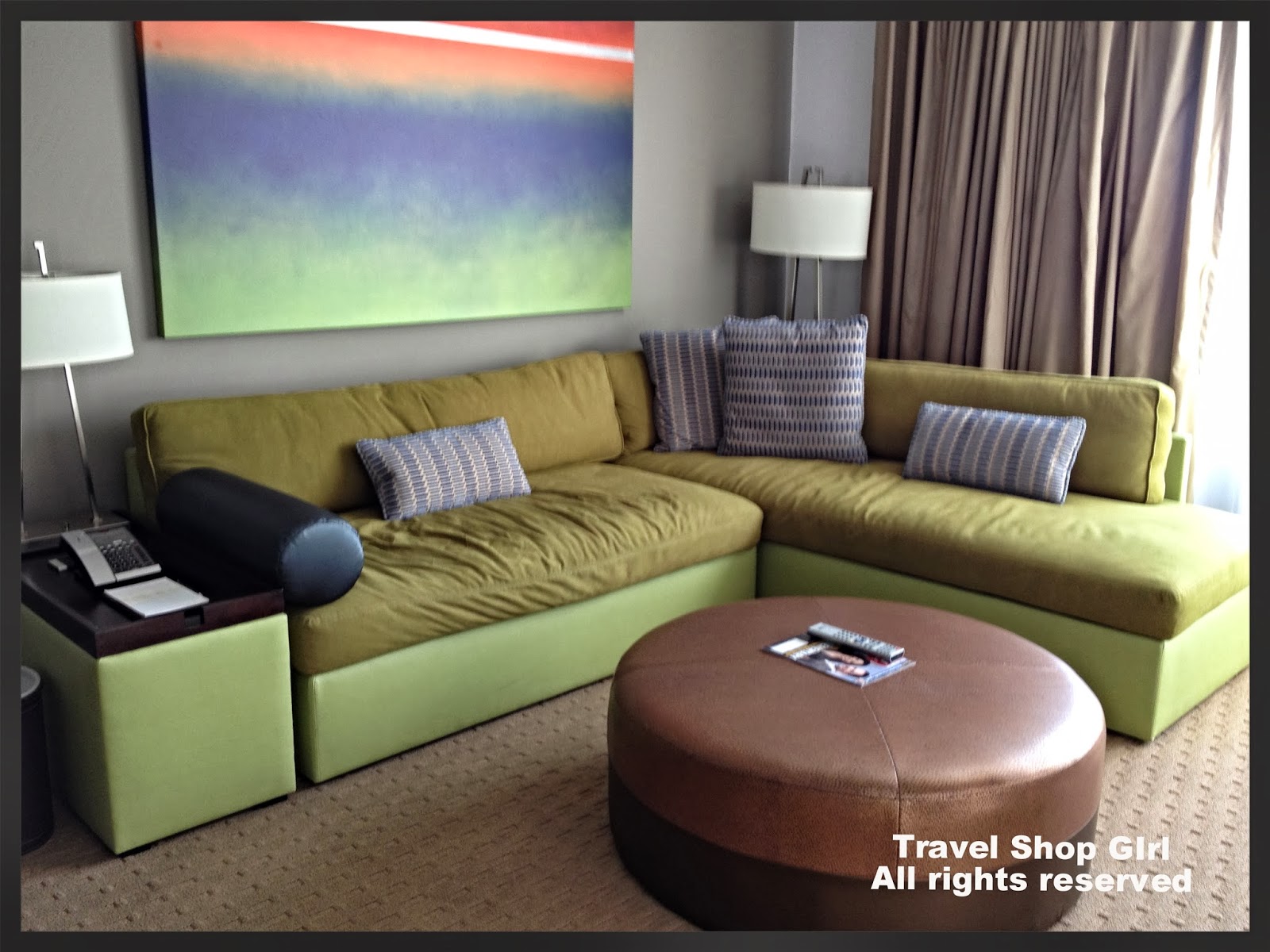 The Sunset Marquis says that the Junior Suites are best described as studio apartments, but let me tell you, I've never had an apartment this nice.  Relax on the large sectional and watch the super large HDTV on the opposite wall after a day of poolside relaxation.
Want to sit and have something to eat?  No need to go far with the dining table and chairs next to a granite countertop with sink, honor bar, and refrigerator.  Whether you bring food back, order room service, and relax with a bag of nuts, it's up to you.
The room is stocked with an assortment of snacks and goodies in case you can't control your late night munchies.  If you don't want to pay hotel prices for M&M's and nuts, if you walk about a block away to the nearby 7-Eleven or CVS where they sell wine and liquor, too, you can easily stock up on goodies.
The bedroom features a luxury pillow top king size bed with luxurious frette bed linens.  You literally sink into the bed, that's how soft it is!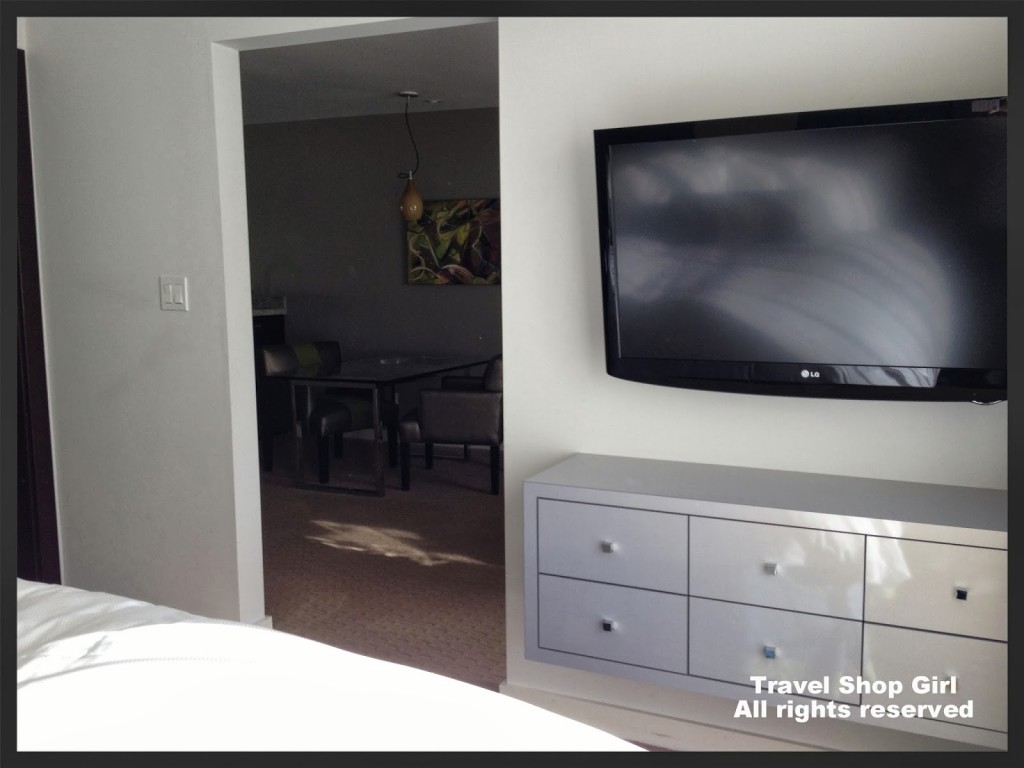 Another large HDTV is mounted to the wall opposite the bed and there are multiple phone lines throughout the suite as well as high-speed internet.
After we had gone out and returned, I noticed that housekeeping had come in and turned down the bed.  There is twice a day housekeeping, which is always a nice benefit.  I loved the breakfast menu, chocolate, and the weather forecast for the following day left on the bed.
The bathroom has a large two sink vanity and tub and shower with bathrobes and even a scale.  The vessel sinks were beautiful, but also functional, something that often doesn't go hand in hand.  The rain style shower head against the green glass tiles in the shower made for a relaxing shower overall.
From the bedroom, you can walk out onto the balcony overlooking the pool area.  The hotel is currently renovating their suites and as such, you might see that work was continuing on the suite opposite us where there was cardboard in the window.  I didn't hear any noise, which was good.  The night we were there I learned that a wedding reception was taking place and that they were probably going to be partying into the wee hours of the morning.  Again… not a sound was heard from inside our suite.
The glass on the balcony was private enough to allow you to sit with a drink at night or coffee in the morning and just relax.
Here is a panoramic view of the courtyard area with the pool.  Even though we could look down on the pool area, I think I only heard people down there for short time before it was quiet again.  I wouldn't say that this is the kind of hotel that you have to be extremely quiet at, but I will say that it is definitely not a hotel for those on Spring Break.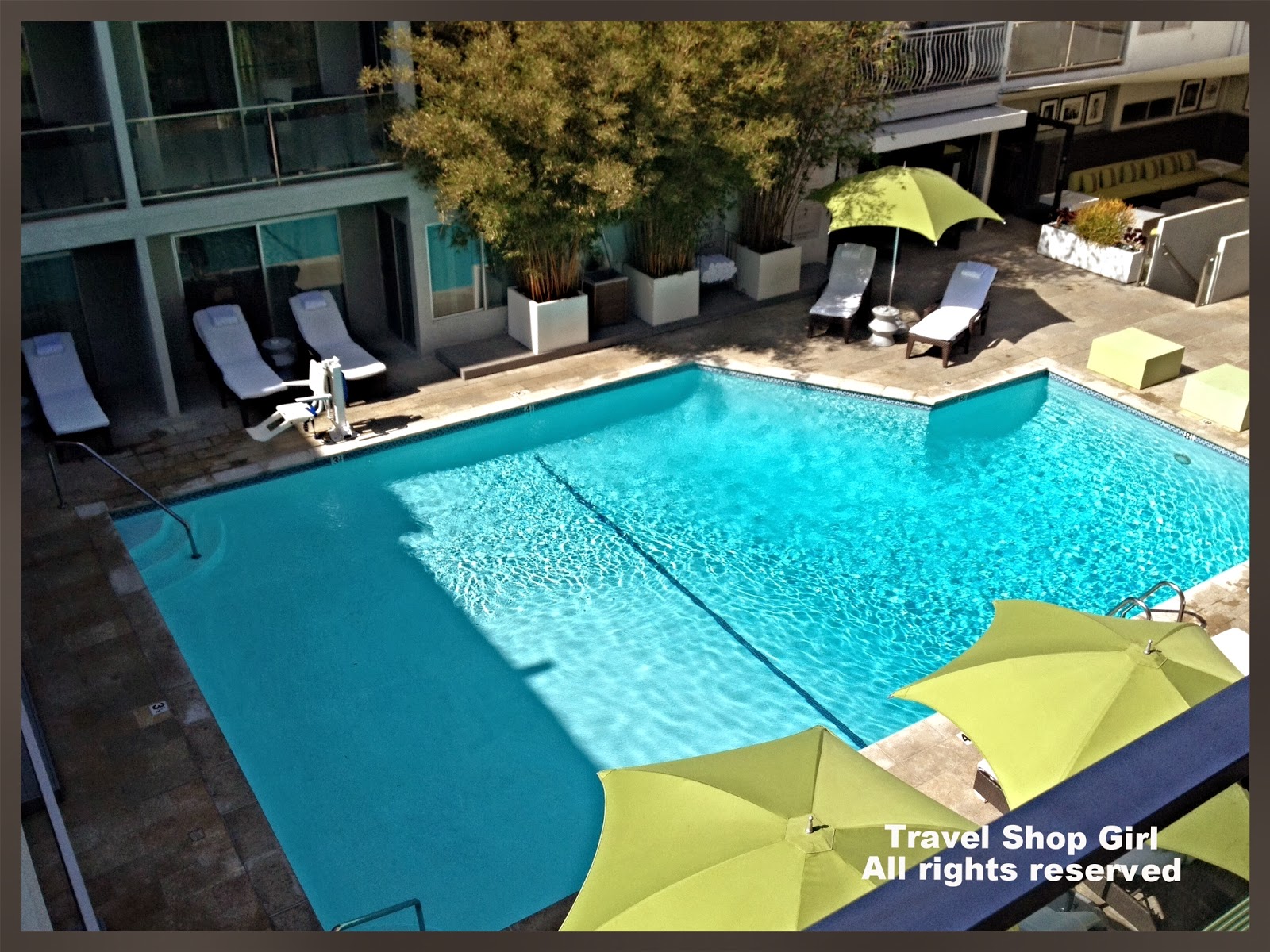 Basically, the pool area is the heartbeat of the hotel as it is at the very center of the courtyard and anyone who wanted a drink, sunshine, and a few hours of relaxation poolside knew exactly where to go.
With the time difference from Boston to Los Angeles affecting me, I woke up way too early the next morning to discover the sun was rising.  But I also discovered that the full moon waiting to greet me.
Whether you're a rock star, supermodel, or a traveler that likes to have a great experience, the Sunset Marquis is a great hotel that offers clean and spacious rooms and an inviting and extraordinary atmosphere.
Sunset Marquis 
1200 Alta Loma Road
West Hollywood, CA 90069
Web site: www.sunsetmarquis.com
RESERVATIONS Toll-Free: 800.858.9758
P: 310.657.1333
F: 310.652.5300