Perhaps you're like some people who when they think of food and Las Vegas, they immediately conjure up images of buffets. But that's the Las Vegas of old people. Today, celebrity chefs are everywhere offering up their take on the latest and greatest culinary finds. I had a chance to try a few different options for dining at The Cosmopolitan Las Vegas.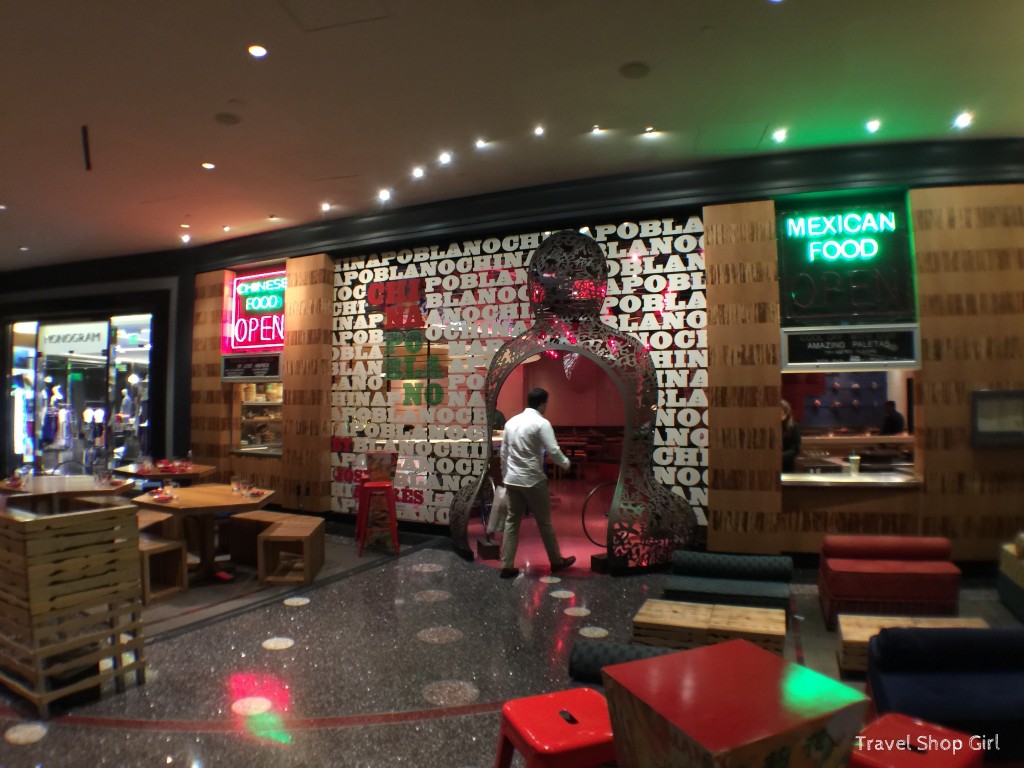 China Poblano: The amazing and innovative Chef José Andrés showcases his personal take on Chinese and Mexican cuisines. The setting is modern, funky, and inviting.
When you step inside, your eyes will be in for a treat with all of the color, lights, and art displayed throughout the restaurant.
BEVERAGES: When you take a look at the menu, let your eyes first settle on the drink menu.  (You can thank me later). I chose the "Salt Air Margarita," a José Andrés personal creation with fresh lime/salt "air" and it was divine. It was a perfect margarita without being too light or too heavy on the tequila and the weightless and frothy  "salt air" made salted rims for margaritas seem so passé. Mr. TSG opted for the server's cocktail recommendation, "The Orient," made of Hendrick's gin, basil, ginger, Szechuan syrup, and lime. If you like gin, then you'll definitely like The Orient. To round out our drink selection, we decided on a tequila flight from the extensive tequila tasting menu with its accompanying Sangrita to cleanse the palate in between each sip. The drinks alone are worth a trip here.
FOOD: While we could've chosen from either the Mexican or Chinese menu, we did gravitate exclusively to the Mexican menu. Food came out as it was prepared and the first item ordered was a Refried Bean Taco, of which there is no photo as it was downed before I could grab my phone. Next up was the insanely delicious Chilaquiles made with green tomatillo salsa and Menonita cheese. Let's just say after the long flight from Boston, I was all about the Chilaquiles and my margarita and didn't want to share. Last up was Mr. TSG's choice, the Papas Fritas with Mole Poblano. Despite my explaining to him that "papas fritas" is nothing more than french fries, he had to have it. This dish was good as french fries go, but he definitely enjoyed every last bit of it. Our last item served was the Hongos Taco with sautéed mushrooms, rajas (roasted poblano strips), and guacamole. This was definitely another great item and I could've eaten several.
Between the decor, food, and service, you should definitely stop in and enjoy a meal or at least a "paleta" (fresh fruit ice pop) from their window at the front of the restaurant.
Holsteins: How can you pass up a restaurant with a cute cow in the window wearing a skull bow?
If you're looking for a tasty burger place, then look no further. Holsteins (Shakes and Buns) was born from Las Vegas restaurateurs Billy Richardson and Chef Anthony Meidenbauer of Block 16 Hospitality and "tailor-made for The Cosmopolitan of Las Vegas with an emphasis on fresh, natural and organic ingredients." It's kind of a burger bar with "the funky, homegrown attitude" of the Las Vegas Strip.
While I appreciated that they had an "Urth" Burger (vegan patty with lettuce, tomato, cucumber, sprouts, and avocado) on their extensive burger menu, we specifically made a detour to Holsteins to try their Bam-Boozled Shakes. "What's that?" you ask. Take what you love best about a milkshake and make it an adult shake with the addition of some alcohol. It's so Las Vegas!
I succumbed to the Vegan Coconut Raspberry Shake (coconut sorbet, raspberries, Skyy Raspberry Vodka, 3Olives Coconut Vodka, toasted coconut marshmallow, and soy whipped topping), which was as decadent as it sounds. Now keep in mind this pit stop was all Mr. TSG's doing and I was along for the ride because I'm not much of a milkshake kind of girl. I loved that they had a vegan version, which was rich and creamy, but had only about half. You can guess who finished it after he had his Pecan Turtle Cheesecake (cheesecake, caramelized pecans, dark chocolate pieces, caramel sauce, chocolate swirl, and Stoli Salted Caramel Vodka). After drinking these shakes you'll be induced into an alcohol milkshake coma, but you'll be happy.
Secret Pizza:  Shhhh…. Don't tell anyone about this place or it won't be a secret anymore. Yes, there is a secret pizza place inside The Cosmopolitan Las Vegas located on Level 3 near Jaleo restaurant. You won't see signs indicating there is even a pizza place here. You just have to be in the know. Look for the hallway next to Jaleo and keep walking.
Then at the end of the hallway you'll see this pizza restaurant that serves what some say is the next best thing to NY pizza. It's good pizza, but you know how I feel about this topic as the only good NY pizza is pizza in New York. 🙂 But if you're hungry and want to grab a quick slice, nothing beats this place.
With more than a dozen different restaurant choices to choose from, The Cosmopolitan Las Vegas offers guests and visitors to their luxury resort the best culinary offerings possible.
The Cosmopolitan of Las Vegas
3708 Las Vegas Boulevard South
Las Vegas, NV 89109
(702) 698-7000
Website:  www.cosmopolitanlasvegas.com
Have you tried any of the restaurants at The Cosmopolitan Las Vegas?