All good things come to an end and so it was that May 22nd was to be my last port day on my 4-day cruise on the Norwegian Sky.  This was my first time to Norwegian Cruise Line's private island, Great Stirrup Cay, in the Bahamas.  Did you know that it was Norwegian Cruise Line that came up with the concept of a private island?  They were the first to purchase an island in the Bahamas way back in 1977 and all other cruise lines quickly followed suit.  Considered an "idyllic sun-drenched private island paradise" by Norwegian Cruise Line and covering 250-acres, I was excited to sit back, relax, and do absolutely nothing.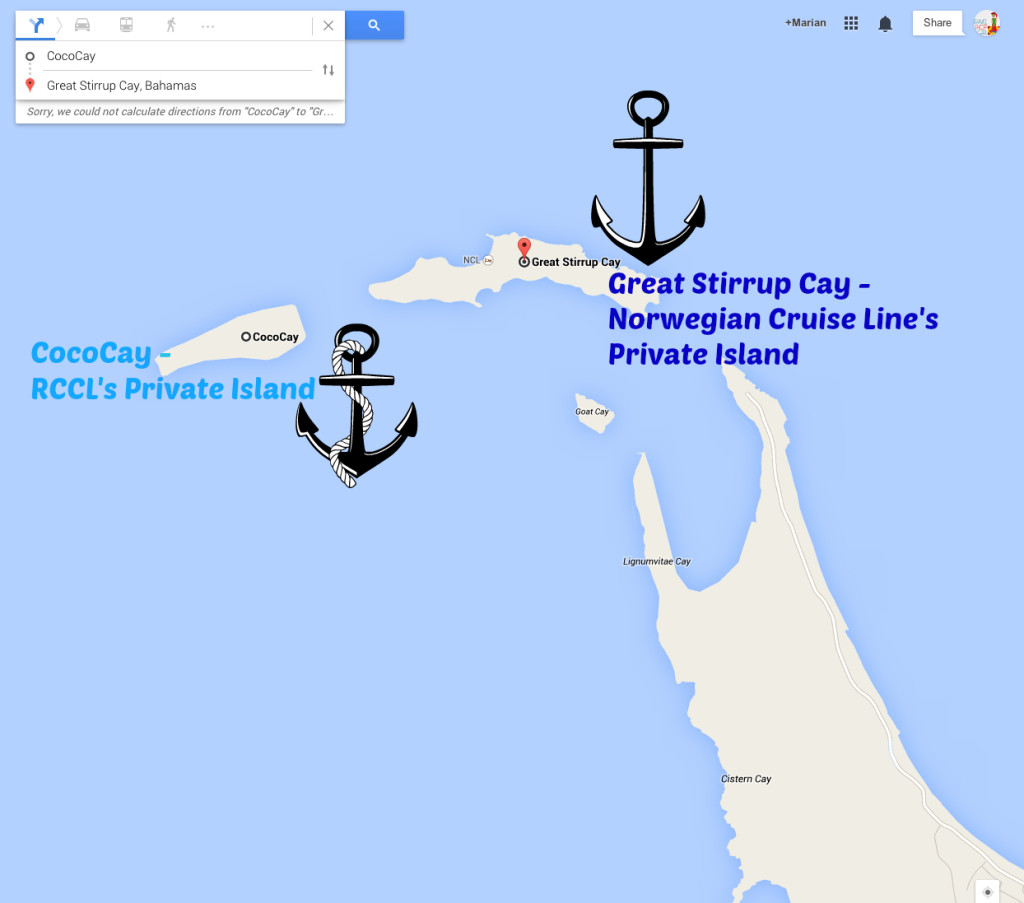 Here you can see how close Great Stirrup Cay is to Royal Caribbean's private island, CocoCay.  While at Great Stirrup Cay, I could see another ship anchored off in the distance, but it wasn't a Royal Caribbean ship. Instead it was the Carnival Fascination so I thought I was near Half Moon Cay, Carnival's private island.  But that wasn't the case as apparently Carnival and Royal Caribbean have an agreement that allows Carnival to use CocoCay on some of their shorter cruises.  If you're sailing on Carnival and one of your ports is Little Stirrup Cay, looks like you'll be visiting Royal Caribbean's private island.  This isn't the first time I've seen a private island get a name change. Last December I visited Little Salvador Island while on the MSC Divina, which is usually known as Half Moon Cay, Holland America's private island in the Bahamas. Confused yet? 
Unlike a large port of call, to make your way over to Great Stirrup Cay, you'll need to board a tender, which is a boat used expressly for the purpose of transporting passengers from the ship to the port. With over 2000 passengers onboard the Norwegian Sky and the sun and sand beckoning to all of them, I was intent on getting over to the island on the first tender. 
TSG Tip:  Most passengers won't be up early to get on the first tender, which means you'll have to grab a tender ticket and be told what time you can venture onto the island.  No matter what beach I'm going to, I like having the choice of where I will lounge for the day so I drag myself out of bed early to be one of the first there.  For fair skinned people like myself, I can then avoid the intense mid-day sun if I so choose.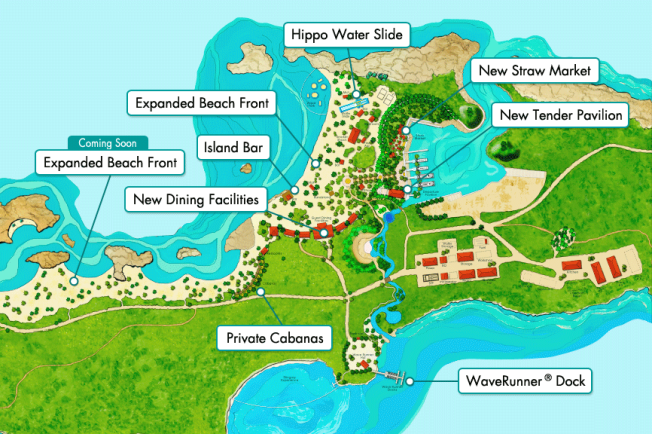 It was only a few years ago that Norwegian Cruise Line invested more than $20 million to upgrade the island with a variety of enhancements including an expanded beach front, island excursions (wave runners, floating Aqua Park, kayak tours, eco-cruise, stingray encounter), additional dining and bar facilities, private beachfront cabanas, a straw market, and a new children's area.  Additionally, they excavated and created a new entrance channel for tenders, marina basin, and arrival area with welcome pavilion.  
With only a few minute ride via tender to the island, it took me not time at all to make my way through the entrance and right onto the beach.  
TSG Tip: Remember to bring your pool towel from your cabin, sunscreen, money, and your cabin card. Only bring money is if you intend to buy souvenirs from the Straw Market.  For everything else you can use your cabin card for purchases such as drinks from the bar or excursions. 
Cruise line private islands are an extension of the ship, which is why you won't need to worry about food or safety while on the island.  The island is staffed by cruise ship employees and maintained year round to all of its pristine glory.  
TSG Tip: If you've stress about every facet of your cruise and what you're going to do in each port, this is the port where you can actually relax and know that you can relax and enjoy yourself.  This is the ultimate of all beach days as food will be served and won't cost you anything and if all you want to do is lounge on the beach, you can do that undisturbed.  
Always looking to be different and hoping for a little more privacy, I did what I always do and kept walking past the entrance to the farthest point on the island near the Hippo Water Slide, the world's largest inflatable water slide at 40′ high and 175′ long.  From here I could see the ship in the distance and I also was within a short walking distance of the restrooms and one of the island's bars. 
TSG Tip: Whether at a cruise line's private island or any beach, never choose a seat near the entrance as this is what every other beach guest will do as well.  Instead, keep walking for a while and you'll end up with more space around you and maybe a more peaceful spot on the beach. 
Once I picked my chair and got comfortable, I popped in my earbuds in and relaxed.  It's not often that I get to do absolutely nothing but sit back and listen to music.  The day started off slightly cloudy, but by afternoon, most of the clouds were gone and the sun was hot and as intense as one would expect it to be in the Bahamas. 
The beach at Great Stirrup Cay is well maintained as is the entire property.  Be warned that the water in this particular area can be rocky so consider bringing water shoes as this is the side of the island used for snorkeling.  On occasion I would jump in the water to cool off and once while trying to avoid an area of rocks, I discovered that it wasn't rocks I was looking at, but a school of quite large fish as they moved out of my way. They moved and so did I!  Yes, I'm slightly ichthyphobic!  The last picture above is of one of the island's private cabanas that you can rent out for the day on the other side of the island.  
TSG Tip:  Great Stirrup Cay offers both large and small cabana rentals to its cruise guests.  Cabanas include complimentary floating mats, bottled water, chips and salsa, and a $50 food/drink credit which can be used on the special cabana menu.  The small cabana accommodates six people and the large can accommodate 8.  Every cabana comes with a server for drinks and food.  Book early online to ensure that you can grab one of these cabanas before they are all scooped up!
On this particular day despite having enough suntan lotion to take care of a family of four, I could feel the beginning of a sunburn developing on of all places, my eyelids.  I called it a day and decided to head back to the ship.  When you're ready to leave, walk back and board a waiting tender.  It's as simple as that!
TSG Tip:  Although you might be ready to leave, the tender won't leave until it has a certain number of guests onboard.  If you're already feeling red from the sun, I highly recommend that you not sit on the upper deck as you can wait a long time in the hot sun before getting back to the ship. 
On the way back to the ship on the tender, I was able to get this picture of the Carnival Fascination off in the distance.  While you can see the other ship, don't worry as they aren't close enough to Great Stirrup Cay and besides, they're having enough fun on their own private island. 
While I was ready to get back on the ship and out of the sun, I was a little sad that my time in the Bahamas was already drawing to a close.  How I wished that my 4-day cruise was longer!  The only way I knew how to get over my sadness was to snap more pictures of the beautiful blue water. Hopefully, the pictures will convey what I was feeling in the moment when I look at them again in the middle of a cold and snowy winter next year.
This slideshow requires JavaScript.
As the tender approached the ship, I couldn't help but take pictures of the Norwegian Sky from all angles. Here are a few of them combined with a few from when we first left in the morning.  
My short cruise adventure on the Norwegian Sky is coming to a close so in my next post I will wrap things up with my final thoughts on my cruise.