My four day cruise last month on the Norwegian Sky came at a perfect time.  I was itching to travel and it was a deal that was simply too good to pass up.  But a short cruise is just that: Short!  Here are some of my final thoughts about my cruise. 
While Norwegian Sky is the oldest and smallest ship owned and operated by Norwegian Cruise Line, the cruise line has made concerted efforts with the upkeep and refurbishment of not only this ship, but all ships within the fleet and it shows.  While you can see some areas of wear, it is only to be expected from a ship built in 1999.  I can't say I even own anything that's from 1999!  An example of how great the ship looks is on the pool deck with clean decking, newer furniture, and enough space for people to lounge in or by the pool and hot tubs.  
PROS: 
Great getaway cruise for those new to cruising and experienced cruisers alike.
A short cruise is a great way to escape during the cold winter months or any time of the year.
Cruises to the Bahamas are affordable options compared to other cruises.  
Loved the Coffee Bar and Lavazza coffee.  Couldn't start my day without it!
Norwegian Cruise Line offers so many dining options, from complimentary to specialty dining (for a fee). 
Lots of games and scheduled activities throughout the day like trivia, parties, pool games, and evening shows.  You can't possibly get bored. 
Plenty of room for you to stretch out on decks 11 and 12 by the pool.
No problem squeezing in an appointment at the Mandara Spa or getting a last minute reservation at a specialty restaurant.  This can often be an issue on some of the newer ships. 
Want to play basketball?  You'll probably have the entire court to yourself.  Hardly saw anyone up there. 
Did you know that there's a good incentive to booking your next cruise while still onboard your current cruise?  Book while onboard to receive discounts and either future onboard credit or even credit to use on your current sailing.  
I loved the "skinny" drink options that allowed me to have a beverage (or two) and not feel guilty.  
CONS: 
Maybe I'm the only one, but I'm kind of over the whole towel animal thing, especially when I'm traveling alone or not with a small child.  It feels a little creepy to enter your cabin and see one of these guys waiting for you.  I'd prefer that my cabin attendant either have that time for himself/herself or use that time in a more productive way. 
The cruise line's coffee is so painfully weak, requiring you to pay for the better, but not complimentary Lavazza coffee. 
Would love to take a TRX class in the fitness center while on a cruise, but why oh why is it only offered at 8am?  Perhaps offering it at different times would get a better response.  I know I'd be up there either earlier or later, but not while I'm getting ready to go into port. 
No internet connection in my cabin.  Nearly went insane and had to go elsewhere get online.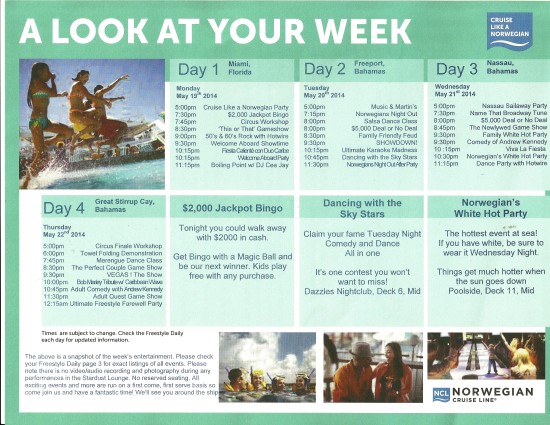 Experienced cruisers might find themselves slightly bored with the same old, same old activities like Bingo, trivia, etc. but this is true of almost every cruise line out there.  That's why when I cruise it isn't so much about the activities, but the ability to do absolutely nothing that I crave.  
I mentioned this one already, but it bears repeating: The pool towels have seen better days as they are really worn and thin and look dated.  C'mon Norwegian – let's get some new solid color pool towels!
Keep in mind that no two cruises are the same, even on the same cruise ship.  Your cruise experience will be different from mine or the next person's only not only because we are different people, but also because of the other people onboard with you at that exact moment in time.  While I had heard that the Norwegian Sky was something of a "party ship," it was extremely quiet during my sailing at night. Should I think then that every Norwegian Sky sailing is like that? Not at all.  
At the end of the day, I was looking to get away from it all and to enjoy a little sun as well as some amazing views from my aft balcony.  As you can see in the images above, my views were breathtaking. While not every cruise or vacation can be considered "perfect," it's those memories that you take with you that you'll always remember and I will always remember these views. 
On the day of disembarkation, I was carrying my own bags off the ship, which allowed me to leave pretty much at my leisure.  Norwegian Cruise Line's "Easy Walk Off" program meant that I could exit the ship between 7:45 and 9 am as long as I carried all of my bags myself.  Otherwise, I would've needed to place my bag with a luggage tag outside my cabin door by midnight the night before and leave according to my tag color, which would be called between 8:30 and 9:15 am.  
As I made my way down to deck six to exit the ship, I met up with other passengers also exiting the ship. Despite the sign above that stated, "Exit this way," people were getting lost and confused as the sign was placed inside the ship.   In order to exit the ship, one needed to walk outside on the deck and around to the other side of the ship.  
Before I left, I was able to take a few more pictures of the Carnival Ecstasy as she pulled back into port in front of  us.  The first picture above is as she sailed out of port on our first day on the ship and then the last two are as she pulled back into Miami. 
TSG Tip:  Think and act like a Boy Scout/Girl Scout:  Be prepared!  Please be sure to have your passport, cabin card, and customs form in your hand ready to go before you leave your cabin. There's nothing worse than being in a line behind people fishing through their belongings for what feels like forever as you're trying to make your flight.  The cruise line needs to account for everyone as they leave the ship, which is why you'll need to present your card before exiting.  The passport (or government issued ID) and customs form are necessary since the ship left the US and US Customs & Border Patrol will be in the cruise port to question every exiting passenger.  
Maybe you're not a cruiser and you don't understand why anyone would want to take a cruise. Cruising is the perfect way to experience new destinations while only needing to unpack your bags once.  Your cruise fare includes your accommodations, food, and entertainment and before you've even left port, you've already paid for your vacation.  The only charges you'll have onboard will be for extras like your bar bill, photos, specialty dining, shore excursions, duty free shopping onboard the ship, etc.  
The Norwegian Sky offers alternating three and four night cruises out of Miami to the Bahamas. With low cruise rates, what's preventing you from taking your next cruise? You won't know if you like cruising or not until you take a cruise and I'm pretty certain that you'll find that you definitely enjoy getting away on a cruise vacation today. 
Have you recently taken your first cruise or have you sailed on the Norwegian Sky?