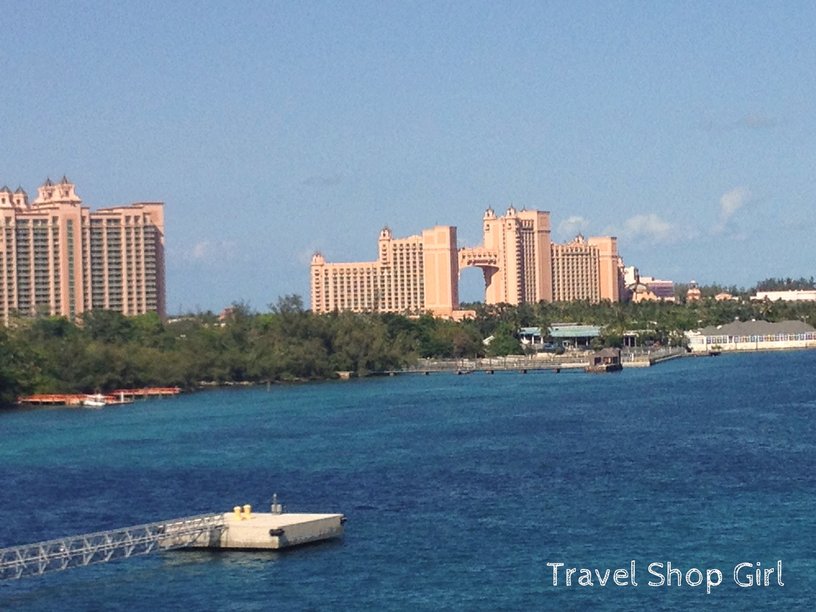 If you're on your first cruise, you're more likely than not on a cruise to the Bahamas with a compulsory stop in Nassau. While the Bahamas consists of over 700 islands, Nassau is a great place to be, one of the most frequented stops by tourists. The capital and largest city in the Bahamas, Nassau is located approximately 180 miles from Miami, FL making it an easy getaway for Florida residents as well as anyone living in a city with direct flights to Nassau. Pictured above is the Atlantis Resort, which is the largest employer outside of the government as it employs over 6,000 Bahamians.
TSG Tip: Everyone eventually makes their way to Atlantis, which I affectionately have dubbed Disney World of the Bahamas. Why? Once at Atlantis, you could be anywhere as it's not really the Bahamas. It's generic enough to not offend anyone, but please don't fool yourself into believing you're visiting the Bahamas if you're spending a day or more there.
Despite my own personal bias, Nassau is a great port for first time cruisers. This is true as long as you pay attention to your surroundings and have a plan before you set for the day to explore. Book an excursion through the cruise line or through a reputable company if you want to swim with the dolphins, have a beach day, or visit Atlantis.
TSG Tip: If you plan to spend the day drinking at a resort or bar, make sure a member of your party is your "designated cruiser" to get you back on the ship safely. While it may be fun to let loose and have a great time while on vacation, keep in mind that public intoxication simply makes you a target for anyone looking to take advantage of tourists.
On the morning of our arrival into Nassau on the Norwegian Sky on May 21, there was hardly a cloud in the sky and the weather was absolutely perfect. I went out onto my aft facing balcony as it looked out toward Paradise Island and the port and didn't hold back on taking pictures.
TSG Tip: When you decide to go out into Nassau, be sure to bring your ship card and a photo ID. No need to bring your passport and you should leave all valuables behind. Although I have been to Nassau several times without any problems whatsoever, there has been a spike in violent crimes against tourists.Use the same precautions you would when visiting a new destination. You can read more about the advisories here.
I will admit that I generally don't get off the ship while in Nassau only because I have visited so many times in the past. In fact, I heard someone in Freeport ask why would anyone not get off the ship. Why?So you can have the ship to yourself! But with an invitation to Señor Frog's on this particular day, I decided I should get off the ship. A quick walk from the cruise port and just past the Straw Market, it's easy to see why so many cruise passengers while away the day here.
Maybe you've seen Señor Frog's but never wandered inside. In a nutshell, it's a place people go to drink. Yes you can take your kids here, but remember, there will be activity here that is definitely adult-like in nature.
TSG Tip: If you're traveling with children and want a fun filled, family friendly day, load up your wallet and head over to the Atlantis resort. While you may see someone blowing up balloons and making balloon hats for customers here, you will also see people lining up to get shots of alcohol in a "shot train," and many, many drunk people.
TSG Tip: There's always an opportunity for free alcohol in the form of a free flowing shot at Señor Frog's. But be warned: It's not top shelf liquor.
I arrived as Señor Frog's was opening at 11 am, which allowed me so I was able to secure a great seat near the water. In fact, it was so perfect I inadvertently ended up tanning on one side because of the direct sunlight. You can be completely entertained here by other patrons, like the two couples who were celebrating a member of their party's birthday while at Señor Frog's. Linda and her husband are from Florida and Jean and her husband, the birthday boy, are originally from Florida, but are now living in North Carolina. They were having a great time on their port day while on Royal Caribbean's Enchantment of the Seas. After they left, my attention turned to the young man who looked completely despondent. With a little probing from one of the servers that I pushed to investigate the situation, it turned out he and his girlfriend were thrown off Norwegian Sky for smoking. Not sure what they were smoking or where, but he was concerned enough about getting arrested that having a good time in the middle of Señor Frog's was the last of his concerns.
TSG Tip: Always remember that the cruise line is going to have the last word with regard to your stay on their ship. If you want to tempt fate, go ahead. But if the cruise line wants to throw you off the ship, they will. Then it's up to you to arrange your own flight home and I'm guessing it won't be as cheap as following the rules onboard the ship.
The pictures above show a variety of seating options within the restaurant from the great seats near the water to the ones more central in the restaurant. Additionally, there is a stage area that is used for a variety of activity, including karaoke.
TSG Tip: Some people prefer to be right on top of the bar because they want easy access to the alcohol, but if you want a great view of the water and the cruise ships, go for a seat with a view.
The staff at Señor Frog's is definitely entertaining, especially the guy with the microphone. Additionally, the wait and bar staff are friendly and helpful, even the guy making the table side Bahamian Conch Salad. My server, Allison, was helpful and friendly, and best of all, laughed at all of my jokes. Gotta love her for that! Make sure you walk around and look at the signs on the ceiling and ladies, be careful when you walk in the restroom. That gentleman with the braids in the last picture above will be there to greet you!
TSG Tip: While well known for their party atmosphere and drinks, let's just say that you probably aren't headed here for the food. Get an appetizer or something small like chips and salsa to go along with your margarita yard but as for a meal, yeah — you might want to wait to get back on the ship for that.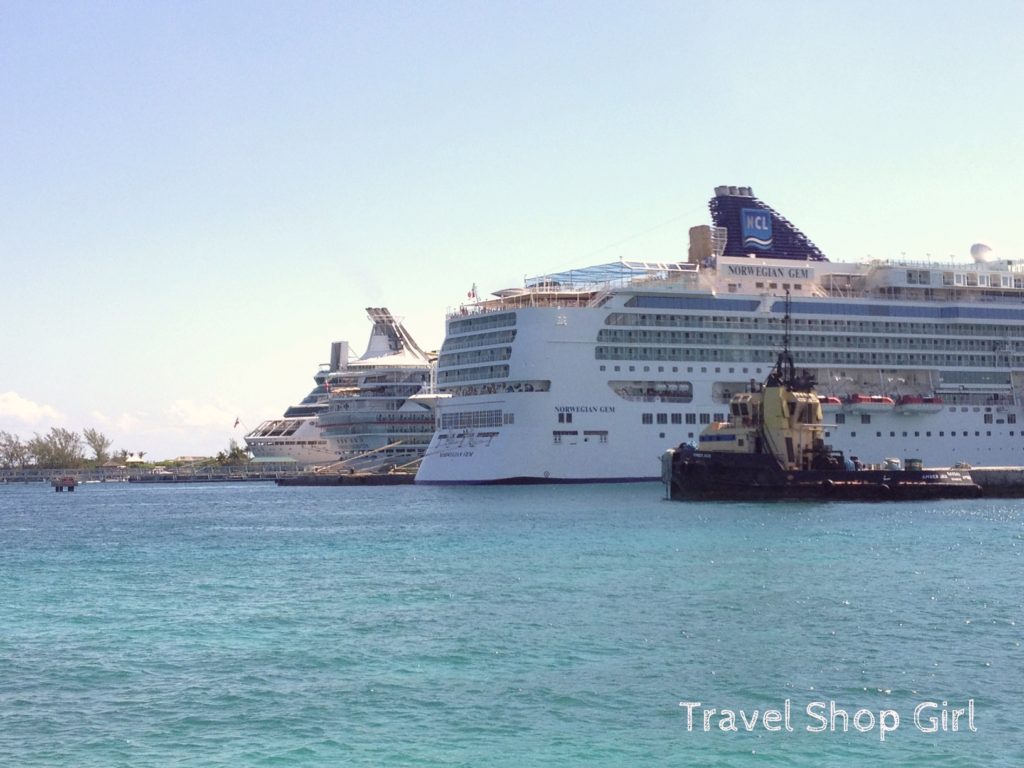 With the sun shining down on me, a warm breeze blowing across the water, and a margarita in my hand, I enjoyed the view of the cruise ships in port and really did enjoy my day in Nassau. Then again, I am known to have fun pretty much anywhere I go.
Have you been to Nassau? What are your port recommendations? Read more about my Norwegian Sky cruise here.