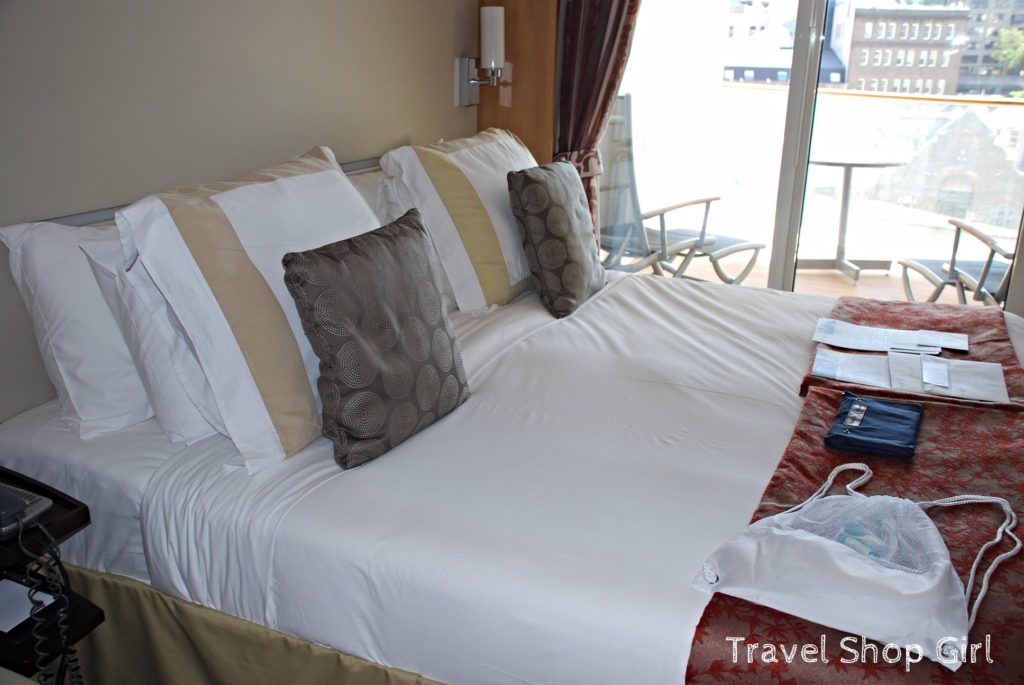 On my recent Celebrity Cruise on the Celebrity Solstice, my cabin of choice was an Aqua Class cabin. Located near the Aqua Spa with complimentary access to the Persian Garden and Relaxation Room, this was the perfect choice for a 12-night cruise to the South Pacific and Fiji back in October 2013.
Measuring approximately 194 sq. ft. with a 54 sq. ft. veranda or balcony, what would be an otherwise ordinary balcony cabin is made extra special with an abundance of special Aqua Class amenities. You can see one of them on the bed, the complimentary tote bag with facial spray, lip balm, and slippers. The bedding is the exclusive Celebrity eXhale bedding featuring premium mattresses, plush duvets and pillows, and 100% pure Egyptian cotton linens. In addition to the amenities, the cabin comes with the standard seating area, closet, desk/mirror combo, drawers for storage, and bathroom.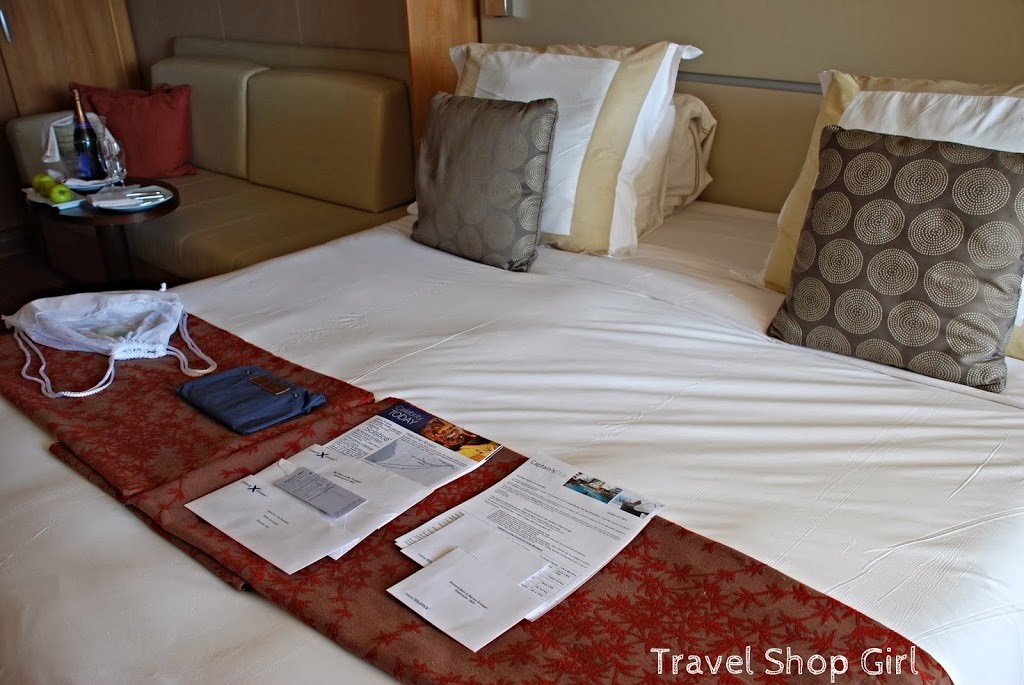 Here are some of the other Aqua Class amenities available besides access to the Persian Garden and Relaxation Room: Guests receive a pillow menu, custom blended bath products (shampoo, conditioner, shower gel, and lotion), an insanely awesome Hansgrohe shower panel, fog-free mirror, plush bathrobes, slippers, oversized 100% cotton bath towels, on-demand wellness programming including mediation and yoga, upgraded room service menu, priority check-in, express luggage delivery, priority disembarkation, complimentary shoeshine service, and exclusive access to Blu. This specialty restaurant features "clean cuisine" and serves breakfast and dinner daily.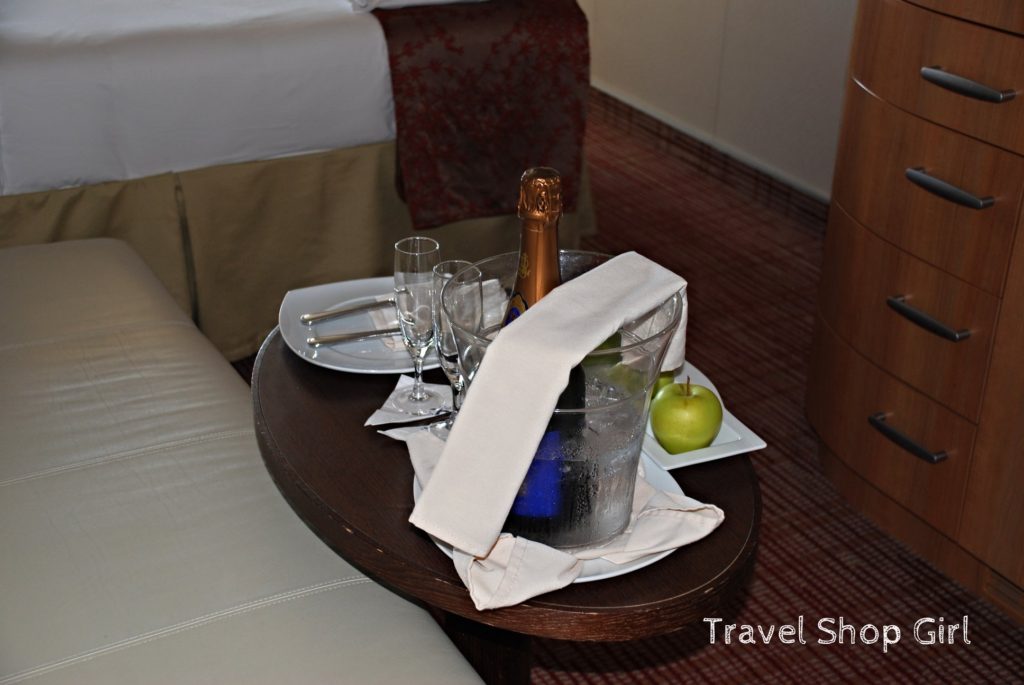 Nothing helps you start your cruise off better than a chilled bottle of champagne waiting patiently for you in your cabin!
Despite having purchased the premium drink package, I especially appreciated the bottled water and fruit or tea water in the water pitcher that was constantly refreshed. You can also see the aromatherapy diffuser tucked away, which left the room smelling fresh but not perfume-like.
Fresh flowers and fresh fruit in your cabin?  Yes,  it's all possible while in an Aqua Class cabin!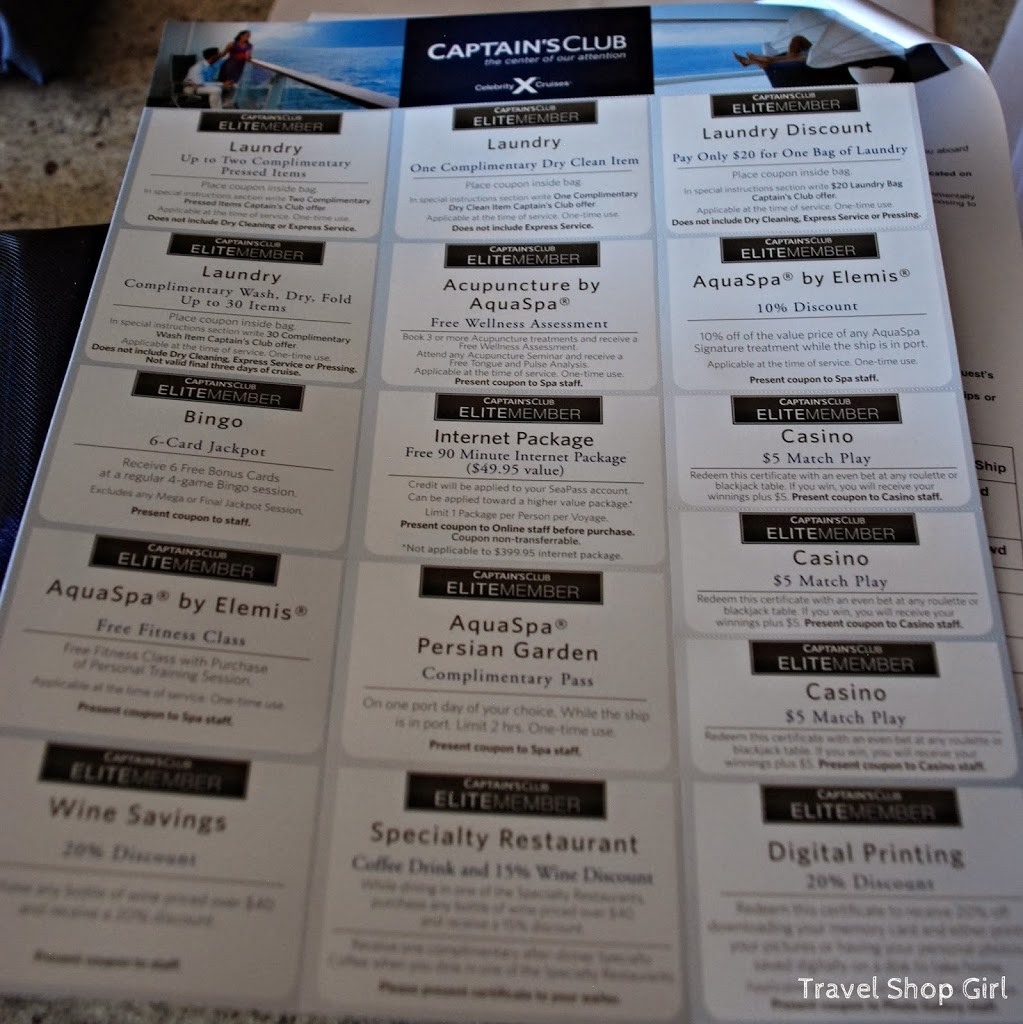 As a repeat Celebrity Cruise guest, I'm also a member of the Captain's Club and as such, I received some "coupons" to use while onboard the ship.  Some of my favorites are for internet, match play in the casino, and for laundry and dry cleaning. Celebrity seems to be transitioning away from the coupons as  on my recent cruise only a few weeks ago I didn't need to present my coupon for the internet.  Love it!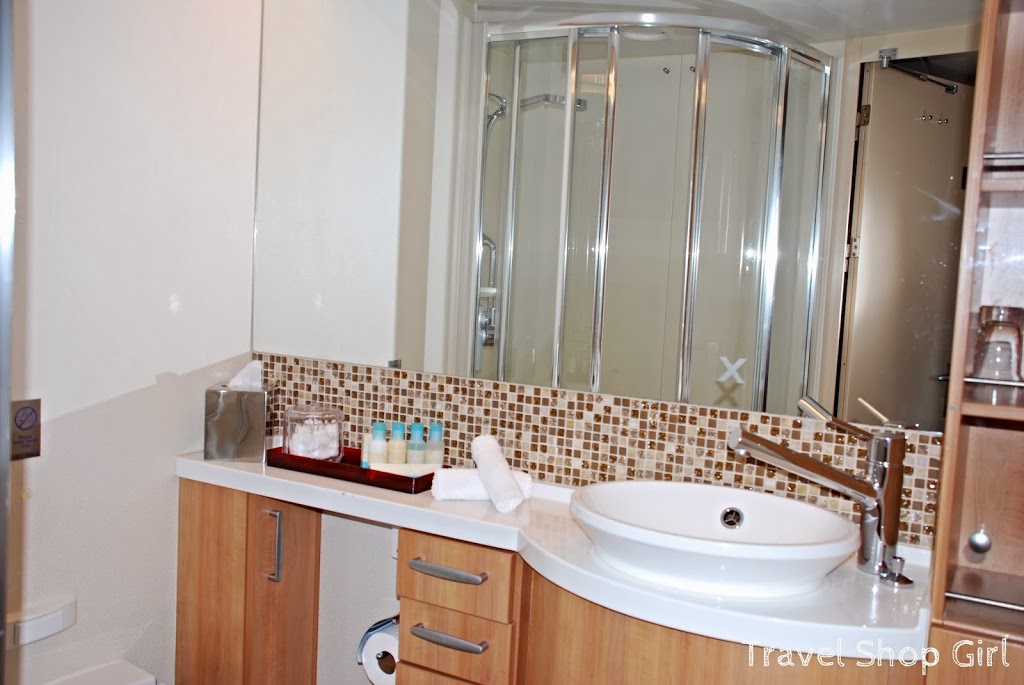 The bathroom was well laid out and I liked the little touches like the glass mosaic backsplash and the vessel sink as it made it look less like a cruise ship bathroom and more like a hotel bathroom.
Remember I mentioned the Hansgrohe shower panel?  Who needs a hot tub when you have one of these, especially after working out! I wanted to pack it up and take it home with me!  After a hard workout with sore muscles, it was perfection!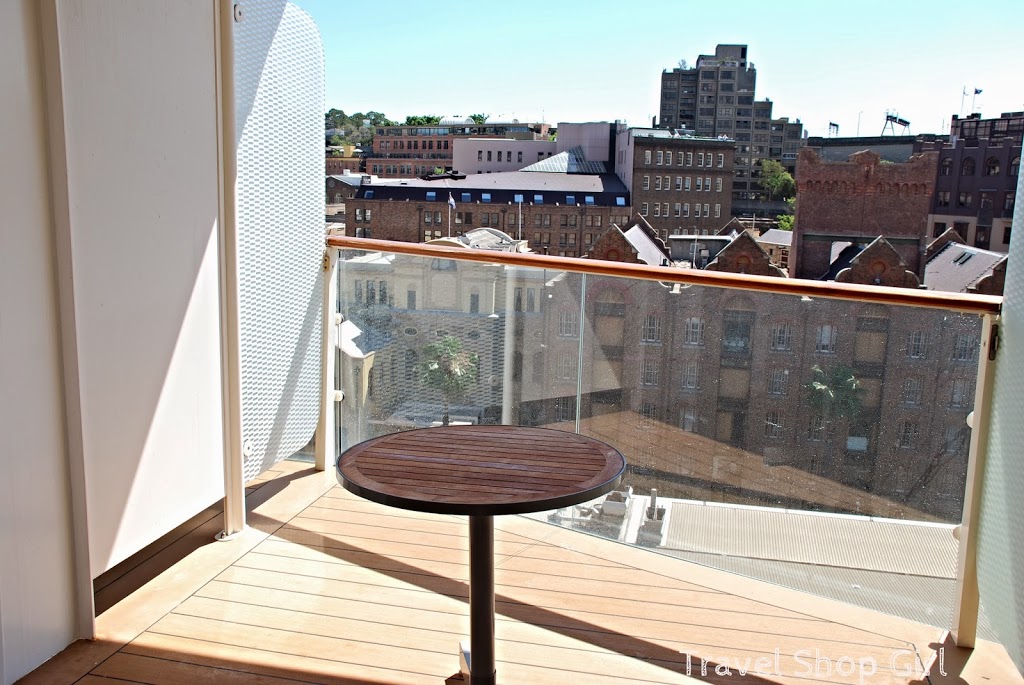 I've been known to research things into the ground and choosing the perfect cabin for my cruise is no exception.  I always want the cabin with the best location and biggest balcony. I have to say that cabin 1605 had one of the best balconies ever.  When choosing a cabin, take a look at the deck plans for your ship and look for the "bump out" or the area that changes the shape of the balcony to your favor. The cabins to our right that were the same category of cabin were significantly smaller in size as they didn't get the benefit of the "bump out."
A deeper than the average cruise ship balcony, you can sit out on it without feeling squished up against the balcony glass railing. There was an abundance of space one might not normally find in a standard balcony cabin.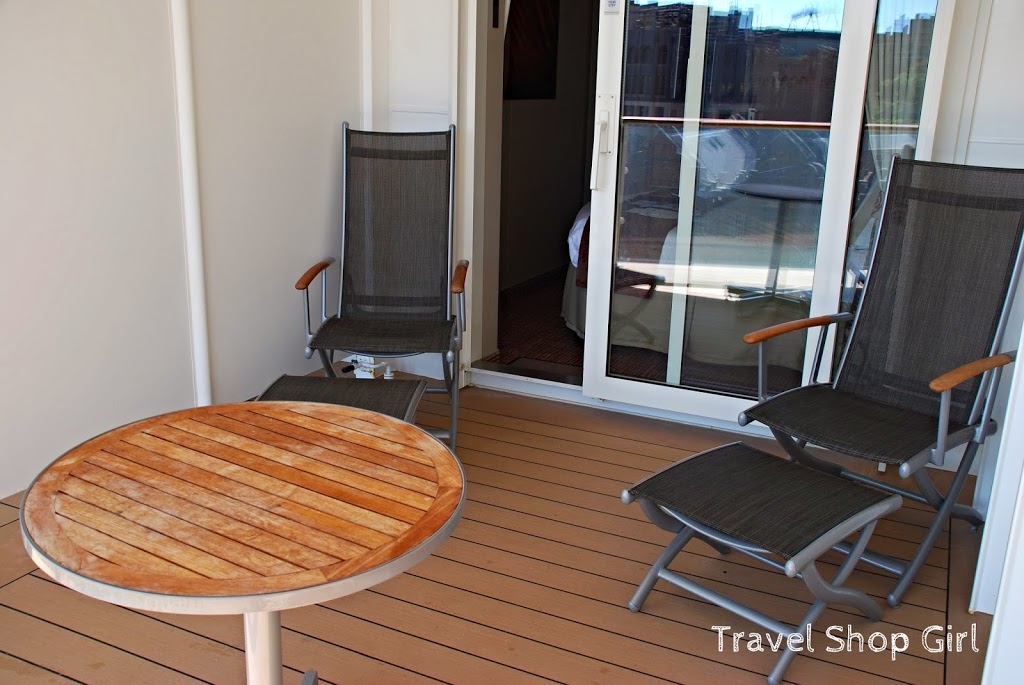 Although there was only had one small table, two chairs, and two small footstools, it still let large enough that I could have put several more pieces of furniture on the balcony easily.
At the end of the day, the view from the balcony, whether at sea or in Sydney, was spectacular!
Why should you choose an Aqua Class cabin? If you like to work out in the fitness center and want to be relatively close like I did, this is the perfect option for you. Also if you enjoy spa treatments and plan to get one daily, you'll be situated in the Aqua Spa area for easy access.
For me the biggest reason to choose an Aqua Class cabin is Blu. The food is clean, fresh, healthy, and is definitely spa cuisine.
Click To Tweet
For me the biggest reason to choose an Aqua Class cabin is Blu. The food is clean, fresh, healthy, and is definitely spa cuisine. If you're looking for a healthy alternative to your traditional cruise, I highly recommend sailing in an Aqua Class cabin, working out daily (or even a few times a day!), going to the Aqua Spa, relaxing with a pre-dinner drink in my favorite bar, the Molecular Bar, and then heading to Blu for delicious dinner in  a smaller dining room with the most attentive wait staff ever. Then sit back, relax, enjoy, and start all over again the next day and savor every moment until it's time to get off the ship.  But by that time, you'll have booked another cruise.
Read all of my Celebrity Cruise reviews here and take a peek at some of the many cruises I've been on here.