Do you hate waiting at the airport to get your bags?  Perhaps you're a family traveling with children and the thought of standing around waiting and then lugging the bags (and the kids) is more than you can endure. Consider Bags VIP then for your next trip.  Bags VIP luggage delivery retrieves your luggage at baggage claim and delivers it to a location of your choice.  Major airlines, cruise lines and world-famous resorts trust Bags to handle their customers' luggage every day – more than 5 million bags each year! I had the opportunity to try their service prior to a cruise recently and the entire process was effortless.
To begin your reservation, you'll first need to enter in your flight information.  Prices are listed on this page and as you can see, the more bags you send through this service, the more cost effective it is.  The Bags VIP fee is separate from the airlines' baggage fees, which you'll pay separately to the airline.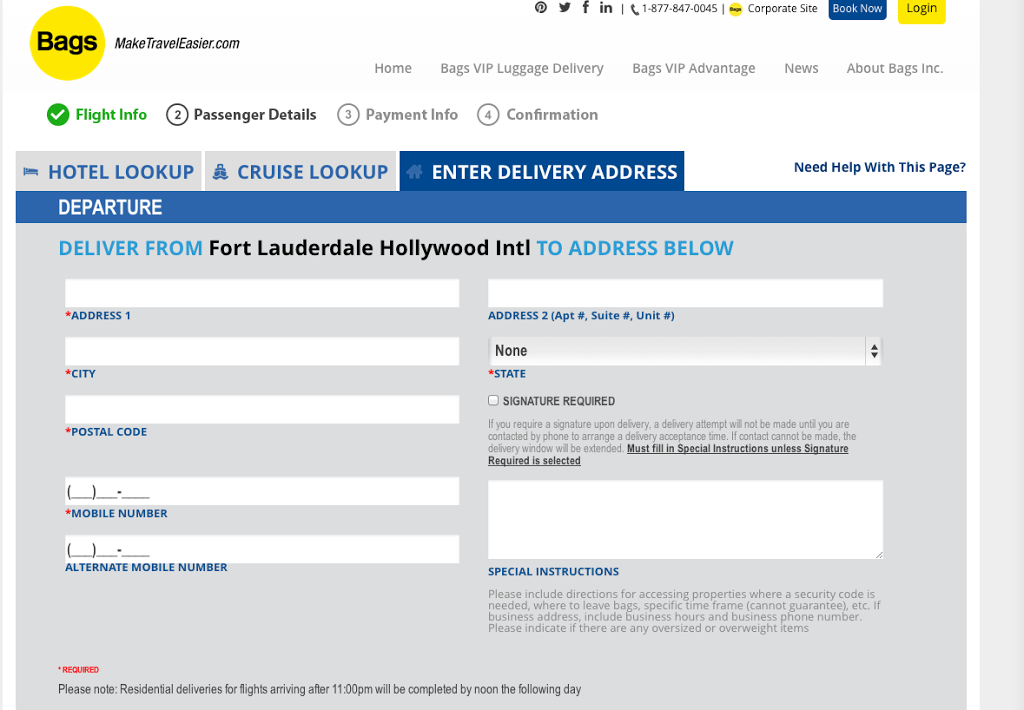 First enter your delivery details for your bags up to one hour before your scheduled departure time.  Your delivery information can be a hotel, a cruise ship, or a specific address.
Then enter in passenger and bag information.  This allows you to enter in the color, size, and other specifics of each of your bags.  On the last page you'll confirm the details of your flight and delivery location and enter in your payment information.  It's as easy as that!
When you arrive at the airport on your flight, skip baggage claim altogether knowing that a Bags VIP agent will retrieve your luggage and deliver to your chosen destination safely and securely.
While you wait for your luggage, you'll receive email updates about the progress of your delivery.  You can expect to receive your bag in 4 hours or less when your final destination is up to 40 miles from the airport.
When we arrived at the airport, I took a few quick pictures of our bags in case we were separated from them and I needed to locate or provide details about them.  From there we boarded our plane and headed to onward to Fort Lauderdale.
My flight arrived in Fort Lauderdale at 6:11 pm and only a short time later at 6:40 pm, I had already received an email from Bags VIP stating that my bags had been picked up.  Normally, I might have the bags delivered to my hotel, but as I was taking a cruise, I chose to have them delivered to the ship the following morning.  In my reservation I included special instructions pertaining to my cruise (cruise ship, cabin number, etc.) and they held onto my bags overnight.  It was as simple as that!
The next morning I made my way over to the Celebrity Constellation to get ready for my short 5-night cruise. With a change of clothing and toiletries packed in a carry on bag, this made boarding my ship far easier than any previous time. No lugging my bag onto a shuttle or in a taxi, dropping my bag off with a porter, or any of the normal first day cruise hassles.  I don't think I will want to travel any other way in the future as having my hands free plus being completely stress free was liberating and put me into complete cruise mode.
Normally, after a cruise I would be heading home, but not this time as I had one more stop along the way.  I decided to use Bags VIP luggage delivery service to get my bags from the airport to my hotel at my second destination.  After checking in at the airport and dropping my bags off when I checked in, my bags made the trip with me to my next destination.  Within 30 minutes of arrival, my bags were picked up and on their way to join me.  All I had to do was let the front desk know that my bags were going to be delivered so they advised me when they arrived.
I can't say enough positive things about Bags VIP!  From the time I placed my order until I received my bags, using the luggage delivery service made traveling that much easier and it's clearly the smart choice for any traveler.  Whether you're traveling alone, as a couple, or with children or the elderly, you can free yourself up from the hassle of waiting at baggage claim and move onto your final destination.  I would even venture to say that once you try Bags VIP luggage delivery service, you'll probably  become a repeat customer as they are just that good!
Make your reservation online with Bags VIP by going to their website.