Have you been dreaming of visiting Iceland, but feel stuck on what to do and where to go. Here are some of my top tips for your first visit to Iceland to hopefully get you in the mood and excited about your trip.
Decide on what time of year to visit
I have now visited Iceland more months out of the year than I haven't. What I mean is that I've been to Iceland during the months of January, February, March, August, October, November, and December. Winter months are ideal for viewing the Northern Lights, but summer months mean green the likes of which I've only seen in Ireland. Iceland in the summer is like an entirely different country with different experiences and don't forget the midnight sun with nearly 24 hours of sunlight in July.
Don't worry about the cold weather (too much)
I'm always surprised by how people assume Iceland is a freezing cold country covered in snow. Well, it's not. While walking along the harbourfront, yes, it can get cold, but honestly — this past week it was pretty much the same temperature I experience back home in Boston. I've sometimes visited when it's been warmer in Iceland than it is in Boston.
Decide on your airline
IcelandAir has some new competition these days with low-cost carrier WOW Air entering the picture. Other airlines flying to Iceland include Delta as well as some major European carriers such as British Airways, SAS, and EasyJet, too. Most flights from the US to Iceland take off in the evening and arrive early in the morning, which explains the great low-cost fares. For a $99 one-way flight, a 4 am arrival doesn't seem so bad, right?
TSG Tip: Arrange with your hotel in advance for an early check in to avoid sitting or sleeping in the hotel lobby for hours before your room is ready.
Decide on how you'll get to your hotel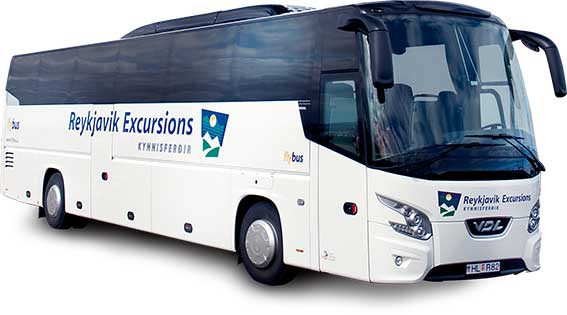 Will you use FlyBus or will you rent a car? FlyBus is a convenient option that takes you from Keflavik Airport to BSI Terminal in Reykjavik. From there you can switch to a smaller shuttle that will drop you off right at your hotel. Alternatively, if you want/need a little more freedom and flexibility, choose a car rental. With rental car counters at the airport that include big name companies like Hertz, Avis, and Budget as well as other brands located in Reykjavik, driving around Iceland isn't difficult at all. Do take the optional glass coverage as those little Icelandic rocks can do major damage on windows.
TSG Tip: If you decide to use FlyBus, book your return trip in advance online (this will make your life so much easier) and print out your ticket. Exit the airport through the doors opposite where you leave after baggage claim, turn right, and you'll see the various coach services lined up. Make sure you pick the Reykjavik Excursions FlyBus and not another destination.
Updated TSG Tip: Please note that there are now other services available to get you into Reykjavik including Gray Line Iceland. You can purchase your tickets online in advance or at Keflavik airport. Coaches are all outside in front so make sure you go to the right one to board.
Choose a central location
This is especially true if you don't have a rental car. While the FlyBus will drop you off at your hotel and most tours will pick you up right at your hotel, you'll probably want to get out and walk around on your own. That's why choosing a centrally located hotel will make your stay in Iceland more enjoyable. I met a couple that was staying 30 minutes outside of Reykjavik on foot. After going out and having dinner and a few drinks, who wants to walk 30 minutes in a country they are completely unfamiliar with at night?
Choose a hotel or an Airbnb rental
Iceland is an ever evolving country and every time I visit, I always spot new construction taking place so you won't have a hard time to locate somewhere to stay. There are hotels, hostels, apartments, and guesthouses in Reykjavik for rent.
The only time I had difficulty finding a hotel was during the Reykjavik Marathon, but we stayed in an Airbnb accommodation, which was perfect. If you're going with family or plan on staying longer than a week, consider a hotel alternative.
Iceland is an expensive country and if you can cook a meal or buy your own alcohol after shopping at a nearby Bonus or Krónan, it will definitely reduce your overall expenses.
Don't plan anything big for your first day
There's something magical about Iceland. No, I'm not talking about the "hidden people." I'm talking about how it sucks away all your energy and even after a 4 1/2 hour flight, you'll only want to sleep. Don't fight it. Give into that sleep and then enjoy the rest of your first day doing minimal activities on your own. You can definitely thank me later.
Do drink the coffee
Reykjavik may not be world-renowned (yet) for its coffee shops, but it should be. I detailed my coffee adventures through Reykjavik in this post, but let's just say the coffee was fantastic.
Decide on what you want to see, but don't over schedule yourself
While it's exciting to want to see everything, leave some of your plans for another trip back to Iceland. I've seen so many visitors to Iceland look exhausted and over scheduled during their few days in Iceland. Pick one or two big activities and you'll have way more fun.
Decide how you want to see the Northern Lights
You can go by SuperJeep, coach tour, or by boat like I did with Special Tours. While it may be thrilling to go chase the Northern Lights, adjust your expectations. A trip out to see them won't necessarily mean you will. After all, it took me five times of relentless chasing and no success before I finally got to see them on my trip this month on Friday the 13th. Wear warm clothing and bring extra gloves, hats, scarves, socks and whatever you think you'll need because you'll stand around for a few hours doing absolutely nothing.
TSG Tip: I highly recommend wearing liners or long underwear, like my top and leggings from Lands End, which I always pack and wear when visiting Iceland. Warm undergarments always mean less extra outerwear and that means more comfort.
Decide what camera equipment to bring
While some people can suffice with their cell phones for taking pictures, if you're like me then that won't be enough. Whether you need to bring a tripod, special filters or lenses, or a multitude of cameras, figure out what you really need and if you know how to use everything before you arrive. Can't tell you how many I people I've seen fidgeting with their equipment and swearing under the breath while trying to set up for the Northern Lights because they didn't figure out settings in advance.
Be open to trying the food
That is, of course, unless you're a vegetarian. Otherwise, be adventurous and don't turn your nose up at something you haven't already tried or might seem strange. Granted, I'm so not condoning eating whale or puffin, but if you eat meat — meat is meat so why are you getting picky? Try something new every time you travel to really get the most of your visit. But really, even if you're not meat eater, don't worry and step outside of your comfort zone and try something new. I believe there are more vegetarian and vegan restaurants in Reykjavik now than there are in Boston.
Decide when to go to the Blue Lagoon
Some package options include an evening visit to the Blue Lagoon. While many enjoy the evening visit, I prefer spending a few hours in that milky blue water before heading to the airport. The stress of the airport and flying seem to melt away with a soak in the Blue Lagoon. For a detailed look at the Blue Lagoon, read my earlier post with everything you could possibly want to know about this geothermal spa.
Understand the boarding process at Keflavik Airport
Like other European airports, Keflavik won't announce boarding procedures like the U.S. does. Don't expect boarding by class or seat rows. Instead, you'll see people queueing up by the gate hours in advance. My advice is to go to the gate and find a seat near the queue. If you wait until the boarding time on your ticket, you'll have to stand at the back, which might not be so bad, but can be stressful if you can't hear what's going on up front. For more tips, read my 10 Tips to Help You Get Through Keflavik Airport post.
Why visit Iceland?
If you have a sense of adventure, a desire to travel to somewhere different, then you must visit Iceland. This is a country with so much to offer with breathtaking and beautiful views of nature, from waterfalls to fjords to of course, the Northern Lights. But it's the people who make Iceland amazing and why I keep returning time after time. They always welcome tourists with open arms and are willing to help you out, explain things, or show you around. I keep discovering more new things each time I visit and can't wait to get back each time to see and learn something new.
What are you waiting for? When are you going to Iceland? Now go and explore Iceland and the rest of the Travel Shop Girl website for more great tips, tricks, and information on Iceland and other great destinations.