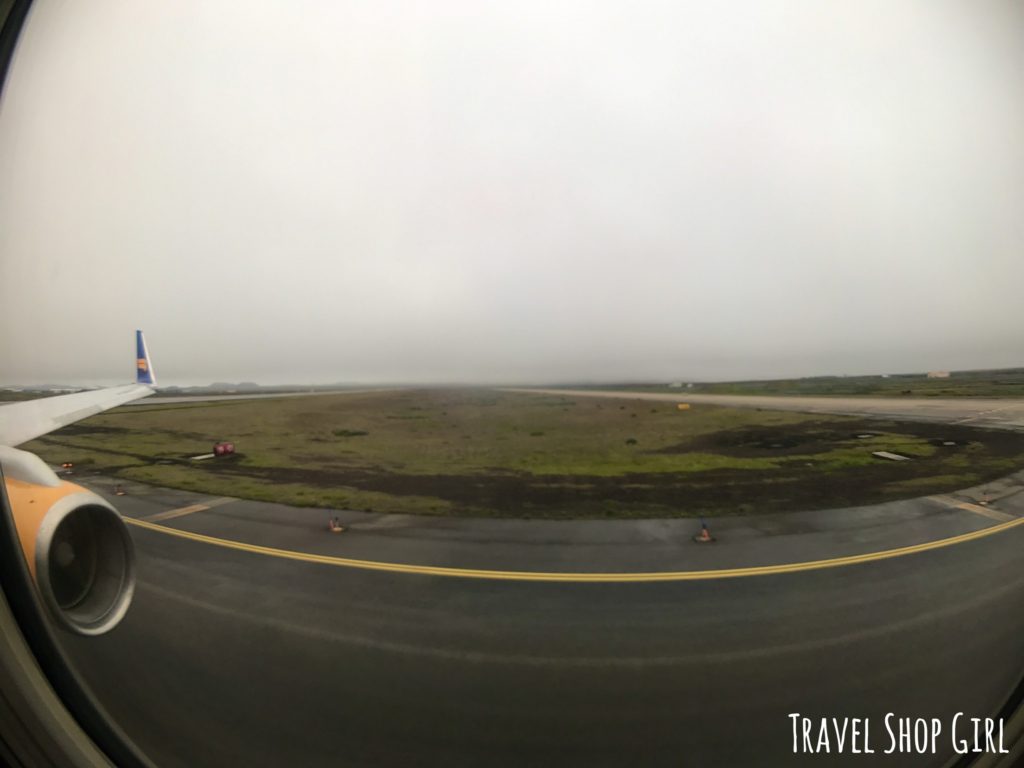 You've arrived into Keflavik airport in Iceland, but you're probably asking yourself, "How do I get into Reykjavik from the airport?" With several options available including car rental, pick up at the airport, or an airport transfer, how do you decide which is the best way to get into Reykjavik from the airport? Gray Line Iceland's Airport Express service is a convenient and affordable way for not only getting into Reykjavik from the airport, but to also get back to the airport at the end of your trip.
What is Gray Line Iceland's Airport Express?
Airport Express takes you from the airport into Reykjavik in a large and modern coach bus. If you're uncomfortable about driving in a foreign country or just don't want to pay for a car rental, insurance, and parking, Airport Express is the way to go.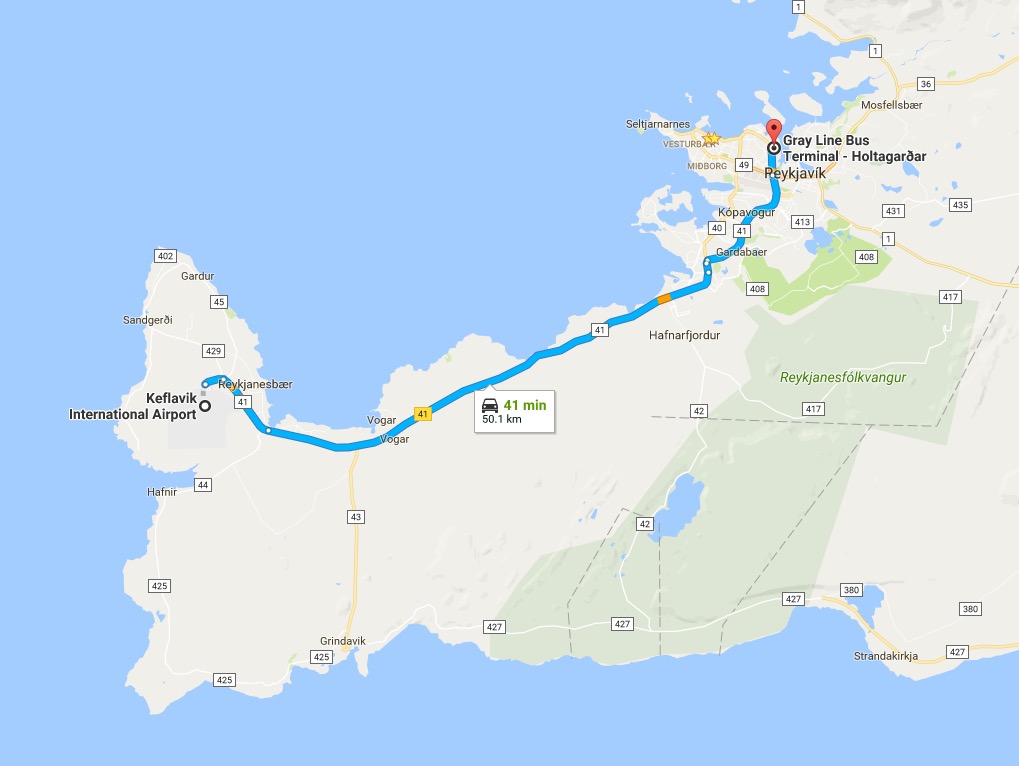 How Long is the Bus Ride from Keflavik to Reykjavik?
Keflavik airport is about 50km from Reykjavik or about a 45-minute ride to the Gray Line Iceland terminal. From there you can expect to wait a few minutes to find your shuttle to your final destination.
TSG Tip: Did you know that Gray Line Iceland's Airport Express service operates 24 hours a day, 7 days a week and offers pickup and drop off to over 160 hotels and guesthouses in Reykjavik?
Can I Book My Trip in Advance?
You certainly can and should do so online on Gray Line Iceland's website. Then just bring your ticket with you to board the coach at Keflavik airport.
What If I Haven't Purchased an Advanced Ticket?
While the easiest option is to purchase an advanced ticket, you can still purchase one at Keflavik airport. After you've picked up any bags you may have checked, simply walk out into the main terminal.
From here you'll see the Gray Line Iceland ticket counter directly in front of you to the left of the sign that says, "Bus tickets to Reykjavik city."
TSG Tip: Did you know you can book and pay for any tours you might want to take in Iceland right here?
Do I Have to Purchase a Ticket for a Specific Departure Time?
Not at all. Since there are scheduled arrivals, the coaches wait until they are full before departing the airport. This is why it really doesn't matter if you're the first off the plane as they aren't going anywhere until they are full or nearly full. As one leaves, another is already waiting and ready to go for the next set of passengers.
Where Do I Find the Coach?
Walk out the doors near the the ticket counter and to the right you'll see several coaches lined up. This is where it's vitally important that you pay attention and choose the correct bus. Don't worry as they won't let you board the wrong coach.
In the front window you'll see the sign for Reykjavik and on the side you'll see the company's logo. Provide the driver with your ticket, confirm your drop off location, either the Gray Line Iceland terminal at Holtagarðar in Reykjavik or one of the many bus stops in the city, put your bags underneath in storage, and climb onboard.
Is It Safe?
Absolutely! Whether you're traveling alone or with others, you can rest assured that this is a safe way to travel. The driver closes the luggage bays to prevent access to luggage. I always bring my carry on with me in my seat to keep valuables close by.
Now for a Super Important Question: Can I Eat/Drink on the Coach?
Hate to burst your bubble on this one, but hell no. After flying overnight from Boston and not having any breakfast or beverage on my flight, I was all about coffee when we landed.
After getting our tickets at the ticket counter, I walked a few steps over to the combined store and Dunkin' Donuts and grabbed a few coffees and a few donuts for a starving Mr. TSG.
However, as we approached the coach, the driver was adamant about no food or beverages onboard. We sat near the cart return area, downed the super hot coffee, and Mr. TSG inhaled his donuts before boarding. I'm so not complaining as they have rules which result in a super clean and comfortable ride into Reykjavik.
TSG Tip: While the drivers don't have to do this, many offer a great color commentary about Iceland during your Airport Express ride or shuttle transfers.
Click To Tweet
What is the Airport Express Coach Like?
For anyone planning a trip to Iceland and who has to get into Reykjavik from the airport, the Airport Express option is ideal because the bus is clean, quiet, and best of all, has free WiFi. You can even grab a few winks on your way into Reykjavik. It's that comfortable.
TSG Tip: While the drivers don't have to do this, many offer great color commentary about Iceland during your Airport Express ride or shuttle transfers. No two are the same and they all come from a personal perspective that makes me appreciate their unique storytelling abilities.
How Long Will I Have to Wait Until the Coach Leaves for Reykjavik?
That's a hard one to answer because if you're the first one on, it could be a while until the coach fills up. Having visited Iceland previously, I didn't rush right outside as I knew there were other people from my flight probably needing a ride. Even after going to the ticket counter, buying breakfast at Dunkin' Donuts, and drinking my coffee, I only ended up waiting about 20 minutes after first walking outside and turning my ticket over to the driver before our departure.
TSG Tip: Gray Line Iceland's terminal is a different terminal and different location from the BSI Terminal in Reykjavik where Reykjavik Excursions and FlyBus stops.
What Happens When We Arrive in Reykjavik?
Now as you get into Reykjavik from the airport, the coach will stop first at the Gray Line Iceland main terminal. If you've only purchased a ticket to the main terminal, this is your stop. Otherwise, the coach driver will have documented where you're going and then advise you to board a shuttle. Take your bags to your shuttle and relax knowing you're nearly at your hotel or Airbnb and can enjoy all that Iceland has to offer.
TSG Tip: Make note of your bus stop number and location when you arrive at your final stop. I suggest taking a pic so you'll remember where to go when it's time for a tour or your trip back to the airport.
For more Iceland travel tips and more on my travels to Iceland, click here. Have you been to Iceland? How did you get into Reykjavik from the airport?
---
*While Gray Line Iceland provided me with complimentary transportation from and to Keflavik airport, all opinions and photographs are my own.*