While I may not have written about each of my previous visits to the Blue Lagoon in Iceland, I have been to the Blue Lagoon now a total of five glorious times.  Each time it helps end my stay on an incredibly positive note, makes me feel relaxed and, if I'm on my way to the airport immediately afterwards, helps me become completely stress-free for my flight.  On one of my visits in December 2012, I did cover my nighttime visit to the Blue Lagoon here.  But this destination deserves a post all to itself and that's why I'm covering it here as well as in my GoPro video on my YouTube channel.
TSG Tip: Want to learn a little Icelandic today? Blue Lagoon in Icelandic is "Bláa Lónið."  I learned that the hard way when during one of my stays in Iceland I had a rental car with a GPS and couldn't find "Blue Lagoon."  Always helps if you know the language or at least a few words in the country you're visiting!
Why go to the Blue Lagoon? The answer to the question is a simple one.  Why not?  If you're not driving and need a ride to the airport from Reykjavík, chances are you can get a transfer just as easily from your hotel, hostel, or flat to the Blue Lagoon and then onto the airport.  Why not visit the tranquil blue waters, a byproduct of Iceland's great volcanic landscape, geothermal energy, and take in a few hours at the Blue Lagoon?  You could argue against it, but I can't think of a reason not to go.
Now it is true that while the Blue Lagoon is a popular destination for tourists in Iceland, it is not a natural wonder.  It was created as an overspill pool for Svartsengi geothermal power station located nearby. No matter how you view the Blue Lagoon, it will always be an ideal destination to visit before proceeding to the airport.
How much water sits inside the Blue Lagoon? Approximately 6 million liters, which is self-cleansing as it renews itself every 40 hours.  How's that for amazing?
According to the Blue Lagoon, "the geothermal water originates 2,000 metres below the surface, where freshwater and seawater combine at extreme temperatures. It is then harnessed via drilling holes at a nearby geothermal power plant, Svartsengi, to create electricity and hot water for nearby communities. On its way to the surface, the water picks up silica and minerals, before emerging at a soothing 38°C (100°F). Perfect for a relaxing and re-energising bathe."
Whether you go in the Summer or the Winter, the temperature is generally 37-40°C (98-104°F), year-round.  How's that for perfection?
Why is the Blue Lagoon so blue?  I could attempt to explain that, but this is what the Blue Lagoon's website says:
WHY IS IT BLUE?
The geothermal water has a unique composition, featuring three active ingredients – Silica, Algae & Minerals.  The blue colour comes from the silica and the way it reflects sunlight. During summer there can also be a hint of green in the water. This is the result of the algae, which multiplies quickly when exposed to direct sunlight.  However, and this might come as a surprise to you, the water is actually white. If you pour it into a transparent cup, it will always have a milky white colour. The sun simply makes it look blue!
What do you do at the Blue Lagoon?  Relax!  How's that for an answer?  It's the one place you can go where you don't have any expectations and don't need to do anything special in order to relax.
You don't necessarily "swim" at the Blue Lagoon.  Instead, you kind of float around, maybe with a drink in hand.  The water depth is approximately 0.8-1.2 meters deep with the deepest point at 1.6 meters.  For Americans unfamiliar with the metric system, that's just over 2.6 feet at it's most shallow point to almost 5.25 feet at it's deepest point. Keep moving around instead of sitting in one spot so you can take in all of the Blue Lagoon.  I'm always in search of the super hot spots in the water!
Once you get used to the idea of wandering about the Blue Lagoon, taking in the views, enjoying the hot water, and relaxing, then you can apply the silica mud mask from any of the pots located throughout the lagoon.  Apply it to your face and body and let sit for at least five minutes before washing off.  With my pale skin and bright red hair, I was hard to miss with the shocking white mask on my face.  But no worries as there will always be someone looking a little bit stranger than you and no one seems to mind or notice.  If you so desire, you can get an algae mask from the bar located inside the lagoon as a little something extra.  Definitely try out the sauna and steam rooms, too.  Like the rest of the facility, they are carved into the lava rock itself.
TSG Tip: You don't need to bring cash or your wallet inside the lagoon itself.  Wristbands are connected to your account, the same wristband used to open and close your locker in the changing rooms.  Purchases are added to your account by having your wristband scanned.  Once you change back into your street clothes and get ready to leave, you'll have an opportunity to return your wristband and settle your account.
My skin always feels fantastic after I leave and I feel so relaxed and stress free. Beyoncé visited the Blue Lagoon in December with her husband, Jay-Z, but she isn't the only one getting star treatment. Everyone can feel like a superstar after a few hours in the sublime blue waters of the Blue Lagoon.
TSG Tip: Whatever you do, avoid letting your hair sit in the water too long. While the mineral rich water is great for your skin, your hair might end up feeling funky and dry. Either wear a swim cap, load up on conditioner before going in, or do like me and knot your hair up into a high pony tail to avoid problems. While you're at it, keep your jewelry off as the water can affect it in not the same positive way as it does your skin.
Is the Blue Lagoon crowded? This depends mostly on what time of year as well as the time of day you visit.  This is from the Blue Lagoon website:
The peak hours at Blue Lagoon are usually between 10:00 and 14:00 each day. If you arrive at this time, don't be surprised if there's a queue. We recommend that you book your tickets online, which will give you access priority and a shorter waiting time.
If you want to avoid large crowds, it's best to arrive in the late afternoon or evening. A popular option is to visit Blue Lagoon in the afternoon and combine it with an evening meal at LAVA Restaurant.
You may never want to leave the water, but when you do you can visit the Blue Café for a sandwich, a snack, or even sushi!  Hot and cold drinks including tea, coffee, juices, smoothies, beer, and wine are also available.  With free Wifi, it's a perfect place to gather your thoughts before the trip back to Reykjavík or the airport.  If you're looking for something more, the LAVA restaurant might be for you with a lunch, evening, and wine menu and serving contemporary dishes with natural Icelandic ingredients.

TSG Tip: It is recommended to make your reservation online for the LAVA restaurant so if you plan on dining there, do make the reservation prior to your visit.
After dining, don't forget to stop at the store to stock up on not only Blue Lagoon branded products, but Icelandic products of all kinds including jewelry and clothing for children through adults.  While you can stop at the Blue Lagoon store at the Keflavik airport, you won't find everything there that you can find right at the Blue Lagoon.  The algae mask is my personal favorite!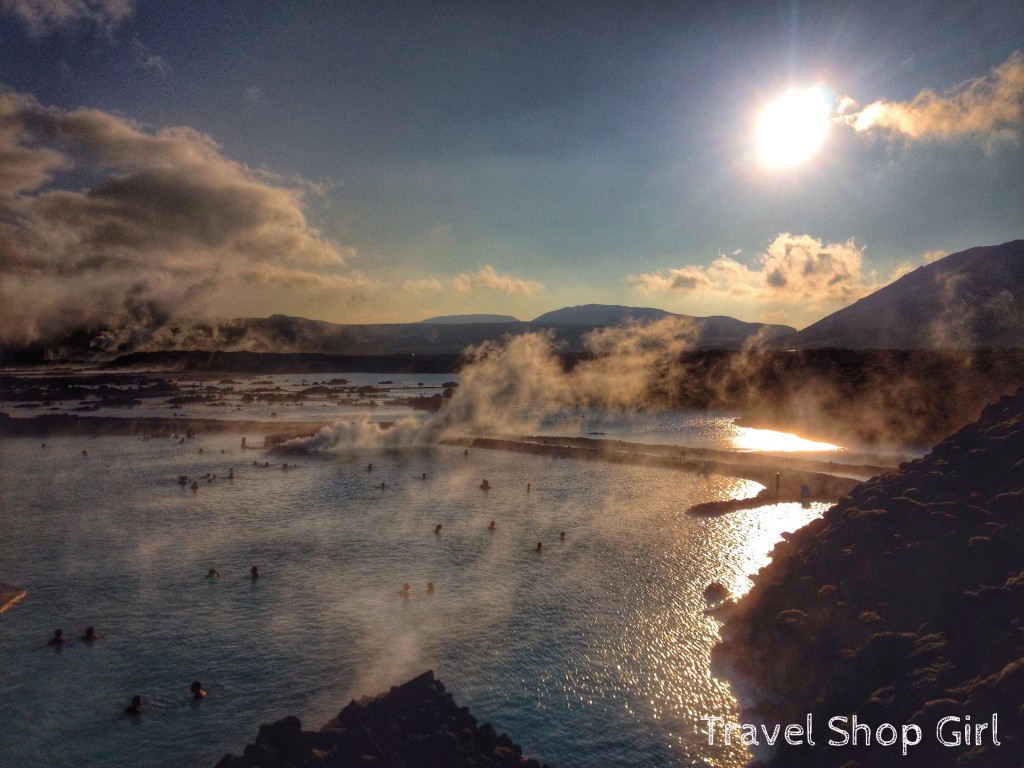 Prices for entrance to the Blue Lagoon vary and are subject to change so please check the Blue Lagoon website for current pricing.
Standard package: Includes visitor pass and entrance to Blue Lagoon
Comfort package: Includes visitor pass, entrance to Blue Lagoon, use of towel, drink of your choice, skin care trial pack, and algae mask
Premium package: Includes visitor pass, entrance to Blue Lagoon, use of towel, drink of your choice, skin care trial pack, algae mask, slippers, reserved table at LAVA, and pre-drink table at LAVA
Luxury package:  Includes visitor pass, entrance to Blue Lagoon, use of towel, drink of your choice, skin care trial pack, algae mask, slippers, reserved table at LAVA, pre-drink table at LAVA, entrance to the Exclusive Lounge
One new addition to the Blue Lagoon is the new luggage storage facility located near the car park.  In the past I've left my luggage on the coach, but now they ask you to go inside and store your luggage in the new facility.  Fee is €3 per bag, which isn't bad, but the queues can be long with coaches arriving at frequently.
The Blue Lagoon is open daily, 365 days a year, but hours vary depending on the season:
Season                                                 Opening hours
1. January – 31. May                       10:00 – 20:00
1. June – 30. June                                9:00 – 21:00
1. July – 10. August                            9:00 – 23:00
11. August – 31. August                  9:00 – 21:00
1. September – 31. December* 10:00 – 20:00
I had another amazing and enjoyable experience at the Blue Lagoon and intend to visit again on my next trip to Iceland.  Next time I'll cover my amazing massage that I had while in the Blue Lagoon itself!
Blue Lagoon
240 Grindavík, Iceland
Phone: +354 420 8800
Web site: www.bluelagoon.com
Email: contact@bluelagoon.com
DISTANCES AND DURATIONS:
From Airport to Blue Lagoon: 23 km (20 min by car)
From City Centre to Blue Lagoon: 47 km (50 min by car)
GPS COORDINATES:
Latitude: N +63.881363 (63°52'52.9068″N)
Longitude: W -22.453115 (-22°27'11.214″W)
---
*While Blue Lagoon provided me with admission, an Experience Comfort package, and a massage, all opinions and photographs are my own.*