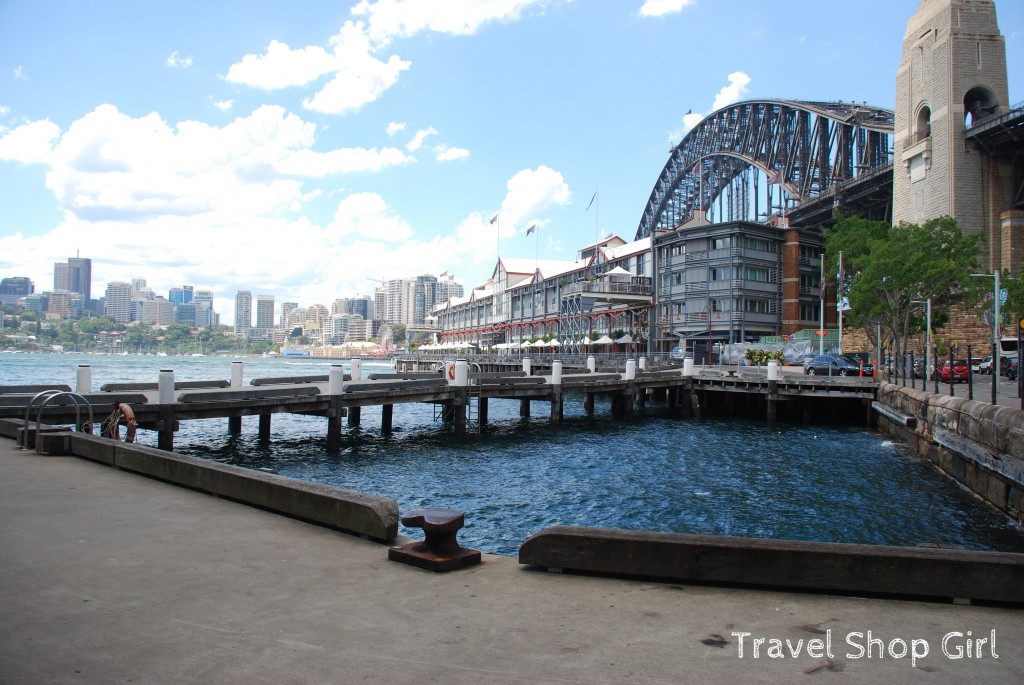 After flying 21 hours from Boston to Sydney and covering more than 10,000 miles in the air, when I arrived in Sydney I only had one thing on my mind and that was getting to my hotel.  I wanted (needed?) a shower, clean clothes, and food.  With bags in tow, I headed directly to my hotel, Pier One Sydney Harbour in Sydney, Australia.
Pier One Sydney Harbour is an Autograph Collection Hotel.  What is the Autograph Collection? It is "an evolving ensemble of strikingly independent hotels. Exactly like nothing else, each destination has been selected for its quality, bold originality, rich character and uncommon details. From near to far, iconic to historic, the result is an array of properties that is nothing less than unique, nothing short of collectively exceptional."  Knowing that, I definitely wanted to stay at Pier One Sydney Harbour, especially after staying at another Autograph Collection Hotel in Edinburgh, Scotland, The Glasshouse Edinburgh, where I had a spectacular stay.
I've never denied it when I've been called stubborn and this day was no different.  While I could've taken a cab from the airport or even from the Circular Quay Station, I opted instead to walk to the hotel.  After all, it's Sydney and I wanted to absorb every second of the view for as long as possible. The 1.1 km walk was supposed to take 14 minutes, but admittedly, I was tired, it was hot, and there were hills.  It didn't take longer than 20 minutes, but if I were to do it again, I'd most definitely take a cab.
Pier One Sydney Harbour
 describes itself as "a special blend of early twentieth century Federation architecture enhanced by a chic, contemporary interior design." Here you can see the area in front of 
Gantry Restaurant & Bar
, which is kind of a lounge/lobby air with an abundance of seating for a casual drink, a cup of coffee, or maybe to sit and read a book? But don't limit yourself to sitting inside as you can dine outside right on the water only a few steps away. 
Gantry Restaurant & Bar
 is the only restaurant and bar that the hotel offers.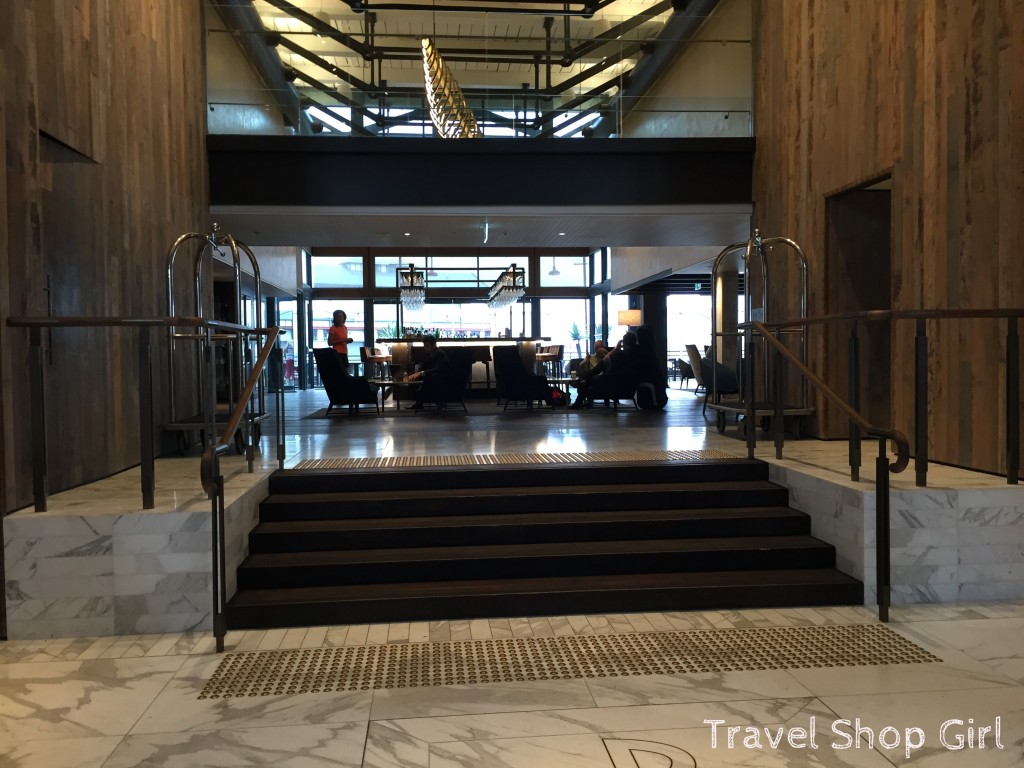 Pier One Sydney Harbour is located in the  heart of The Rocks with easy access to Sydney's historic dining and entertainment area as well the CBD.  Once you enter the hotel on Dickson Road, don't go too far.  The front desk is literally right inside the front door.  In the first picture to the right you can see the concierge desk on the right hand side.  The check in desk is in the same spot on the left side. It's quite strange because I initially wanted to walk up the steps and I fully expected the front desk to be in the area where there is seating, but no – that's not the case.  Luckily, although we arrived early, we were able to check in and head straight to our room.
TSG Tip: During busy times, queues can form so if you need to get somewhere, plan appropriately as there isn't much room in this area to stand. This is especially true around check out time.
While I didn't eat in the restaurant, I did have a few drinks and some appetizers outside on my first afternoon in Sydney.  We walked up to the bar inside and asked for a menu as none were out on the bar top or on the tables.  After ordering a cheese plate and truffle fries and a few drinks, we then took a seat outside.  Drinks were served without a cocktail napkin and no cutlery or napkins were provided until we asked for them.
But the highlight of the experience was the food. The cheese plate I have to say was incredible.  The crackers were a nice variety, the fruit was delicious (loved the strawberries and dates!), and the cheese was some of the best I've ever had.  But the big shocker was the honey, something I don't normally eat at all.  It was really, really good – like scary good!  The truffle fries were incredibly addictive, being salty and delicious and a perfect pairing for a beverage or two while sitting outside.  Food and drink is a little on the high side, so I did expect the drink to be a bit better than it was, which was mediocre and non-memorable as I can't recall the name at all. The service, however, was something like the rest of the hotel, which was adequate, but lacking. It wasn't bad, but it was a whole lot of people going through the motions and that's about it.  Normally I speak with everyone and remember their names, but there wasn't anyone who did anything special enough to be remembered.  They weren't reserved or rude, but more indifferent.
ACCOMMODATIONS: With a wide choice of rooms and suites to choose from in this 169 room hotel, my stay in Sydney at Pier One Sydney Harbour was in a Waterside King room with Sydney Harbour views.  Each room comes with a king size bed, ensuite bathroom, private in-room bar, tea and coffee making facilities, individually climate controlled air conditioning, an LED flat screen T, cotton bathrobe, duvet, in room safe, hairdryer, iron and ironing board, writing desk, and  WiFi internet access.  The ensuite bathroom features a marble vanity, stainless steel features, and mirrors.  An adequate room in total, unfortunately it matched the overall anemic ambiance of the hotel.
As Marriott Reward members, when we checked in we were offered the option of a few items like bottled water, etc.  One of the choices was a cheese plate, which we jumped on getting.  Day one came and went and it was never delivered.  The next day in the morning we called down to ask about it and it was delivered around 9 am, which was bizarre.  I had to call down and ask them to take it back because well, it was 9 am and could they deliver it later in the day.  I felt bad for the young woman who had to most likely make it up and deliver it and then take it back.  I'm sure she thought I was crazy, but I'm not sure they would've delivered it at all if we hadn't asked.  When it was delivered, it turned out to be the same exact cheese plate that we had outside the day before.
View from the Room: While we couldn't see Sydney Harbour Bridge from our room, to have a water view is still a special treat.  The room had sliding glass doors that opened up to a Juliet balcony – a narrow balcony that you could walk out onto, but that's about it.  It would've been nice if it were a real balcony, but still much better than a window.  In the pictures you can see boats on the water, which is probably normal for the harbour, but on Australia Day the harbour was filled with boats during this spectacular holiday.
Fitness Center: While the fitness center was small, it wasn't a problem because no one was in there will we used it.  One nice touch was the glass wall which gave a view of the water in front of the hotel.  Overall, it was clean with a nice variety of equipment including a few treadmills, a bike, and an elliptical as well as weights, medicine balls, etc.
Overall, while a nice hotel in a good location, I'm not sure I would choose to stay here again.  During my previous trip to Sydney we stayed at the 
Sydney Harbour Marriott Hotel
, which I think was a better location, had more to offer with more services and a larger staff.  It's funny because I thought I wanted to be down by the bridge, but in reality I now know I wanted easier access to everything while in Sydney.  Granted, I was traveling without a car so maybe if you have one this won't mean anything to you, but to me it felt somewhat isolated.  This was even more evident once the skies opened up and the rain kept pouring down on us. Nothing makes you want to be closer to everything while it's raining cats and dogs.  For me, it comes down to price, location, and service and while it wasn't a complete fail, I felt it lacked a certain amount of personality and stellar service, especially that of an 
Autograph Collection Hotel
, which would be needed for me to return. That and the new gigantic casino that is going to be built nearby that will obstruct views and perhaps offer an even better view of Sydney Harbour Bridge and the city means that this was probably my only stay at this hotel.
---
Whether you're a regular reader of my blog or this is your first time here, you'll probably detect something about my style and that's brutal honesty.  I never write anything in a malicious manner. That's just not my style or who I am.  However, considering how hard people work in order to save up to take a vacation or holiday, I always feel it's my responsibility when I write a review to be  as honest as possible to allow you to benefit fully from my experience.