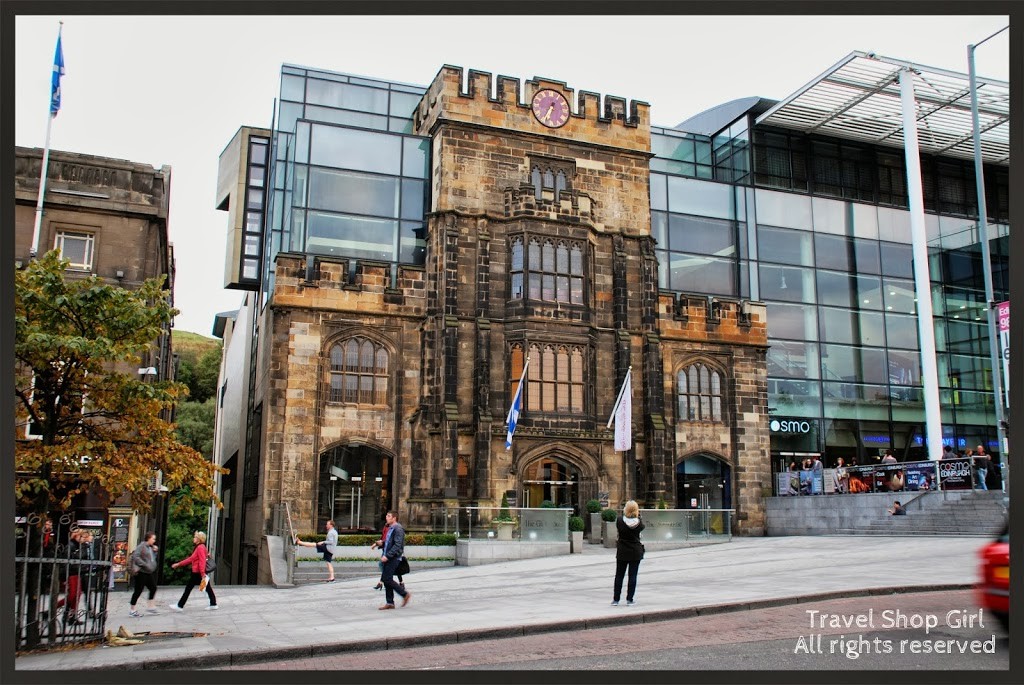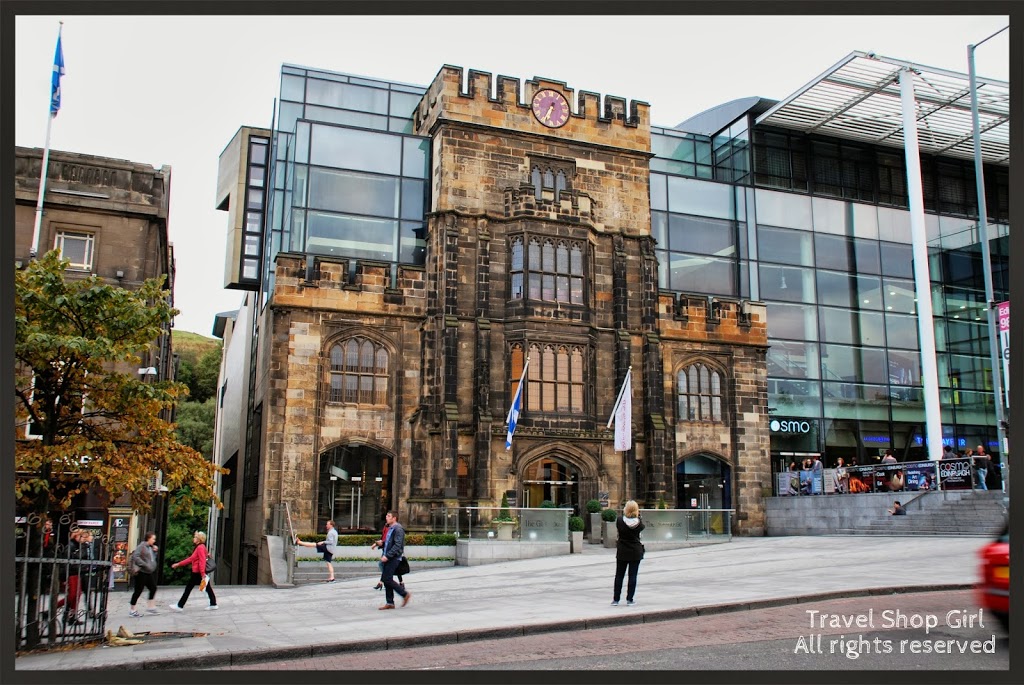 When it came time to decide where we would be staying during our trip to Edinburgh, it seemed like a no brainer. I'm a huge fan of boutique hotels and so I immediately gravitated toward The Glasshouse Edinburgh. It didn't hurt that we're part of the Marriott reward program and this hotel is part of the Marriott Autograph Collection, so we were able to stay using our points. The Glasshouse Edinburgh hotel is housed behind the 150 year old façade of the Lady Glenorchy Church. Enter through the doors of this grand old lady into a contemporary hotel flooded with natural light.
The Glasshouse is Edinburgh's finest five-star boutique hotel located in the heart of Scotland's capital city on Greenside Place, at the foot of Calton Hill.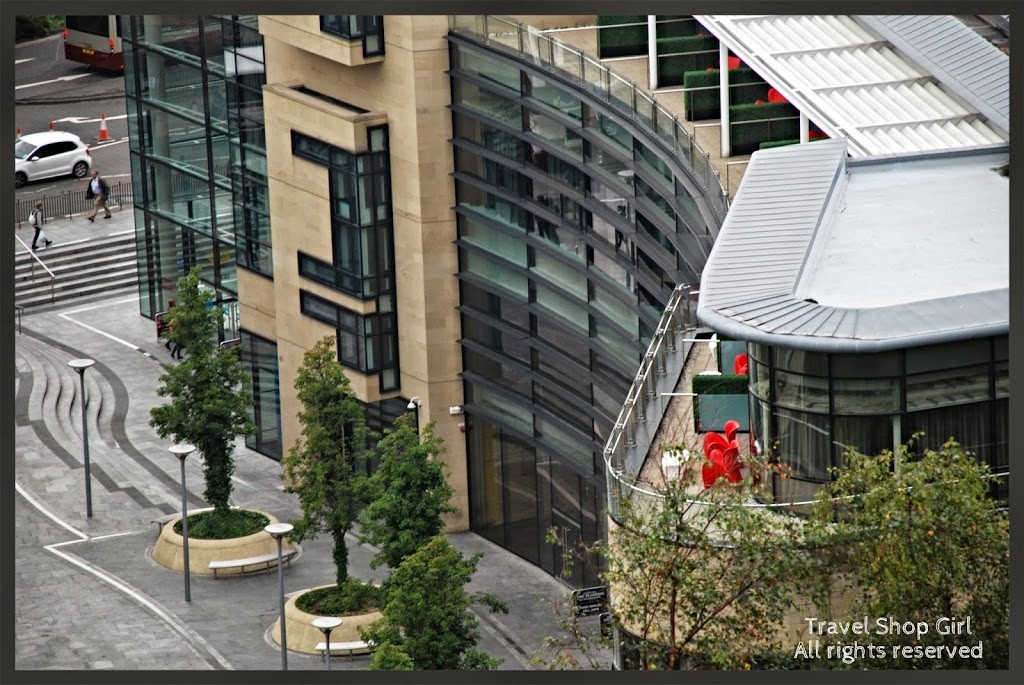 The hotel's 65 guestrooms and suites offer the feeling of privacy and space, especially as many have a private terrace or lead onto the hotel's two acre roof garden overlooking Calton Hill.
The Glasshouse Edinburgh has won several awards since opening in 2003 including on of the top 50 hottest hotels in the world by Conde Nast Traveller, winner of 'Most Stylish Hotel' by the Scottish Style Awards, winner of 'Scotland's Sexiest Hotel' by Hotel Review Scotland, and voted 'Best hotel to get naked in' by Opodo.
Location: Centrally located, this is a great location in which to begin either a short or extended stay in Edinburgh. The Omni Centre, a leisure and entertainment complex, is situated just next door to the hotel where you can find a variety of restaurants, bars, a movie theater, and a fitness center as well.
From The Glasshouse Edinburgh website:
"The Playhouse Theatre is adjacent to the hotel, at the top of Leith Walk, one of the city's most vibrant and multi-cultured stretches with a varied selection of shops, restaurants and bars. Just a short walk away guests will find Multrees Walk which offers a collection of high-end stores including Louis Vuitton, Emporio Armani and Hugo Boss, and after a wander round Harvey Nichols, enjoy dinner and drinks in the famous Fifth Floor Restaurant overlooking the city. A visit to Princes Street – Edinburgh's most famous shopping thoroughfare – will lead to a number of famous landmarks including Edinburgh Castle, Scott Monument, and the National Gallery of Scotland. The National Portrait Gallery is just moments away on Queen Street, and The Mound links visitors to the old and new towns of the city. There are also a number of attractions on the Royal Mile which combine old and new with both historically and modern aspects to enjoy."
The hotel is also only a few minutes walk from Waverley Station so upon leaving, we only needed to walk a few minutes to catch our train. Convenience is key when traveling and The Glasshouse Edinburgh provided us with a convenient location to everything we could have possibly asked for during our stay. Restaurants, cafés, pubs, and lounges are plentiful and so are small markets like Tesco or larger stores like Sainsbury's or my personal favorite, Marks and Spencer, which was up on Waverley Bridge. It's always nice to grab a few things to take back if you want a snack or to take back home with you.
The Exterior: Let me sum this up for you in a few words: Breathtaking, beautiful, and striking. At first you might notice the glass exterior of the Omni Centre as you approach the hotel, but the front of the hotel is simply history set against modern architecture.
What's even more amazing is to view the layout from up high on Calton Hill. From here you can understand where the hotel is in relation to the Omni Centre.
The Lobby: The historic exterior will have you feeling like you are about to step back in time once you set foot through the front door of The Glasshouse Edinburgh. This minimal lobby is where you check in and you probably won't ever run into another guest during your stay. So if you're a celebrity trying to duck the paparazzi, maybe this might be a good option for you.
There is a beautiful mix of mid-century furniture and modern art, including some ridiculously amazing sculptures scattered throughout the hotel.
One of my favorite things about the decor of the hotel was the juxtaposition of light and dark, glass and wood, modern and antique. Plenty of places try to pull this off, but aren't successful, but The Glasshouse Edinburgh was.
Staff: At check in, Heather was unlike most front desk employees you might encounter as check in was calm, intimate, and not in the slightest bit frenetic. Strangely enough, as we were walking around the city and landed inside the Hard Rock Cafe, we met Ryan who then told us that Heather used to work there with him. Considering a city of nearly one-half million, what were the chances we would find someone who knew someone else we had just met?
On the day of our departure, Carolina checked us out and we struck up a conversation with her. She is from Poland originally and has been living in Edinburgh for the past few years. Her little boy attends school and I have to say I was impressed as he is only 5 or 6 and is bilingual and can do math in his head. I'm not sure how many American high school students can profess the same aptitude.
Every one of the employees we encountered throughout our stay greeted us with a smile and they were all well groomed and professional looking, from housekeeping staff to the doorman to all front desk staff. It's safe to say that the hotel staff takes just as much pride in their appearance as they do in taking care of the hotel and it shows.
Layout of the Hotel: After you check in, you'll get your key card and you can walk a few feet over to the hotel elevator. In order to access the hotel, you need to insert your key card in to operate the elevator. We were in room 96, which required us to take the elevator to the third floor, walk down a long hallway, turn past The Snug, go down a flight of stairs, and another hallway to reach our room. If you understand that the hotel is laid out in a U shape, this will all make sense.
The Snug: On the way to our room, we passed The Snug, a lounge area incorporating an Honesty bar and its own fireplace to relax around. People can have a drink, a snack, or just sit and read the paper or talk. I'm even thinking about looking for a tabletop fireplace for my home now because of how nice it was to sit around a small fire and chat with friends!
The Roof Garden: The two acre roof garden is not to be missed. To find it, look for the door opposite The Snug and enter paradise. The garden has the occasional oversized white rose buried deep within the gardens, which is just enough to evoke a smile.
If you need a moment to relax with a cup of coffee in the morning or a glass of wine after dinner to relax, you can sit outside any time of day and simply enjoy the view.
The pop of red was a treat for the eyes as was this crazy face chair. Yes – that's a chair! This thoughtfully designed space is great for walking around and enjoying some of the piece and quiet high above the city.
Sitting just below Calton Hill, we knew we would have to get up there before we left the city as we could only imagine how great the view might be from even higher up. If you plan your return route carefully from Calton Hill, you can take a short cut through the side streets right to the hotel while also enjoying the view.
The Accommodations: We stayed in one of the hotel's Deluxe rooms, complete with luxury Highland Aromatics toiletries, WiFi, bottled water, shoeshine service and newspaper. iPod docking station, tea kettle, and Nespresso coffee machine are also provided. We were asked at check in if we wanted still or sparkling water and everyday a large bottle was left for us. Additionally, the in room mini-bar had a few bottles of water, soda, beer, and wine as well as chocolates (Malteasers that called to me, but I never gave in!) and crisps. If you're really hungry, you can enjoy breakfast in the Observatory, a quick bite or a meal in The Snug, or a full meal or snack in your room via room service, available 24 hours a day.
With a desk area and small table and chairs behind the bed, you didn't feel like you were on display to the office building opposite the hotel. Wifi is readily available in your room as well as the public areas. The signal was strong and we never lost the signal once during our stay.
I loved the large wall of glass that let in all the light and with both a sheer curtain and a heavy drape, it was never an issue at night. Everyone always remarks about how wet and rainy Scotland is, but I can tell you this picture was taken upon our arrival into Edinburgh and it was the only time we saw rain during our entire stay. Call me lucky!
Quite often when I travel with my husband, there never seems to be enough storage space for our things. This wasn't the case here as there was a large closet area divided into two with a center area dresser and television as well as bedside tables. There was also ample lighting throughout both the room and the bathroom as well.
The bathroom was a dream with a deep soaking tub, light blue marine glass all around, and a spacious glass shower, with beautiful custom glass shower doors. Above all else, our room was immaculate upon arrival and throughout our stay. It's apparent that the hotel takes great pride in keeping all areas of the hotel clean and has a housekeeping staff that works extremely hard to live up to their expectations.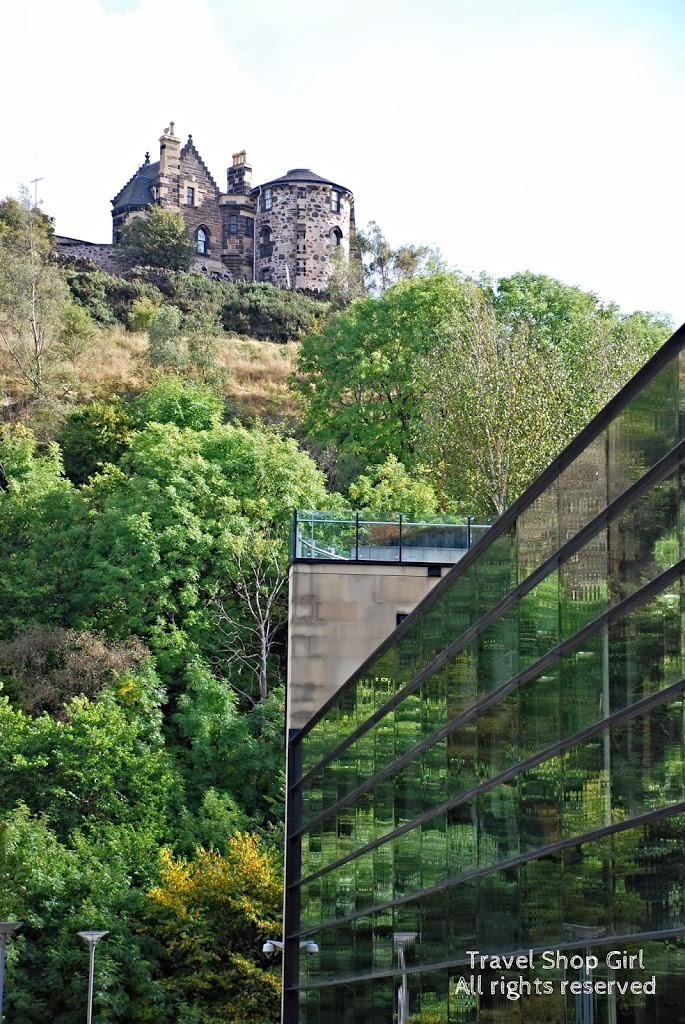 There have been very few times in my life when I was able to say that I wouldn't have changed a thing about a hotel stay, but I can say that about our stay at The Glasshouse Edinburgh. A beautiful hotel, great staff, spacious room, and a central location made for better than amazing stay. I wouldn't hesitate to recommend the hotel to anyone and I will definitely stay here the next time I'm in Edinburgh.
The Glasshouse Hotel
2 Greenside Place
Edinburgh, EH1 3AA
Website: www.theglasshousehotel.co.uk
Phone: +44 (0) 131 525 8200