After an exhausting 16 1/2 hours in the air and taking Airport Link from the airport to Circular Quay, I was ready to crash. When we decided to cruise out of Australia, we were extremely excited to have a little time to spend in Sydney before the cruise.  To maximize our limited time, we made the Sydney Harbour Marriott Hotel at Circular Quay our home base in Sydney.
Our ride from Sydney Airport on Airport Link was a mere 21 minutes and in no time flat were off the train and ready to get to our hotel.  Upon exiting the Circular Quay train station, you'll see the Customs House in front of you on Loftus Street. Home to the Customs Service until 1994, it is now a venue for exhibitions, private parties, and also home to the City of Sydney Library.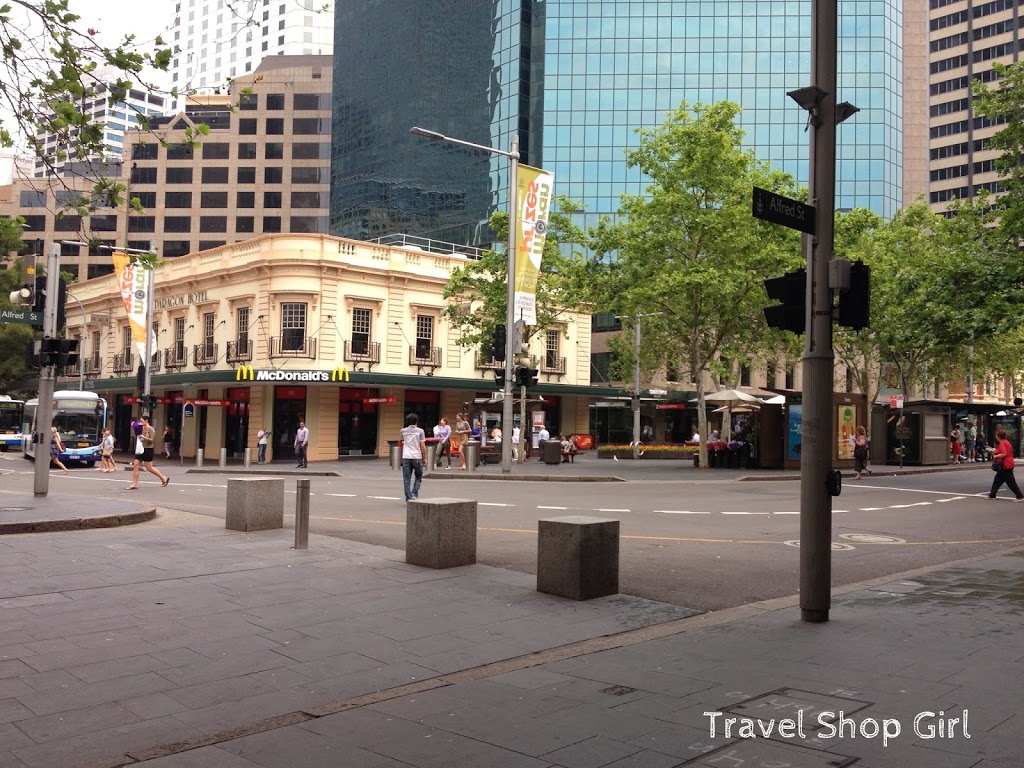 Opposite the Customs House on Loftus Street is a McDonald's.  Let's be clear about this.  I don't want to hear that you traveled all the way to Australia and dined in McDonald's so keep walking.  True, I have no way to prove if you ate there or not, but it's really in your best interest to skip eating there entirely.  Walk along in front of McDonald's on Alfred Street and turn left at the end of the block onto Pitt Street.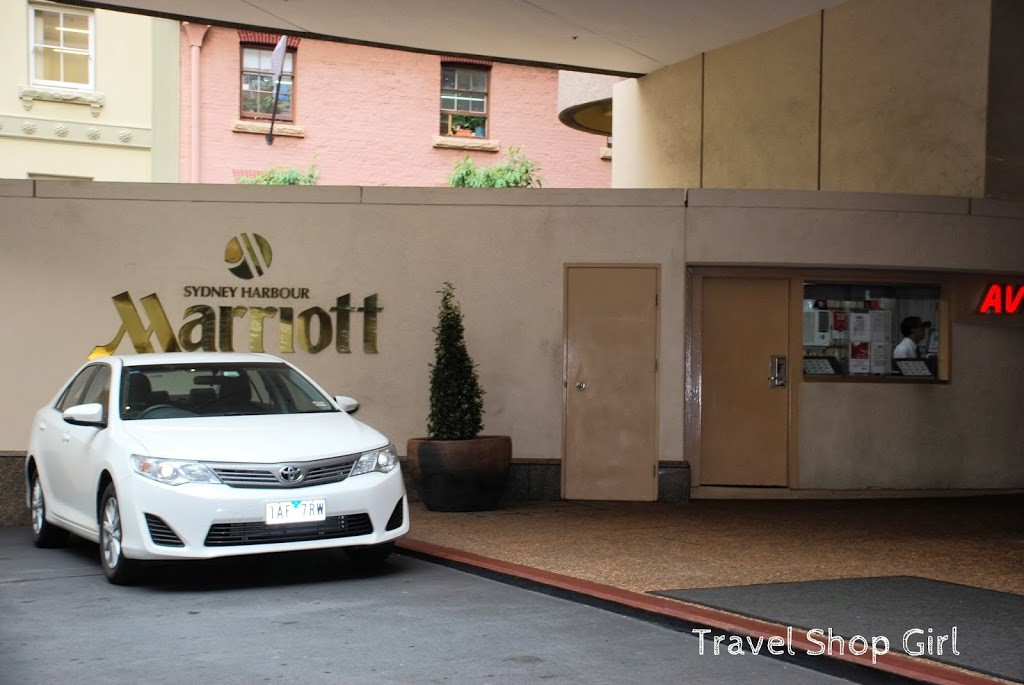 Perfectly located, the Sydney Harbour Marriott Hotel is a mere 5 minute walk from the train station.  With valet parking in front, the hotel is hard to miss.  This 32 floor hotel has 518 rooms, 45 suites, 21 meeting rooms, and over 15,000 square feet of meeting space, more than enough room to accommodate the leisure or business traveler.
The large columns out front flank the glass entrance to this five star luxury property in Sydney.  Should you need to rent a car, there's an Avis desk located just to the left of the entrance.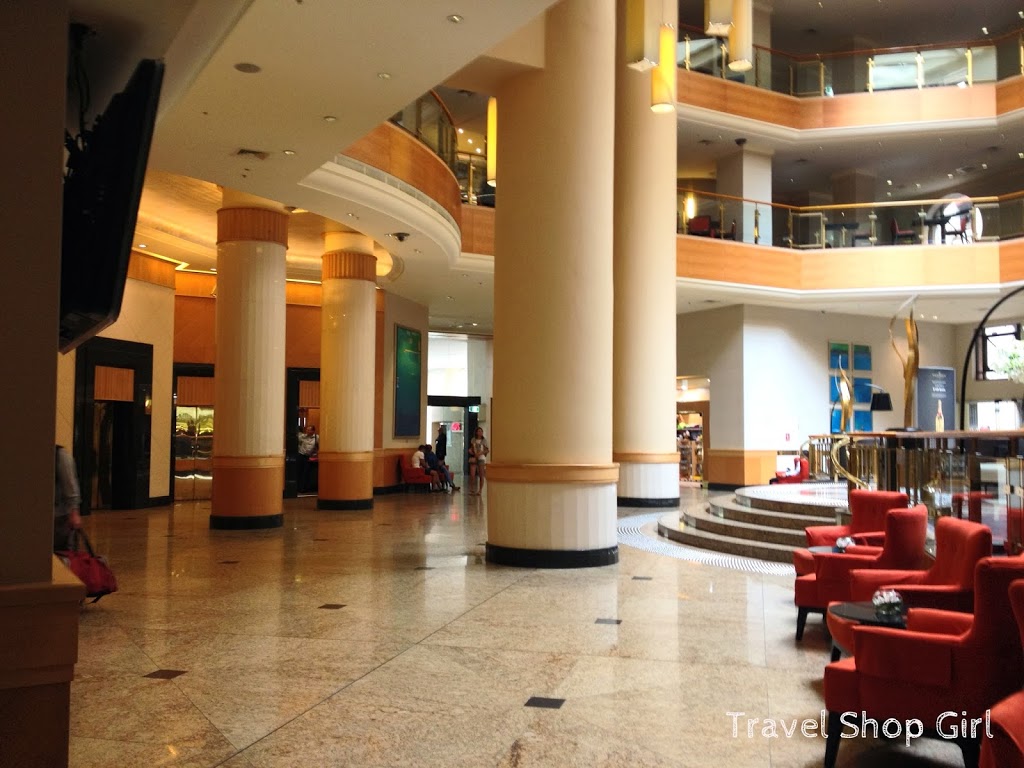 When you enter the lobby, you'll notice that it is wide open with an abundance of natural light filling the space.  In addition to the front desk located here, you'll also find the concierge desk, stores, and more.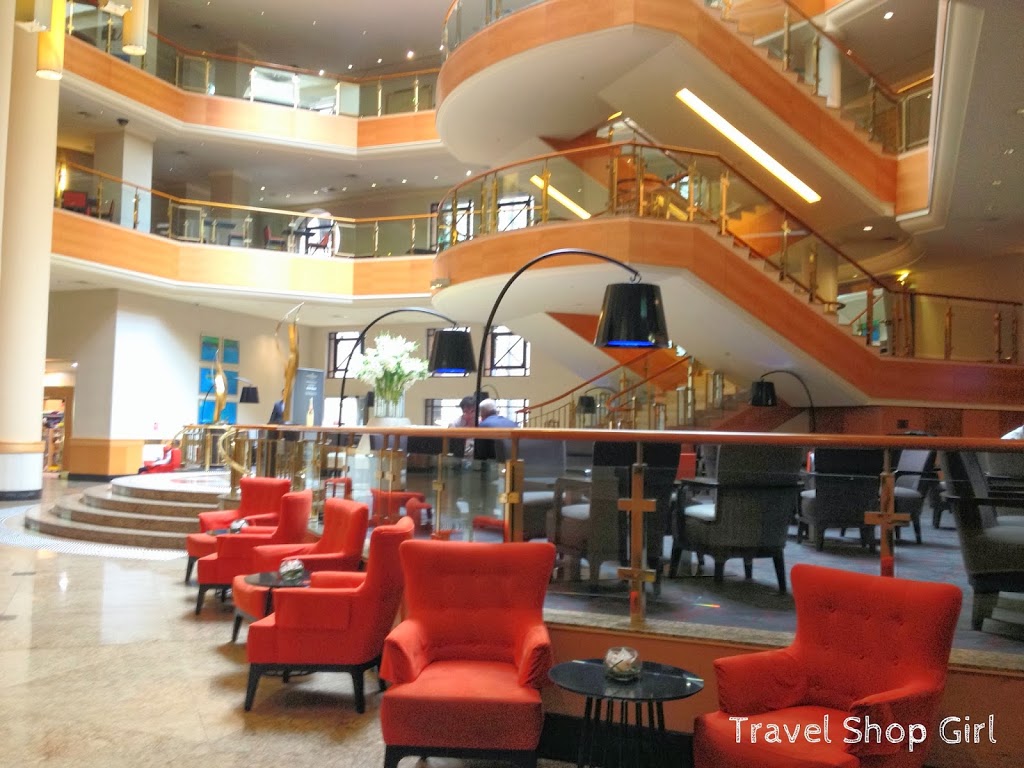 Also located in the grand lobby is Macquarie Lounge, where you can sample a variety of food, high tea, and a variety of beverages (both alcoholic and non-alcoholic).  Sip on a coffee in the coffee bar during the day and transition to a cocktail at night before enjoying a meal on the second floor in Icons Brasserie, home to Sydney's best seafood buffet.  If you're looking for something different, you can hop on over to the newly renovated 150 year old pub, the Customs House Bar.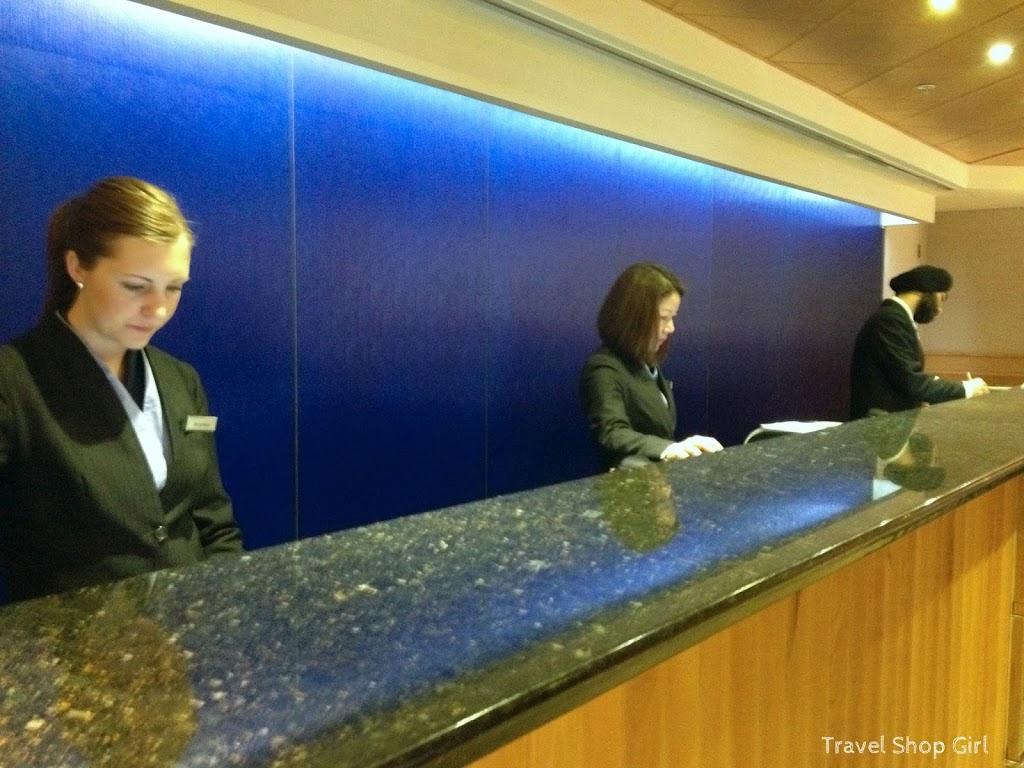 It was only a little before noon when we arrived and check in was after 3 pm.  It felt like it might be a roll of the dice as to whether we would have to walk the streets of Sydney in a comatose state or be allowed into our room.  Luckily, the front desk worked their magic for us and we were able to get into our hotel room a few hours earlier than we had planned.  Should you arrive early like we did and your room isn't ready, don't worry. You can always take advantage of the complimentary Early Arrivals Lounge which features showers, tea/coffee, wifi and a sleep zone.
But as our room was ready, we made a fast dash over to the elevator and up to the 21st floor to see our room. As we are Marriott Rewards members, our room was situated on a higher floor and it also gave us access to the Executive Lounge where we could go for breakfast in the morning, cocktails and hors d'oeuvres in the evening, and several other little perks like free internet and priority late checkout.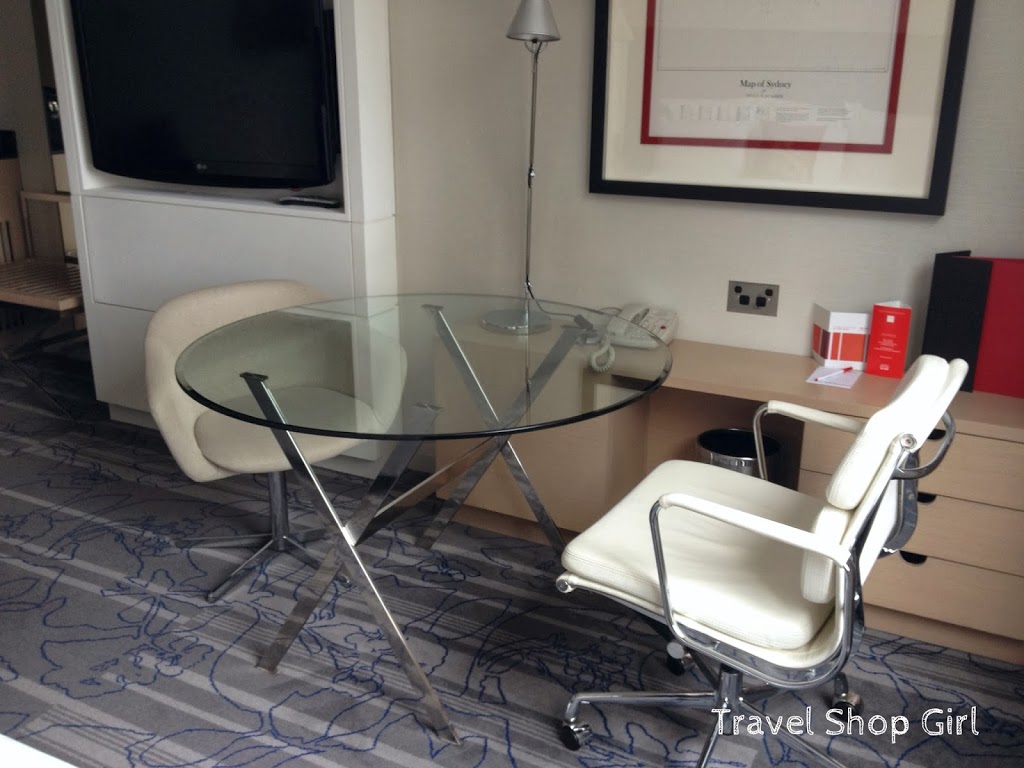 Measuring approximately 312 square feet, the room was the perfect size for two people.  In addition to a king size bed with luxury Revive bedding, there was also a table and chairs, a 42″ television, another set of chairs on the opposite side of the room, and plenty of storage. It wasn't the Presidential Suite or the massive 2 bedroom, 2 level duplex suite they have available on the Executive Level, but we didn't need a room that size.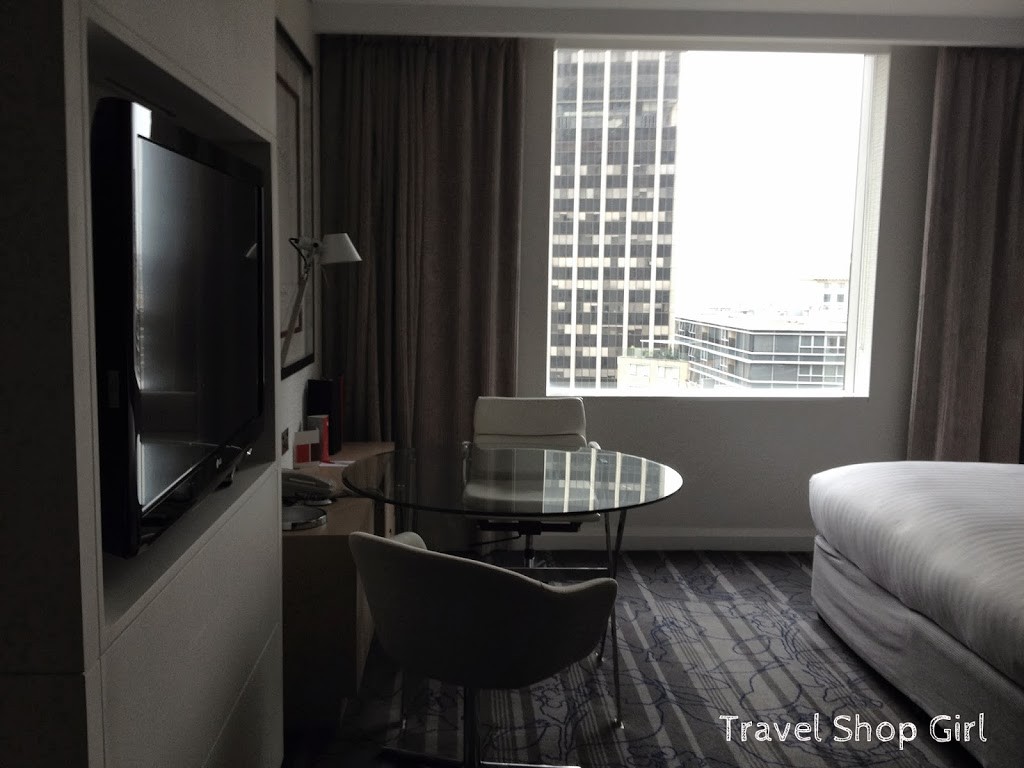 In case you're wondering what type of room we were in, room 2104 is a an Opera view guest room with an Opera House view and partial Harbor view.  The large window was perfect for gazing outside, both day and night.  With in-room private dining an option, we could have stayed in and eaten our meals here as well.
There are many hotels in Sydney to choose from so why did we choose the Sydney Harbour Marriott Hotel? This picture should easily explain why.  Look at the view from our hotel room!
Here's a close up view of the Sydney Opera House and no, I never tired of the view.  This perfect location allowed me to take pictures even through the window without an issue.  When my husband went for a run, I was able to spot him all the way down in front of the Opera House from our room.
You can grab a seat and enjoy the view before heading out to enjoy all that Sydney has to offer.  Believe me when I say that you want to budget in extra days to take in Sydney as one day is simply not enough.  The bold design in the carpet and throw cushions is a reference to the distinctive Morton-bay fig tree seen in the nearby Botanical Gardens.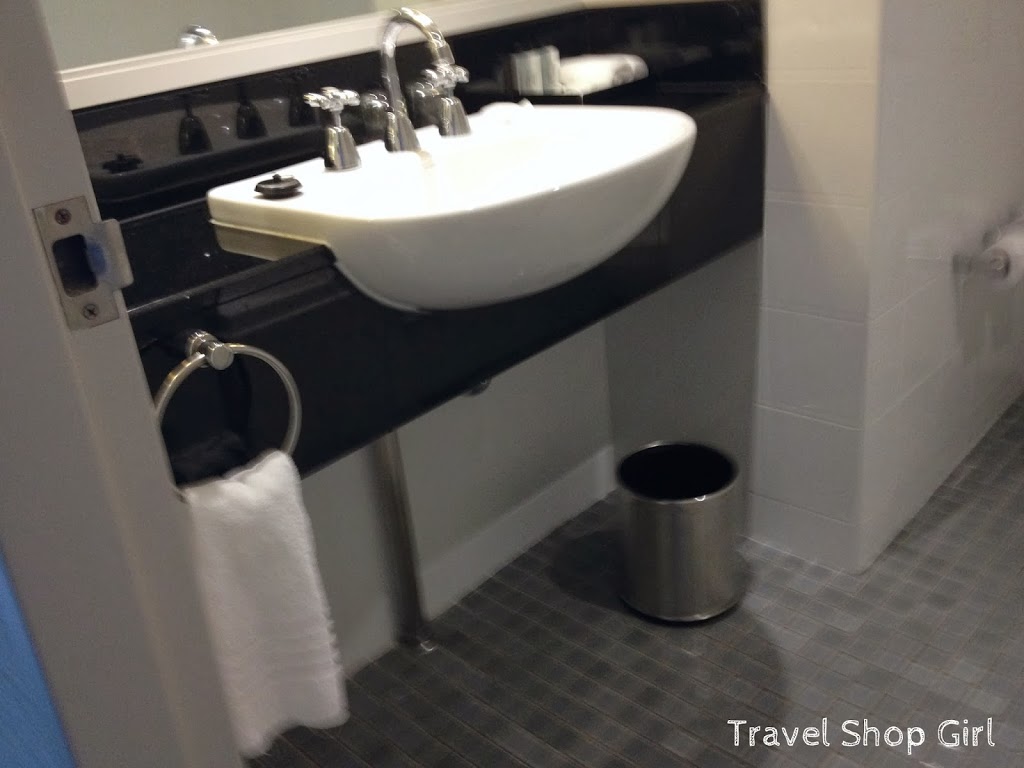 After running around Sydney, swimming laps in the indoor pool, or working out in the fitness center, you can either head straight to the hotel Spa or freshen up in your own spacious bathroom.  This modern styled bathroom has a large tub and walk in shower with tiled floor.

At the Sydney Harbour Marriott Hotel at Circular Quay, I was able to find not only a hotel with a great view, but a hotel that was centrally located in Sydney as well as one with great service.  That meant that I was close to everything, including where the Celebrity Solstice would be docked.  Getting to the hotel from the airport using Airport Link was effortless and having the Sydney Harbour Marriott Hotel at Circular Quay be our home base, even for only a short time, made me fall completely in love with Sydney.  The location couldn't have been better as we were so close to Sydney Harbour Bridge, Sydney Opera House, as well as many of Sydney's historic sights and activities. The next time I visit, and yes, there will be a next time, I wouldn't hesitate to stay here again.
Next up I'll cover the Executive Lounge and Macquarie Lounge at the Sydney Harbour Marriott Hotel at Circular Quay.
Hotel Highlights
*This hotel has a smoke-free policy
*Hotel was built in 1989
*Rooms were renovated in 2011
Parking & Transportation
*On-site parking, fee: 59 AUD daily
*Off-site parking, fee: 70 AUD daily
*Valet parking, fee: 59 AUD daily
*Spaces are strictly limited.  Subject to availability.
Hotel Services & Amenities
*Evening turndown service
*Housekeeping service daily
*Full business center, onsite
*Fitness center, onsite
Sydney Harbour Marriott Hotel at Circular Quay
30 Pitt Street, Sydney, 2000 Australia
Website: www.sydneyharbourmarriott.com.au
FaceBook: www.facebook.com/shmarriott
Telephone: +61 2 9259 7000