Back in March I sailed aboard the new Norwegian Getaway and as Norwegian Cruise Line's newest ship, she offers cruise passengers a wide variety of food options, 28 in all, while cruising the Caribbean year round from Miami. Today we'll cover many of these dining options.  
The first dining venue we'll visit is the Flamingo Bar & Grill, which I only visited on my last day at sea. I wish I had gone up earlier in the week as the food was really good.  Since the Getaway sails from Miami, it seems like a natural extension of Miami culture to have a restaurant onboard with Latin flavors.  If you want to avoid the buffet rush, you can visit Flamingo for a breakfast sandwich and coffee.  But the real reason you'd want to go to Flamingo is for the yuca frita (fried yuca), plátanos maduros frito (deep fried sweet plantains), moros (rice and red beans with chorizo), or maybe the pan con lechón (pulled pork sandwich).  While I was pleasantly surprised at having access to cuisine I'm already passionate about, I was disappointed that the food was cold when I received it.  I was told by a crew member that it was because it is an open air restaurant and the breeze from the ocean was causing the food to get cold. This could be the case if the food was room temperature, but some of my food was cold — like walk in refrigerator cold.  Those items I skipped altogether as I wasn't looking to get sick.  Other than that, it's a nice buffet restaurant that is generally easy to get in and out of relatively quickly.   The Flamingo Bar & Grill is located aft on deck 16 near the climbing wall and video arcade.  Fee: Complimentary
A mainstay on any cruise ship is the buffet and there's a large one on the Norwegian Getaway.  The Garden Café is open for breakfast, lunch, and dinner offering traditional buffet favorites such as omelets and waffles at breakfast and pizza, pasta, burgers, and more throughout the day.  The floor to ceiling windows offer views all around of the sea and the light, airy decor and ample seating make this a popular dining destination.  The Garden Café is located aft on deck 15.  Fee: Complimentary
As I'm not a meat eater, I did find it extremely difficult to find protein on this cruise.  On one particular day tofu was offered in the buffet in a dish of tofu and spinach.  Let's say that I had no pride when I took most of the tofu from the serving dish!  The Greek salad I had on my first day onboard was delicious, but the overall repetitive nature of the limited food options out there for me had me slightly bored by mid-week.  While I did eat, I'm used to having a significant amount of protein every day.  I do wish Norwegian Cruise Line as well as the other cruise lines would make an effort to understand exactly what non-meat eaters not only eat, but want to eat.  Additionally, it would make life so much easier if both the buffet and the dining room menus indicated if a selection had meat, eggs, or nuts in it as many of the crew when asked couldn't tell me. 
TSG Tip: You won't find individual peanut butter packets out at breakfast so you'll have to ask for it. They'll scoop out an unnecessarily large portion of it for you, but at least you'll have some.  
Two restaurants that share a space aft on deck 8 are Moderno and Cagney's and at the center is the Prime Meridian bar.  Meat eaters can get their fill of steak at either restaurant easily.  Moderno is Norwegian Cruise Line's authentic Brazilian steakhouse that serves beef, port, lamb, and chicken. Price per guest: $20 adults/$10 children. Next door is Cagney's, Norwegian's signature American-style steakhouse serving Certified Angus Beef as well as their famous truffle fries.  Price per guest: $30 adults/$15 children
Located mid-ship on deck 8 you'll find Wasabi and Ocean Blue by Geoffrey Zakarian. That's right – that's celebrity chef and Iron Chef Geoffrey Zakarian who has teamed up with Norwegian Cruise Line for his new restaurant at sea.  If you love seafood, then you have to visit Ocean Blue.   Price per guest: $49 adults/$24.50 children
Wasabi is a traditional sushi bar with a Yakitori grill.  At Wasabi you can dine on sushi, sashimi, as well as sake from their special sake menu.  Price per guest: Á la carte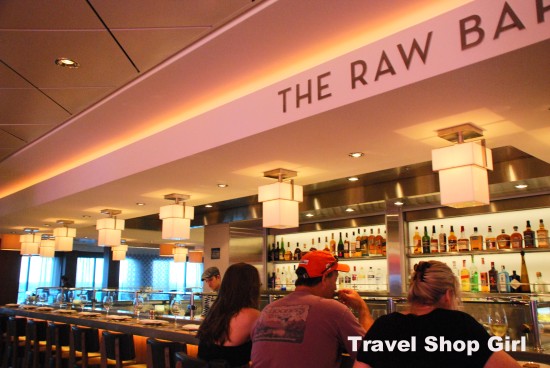 An extension of Ocean Blue is The Raw Bar.  Maybe you'd rather have a few oysters and a quick drink than a sit down meal.  If so, stop in, jump up on a bar stool, and enjoy.  Price per guest: Á la carte
Another dining option is La Cucina, another Norwegian Cruise Line favorite where you can dine on beef carpaccio, risotto, pasta, pizza, and more. 
TSG Tip: If you haven't realized it yet, Norwegian Cruise Line put the majority of the restaurants on the Norwegian Getaway on deck 8.  If you're feeling overwhelmed at the thought of getting around a large ship, don't worry as there's sufficient signage, but if you remember that most of the entertainment options are on decks 6, 7, or 8 (hence the name 678 Oceanplace), you won't get lost.  
Of course, don't forget dessert and coffee, too! Dessert like Tiramisù, Rhubarb Panna Cotta, Lemon Curd Ricotta Cheesecake, or Torta Di Cioccolata.  Price per guest: $15 adults/$7.50 children
Maybe, just maybe you decided to skip dessert, but an hour later you're feeling that familiar craving for something sweet.  Venture down to the Café & Bar at The Atrium on deck 6.  Here you can enjoy a cocktail or a cappuccino along with one of a variety of amazing baked goods from Carlo's Bake Shop.  For specialty coffee, Norwegian proudly serves Lavazza coffee, which makes for a great espresso or cappuccino.  As for the baked goods, while they looked amazing, I passed on them as I can't afford the extra calories.  Price per guest: Á la carte
If you watch TLC, you should know who Master Baker Buddy Valastro is.  Star of "Cake Boss," Buddy opened an extension of his family's bakery onboard the Norwegian Getaway at Carlo's Bake Shop. In addition to treats like cupcakes and cannoli, did you know that you can also pre-order custom specialty cakes for celebrations like birthdays and anniversaries? Carlo's Bake Shop is located aft on deck 8 near Cagney's and Moderno.  Price per guest: Á la carte
What happens when you combine a one of a kind show featuring world-class magicians and dinner? You're probably dining at the Illusionarium!  The show is a series of magical acts strung together in a show that plays out in front of you as you dine.  There's banquet style seating inside the venue so you'll be seated next to others.  You can expect audience interaction and while this is supposed to be a family-friendly show, the emcee did offer up some off color jokes so you might want to decide how young is too young in your family to attend.  I let my server know that I wasn't a meat eater and I was able to enjoy a simple salad and entree (Eggplant Parmesan) alongside my fellow guests without issue.  The best part of the experience for me was the server's steam punk costumes, which were phenomenal. Located forward on deck 6 near the Getaway Theatre.  Price per guest: $39 
TSG Tip: As with all specialty dining options onboard the Norwegian Getaway, don't wait to book your reservation.  If you can, book before you sail to ensure that you'll have the restaurants and entertainment options you need.  There's an option to get stand by tickets, which is what I did.  Since I was sailing alone, squeezing me in was fairly simple, but it could be harder for a family to get last minute tickets.  
Other specialty dining restaurants onboard include Le Bistro (French – Price per guest: $20 adults/$10 children); Shanghai's Noodle Bar (Price per guest: Á la carte); and Teppanyaki (Price per guest: $25 adults/$12.50 children). 
In addition to the already mentioned complimentary dining options onboard, you can also dine in one of the main dining rooms: Savor, Taste, or the Tropicana Room.  By offering three main dining rooms (MDR), cruise guests are offered a more intimate dining experience.  The menus are the same in Savor and Taste, but the menu, decor and space of the Tropicana Room provide for a much larger restaurant.  Think supper club more than cruise ship dining and that's the Tropicana Room.  
I chose to try out Taste located aft on deck 6 opposite Savor.   Immediately greeted by the hostess, I was asked if I was dining alone and then escorted to my table by a window.  My server was definitely reserved and not much of a talker.  When I informed her that I didn't eat meat or eggs and asked what the "Daily Addition" item was on the menu, she wasn't helpful.  Typically when I inform a server of my dietary needs, if it's not crazy busy, I'm usually told that they can see if they can get something special for me like a side of the vegetables from the other entrees if the one vegetarian entree doesn't appeal to me.  That wasn't happening here so I ordered off the menu and hoped for the best.
For my starter I had the Bean & Corn Salad, a nod to my college cafeteria days.  This salad was as basic as basic can be with green beans and corn mixed with French dressing.  Yeah… thanks I'll pass. The entree was Spinach Beignets with Okra Ratatouille and a Tomato Concassé.  Put an otherwise unfamiliar term on a menu with an accent and it's supposed to make that dish more appealing. What exactly is concassé? It means "crushed," a redundant term since the ratatouille had crushed tomatoes in it.  For research purposes I ordered two desserts and sampled both.  Interesting, but not memorable although looking around the restaurant diners seemed more than satisfied.  
Other complimentary restaurants onboard include O'Sheehan's as well as the the Haven Restaurant, which is for guests of the Haven exclusively.   If you visit any restaurant onboard the Norwegian Getaway and still feel hungry afterwards, there are more than enough other restaurants to choose from for another meal or a late night snack.  You definitely can't go hungry here!
There truly is something for everyone on a cruise.  While I might have had difficulty due to my dietary constraints, it certainly didn't ruin my vacation and I definitely would sail with Norwegian Cruise Line again.  Have you sailed and dined on the Norwegian Getaway?