After breakfast at our hotel, CenterHotel Þingholt, we prepared ourselves for our trip to the Blue Lagoon. After my last trip to Iceland in 2012, I was lucky enough to combine my airport transfer along with the Blue Lagoon, which resulted in an extremely relaxed plane ride back to the States.  My experience this time at the Blue Lagoon would be different as I was with my husband, but I was also going back into Reykjavik afterwards.  We grabbed our bags and waited only a short time for our shuttle to arrive.  A short ride to BSI Terminal and we found our way easily inside the station.
Since our excursion was to include a stop at the Blue Lagoon at 6 pm, I wasn't sure if we would still be able to go.  I walked over to the counter where they take care of not only day tours for Reykjavik Excursions, but also FlyBus, and spoke to someone there about our tickets and it was resolved in no time at all. Excellent customer service and my worries were gone about whether we were going or not.
While I was taking care of our tickets, Rich walked around taking pictures to keep himself entertained.  I think he was a little punchy from lack of sleep.  He was highly entertained by Kim's Ostepops, which he referred to as "Osteopops."  Forget your calcium tablets and munch on some Ostepops instead.
Want a quick meal while you are waiting to arrive to your destination?  Try the drive thru or sit down inside. How about a hot dog and a Coke for 595 ISK (Iceland Krona) or about $5 USD?  Or maybe you're looking for a meal and want a steak and fries for 1990 ISK or about $16 USD.  Perhaps you're really hungry and can devour four cheeseburgers, fries, and a 2 Liter Coke for 3990 ISK or about $31 USD.  Although I admit to being horribly curious about strange food from different countries, I'm kind of glad I didn't go into the restaurant, Fljótt Og Gott, inside the terminal.  Apparently, in addition to being a "restaurant, net cafe, bar & kiosk," they also serve traditional Icelandic food including sheep's head.
We didn't have to wait long to board our coach to go to the Blue Lagoon.  Simply exit the other side of the building where the coaches are lined up and look for the sign in the window that matches your destination.  It was on this trip that Rich decided that almost everywhere you want to go in Iceland is 40 minutes away. That may be true, but the ride is always filled with the beautiful and ever changing scenery of Iceland.
The weather was brutally cold and there wasn't only intermittent snow, but hail as well so I was glad I brought a heavy coat with me.  The coach stops in the small parking lot where you get out and walk up a pathway to the entrance.  The black rock and gray sky combined to create a dark and gloomy arrival for us, but we persevered and pressed on seeking shelter from the cold.
What is the Blue Lagoon?  From the Blue Lagoon website:
The Blue Lagoon was accidentally formed in 1976 during operation at the nearby geothermal power plant. In the years that followed, people began to bathe in the unique water and apply the silica mud to their skin. Those with psoriasis noticed an incredible improvement in their condition. Over the years, Blue Lagoon has been innovative in harnessing this gift of nature to develop different spa services and products. Today, Blue Lagoon is recognized as one of the wonders of the world.
In addition, the Blue Lagoon is among the most remarkable places in the world, according to National Geographic magazine. The lagoon was included in the magazine's special edition on wonders of the world. National Geographic calls The Blue Lagoon a geothermal paradise and a gift of nature. "The steaming turquoise pools of Iceland's Blue Lagoon, trapped in volcanic rock represent an otherworldly vision."
When you enter the front door of the Blue Lagoon, immediately to your right is a gift store and to the left is the check in desk.  There is a separate check in for groups so be sure you get in the right line.  Luckily, our reservation was found quickly and we paid 350 ISK (Iceland Krona) or about $2.75 USD for each of us for towels.  You can avoid the towel charge by bringing your own towel.  You'll get a blue plastic bracelet that you will use throughout your stay at the Blue Lagoon.  You can charge items to your bracelet as well as operate your locker in the locker room.
At the Blue Lagoon you can expect to pay anywhere from 33-40 EUR for general admission, depending on the time of year.  They have plenty of add-ons (towel, bathing suit, bathrobe, slippers) as well as extras (mask or scrub at Lagoon Bar, Blue Lagoon Cocktail, guided tour, massage and treatments, or lunch at LAVA Restaurant) so if you want to drop a few krona, euros, or dollars, you can definitely do that here.  If you can't bear the thought of leaving, you can stay at the Blue Lagoon Clinic Hotel, just a ten minute walk away from Blue Lagoon.
There are separate locker rooms for men and women.  When you go in the locker room, locate a bank of lockers with a free locker. You can then take off your shoes and put them with the other shoes outside of the locker area.  After you undress, push your locker shut and then hold your wristband up to the digital display. It will lock your locker and you will have to hold it up again to unlock it.  There are instructions on the inside of the locker as well as on the wall, but many people seem to miss this.
WARNING to any of my possibly puritanical American readers: You can expect to see lots of fully nude people here.  Everyone will be comfortable with themselves, but for you.  Paranoia may set in and you may begin to believe that people are looking at you, but believe me, they aren't.  Go about your business as they will be doing likewise and all will be good with the world.
Prior to entering the water, it is necessary to shower off before putting on your swimsuit and going outside.  I met Rich outside of the locker rooms and he was carrying both his towel and camera. Having visited earlier in the year, I knew the best way to hold onto your towel was by leaving it in your locker.  All of the towels look the same except for the ones that people bring so there is no way to know which is yours and which is someone else's.  He took a few quick pics and put his camera and towel back in his locker.  When he returned, he mentioned that there had been a fun loving group of German men in the men's locker room singing "YMCA." I'm glad that they were having a good time despite the bitter cold weather!
We opened the door, braved the cold, and I practically jumped in the water. This was nothing like the last time I was here, when the air was still and visibility good. It was now cold, little visibility, and there was snow as well as hail.  To say that I was shaking because of the cold was an understatement.  The only way to combat the cold was to walk backwards in the water, which helped cut down on the direct cold to my face. As long as my body was under the water, I was fine, but my head was so cold!
You don't swim in the Blue Lagoon as much as you relax. There are buckets of silica mud around the perimeter that you can scoop out and apply to your face and neck as a mask. Additionally, you can purchase other masks at the little bar inside the water by showing your wristband. You can also buy drinks, beer, and even ice cream here.  I loved seeing little kids alongside their parents; children with ice cream cones and parents with assorted alcoholic beverages and everyone having a good time.
We moved around trying to find less populated and hotter spots in the water. There will always be the occasional person who wants to get loud and drunk like they're in Cancun. Don't worry as security is there to keep them under control. You'll be able to spot them quickly as security are the ones fully dressed in heavy coats, hats, gloves, etc.  The overall vibe is laid back with people kind of floating around and enjoying themselves and the atmosphere around them.
We tried both the sauna and the steam bath, which shocks your senses after leaving the water and your body fights furiously to ascertain the temperature. We decided we were done for the day and instead of getting back in the water, we thought we would walk back the short distance to get back inside. Big mistake!  My feet were practically numb by the time I got inside as I carefully tried to run/walk to the door via the little bridges back to the building without killing myself.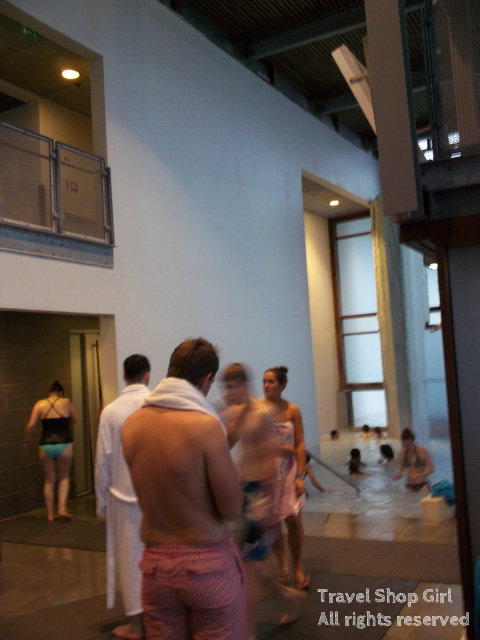 There is an inside pool area just before the locker rooms and I ran over and stuck my feet in to try and regain feeling back in them.  Yes, it really was that cold!  We each made our way to our respective locker rooms to shower off.  In the showers you can find Blue Lagoon products like shampoo.  There are plastic bags so you can put your wet suit in that instead of directly into your bag.  They also have hair dryers and lots of mirrors and chairs so you can get dressed and do your hair and makeup before you exit the locker room.  Be sure to drop your blue towel off in the towel bin before you leave.  After you exit the locker room, you'll need to go through the turnstile to go to the café, restaurant, or gift shop.  Hold up your blue wristband to the machine similar to the one in the locker room and a small door will open to allow you to deposit your wristband inside. before exiting.
From here we browsed the gift shop, made a small purchase, and decided to grab something to eat at the Blue Café before leaving. They had everything from wine, beer, Gatorade, Doritos, sandwiches, hot dogs, and more.  We shared a veggie ciabatta sandwich and each had a beer and we also bought a small caramel cake. Total cost? 3230 ISK or about $25 USD.  This is where I developed my instant attraction to Borg Bjartur Blond bjór Nr. 4.  Not normally a beer drinker, this beer was just what I needed at the end of the day.
There are tables in the Blue Café where you can sit and eat in a cafeteria style setting and look out on the water.  It's very casual and clean as someone is always cleaning tables and chairs.  If you are looking for more of a sit down restaurant, try LAVA Restaurant which "combines modern design with the wild spirit of Icelandic nature."
That caramel cake?  That was so good I only wished we had gotten two instead of one.  Apparently spending a few hours in the hot water at the Blue Lagoon as well as the sauna and steam bath worked up our appetites.
Although only 6 pm, it was already dark out, but people were still in the water.  The buses leave at scheduled times pretty much on the hour and we knew if we didn't make the bus leaving in the next 5 minutes, we would have to wait another hour.  Promptly at 6:15 pm the bus pulled out and we began the 40 minute trip back to Reykjavik.  The ride back was a quiet one as people always seem so relaxed after their time at the Blue Lagoon.  We arrived back at BSI Terminal and took our shuttle back to our hotel to begin the final part of our 24 hours in Reykjavik.
Blue Lagoon‎
240 Grindavík
Iceland
420-8800
www.bluelagoon.com‎