We finally made it to Reykjavik and I was so excited to spend a fun filled 24 hours in Iceland to show my husband a little of why I love this country so much. Keflavik International Airport is a little bit of a maze so after departing your plane, you walk down a long hallway that has some, but not a lot of signage.  Look for an up escalator to take you to the arrivals hall. From there you depart and go past all of the gates, but be careful or you will end up in the departures hall. Look for a small door on the left marked "Arrivals." From there you can go to baggage claim to collect your luggage. There is an ATM machine there if you need one and we stopped to get some money before departing the airport. You can then exit if you have nothing to declare, which takes you to the front part of the airport.
I had prepaid for our bus transfer but still went to the FlyBus desk. It is a small booth all the way to your right near the exit of the airport. You can pay for your ticket online or in person and then proceed across the car park to one of the waiting coaches. Although we were one of the first ones on we still had to wait for others to arrive before leaving. We left at 7:30 am and made a few stops along the way before arriving at the BSI bus terminal. From there we switched to smaller coaches to take us to hotels.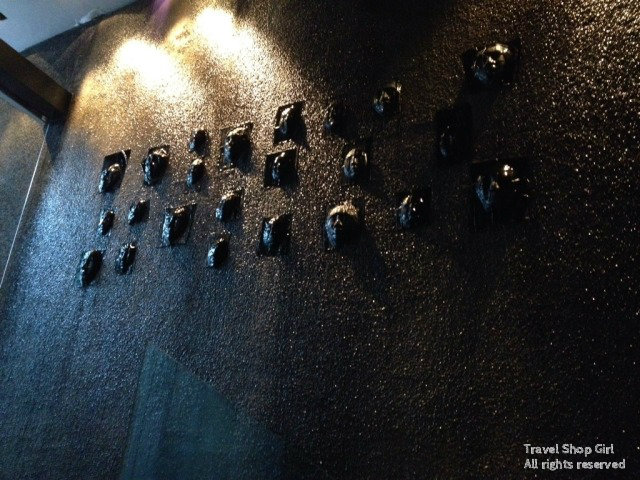 We arrived at our hotel just before 9 am and walked past the masks on the wall as shown above.  From their web site: "When entering the hotel there's a long black lava textured wall, covered in dark glass masks representing the hidden people of Iceland and a small waterfall trickling down over them."  Unfortunately, we missed our pre-arranged tour for the day that was scheduled to pick us up at 8:30 am.  Luckily we spoke with Katherine at the front desk who not only prearranged our Flybus transportation back to the airport for the next day, but was able to get us on a bus for the Blue Lagoon. Our tour included that but we were scheduled to go there at 6 pm. We switched it to 2 pm and went to bed after enjoying a wonderful breakfast spread in the hotel's restaurant.  I sank into the bed and was ecstatic that at nearly 10 am, you can see there was no light coming in through our hotel window.
'A boutique hotel with a strong focus on quality modern design, inspired by Icelandic nature.'
Click To Tweet
I had made arrangements to stay at the CenterHotel Þingholt in the center of Reykjavik. Previously I stayed at a hotel that was a little farther out of the way and I wanted to be in the middle of everything, which this hotel certainly was. From their web site:  "A boutique hotel with a strong focus on quality modern design, inspired by Icelandic nature." With 52 guest rooms decorated in sleek, contemporary style inspired by Icelandic nature, you'll feel comfortable from the moment you step inside the hotel. With four different room types (standard, deluxe, junior suite, and loft suite), there is a room type for everyone. Our room was the perfect size for the two of us with a nice sized bed, a sofa, plenty of light (both natural through the large windows and in room lighting), plenty of storage space, and a large bathroom.
What I loved about CenterHotel Þingholt: 
They have an early arrival package so if you arrive early into Iceland like we did, you don't have to sit around and wait until 3 pm to check into your room.
I love their service from the front desk person to the bartender and so on. Everyone cared about providing great service and did more than I ever expected them to do. Katherine was smiling and cheerful throughout her 12 hour shift and was always smiling.  That makes me, the guest, feel welcomed.
The hotel's modern styling that didn't leave you feeling cold at all. The little touches throughout the hotel make it feel warm and inviting.
Location, location, location. I can't say it enough. You might find something less expensive and then spend money on a cab or time walking to get to where you want to go and as I always say, time is money.
The hotel lobby is uniquely decorated with interesting lighting fixtures and leather furniture both beautiful to look at and comfortable in which to sit.  There is a bar in the center of the room and they offer a 2-for-1 happy hour special and after our visit to the Blue Lagoon, which I will cover next time, we enjoyed a few drinks at the bar.  I quite enjoyed the Þingholt Cocktail, which is fresh lemon juice, Sprite, and Captain Morgan's rum.  My husband enjoyed a Borg Bjartur Blond bjór Nr. 4, which I have to say was really good and I'm not typically a beer drinker.  I also convinced him he needed to have a shot of Brennivin to get in an Icelandic mood.
The hotel is perfectly situated adjacent to Reykjavik's main shopping street, Laugavegur.  If you're looking to go shopping, go out to eat, or to grab a drink or two, you couldn't find a better spot than here.
My only regret is that we only had 24 hours in Reykjavik and that is never enough time.  So what did we find the time to do?  You'll have to come back to find out in my next post.