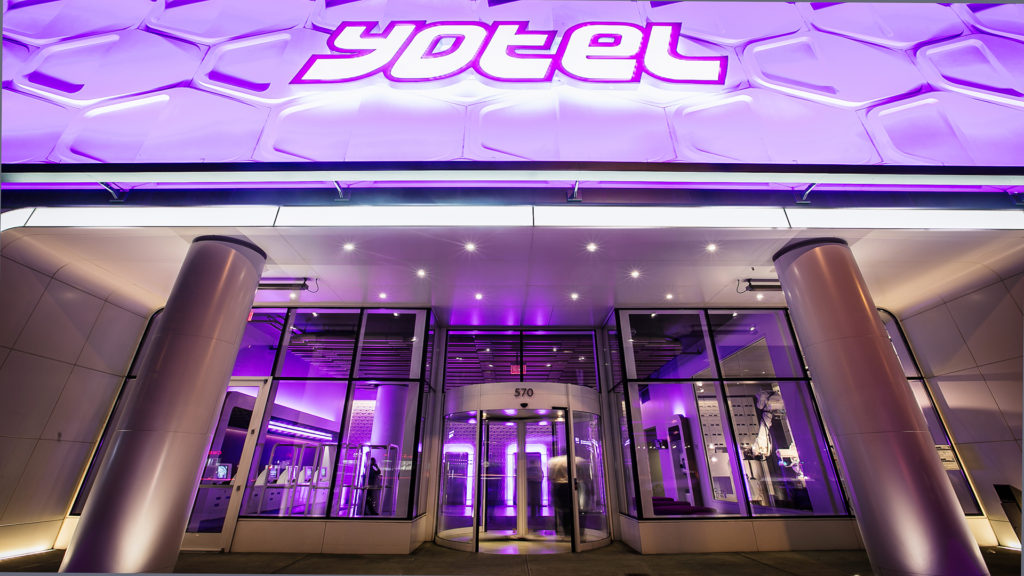 What's bright, fresh, modern, and shaking up the New York City hotel scene? YOTEL New York! With the #TwoChicksAndARoadTrip adventure now in its final days, Danielle and I were ready to take on New York City. We chose YOTEL New York as our NYC home base because of its great location only two blocks west of Times Square on the corner of 10th Avenue and West 42nd Street.
YOTEL New York
YOTEL New York is the coolest and super modern hotel you've ever seen. I'm talking about a one of kind fresh concept in the hospitality industry.
From the second you enter, you know you're somewhere special. Have you ever seen a luggage storage robot named "YOBOT" in action? Put your luggage in a bin, enter your pin number and last name, and YOBOT stores your luggage. Then scan your barcode to retrieve them when you're ready to go. Easy, right?
Guests can choose to check in or out 24/7 at one of the self-service check in kiosks in Ground Control.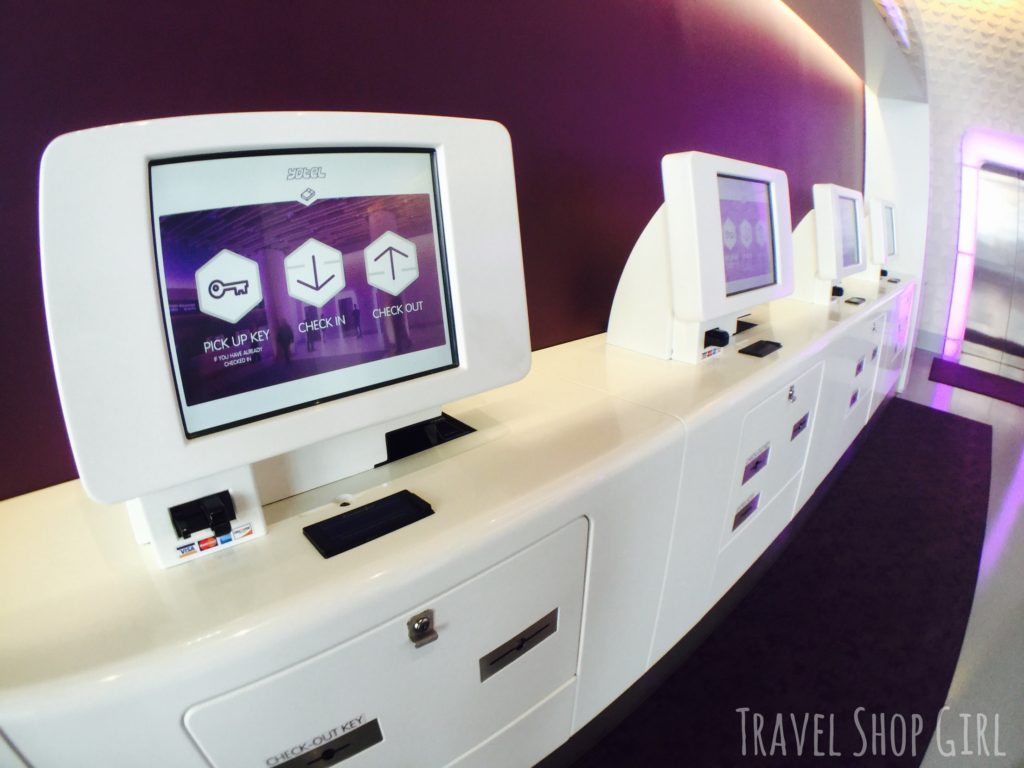 Or if you'd prefer, head up to Mission Control and check in at the reception desk. Located nearby is the Concierge if you need anything like airport transfers, Broadway tickets, or sightseeing suggestions and arrangements.
TSG Tip: Did you know that YOTEL New York even has its own mobile concierge app? You can check in with "Shaggy" (that's the app's name), find out what's going on at YOTEL New York, and explore NYC with YOTEL's unique city guide. Or read this New York itinerary if you want to explore more of NYC.
YOTEL New York Cabins
Before we could do anything in NYC, we needed to find our rooms or as YOTEL New York calls them, "cabins." Danielle and I each had our own cabin up on the 24th floor with great views of the city. Why cabins? YOTEL New York was inspired by luxury aircraft design and so created rooms or "cabins" that are smartly designed adaptable spaces. Even the room key tells you how unique YOTEL New York is.
Cabin 2434
My cabin was cabin 2434, a Premium Queen Cabin measuring 170 sq. ft, with space enough for two people. The cabin layout is way better designed than many of the small closets, I mean hotel rooms, that I've stayed in while in NYC. Opposite the bed is the Technowall and flat screen TV with the ability to stream audio.
Don't you hate tripping over the bed or your partner when you're in a small hotel room? Of the many genius ideas at YOTEL New York, the "SmartBed" is my favorite. It's a convertible bed with a super comfy Serta mattress that retracts up and out of the way when you're not in it.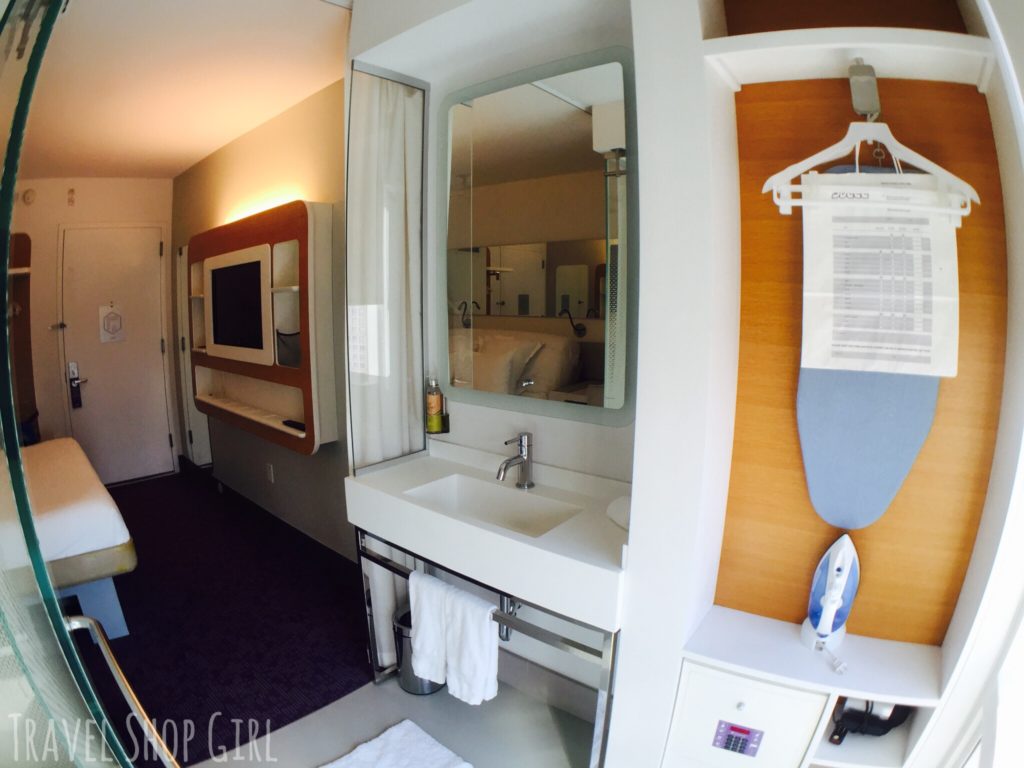 Adjacent to the sleeping area is the bathroom with a large sink, mirror, safe, place to hang clothes, iron/ironing board, and storage. You can even pull the privacy curtains shut if you like.
You'll find tons of storage everywhere you look around your cabin and way more than I have in my apartment.
Inside the monsoon shower you'll find YOTEL's signature "Get Up" body wash & shampoo and "Get Smooth" conditioner.
Near the front door is another area for hanging clothes and next to the bed is a desk and chair and free "super strength" WiFI if you're crazy enough to want to do any work while in NYC.
TSG Tip: BTW – YOTEL New York offers free WiFI throughout the hotel 24/7.
YOTEL New  York View
This was view from cabin 2434 and although I missed it, Danielle spotted a cruise ship sailing into port.
YOTEL New York Amenities
Maybe you forgot to pack something or don't feel like running out to get it. Pop into the hallway and purchase what you need from the wall kiosk. You can get anything from candy to condoms to phone chargers.
We headed back downstairs to see what else YOTEL New York  had to offer. This is the Lounge area where you can work, have a meeting, or hang with friends.
Feel like staying in? Walk just a few steps over to Green Fig, a fusion urban eatery serving North African inspired dishes located in Mission Control.
The Terrace
I couldn't wait to get out to the Terrace on the fourth floor which is New York City's largest hotel terrace at 7,000 square feet.
Enjoy a meal or a drink out on the Terrace pretty much any time of day with a relaxing vibe and great view.
The heated covered section of the Terrace is open daily and the outdoor terrace is usually open from the beginning of May through the end of September, weather permitting. Luckily for us it was summer and the weather not only permitted, but begged us to sit outdoors.
We had five glorious days in New York City and staying at YOTEL New York was convenient, comfortable, and fun. The staff was professional and friendly from the moment we arrived, the hotel was spotless, and I loved it's location being close to Times Square, but far enough away that it wasn't in the middle of the tourist chaos. It was a perfect location to leave from each day to explore and when we wandered back at night, our rooms were clean, our beds were soft, and we would drift off to sleep with visions of NYC pizza in our heads.
Final Thoughts
If you love the feel of a luxury hotel, but would prefer to pay a price that won't break the bank while in NYC, then you definitely need to consider a stay at YOTEL New York. I'm ecstatic that the YOTEL brand is expanding beyond airport hotels in Paris, London, and Amsterdam with this hotel in NYC and in my hometown of Boston in the Seaport district in the summer of 2017 as well as other great locations like San Francisco and Singapore. If you have a chance to try out a YOTEL hotel, don't hesitate to do it because I am pretty sure you will more than love it.
YOTEL New York 
570 10th Ave, New York, NY 10036
Up next we explore more of our final destination of New York City. Check out the many pics of our trip by reading all of the road trip posts and also searching the hashtag, #TwoChicksAndARoadTrip on Twitter, Instagram, and FaceBook.
---
While I was generously provided accommodations by YOTEL New York, all opinions and photographs, unless otherwise noted, are my own.