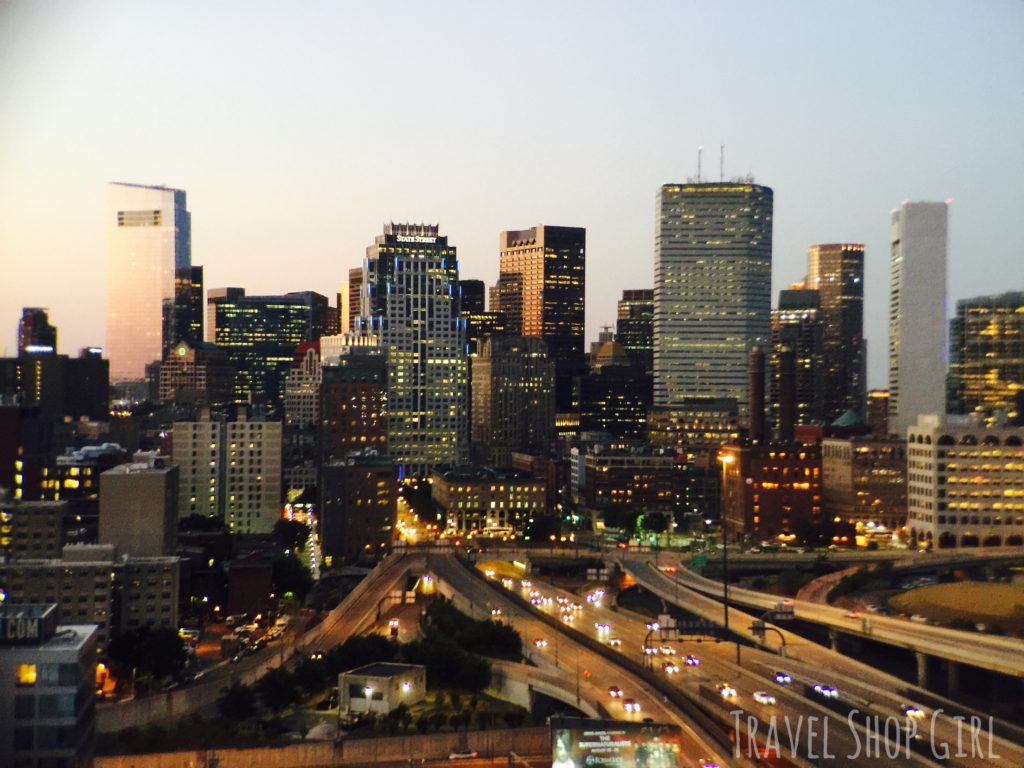 From historic Salem, Danielle (CruiseMiss) and I jumped back in our Ford Mustang convertible and continued our road trip to my hometown of Boston, Massachusetts. While this New Yorker may not have been born in the city of Boston, I do consider it home. With Danielle at my side, I turned autopilot on and began to float my way through the city of Boston. That allowed me to take a break from navigating unfamiliar streets and cities.
Fenway Park
The first place we stopped at was none other than one of Boston's most famous landmarks, Fenway Park. Considered the oldest Major League Baseball park in the United States, it's home to the Boston Red Sox, but no game for us that night as they were out of town. Instead, on a beautiful summer evening in the city Boston, we first went shopping. Then we grabbed some dinner and then took a leisurely walk back to my place. It would have been great to see the Red Sox play on their home turf. They have had some fantastic seasons making their team one of the favorites when it comes to fantasy basketball rankings .
Boston Marathon Memorial
I wanted Danielle to see both the finish line of the Boston Marathon, but also the makeshift memorial that still stands nearby. That tragedy is still fresh in the minds of Bostonians more than three years later.
Trinity Church
As we continued onward, we walked past Trinity Church in Copley Square, one of my favorite pieces of architecture in Boston. Built between 1872 and 1877 in the Richardsonian Romanesque style, it's the only church in the U.S. and the only building in the city Boston to be named by the American Institute of Architects as one of the "Ten Most Significant Buildings in the United States."
Edgar Allen Poe Statue
Next up I went in search of the Edgar Allen Poe statue I had heard so much about but hadn't seen yet. It sits near the edge of the Boston Common, literally minutes from where I live, but I usually cut through the middle of Boston Public Garden and Boston Common instead of walking around them.
Unveiled in 2014, the bronze statue shows an Edgar Allen Poe in motion with a briefcase and those symbols he's most recognized for including a raven and a human heart. But look closely at his face and you can almost feel his disdain toward the city of Boston and its people. He wasn't fond of the literary elite whom he felt were too "preachy" and they didn't think too much of him in return, which is probably why he left.
Notice that he literally has his back to the city of Boston and that seems like a perfect way for Poe to have the last word. If you're a literary buff or a Poe fan, you definitely should seek out this statue.
Edgar Allan Poe statue
176 Boylston Street, Boston, MA 02116
Faneuil Hall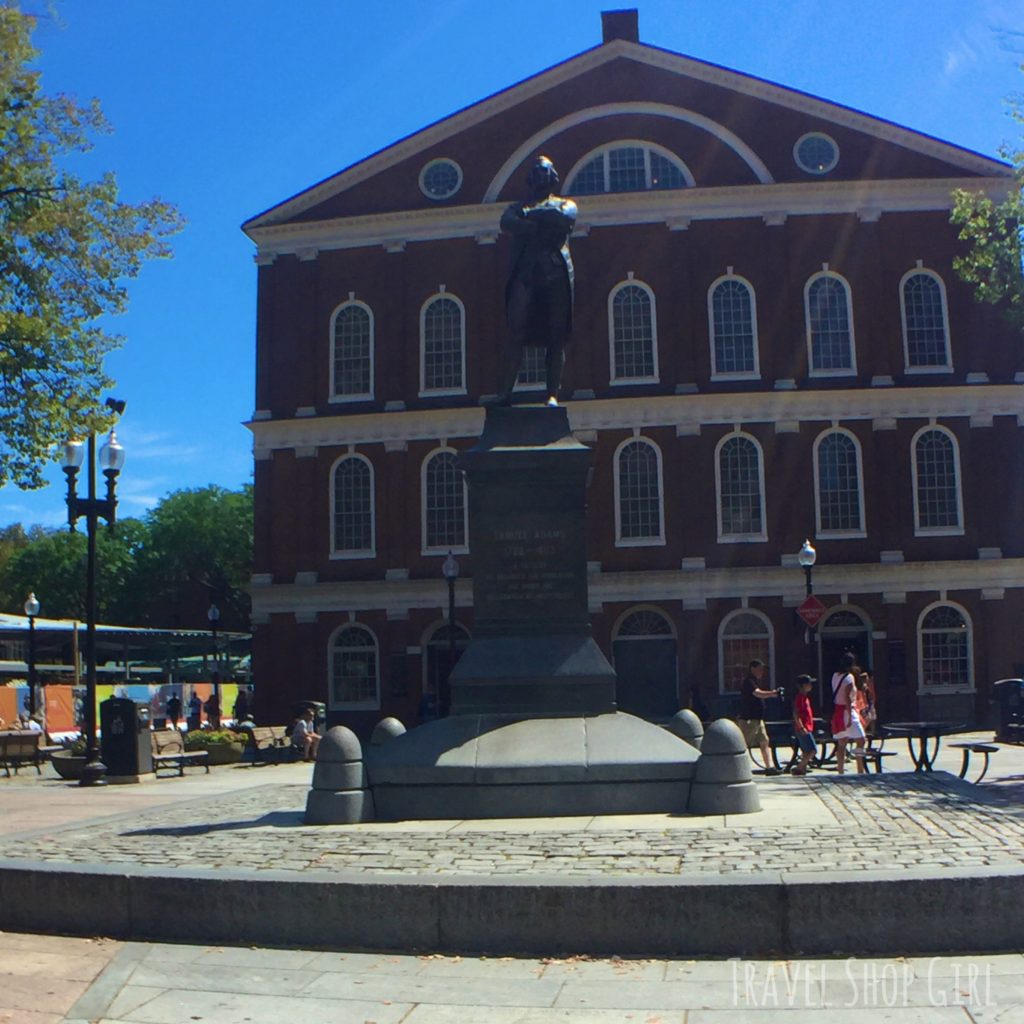 On our second day in the city of Boston we headed directly to probably one of the city's biggest tourist attractions, Faneuil Hall (pronounced fan-you-uhl or fan-iel [like Daniel]). If you're visiting Boston, I definitely recommend a trip here to experience the great shopping, restaurants, and of course, live entertainment.
TSG Tip: While some people may assume this area is called Faneuil Hall, the first building that you'll spot when you enter is Faneuil Hall, a meeting hall built in 1742. Other buildings here including North Market, South Market, and Quincy Market.
If you've been to London, you might think that Quincy Market looks a lot like the Covent Garden market and you'd be right. Quincy Market in Boston was constructed in 1824 and modeled to look like Covent Garden.
After pushing through the crowds, we settled on a drink at the Cheers bar in Faneuil Hall. Why? While tourists might flock to the Beacon Street location, which was used for exterior shots of the 1980's television program, the inside doesn't remotely resemble the television show. To avoid disappointment, I recommended taking a picture of the outside of the Beacon Street location and having a beer and taking pics of the set recreation at Quincy Market. Everyone should feel like Norm at least once in their life.
Faneuil Hall Marketplace
4 South Market Building, Boston, MA 02109
Trolley Tour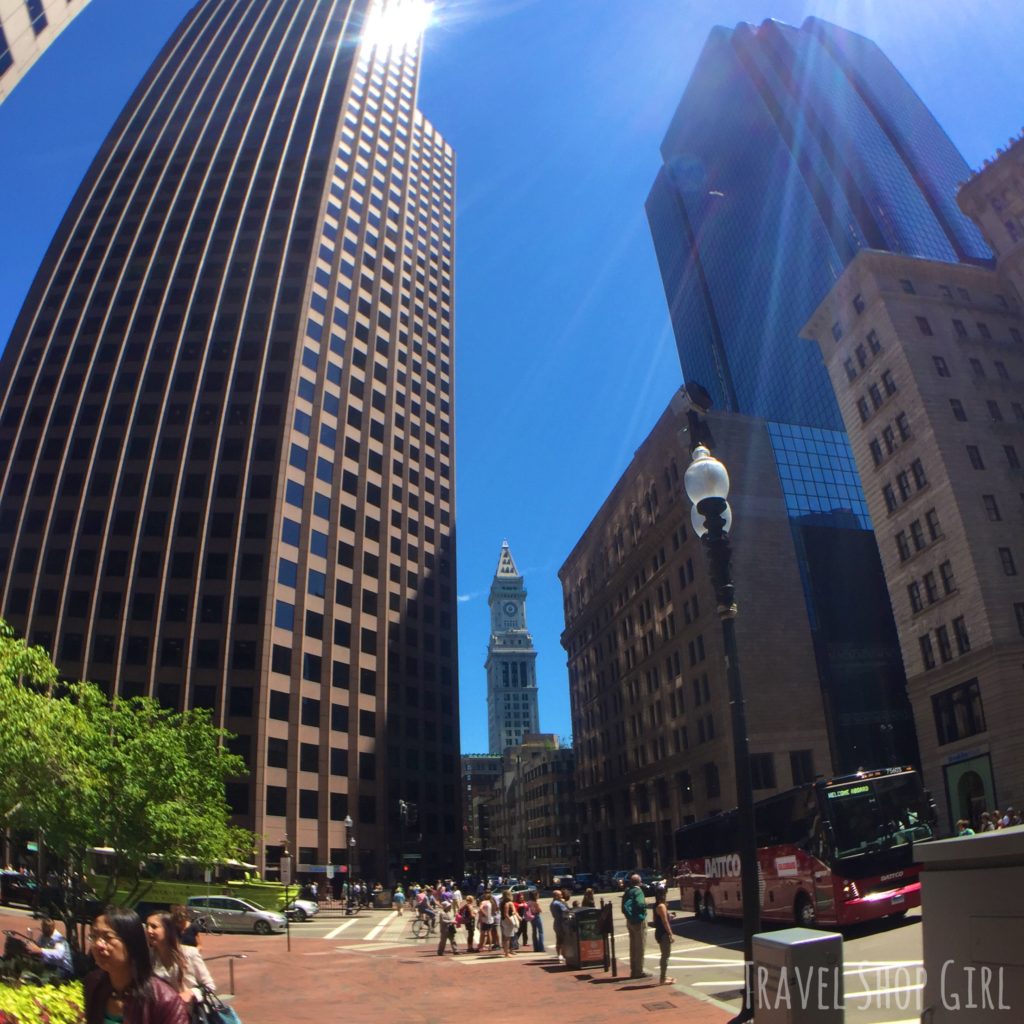 To cover more ground quickly, we opted for an Old Town Trolley tour of Boston. There are several bus and trolley tours available in Boston. However, Old Town Trolley always gets the best reviews and for good reason.
With 19 stops throughout Boston, you can stay on and explore the city from the convenience of the bus. Therefore, find a comfortable seat and settle in for the ride around my great city.
The best part of an Old Town Trolley tour is that you can get off and discover Boston on foot, too. We got off at stop 12 and walked around the Fenway Park park area in the quiet atmosphere of a no game day.
We didn't have to wait long to board another trolley. Soon we were back onboard and in Cambridge by MIT. Then our trolley crossed the Charles River and we had probably the most glorious views of the city of Boston.
Union Oyster House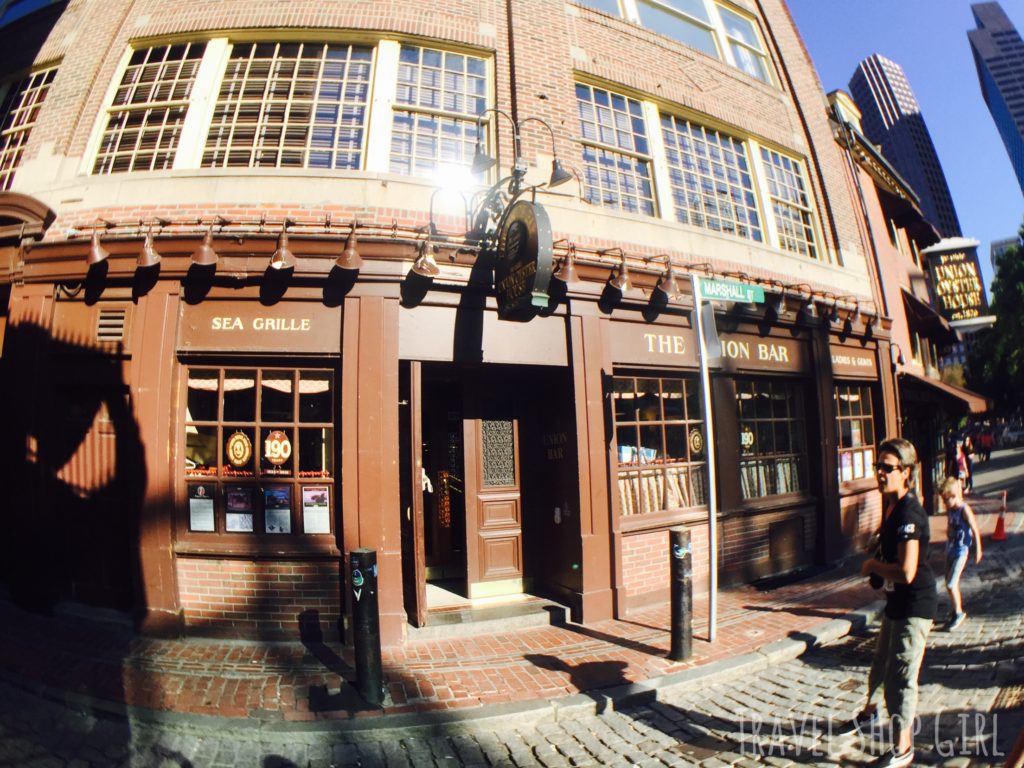 After our tour, it was time for dinner and I knew exactly where I wanted to go: Union Oyster House. Considered Boston's oldest restaurant, it opened in 1826 and is one of the oldest operating restaurants in the U.S. today
Expect traditional New England food including some of the best and freshest seafood around when you dine at the Union Oyster House and all while in one of the most historic spots in the city. They have some interesting cocktails there, too.
TSG Tip: Did you know you can see the booth on the second floor where John F. Kennedy used to sit in when he dined here? Daniel Webster was also a guest here and Louis Philippe, king of France from 1830-1848 lived on the second floor while he was in exile. Guess a restaurant with a bar seems like a pretty cool place to live if you're going to have live in exile somewhere.
Union Oyster House
41 Union Street, Boston, MA 02108
New England Holocaust Memorial
Just steps outside the restaurant is the New England Holocaust Memorial, designed by Stanley Saitowitz and constructed in 1995. One of the most striking memorials I've seen, it blends into the scenery and looks like nothing more than glass and metal. Walk through the six glass towers, each representing a different major extermination camp, look at the steam rising up through the ground, and see the countless numbers representing the millions of people murdered during the Holocaust and you'll feel this memorial. Walking through it should make you want to remember this atrocity and ensure that it never happens again.
New England Holocaust Memorial
98 Union Street, Boston, MA 02109
Old State House
We now move to the Old State House, built in 1713. If you look closely you can still see the Coat of Arms of the United Kingdom, a re-creation of the original since that was torn down and burned. When did that happen? Since the Declaration of Independence was read from the building's balcony on July 18, 1776, we know that occured before the reading.
Perhaps you're more familiar with the building's history as it relates to the Boston Massacre. On March 5, 1770, an argument commenced between a colonist and a British officer. Soon the argument turned into a large crowd protesting. This then culminated with an officer shooting into the crowd and killing five colonists. While the American Revolution would start five years later, this incident at the Old State House was one of many that helped to set in motion the colonists need to end British rule in the American colonies.
Old State House
206 Washington Street, Boston, MA 02109
Boston Irish Famine Memorial
Did you know that the highest percentage of Irish-Americans in an American city live in the city of Boston? And did you know that the Irish-American population is seven times larger than in Ireland? The Irish Potato Famine resulted in more than 1.5 million Irish flooding into the United States between 1845-1852. Were they well received when they arrived? Not so much as they put a strain on resources, especially jobs.
The sculptures, titled the Boston Irish Famine Memorial, show two groups, those looking healthy and fed and the others less so. Although this time in history seems so long ago, looking at the sculpture makes you ponder how the politics of life isn't that different today.
Boston Irish Famine Memorial
School and Washington Streets, Boston, MA 02108
Paramount Center Boston
Once upon a time in the city of Boston, the Downtown Crossing and Chinatown areas dirty, ignored, and kind of sketchy. That's why I was super excited for a revitalization of this area. One building that literally lights up this stretch is the Paramount Center Boston. It was originally a 1930's cinema palace that closed in 1976. It wasn't until 2005 that Emerson College purchased the building and decided to renovate it and others in the area have followed suit. Nothing beats walking by and seeing those bright lights.
Boston at Sunset
Speaking of bright lights, I'm a sucker for a killer sunset in the city of Boston. It's easy to see why I've fallen in love with this city. In conclusion, let's just say it was great fun being a tourist for the day. I discovered things that I normally notice because I live here. Have you ever tried look at where you live through the eyes of a tourist? Need more ideas? Check out what to do and where to eat if you only have 48 hours in Boston.
---
Did you know that this post is a GPS enabled article on the GPSmyCity app? Click here to read more about it or here for the app article itself.
Up next I head back home to Boston, Massachusetts. Check out the many pics of our trip by reading all of the road trip posts here on the Travel Shop Girl website and searching the hashtag, #TwoChicksAndARoadTrip on Twitter, Instagram, and FaceBook.
Up next we finish up our road trip and drive to our final destination of New York City. Check out the many pics of our trip by reading all of the road trip posts and also searching the hashtag, #TwoChicksAndARoadTrip on Twitter, Instagram, and FaceBook.
---
While I was generously provided with a free pass for my Old Town Trolley Tour, all opinions and photographs, unless otherwise noted, are my own.