Vegetarian Restaurants in Panama City
A visit anywhere, including Panama, means I'll be in search of vegetarian dining in Panama City. What do you do when you travel often and have a restrictive diet? Panic mostly or research your dining options in advance.  Not only are Mr. TSG and I both vegetarians, but I'm currently on AIP or autoimmune paleo protocol, which restricts what I can eat even more than usual. That means I needed to find restaurants, bars, lounges, or stores that could accommodate my dietary restrictions and were within walking distance of my hotel. Would it be difficult to find great vegetarian dining in Panama City?
Crepes & Waffles
One of the most veggie friendly options in Panama City is Crepes & Waffles. I first learned of Crepes & Waffles when I spent several weeks in Colombia. Strange name perhaps, but you can get real food and of course, dessert, most of which is vegetarian friendly.
My drink of choice was the Happiness smoothie made with mango, passionfruit, and pineapple. Mr. TSG ordered a few of the local beers, Atlas and Balboa, only to find out later that the locals think those are the worst beers to drink. Basically, they're the Budweiser beers of Panama.
One of the reasons I chose this restaurant is because I knew I'd be able to find a few options here. Online I found the "Vegetarian Salad," an Asian salad with tofu, portobello mushrooms, and Hindu vinaigrette, which was on the restaurant menu when I arrived, but I was told it wasn't available. Still wanting salad I opted for the salad bar and soup called Soup of the Sun. It kind of looks like an oddly smiling sun, right? This pumpkin soup with a touch of goat cheese and pesto was just what I needed. Not being able to eat cheese right now, I was able to scoop it up and Mr. TSG decided to eat it. I don't think he ever says "No" to cheese.
TSG Tip: Try to learn how to say a few words in the language of the country you're visiting like "vegetarian," "vegetable," or "no meat." Look on the menu or see if the server speaks English. If not, try one of  my favorite apps, Veggoagogo, to translate what you need for you.
Mr. TSG's entree was the filling Poblana Vegetarian Crepe made with "mozzarella and Dutch cheese, avocado, pico de gallo, and a delicious Mexican touch with chili." For dessert and to torment me, Mr. TSG chose the arequipe crepe with both ice cream and whipped cream. If you're not familiar with arequipe, it's the same as dulce de leche and it's crazy good.
Hands down Crepes & Waffles is the best for vegetarian dining in Panama City.
Click To Tweet
Our meal was so good that night that we had to go back once more before we returned home. On our second visit, a much darker evening than the first, Mr. TSG chose the Portobello vegetarian crepe made with "roasted vegetables, pesto, and olive tapenade." Hands down Crepes & Waffles is the best for vegetarian dining in Panama City.
Crepes & Waffles
Avenue 5a Sur, Panamá, Panama
Hard Rock Cafe Panama
Another great option for vegetarian dining in Panama City is Hard Rock Cafe Panama.
While you might not immediately think of the HRC as a vegetarian paradise, it does offer a few vegetarian options and of course, great drinks.
TSG Tip: While smaller and more authentic restaurants are what I always crave, if I need a solid meal of veggies and hopefully some tofu, I seek out chain restaurants. While I might not normally eat at any of these at home, I know they will at the very minimum have salads and some kind of vegetable dish that I can eat.
Part of doing the autoimmune paleo protocol also means no alcohol. So sad! But I did enjoy a Mango Tango non-alcoholic drink made with Red Bull, mango, and orange juice. Mr. TSG clearly isn't doing AIP so he enjoyed a Panama beer followed by an Atlas beer served in a bottle with a flip top cap. After all, these were $3 and $4 beers so why not?
The Hard Rock Cafe always offers a vegetarian burger and at Hard Rock Cafe Panama they had a quinoa burger on the menu, but you guessed it — can't have quinoa right now either. We both decided on the Fresh Vegetable Sandwich, mine with fries and his with onion rings. I ended up pulling off the bread and cheese and giving that along with my fries to Mr. TSG. He made kind of a cheese sandwich to eat along with his food. Don't judge — he runs marathons and can eat just about anything. (I secretly hate him. No I don't. Yes I do.)
TSG Tip: What I love about the Hard Rock Cafe is that they were one of the first places I ever found that had a vegetarian option. Because of that, I always go back, but if you have restricted diet, too, find something you know at home that can cater to your needs and see if they have locations on your trip. Best to have at least one solid meal than none at all.
Hard Rock Cafe Panama was a great find for vegetarian dining in Panama City and they had a nice collection of memorabilia like one of my new favorites, Paloma Faith and several pieces from Latin music stars like Shakira and Juanes.
Hard Rock Cafe Panama
Multicentro Mall, Balboa Ave. Panama City, Panama
PinkBerry
Need a snack? I highly recommend PinkBerry frozen yogurt as an option for vegetarian dining in Panama City. Apparently, this is now catching on in Panama and there are a few different brands popping up all over the city. It was 90º+ and we had been walking around for a while so seeing PinkBerry out of the corner of my eye was heaven sent. Granted — I'm not supposed to have any dairy, but… I figured there are always exceptions.
PinkBerry Panama
Avenida Balboa, Alado de los delfines, Local 2b
Panama City, Panama
The Blarney Stone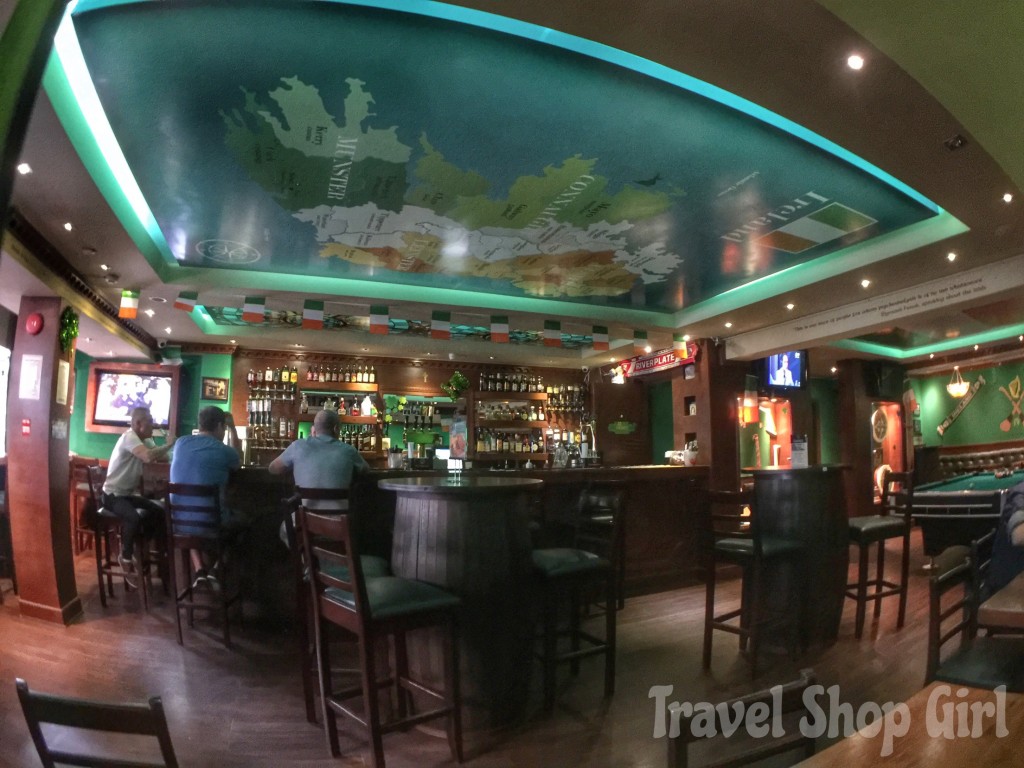 Always on the lookout for an British or Irish pub while traveling, we heard about the Blarney Stone before we left on our trip and decided to visit.
The Blarney Stone is considered the first authentic Irish pub in Panama City. In addition to the authentic Irish food they serve, you'll also find a large beer and whiskey menu.
The overall look inside is all Irish right down to the map of Ireland on the ceiling.
The menu is definitely focused on meat like chicken wings, classic Scotch eggs, Shepherd's Pie, and burgers, but there are a few vegetarian options available. For example, there's a soup of the day or salads like the mixed garden salad or beetroot and goat cheese salad. But you can't pass up their great selection of pub fries, each served with your choice of garlic butter, Tzatziki, curry sauce, cheddar cheese, classic poutine, or chili beef. As I couldn't have fries, Mr. TSG ordered his with curry sauce. The serving was huge and way more than one or possibly two people could eat. While I would've liked healthier options for vegetarian dining in Panama City, it's a pub after all.
For drinks I chose a non-alcoholic fruit smoothie and you guessed it, he ordered a beer (or two). Casa Bruja Brewing Co. is a local brewing company that even offers tours. If we only had a few more days in Panama we might have done a tour.
While the servers at the Blarney Stone were friendly and helpful and the beer was cold while the pub fries were hot and tasty, the one thing that this pub wasn't was welcoming. We spotted a group of guys at the bar who were with the owner or manager and it felt like we were intruding in on their space. While the owner/manager walked around and talked to some guests, he never approached us. Beautiful bar, but not sure I would return if I had the chance because it lacks what an authentic pub feels like, which is atmosphere.
The Blarney Stone 
Calle 47 Bella Vista
Panama City, Panama
Dublinia
You can't fault me for searching out another Irish pub in Panama City. This one is called Dublinia.
The food menu was definitely more meat centric than vegetarian, but we were out looking for a drink so it was fine. They did have fries and mozzarella sticks so a vegetarian could probably get by with a drink or two and a pub snack.
The young man who is the owner was so likeable I couldn't find fault with him or his pub despite the old and not so positive reviews on TripAdvisor. He went to Ireland to study English, met his wife there, and returned to Panama City to open his own Irish pub. I wish him the best of luck as his heart is in it and he was a gracious, friendly, and welcoming host.
Dublinia
Address: Calle 50, Panamá, Panama
50th Street in front of Elite
Phone:+507 209-4460
Santé
While walking the streets of Casco Viejo (Old City) one day, we went in search of food. Our guide, Douglas, told us about Santé,  a small café where we could get a quick meal and drinks and free WiFi.
Santé's menu was big, but be warned that there are only a few vegetarian items available. You can always order an appetizer or side, too. With limited choices in this area for vegetarian dining in Panama City, Santé was a great choice.
Our drinks at Santé began with a 507 Red Lager, a 100% Panamanian premium beer and a delicious maracuya (passion fruit) smoothie. Our views overlooking the historic buildings of Casco Viejo was pretty amazing.
There were only a few items on the menu we could have so we chose the Patacón Santé, patacones (tostones) with beans, pico de gallo, sour cream, and cheese. We told them to hold the chicken to make this vegetarian. Never heard of patacones or tostones? They're made with plantain, a starchy, low sugar relative of the banana that when fried makes a delicious addition to any meal. I grew up eating them and so — I just love them.  We also ordered a side of yuca frita (fried yuca), another one of my favorites.
The food was good and sitting outside with a drink anywhere is always my idea of perfect. While I would've have liked a more substantial meal, that smoothie along with the patacones and yuca erased the need for a bigger meal completely from my mind.
TSG Tip: Do you know about Happy Cow? This website is a great resource to help locate vegetarian or vegetarian-friendly restaurants or stores around the world. You'll find listings and reviews to help you make informed decisions about eating no matter where in the world you are.
Santé
Casco Viejo, Panama City, Panama
Capressa
After leaving Santé, we walked about 400m or 5 minutes over to Capressa to grab another drink before heading back to our hotel.
Capressa is a small restaurant with indoor and outdoor seating and table service. Be careful where you sit as the seating is adjacent to another restaurant, Forever Yogurt.
Yes, I had to have another fruit smoothie because it was so hot outside. Mr. TSG chose another Balboa beer and we were there for only a few minutes before heading out. Capressa is a great stop for a quick bite or drink, especially when touring around Casco Viejo.
Capressa
Casco Antiguo, Panama City, Panama
If you're visiting Panama City and if you're looking for vegetarian dining in Panama City, there are plenty of places to visit. While there were a few vegetarian restaurants in Panama City, without a car we were left to fend for ourselves and make do with adapting regular menus. I think we did really well.  Have you ever dined in Panama City?
---
Did you know that this post is a GPS enabled article on the GPSmyCity app? Click here to read more about it or here for the app article itself.