As I prepare for my trip next week that will take me to Germany and beyond, I became somewhat aware of my limited ability to speak German and Hungarian. With a last name like Krueger, I think my father would be embarrassed that the extent of my German is limited to "Ich bin hungrig" or "I am hungry."
What do you do if you're traveling and don't speak the language of the country you're visiting? When you go out looking for food, your only hope is that you'll be able to find someone to assist you to translate, especially in a restaurant. But what if you're a vegetarian? How do you make sure that you're not getting meat, eggs, fish, etc. in your food? Until now you might have had to do a lot of gesturing with your hands while also crossing your fingers and hoping for the best.
Completely by chance this morning I just happened to connect with Paul Dodson (@AgogogApps) on Twitter this morning and he introduced to me to Veggoagogo Vegetarian Traveller Translation App. Would this app help solve this problem for me?
From the Veggoagogo User Guide:
Veggoagogo is a fun and easy way to communicate your vegetarian dietary requirements to anyone you meet on your travels — from restaurant staff and hotel receptionists to helpful locals and new-found friends.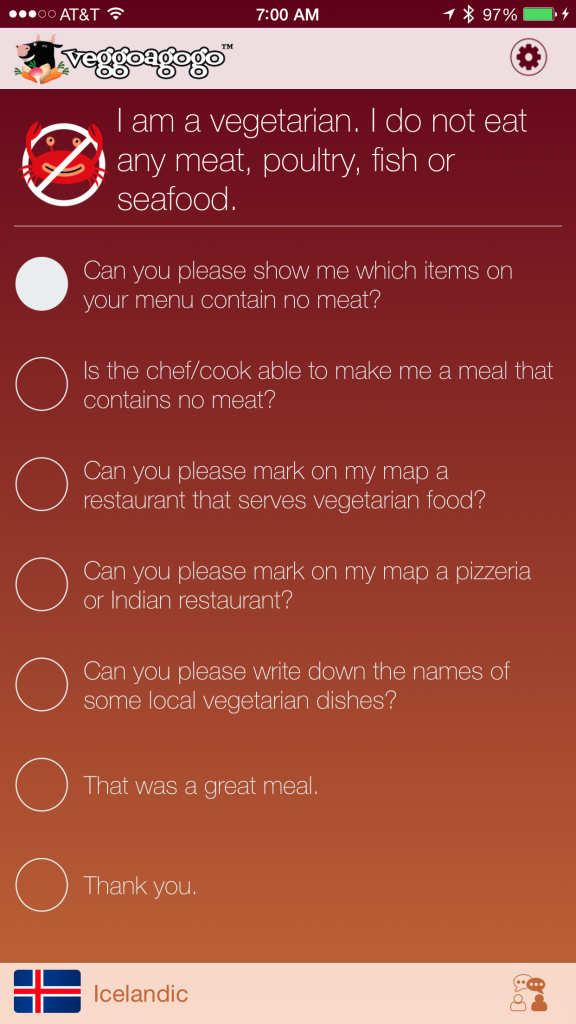 Open the app, select one of the seven question or statements, choose a language from the language screen, and then click on the "translate" button at the bottom.
For my translation above I chose Icelandic, which is not a widely spoken language yet Veggoagogo has it as one of the 50 professionally translated languages from which to choose. That includes ones you might expect like French, German, and Spanish, but other languages such as Serbian, Mongolian, Tagalog, Urdu, Farsi, Georgian, and Gaelic (Irish). You name it, it's probably in the app.
Once you click translate, the screen then has the translation in the language you've chosen. Here you see the Icelandic translation of the following: "I am a vegetarian, I do not any meat, poultry, fish or seafood. Can you please show me which items on your menu contain no meat?"
TSG Tip: Want to personalize your app? Go to settings and choose one of the preset color themes like the red rock colored "Uluru," my choice above. You can also choose between night and day modes (black or white background).
At the top of the screen you'll see animal images, which if you tap displays a larger version of that image. So if you say, "No fish," they will absolutely understand your request with either the translation or the image.
I also translated the phrase, "That was a great meal" in Farsi. While you can find translation apps on the market everywhere, this app is super specific and easy to use. You don't have to type anything in and it does exactly what it promises to do, which is to make sure that you are communicating clearly that you're a vegetarian to those preparing your meal.
Now I feel like I have one less thing to stress about when traveling because at least now I know for sure I can communicate the "absolute no meat of any kind whatsoever" phrase in 50 languages. Not bad, huh? Language courses have always been popular for people travelling to a country whose language they do not speak. Those travelling to English speaking nations have benefited from lessons found on AJ's website.
With Veggoagogo, vegetarians can now sit down to a meal while traveling abroad where they may not speak the language and feel confident that they are truly getting a vegetarian meal. That is music to my ears!
How to purchase: The Veggoagogo app is available on the App Store and on Google Play for Android. Updates will include more language releases. Veganagogo, a 50 language translation app for the vegan traveler, will be available in a few weeks so if you're a vegan keep your eye out for that app.
To learn more, visit the Veggoagogo website. Love the abundance of vegetarian and vegan links on the site that's great for new or experienced vegetarian/vegans.
———
While I was provided a promotional code for Veggoagogo, my review and opinion of this app are exclusively my own.