Luxury Hotels in Panama City? You BET!
Are luxury hotels in Panama City the first thing that comes to mind when you think of Panama? It wasn't for me, but was I ever wrong. When December rolled around and it started getting colder, all I could think about was going somewhere warm. Having never been to Panama, I thought why not? But would I be able to find any luxury hotels in Panama City?
Where is Panama?
Panama is located in Central America and is bordered by Costa Rica to the west and Colombia to the southeast. Panama City, where I would be visiting, is both the capital and largest city in the country of 3.9 million residents.
Luxury Hotels in Panama City
While there are many boutique, internationally branded hotels, and other types of hotels, I was in search of luxury hotels in Panama City. There are a few luxury brands like Le Meridien Panama, Intercontinental, Trump Ocean Club International Hotel & Tower, and the Waldorf Astoria Panama and with rates at $200 per night and less (depending on the time of year), this is what I like to call "affordable luxury."
My Arrival At The Waldorf Astoria Panama
After flying down to Panama City, we took Uber to our hotel, the Waldorf Astoria Panama. We were immediately greeted by the porters waiting outside who escorted inside the hotel. The Waldorf Astoria Panama is located 30 minutes from the Panama Canal and less than 30 minutes from Tocumen International Airport (PTY).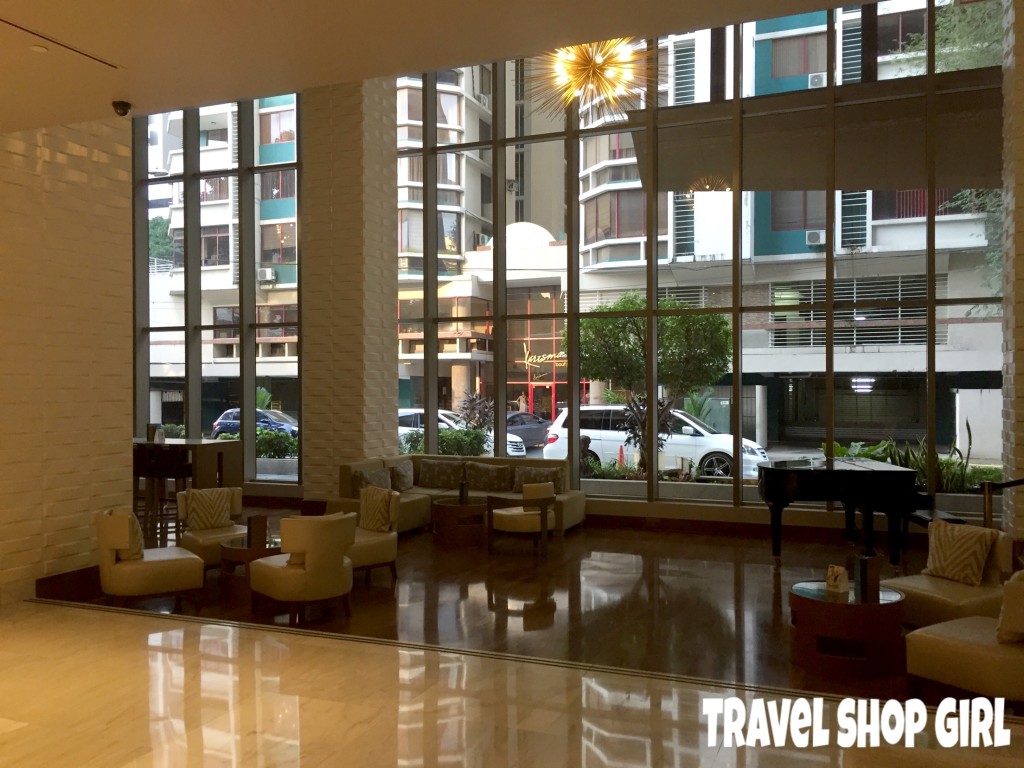 A relatively new hotel, the Waldorf Astoria Panama arrived on the scene in downtown Panama City in 2013 and was listed once again in the Top 10 Luxury Hotels in Central America for 2016 on TripAdvisor.
A relatively new hotel, the Waldorf Astoria Panama arrived on the scene in downtown Panama City in 2013 and was listed once again in the Top 10 Luxury Hotels in Central America for 2016 on TripAdvisor.
Click To Tweet
This hotel is the first Waldorf Astoria in Latin America and as to be expected from this recognizable name brand, the service and experience is what you would expect at any Waldorf Astoria hotel around the globe.
Waldorf Astoria Lobby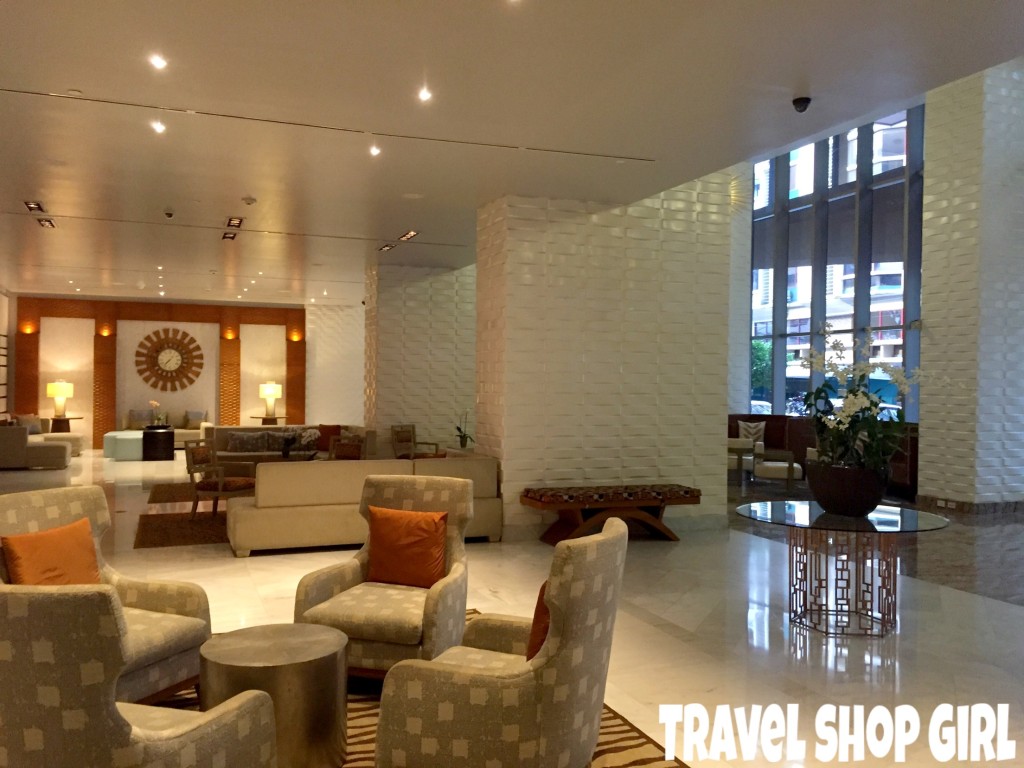 The modern decor you'll find in the lobby is also found throughout the hotel in guest rooms as well as public spaces.
Adjacent to the lobby is Peacock Alley Lobby Bar, where you can stop in for a quick drink or bite. For other dining options at the Waldorf Astoria Panama you can eat at Ginger, which features exotic Asian cuisine or BRIO Brasserie, which showcases French and American dishes.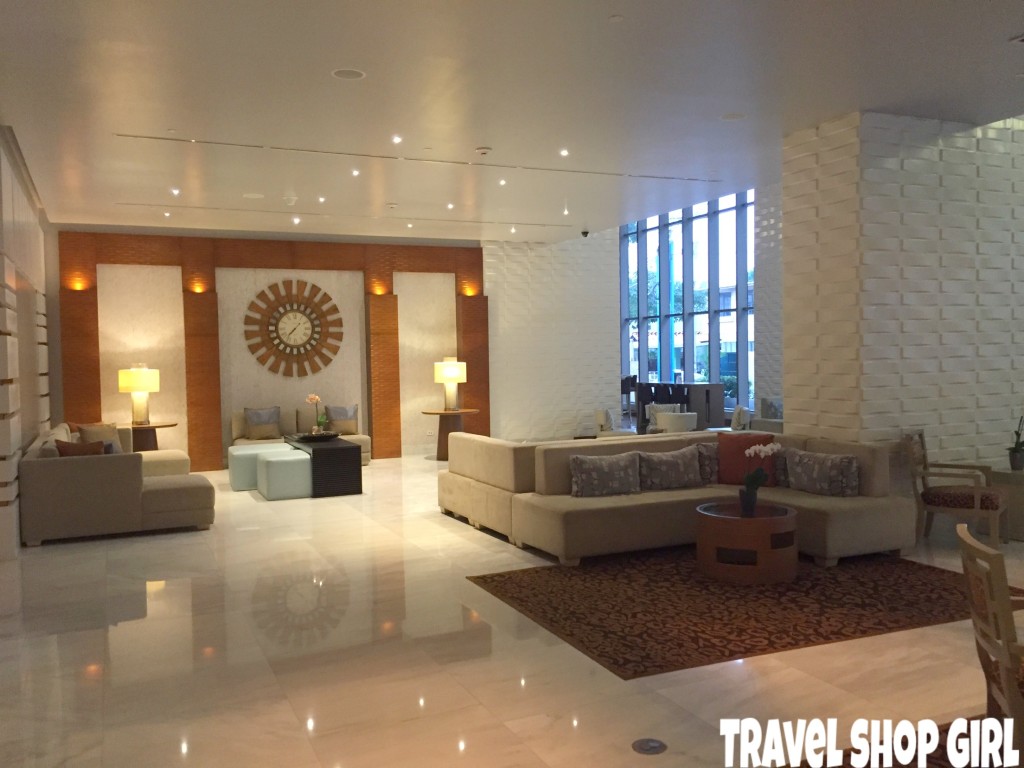 Just past the lobby are two sets of elevators to access the rest of this 36-floor hotel. We took the back set to get up to the 30th floor where our suite was located. That's right — I said suite. The Waldorf Astoria Panama has traditional guest rooms to junior suites to spectacular 1- or 2-bedroom suites, all with city or spectacular ocean views. After all, the Pacific Ocean and Panama Bay is only 1-block away.
Pool, Bungalow Terrace, and Pool Bar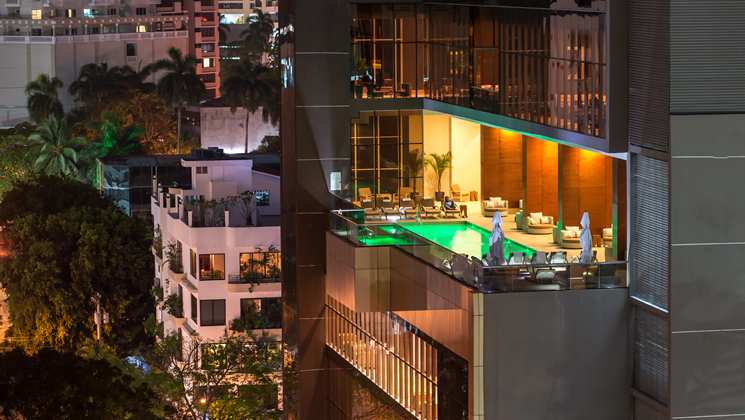 One of the nicest features in the Waldorf Astoria Panama is its 7th floor pool, where you'll also find the Bungalow Terrace & Pool Bar, which overlooks the skyline. Also located on this floor is the spa where you can enjoy any one of a number of spa treatments as well as a large fitness center.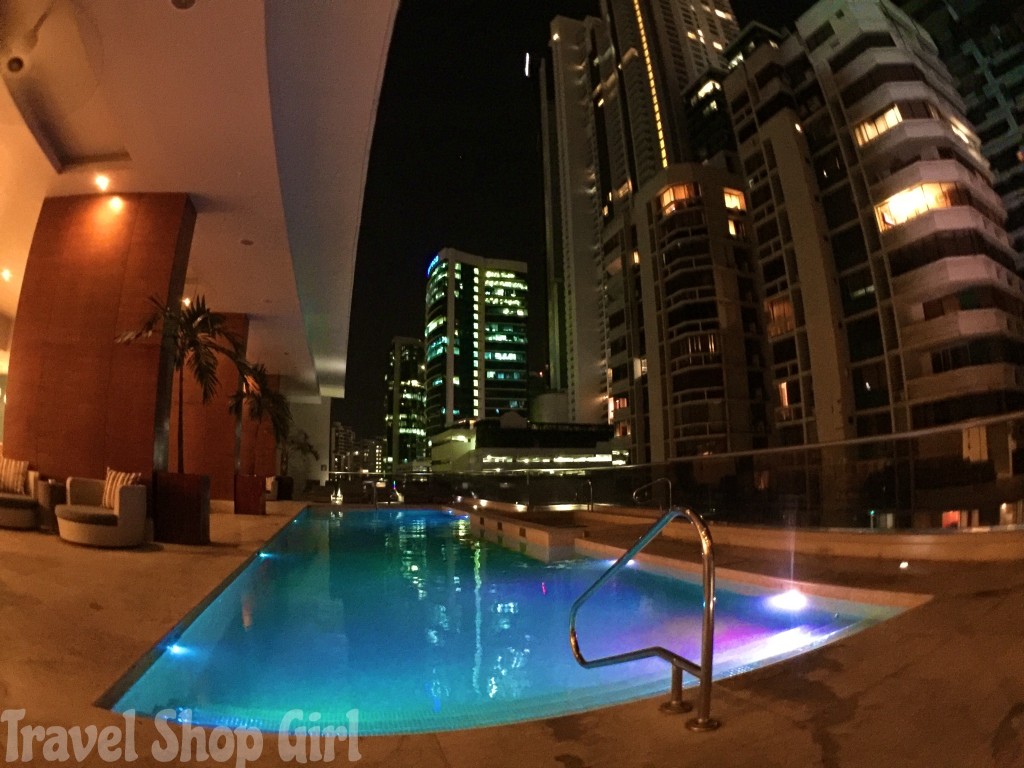 Suite 3003
While I knew we were getting a suite, I had no idea it would be as large as it was. Believe me, this place is spacious at 120 sq. m. (393.7 sq. feet). Like bigger than my house or at least it felt that way without all my clutter back at home. I think the extra space in the entranceway, while unused, makes this suite feel far larger than it actually is. Suite 3003 is carpeted in the entranceway, living and dining area, and bedroom. The kitchen has hardwood flooring while the bathroom and dressing areas are tiled.
This modern suite has a private bedroom, livingroom, dining area, kitchen, and an extremely large bathroom. The furniture is a cream leather and wood combination with brass accents and while not my personal style, it was appropriate for the space.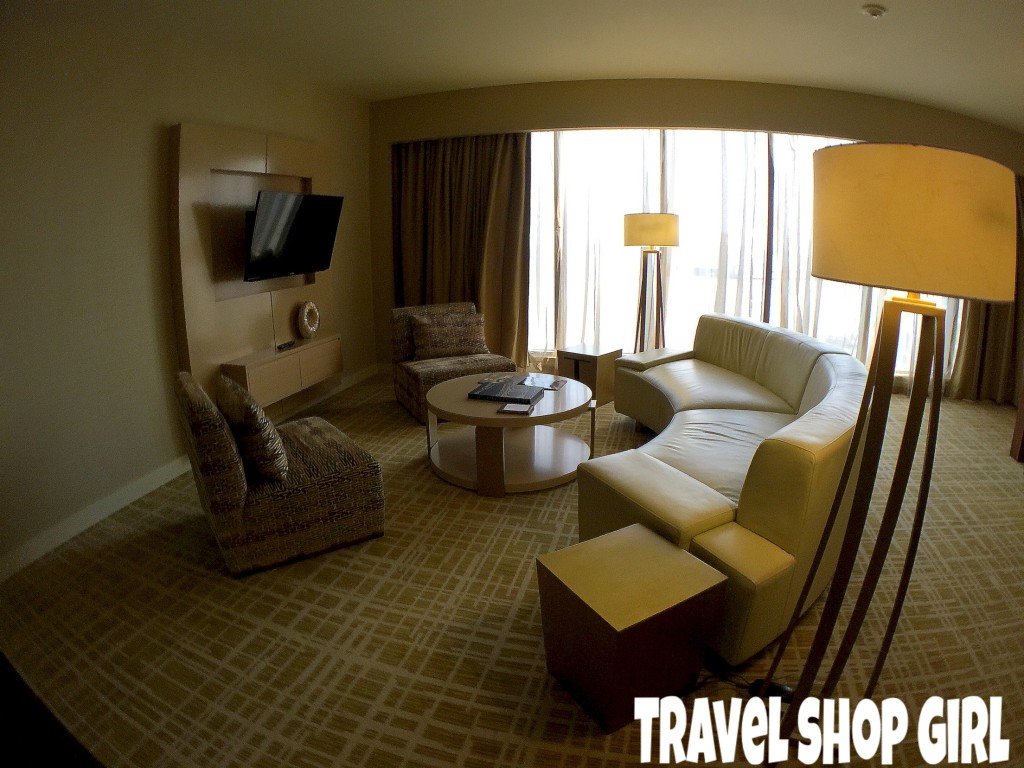 There are two 40″ HDTVs in the suite with one in the livingroom and the other in the bedroom.
The dining area features a large table with two chairs. There are also two bar stools at the kitchen counter for extra seating. I used the counter to charge my laptop and phone and would work there, too. Unfortunately, WiFi isn't free in rooms and suites. Signing up to connect is simple and the service does allow up to three devices to connect at a time.
Room Service
We ordered breakfast from room service on our second morning. This is the "Healthy Breakfast": Sliced fruit, yogurt with granola, whole wheat toast with jam and butter, two egg whites scrambled with spinach, tomato, and farm cheese, Green Juice with celery, parsley, pineapple, and orange juice; water, and Panamanian coffee. I had the fruit and Green Juice and Mr. TSG enjoyed the rest.
TSG Tip: The room service menu is in both English and Spanish. However, the menu isn't correctly translated. There wasn't a "Healthy Breakfast" item on the Spanish menu, which led to some confusion when I ordered. I realized this when I ordered and called the front desk, but still end up with an order of French Toast. The room service waiter was completely apologetic for the confusion and we weren't charged for the additional item.
Kitchen In My Suite
The kitchen has a large wraparound granite counter and is perfectly sized especially as I wasn't cooking on this trip. There's a microwave above the sink, a 2-burner electric cooking surface, a Nespresso machine, and a large refrigerator.
The refrigerator also serves as the en suite mini-bar with lots of extra empty space.
TSG Tip: If you're looking for bottled water, housekeeping will leave you two bottles. But if you want more, head up to the fitness center located near the pool where you can grab extra bottles to take with you.
Bedroom In My Suite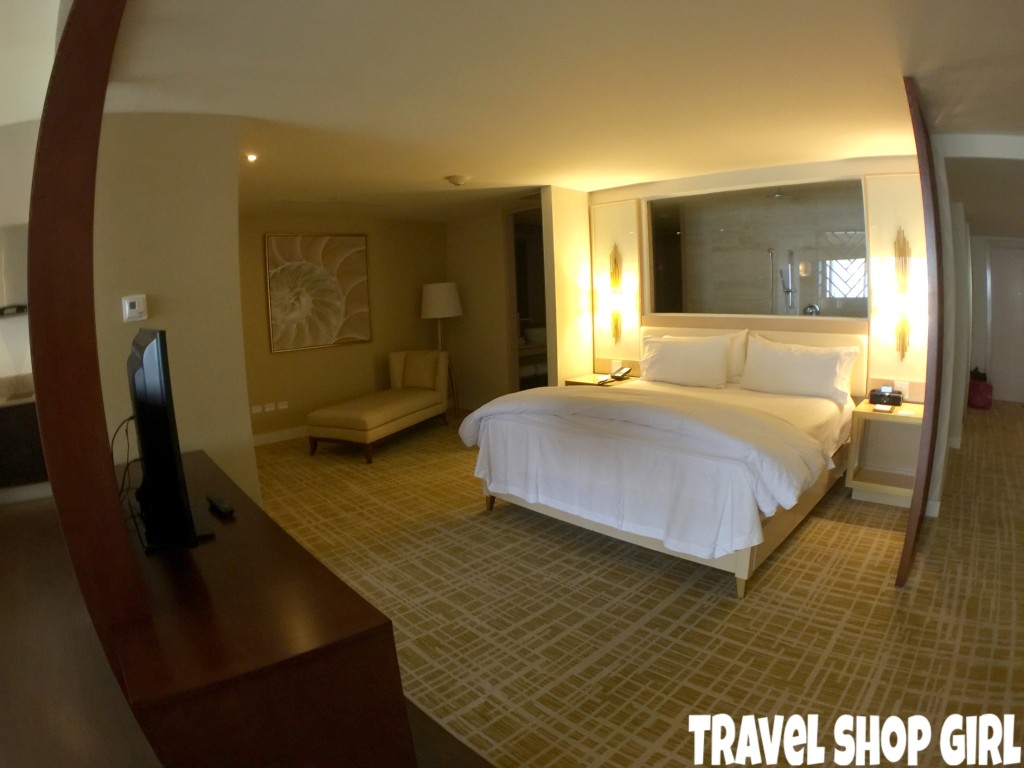 The bedroom area in this 1-bedroom suite features a king bed with the Waldorf Astoria signature bedding including Egyptian cotton linens, a Super Topper mattress pad, and down filled comforters. There's also a large high-definition TV, bedside docking station for your iPhone, light controls for the entire suite, and a chaise longue (lounge). The windows in the other room are covered at night with black-out curtains, which allow you sleep in as long as you like. And, of course, a window that allows you to see directly into the shower, but we'll get to that in a second.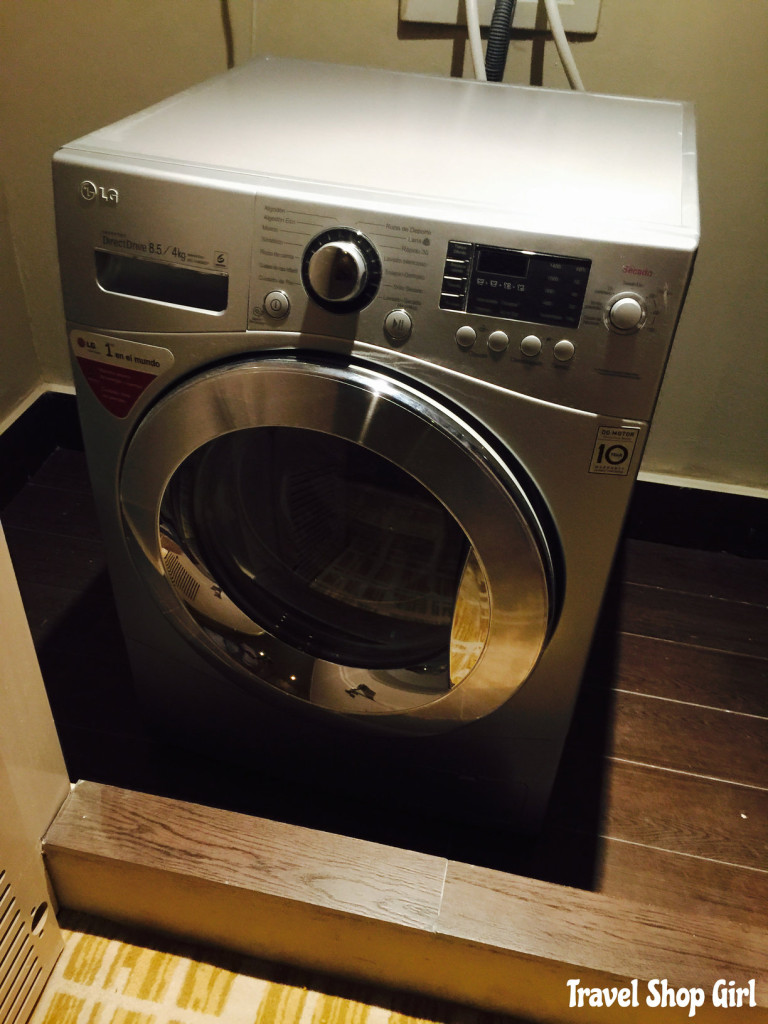 In the hallway near the entry door was this little hidden surprise. This definitely would come in handy if I was staying for more than a few days.
Bathroom In My Suite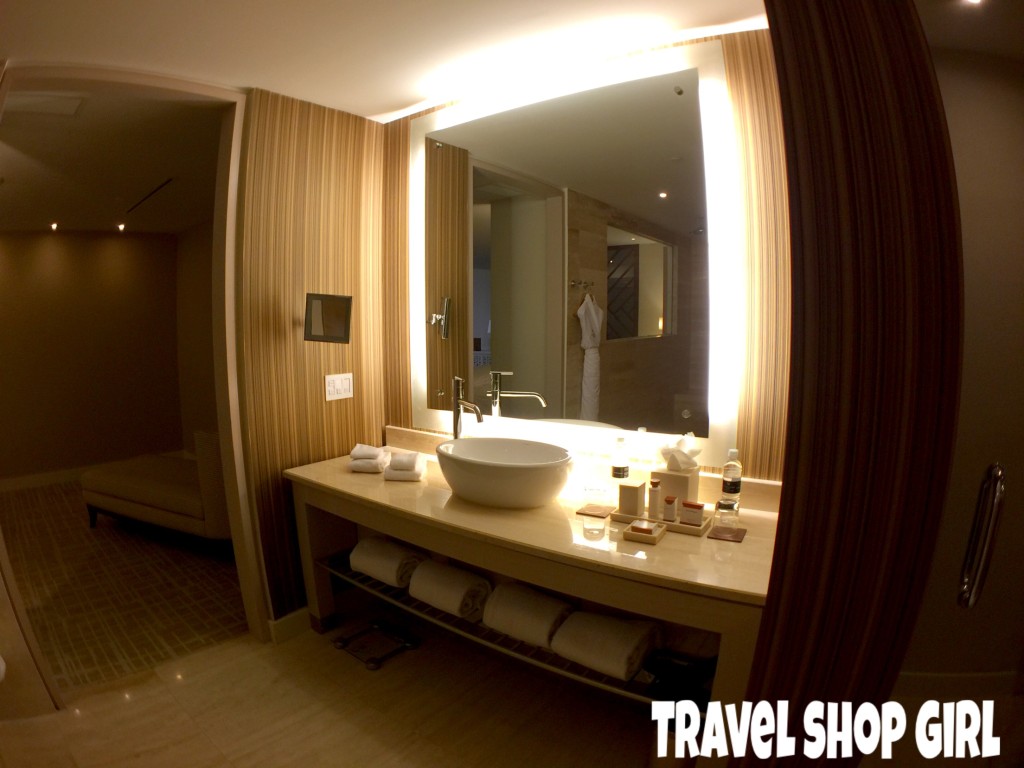 Onto the bathroom I wish I could've taken home with me. The oval vessel sink sits on top of a large granite vanity with an oversized lighted mirror behind it. Towels were stored under the vanity and after day one we only received bath towels so we had to hunt down housekeeping for hand towels.
Who doesn't like high-end toiletries from Salvatore Ferragamo?
The grand oversized marble walk-in rain shower is the centerpiece of this room. If you look to the right you'll see a window that looks out into the rest of the suite. As my sister says, "No one is attractive in the shower." Theoretically it sounds romantic, but that window also allows anyone to see straight through to the bathroom, which you can see in the next image. Yeah — I really don't think the person who designed this thought about how easy it would be to see someone sitting on the toilet. Totally not romantic or sexy.
The toilet area is behind a glass door and although interesting, not really functional in the real world.
Dressing Area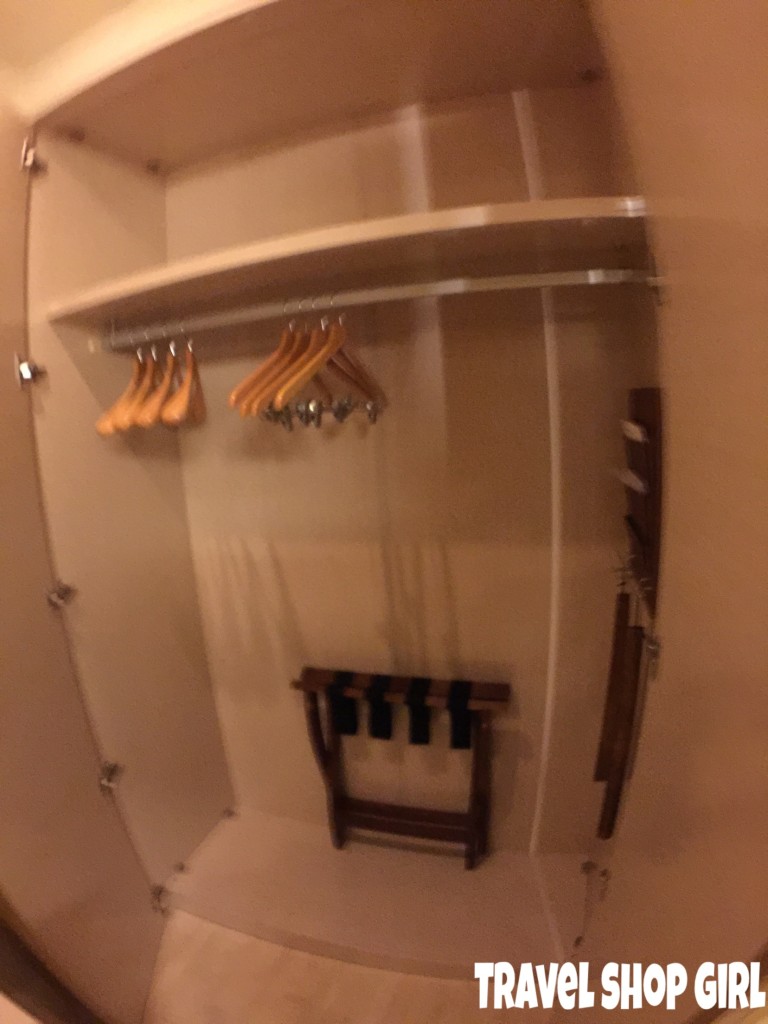 Adjacent to the toilet area is a dressing area with a stool and mirror, drawers, and shelves.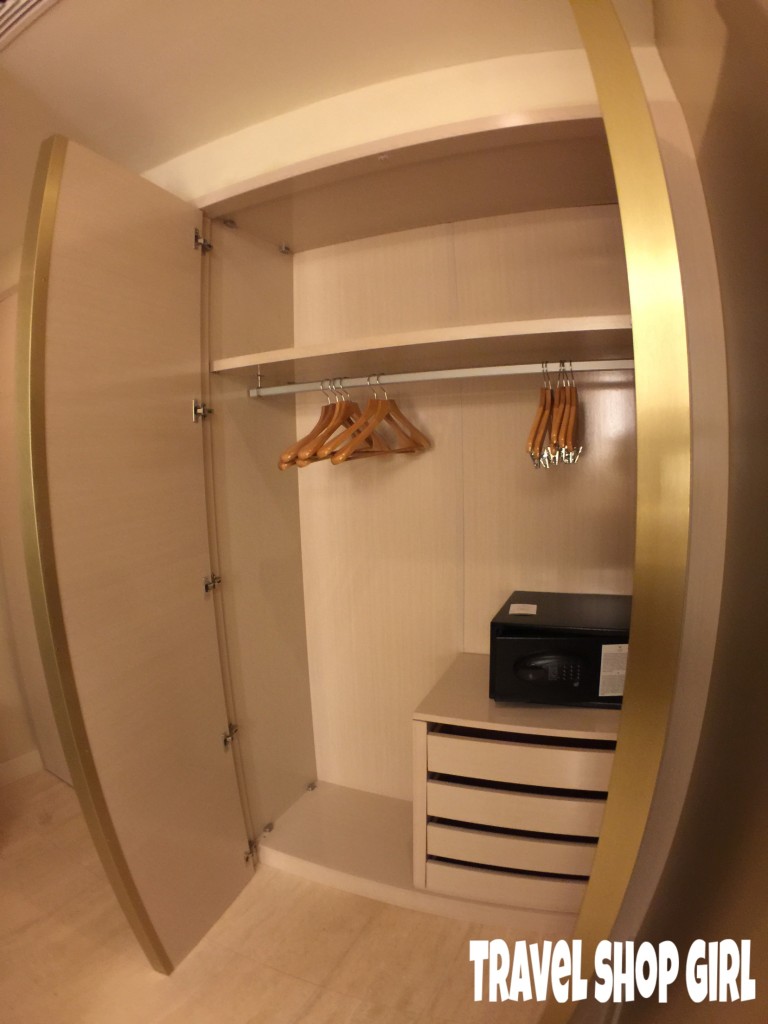 On the wall near this is area are two large closets, one with additional drawers and an in-room safe.
The View From My Suite
But what about the view from the 30th floor? While our view was partially obstructed by construction and other buildings, who cares?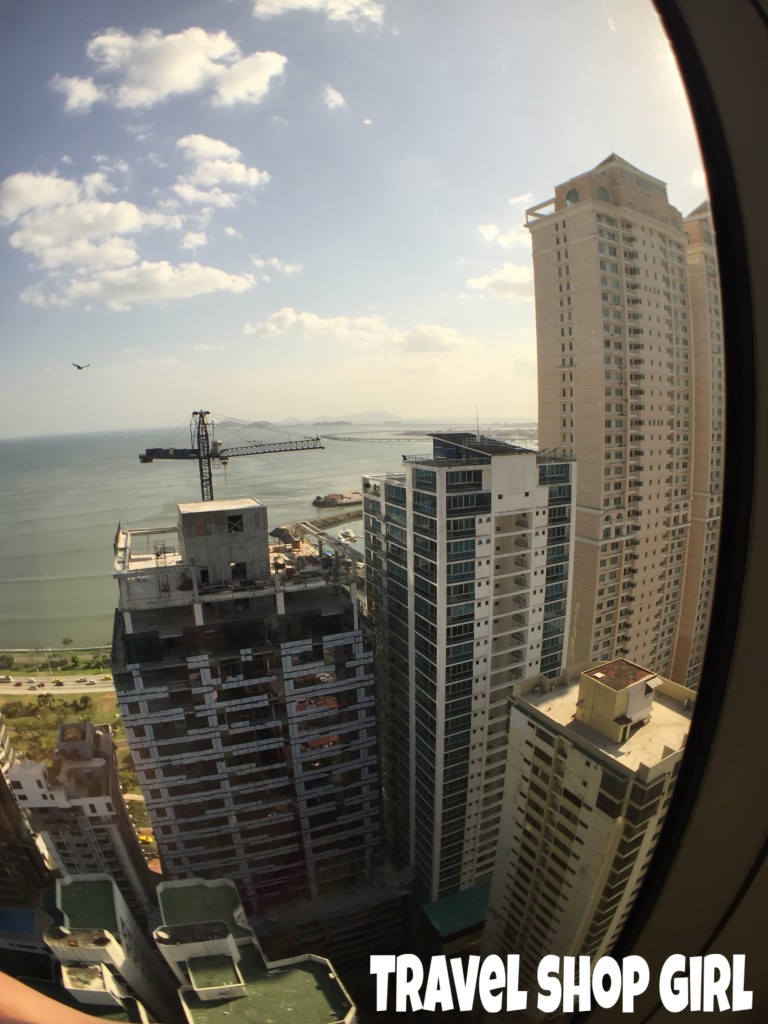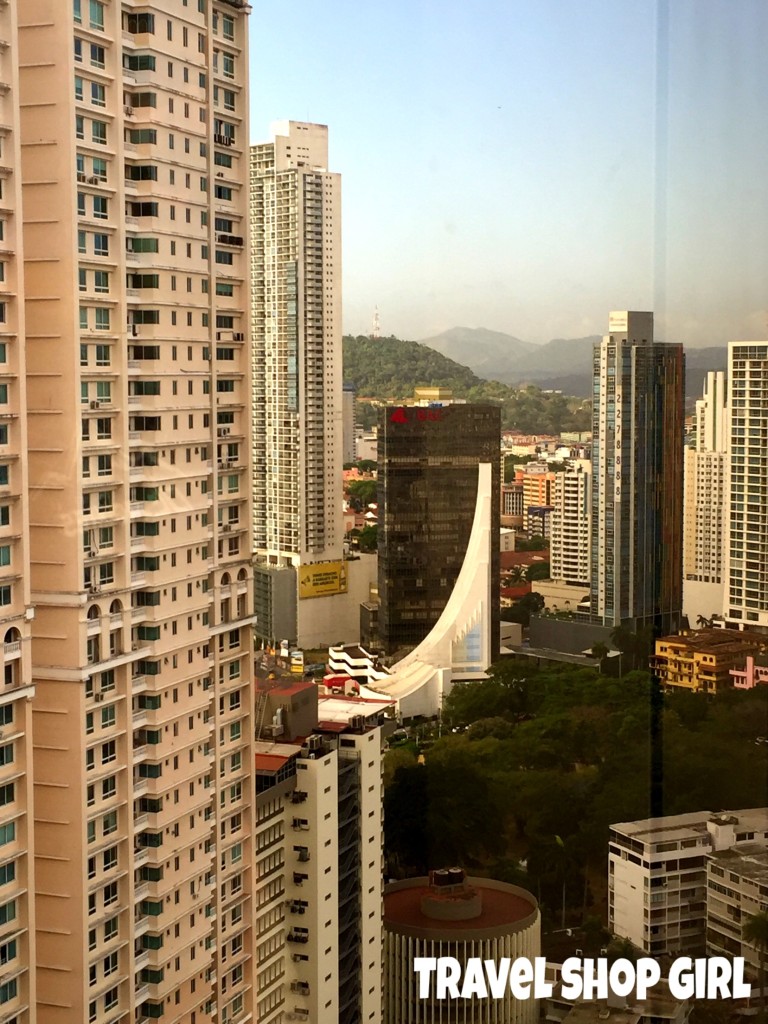 There's something about being able to see water that I just love. Despite all of the construction going on in front of us as well as all around us, we did have a spectacular view. We saw ships lining up to begin the process of entering the Panama Canal and since we were in Panama City during Carnaval, we could also see and hear fireworks from our room.
Waldorf Astoria Panama
Address: 47th St. & Uruguay Street, Panama City, Panama
Tel: +507-294-8000
Final Thoughts
Overall, I was pretty impressed with the Waldorf Astoria Panama after researching luxury hotels in Panama City. The location is great and since we like to walk everywhere, we found that there's plenty to see and do within walking distance of the hotel. Every employee I met was friendly, polite, and professional and our suite was huge. (Say it like you're Donald Trump. C'mon — you know you want to.)
While it wasn't perfect, I wouldn't expect any trip to go perfectly, but it was definitely close. The views were great, but if I'm able to visit Panama City again, I'd probably seek out an unobstructed view of the water. That means probably checking out another hotel, like Le Meridien Panama because I'm something of an equal opportunity hotel guest. Regardless of where I stay, there's definitely a number of great luxury hotels in Panama City and plenty of reasons to return to Panama.
Have you ever stayed at the Waldorf Astoria Panama or any of the other luxury hotels in Panama City? Read other hotel reviews and travel information on the rest of the Travel Shop Girl website.