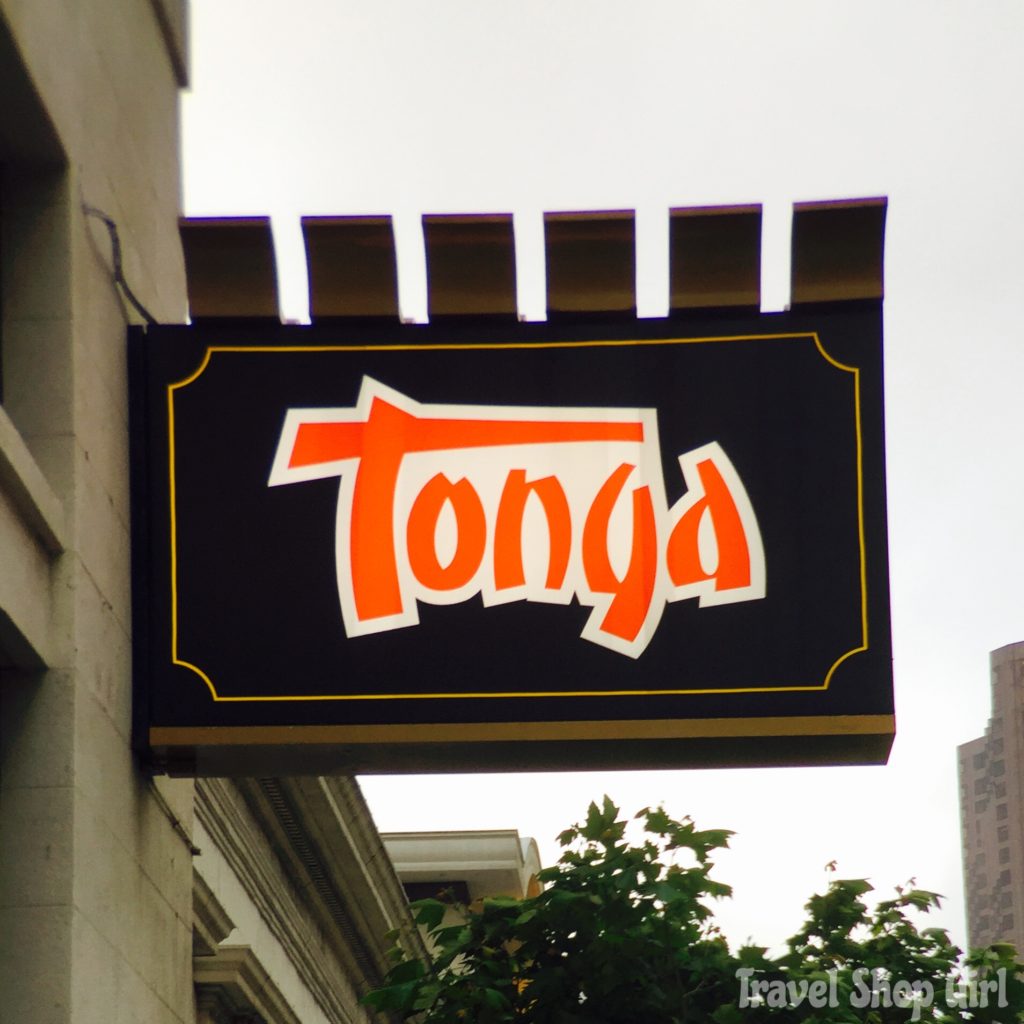 On my recent trip to San Francisco, I was hell bent on visiting the Tonga Room at the Fairmont San Francisco. Why? Because I had watched an episode of The Layover with  Anthony Bourdain who visited and knew if I ever went back to San Francisco, I would so have to go. There was no way I was going to pass up a visit to a Polynesian themed tiki bar with a live action rain and thunder/lightning storm and drinks served in coconuts.
Walking Over to the Tonga Room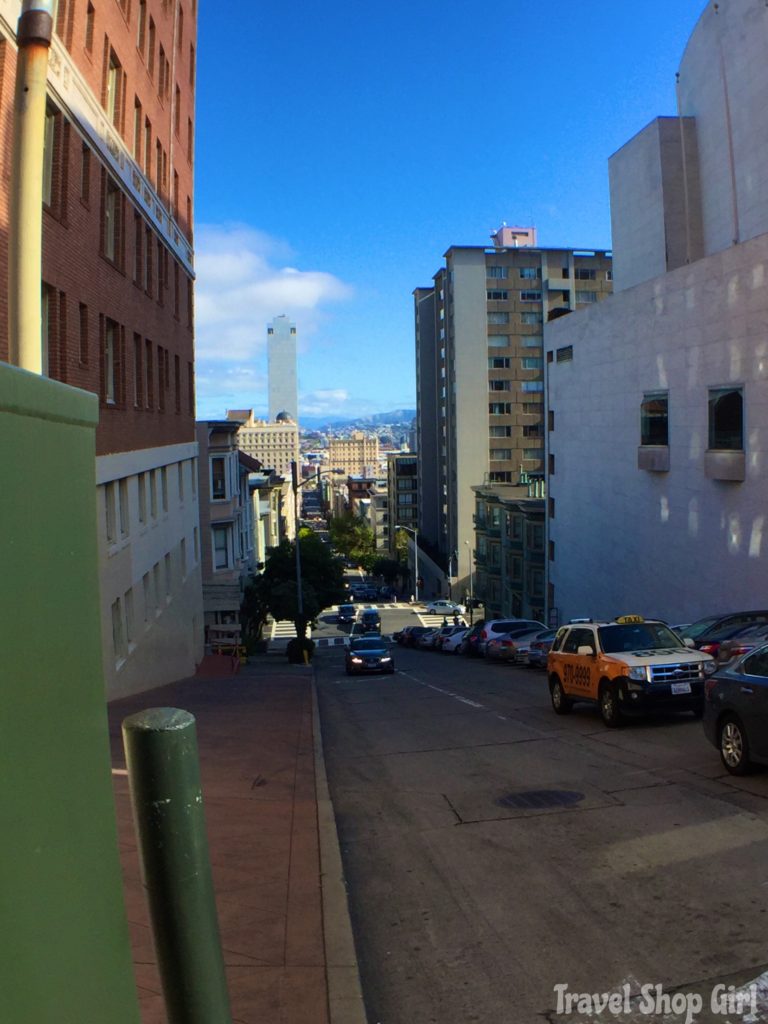 After taking BART to my hotel and then quickly changing out of my travel clothes, I trekked up the streets of San Francisco to Nob Hill.
If you don't want to walk up those crazy steep San Francisco hills to the Fairmont San Francisco, you can always take a cable car up the hill, which also stops right outside of the hotel.
TSG Tip: Look at the right side of the picture by the white car. Just above the car you can kind of make out the Tonga Room sign. Make life for yourself easier than I did and enter there instead of walking through the hotel entrance and trying to locate the Tonga Room through a labyrinth of hallways and staircases.
The Tonga Room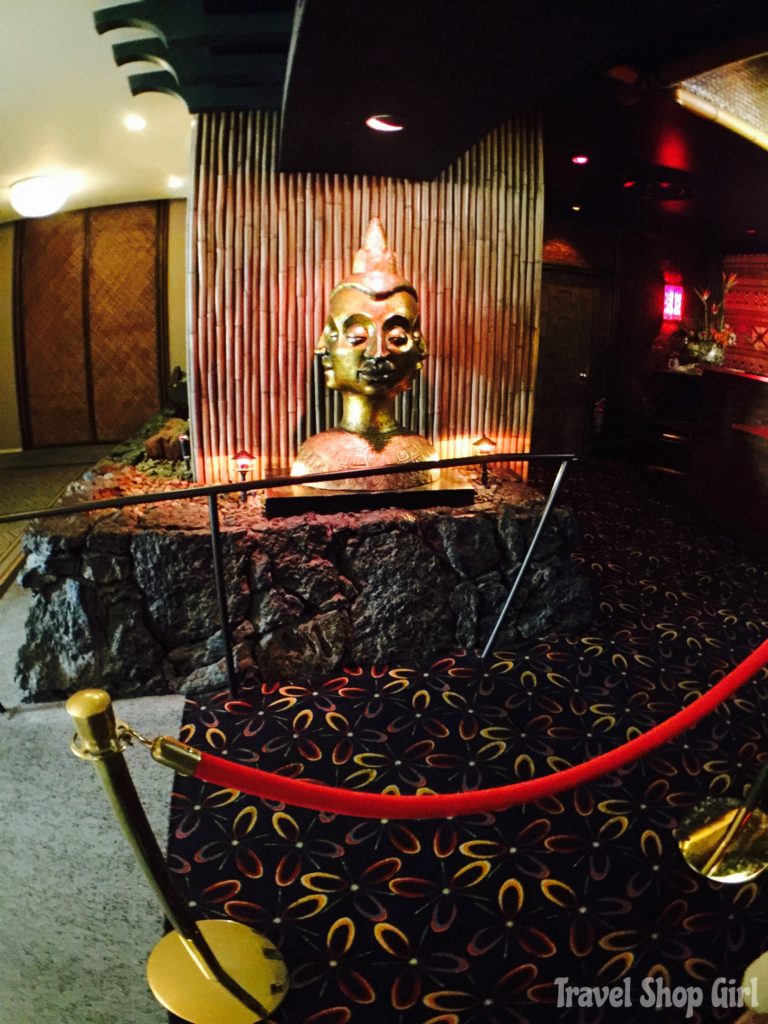 We arrived at the entrance of the Tonga Room to a small line of customers waiting to enter and so I quickly put our name on the list to be seated and waited.
I should add that once you cross this carpet, the classic styling of the Fairmont San Francisco seems to fade away in the background as you're magically transported back in time to the 1940's to the peak time of tiki pop culture.
The Tonga Room Bar
As you enter the dimly lit restaurant area, your eyes will desperately try to adjust while trying to follow the hostess who seems to be running through a maze of people. You'll feel somewhat like you're on a ship with all of the rope and mast-like structures.
What we didn't know when we were waiting to be seated was that we were on the waiting list for the Hurricane Bar at the Tonga Room, the bar in the front part of the dining room. No worries as I can drink just about anywhere.
Drinks at the Tonga Room
After quickly looking over the menu, we ordered a drink to share. Having seen Anthony enjoy a Lava Bowl ($20), I didn't hesitate to order one so I, too, could "savor the nectar of the gods."
TSG Tip: If you arrive to the Hurricane Bar on Wednesday, Thursday, or Friday nights, you can enjoy their all you can eat buffet for $10 per person with a one drink minimum.
The Lava Bowl is made with dark rum and 151 rum, fresh lemon and lime juices and local handmade orgeat. It's strong, but you knew that when you ordered it, right?
TSG Tip: Orgeat is a sweet syrup made from almonds, sugar, and either rose water or orange flower water.
Inside the Tonga Room
And no, I don't normally go out to eat and drink before 6 pm. That's unless I've already been drinking since lunch.
Click To Tweet
I took a quick break from my super strong drink to get up, walk around, and snap some quick pics inside the Tonga Room. When I returned to my seat, I asked the bar server why they hadn't seated us in the dining room. Although I felt like it was nearly 9 pm  with our East Coast internal clocks and I was starving, it wasn't even 6 pm yet in San Francisco. No wonder there was quite a large number of white haired couples waiting to be seated. And no, I don't normally go out to eat and drink before 6 pm. That's unless I've already been drinking since lunch.
We were able to secure a reservation for dinner at 6:15 pm and so we focused on the task at hand. Polishing off our hefty sized cocktail.
When you're there you realize that it looks more like a movie set than an actual restaurant and lounge.
Did you know that the 75-foot pool, now known as a lagoon, was originally installed in 1929 as the "Fairmont Terrace Plunge," a pool that attracted locals and a wide array of celebrities, including Ronald Reagan. In 1945 a set director from MGM was hired to transform it into what is now the Tonga Room and it was an instant hit.
Seated for Dinner
Promptly at 6:15 pm we were escorted to our seat adjacent to the lagoon. But let's be honest here: All seats are adjacent to the lagoon.
Although no music was playing, we did get to watch and listen to the regular show of rain, thunder, and lightning throughout the meal. The Island Groove Band plays Top 40 hits 5 nights a week (Sunday, Wednesday, Thursday, Friday, and Saturday) with a cover charge after 8 pm.
TSG Tip: The cover charge is automatically added to your bill if you're there while they're playing.
The drinks continued to flow and I ordered a Zombie ($12), which is described as a "classic potion to keep you under our spell!" Made with a blend of three rums, fresh lemon, lime, pineapple passion fruit juices, plus Angostura bitters." Be warned as the Tonga Room makes all of their drinks strong. These aren't girly drinks at all.
A Video of the Tonga Room
Pictures don't do the Tonga Room any justice. Watch this quick video to hear the sounds and see the lights that make the Tonga Room a unique and one of a kind experience.
The Starter
Our server Roberto was friendly and helpful and worked with us to choose items off the menu. For a starter we chose the Vegetable Pot Stickers ($14) made with cabbage, black mushroom, onion, and ginger served with three special sauces included sambal.
Did you know that a few years ago the Fairmont San Francisco considered closing the Tonga Room? They had protests and meetings and finally the hotel agreed to keep this San Francisco landmark intact as an attraction to both tourists and locals alike.
Drink a few of these and then you'll understand why Anthony Bourdain said, 'If you have no love in your heart for this place, you are a sick, twisted lonely f*ck with too many cats.' That's right. He went there.
Click To Tweet
Who doesn't love a drink served in a coconut? Ok, well the coconut may be only a plastic one, but nonetheless, it's a coconut. This was the Tonga Mai Tai ($13), which has been the Tonga Room's signature cocktail since 1945. It's also been voted San Francisco's best by Condé Nast Traveler. It's a delicious blend of rums from Trinidad, Jamaica, and Curaçao, local handmade orgeat, and fresh lime juice.
Drink a few of these and then you'll understand why Anthony Bourdain said, "If you have no love in your heart for this place, you are a sick, twisted lonely f*ck with too many cats." That's right. He went there.
Vegetarian Options
Vegetarians are easily accommodated at the Tonga Room. I ordered the Tonga Chow Mein ($29). It was made with scallions, carrots, wild mushrooms, snap peas, bean sprouts, crispy mushrooms, and tofu. Not one to ever order chow mein off any menu, I was hesitant. The tofu was firm and there were lots of veggies, but overall the dish lacked seasoning and flavor.
Mr. TSG chose Chef Alan's Kung Pao ($18) for his entree. It contained sichuan pepper, red onion, sweet peppers, chilies, peanuts, and xiao xing wine. This entree was mostly large chunks of assorted red and yellow peppers and it was unusually oily.  On average, he does tend to eat almost anything you put in front of him. However, this wasn't anything to rave about, especially the price.
For a side dish we picked Sichuan Long Beans made with garlic, black bean glaze, and sichuan peppercorn. That was easily my favorite dish of the night. It was tasty and probably laden with calories, but with all those drinks in me, I didn't really care.
Exiting the side entrance made it far easier to basically roll down Nob Hill. The rest was smooth sailing back down to Union Square and our hotel.
Final Thoughts on the Tonga Room
The drinks were strong, the service was attentive and friendly, and the food was unfortunately only mediocre and overpriced. My advice would be to go to the Hurricane Bar for a few drinks or for Happy Hour. Then have a meal or a few appetizers somewhere else. It's definitely about the experience not so much about the food at the Tonga Room.
If you have a chance to stop by the Tonga Room, I highly recommend it for a Polynesian tiki-themed experience in the middle of San Francisco. While I would normally say it's something you won't soon forget, that all depends on the number of Tonga Room cocktails you throw back. Because whether or not you're not sporting a plastic coconut bra in the morning, it's probably safe to say you had a great time at the Tonga Room.
Tonga Room
950 Mason St
San Francisco, CA 94108
Have you visited the Tonga Room in San Francisco? Share your thoughts and comments below. Don't forget to check out the rest of the Travel Shop Girl website for more destination info.