Do you typically avoid public transportation at home or when traveling?  There's no easier or more affordable way to get around and you might even have some fun.  Yes, you might get lost, but isn't that half of the adventure? Granted, sometimes it's just a huge pain with having to switch several trains and buses and what not and when you're lugging your luggage around, you might not want the hassle.
But here's a great reason to try it if you're going to Edinburgh.  Airlink from Lothian Buses is possibly one of the easiest ways I have traveled from an airport to a city center.  Leaving about every 10 minutes, you can easily grab a direct bus into the city of Edinburgh with little to no effort.  Only £3.50 for a single adult ticket or £6.00 for an adult open return ticket, you can even book your ticket online, print out your receipt, and exchange it for your actual ticket at the airport.
When we went downstairs inside the terminal at Edinburgh Airport after landing from London Heathrow to grab our baggage, we immediately noticed how much smaller the airport is compared to most other airports. Just opposite the baggage claim area was this Costa coffee shop and that's about it.  The information that printed with my ticket said to exchange my ticket at the Airlink kiosk outside UK arrivals prior to boarding. There was a kiosk just to the right of this sitting area specifically for Airlink as well as one for rail tickets, but the Airlink machine was broken and there wasn't any other signage indicating where to go.
Rich suggested that we walk outside and sure enough, there was a ticket booth right there where we could turn in our ticket and get the new physical ticket to take with us.  Don't worry if you haven't prepaid for your tickets ahead of time as you can buy them when you arrive.  From there we boarded the Airlink 100 bus immediately as it is directly outside Domestic Arrivals at stand 19 just to the side of the ticket booth.  The ride from the airport into the city of Edinburgh is a mere 30 minutes and along the way there are only a few stops, including the Edinburgh Zoo.
The bus is as you might expect with a luggage rack to one side and it is clean and well maintained.  At the front is a monitor so you can keep track of the stations, but since we were getting off at Waverley, the last stop on this trip, I wasn't terribly concerned.  This bus is also used by locals to get around the city and many of them move up to the upper deck. As our hotel was ridiculously close, we walked only a few minutes from Waverley station in the only rain that we encountered in Scotland during our entire trip.  A cab from the airport to the city center could run you anywhere from £20-£35 each way, depending on your final destination.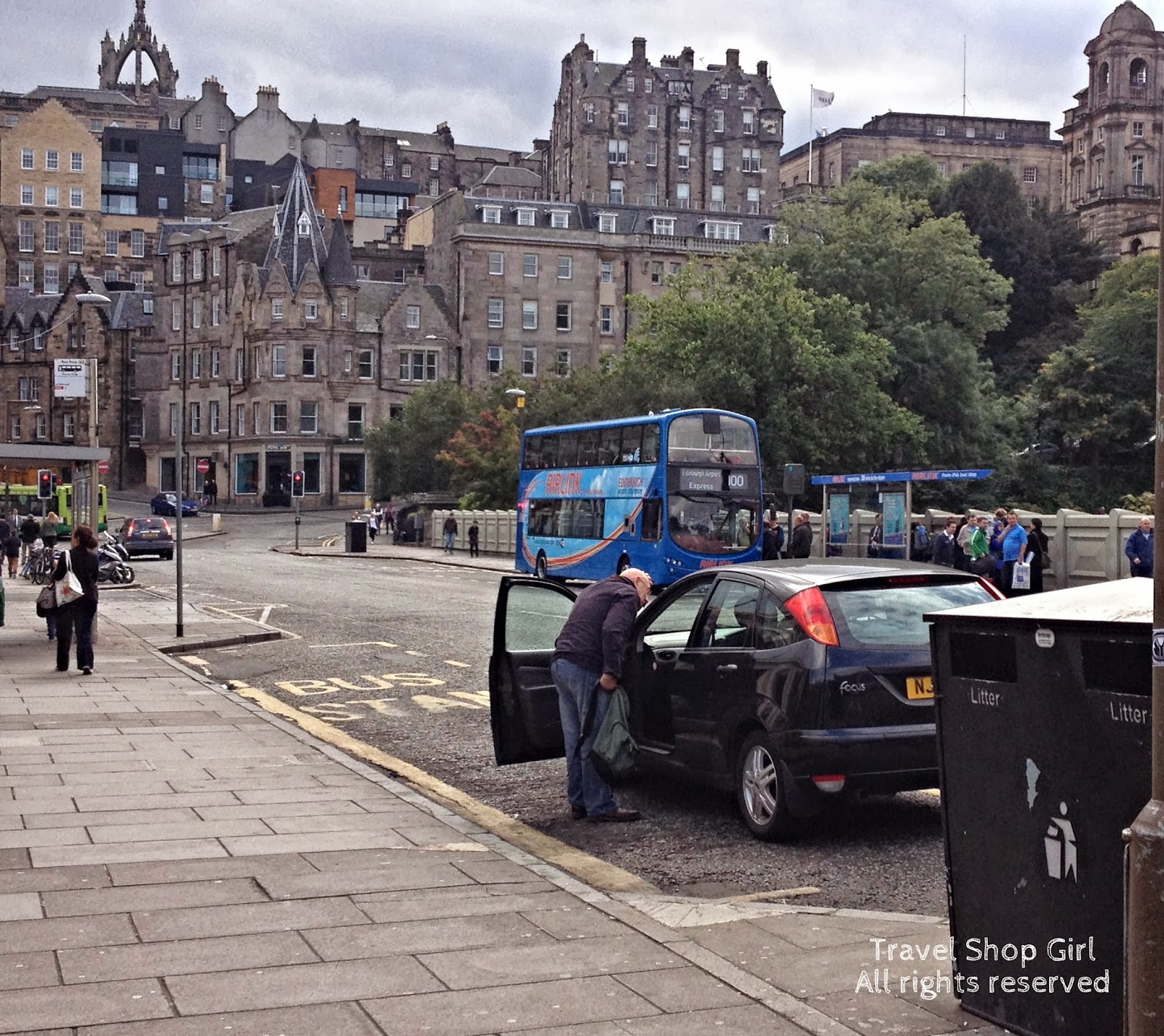 For our trip back to the airport, we simply walked over to where the buses line up outside of Waverley to board.  Specifically, the buses stand on Waverley Bridge road off of Princes Street.  Just look for the long line of double decker buses and you won't miss the bright blue Airlink bus.  Our return trip to the airport was after we had come in on the train back to Edinburgh.  Had I planned our train arrival to be closer to the time we wanted to arrive at the airport, I might have gotten our train tickets to Haymarket station instead of Waverley as Airlink picks up at Haymarket.  However, we had a few things to take care of in Edinburgh and a few hours to kill so we didn't mind getting off at Waverley.  In fact, there is a Left Luggage office where you can leave your bags at a cost of only £9 per bag for up to 24 hours.  Simply run your baggage through their scanner similar to the ones at the airport, grab your receipt, and you can wander about without your heavy bags.
Once you are ready to board the bus, have your ticket handy and if you can't find it, expect to pay the fare again.  I was behind a young American woman who looked like she was dressed to go to the gym, cell phone in hand, and a bag that was twice as big as she was.  She didn't have her ticket, tossed a £5 note at the driver and walked away.  He was nice enough to call to her and tell her she had change.  She could hardly manage her oversized bag and did the unthinkable — she just dropped it in the middle of the aisle to curl up in a seat so she could start playing on her phone.  No one could maneuver around her bag so I, master of the dead lift, picked her bag up and swung it in one fell swoop onto the lower rack.  If you can't handle your own bag and you're traveling alone, please don't make the rest of us females look like damsels in distress and set us back years by acting like you can't take care of yourself.  That's called female manipulation and it's not terribly attractive. <End of rant!>
I highly recommend Airlink for travel to and from Edinburgh airport because it's affordable, safe, and best of all, ultra convenient.  You can talk to others on the bus or relax and the money you saved can go for more important things like loads of shopping!  Who knows — you might decide to make public transportation part of your regular life, even upon your return home.
UPDATE 8/28/2015: Airlink buses have had a facelift and now look like this.  Thanks to Lothian Buses for the update!