Budapest Thermal Baths
While in Budapest after my Viking River Cruise, we decided that one of the things we absolutely had to see while we were in Hungary was one of the Budapest thermal baths. From fancy indoor and elaborate spas to public baths, we chose the largest spa complex in Europe and off we went to Széchenyi Thermal Bath or in Hungarian, Széchenyi Gyógyfürdő és Uszoda. I'm not sure what everyone else is saying about Budapest thermal baths, but I can tell you that it is like no other spa-like environment I've ever visited.
Location and History
Located in the City Park, Széchenyi Thermal Bath (or Szechenyi Spa Baths) is only a 5 minutes walk from Hősök tere (Heroes' Square) on the Pest side of the Danube river. Széchenyi Thermal Bath was the first thermal bath of Pest, too. If you're staying in Budapest, read this great article by a local on how to choose an accommodation in Budapest.
Named after István Széchenyi, Hungarian politician, theorist, and writer, Széchenyi Thermal Bath began the planning stages in the 1880s.
The beautiful yellow buildings date from 1913 and were constructed in the Neo-Baroque style.
Medical Side of Széchenyi Thermal Bath
We inadvertently entered through the medical side looking for the entrance. We were told to walk around to the other side of the building to enter the Budapest thermal baths.
I wasn't about to complain as I was taking in the views of the park from the building and of the building itself.  But we moved on as it was time to begin our spa day at Széchenyi Thermal Bath.
Széchenyi Thermal Bath Entrance
Did you know you can  purchase tickets in person upon arrival as well as in advance for your visit to Széchenyi Thermal Bath?
TSG Tip: Book online in advance for great rates on admission and packages.  We literally booked before we walked out the door and for $37 each we would get admission to the baths, a private changing room, and a 30-minute aroma massage.
When we arrived at the correct building, we immediately entered the line at the entrance to check in for our reservation. Expect long lines at peak times for admission to the Budapest thermal baths because of their popularity.
Options and Map
TSG Tip: Take the map that is offered to you and study it. I mean really study it. You will get lost and if you have an appointment, you don't want to show up late or you will forfeit your service. Unfortunately, Karla couldn't locate the area where her massage was and they turned her away and wouldn't refund her.
Finding My Cabin
Our admission ticket included cabin usage and we were directed to which cabins were open and available for use after passing through the turnstiles with our wristbands.
These same wristbands also open and close your cabin or changing room and are also used for checking you in for services.
The cabins are small, about 3′ wide and about 5′ long, but knowing that you have a place to keep your clothes dry and a little privacy was worth the price.
TSG Tip: Instead of a cabin you can pay for a locker, which is just that — a locker.  The difference in ticket price is about $2 so I gladly opted for a cabin. We brought our own towels as you can see in the picture.
When I walked out of my cabin, I noticed this woman sitting on the bench near the open window.
Why People Visit Széchenyi Thermal Bath
People of all ages go to Budapest thermal baths like Széchenyi Thermal Bath, many on the recommendations of their physicians.
From the Szécheny Thermal Bath website:
The water of the drinking well is a healing water with calcium, magnesium, hydro-carbonate, chloride, sulphate, also containing alcalics and a substantial amount of fluoride.

---

Therapeutic suggestions include for treatment of degenerative joint diseases,  chronic and sub-acute arthritis, and orthopedic and post-accident treatments.
Considered the largest medicinal bath in Europe, Széchenyi Thermal Bath has its water supplied by two thermal springs. There are 18 pools on site with 15 fed directly from the thermal springs.
This is NOT a resort where everyone is young, tall, thin, and beautiful.  You WILL ABSOLUTELY see body shapes of all possible sizes, hairy men, and things that make you scratch your head.  But that's what I really liked about this place as it seems no one really cared what anyone looked like. Talk about liberating.
The Széchenyi Thermal Bath Pools
Once outside you'll be able to choose from one of the three outdoor pools: The swimming pool, adventure pool, and thermal sitting pool. The temperature varies from 27 to 38 °C (81 to 100 °F).
We chose to try out the thermal sitting pool first although at the time, I had no idea which one it was.  Let's just say it was hot and on an ungodly hot day in Budapest where the temp was like 90°, maybe that wasn't the best idea.  I went from hot and sweaty to oh dear God I'm dying because it's so hot above and below the water line.
I had heard about this uniquely Hungarian phenomenon where people play chess in the thermal baths and I was so glad to see it for myself. How they were able to concentrate despite the heat is completely beyond me.
On the other end of the pools is the adventure pool, which has a whirlpool, bubble jets, and underwater benches. We joined the line of people who were walking around in a circle creating a whirlpool. If you want to get in or out of it, you have to plan as it is constantly moving and will suck you in so you can't simply move to the side to get out. Don't worry — it's not scary. It's fun!
Between the thermal sitting pool and the adventure pool lies a large swimming pool with a depth from 0.8 to 1.7 metres (2 ft 7 in. to 5 ft 7 in.).
I watched as the diehard dedicated swimmers went back and forth in the heat doing laps.
Inside Budapest Thermal Baths
When it came time for my massage, I found my map and ducked inside one of the doorways.
From there I had to meander through hallways and buildings to arrive for my appointment.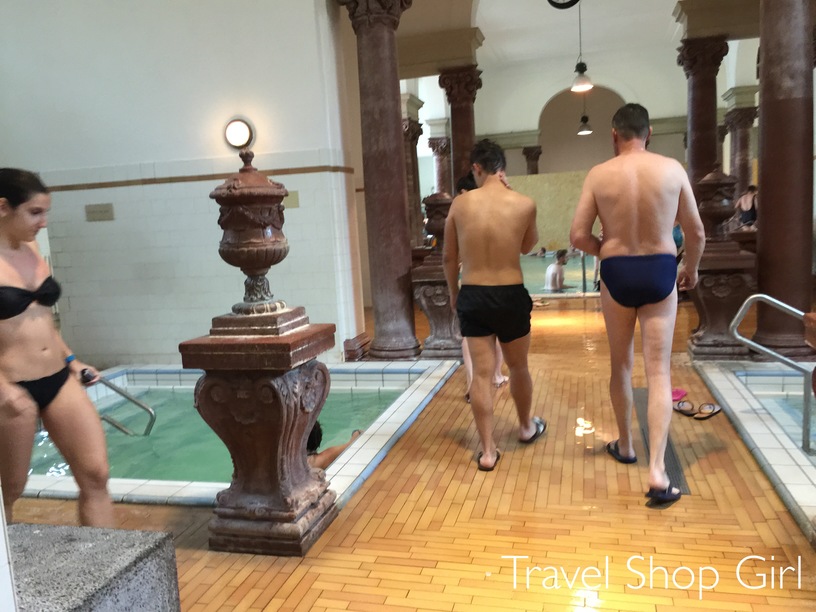 In addition to the pools outside, you'll find more pools, whirlpools, saunas, and steam inside.
Massage Time
After walking through a maze of rooms and asking a few employees, I found my way to my massage appointment.
The first thing I needed to do was to check in by holding my wristband up to the machine. Then I was escorted to one of the wooden rooms for my massage.
The attendant had on what could only be described as hospital employee-like attire. He changed the paper off the massage table before telling me to lay down. Yes, you read that right — paper. I have to admit that my first thoughts of the room and of what I was seeing in the preparation of my massage had me thinking that this is what a back alley abortion clinic might look like. I climbed onto the table and placed my face through the opening before my attendant began a rudimentary massage.
Don't expect any zen-like music to play in the background or the smell of incense or candles around you. I could only smell the cheap lotion he was using for my massage. This is the kind of massage your boyfriend or husband gives you because they feel they have to and you know they have no training or desire to do this. I just wanted it to be over and was so glad when it finally was. But let's be real here. For what I paid, I got my money's worth.
After the massage I went back to the pool where I caught up with Karla and learned that she never got her massage. Since there had been a crazy thunderstorm and the skies were looking a little suspicious, we decided to call it a day and head back to our apartment in Budapest.
Gift Shop and Café
Before leaving we took some pictures and checked out some of the items they had for sale.
Forgot your bathing suit or towel? You can always buy or rent one here.
TSG Tip: Did you know that if you're visiting Budapest, the Budapest card offers discounts to many of the sites in Budapest? That includes Budapest thermal baths like Széchenyi Thermal Bath.
For only about $0.70 (200 HUF) you can treat yourself to "quality mineral water" and "refresh yourself with the water of the Romans." I figured since I had been in the pool, why not try a bottle? Tastes no different from regular water and after the hot day I had, I was so incredibly thirsty.
If you're thirsty like I was or perhaps hungry, stop in at the self-service Széchenyi Baths Cafe for a quick snack or a meal.
Final Thoughts on Széchenyi Thermal Bath
I'm always open to experiencing something new and different, which is why I wanted to try one of the Budapest thermal baths. Széchenyi Thermal Bath provided me with a unique and one of a kind experience. The next time I'm in Budapest, I definitely want to try one of the other ones for comparison.  I'll also pack some sunscreen and a beach towel so I can lay out on the hot ground and not get scorched. Either that or maybe I'll visit in cold weather to have a Blue Lagoon type experience in Budapest.
Széchenyi Thermal Bath (Széchenyi Gyógyfürdő és Uszoda)
Budapest, Állatkerti krt. 9-11, 1146 Hungary
Hours: Open daily
6 am to 7 pm for indoor facilities
6 am to 10 pm for outdoor facilities
Have you ever visited Széchenyi Thermal Bath or one of Budapest thermal baths? Tell me your thoughts in the comments below. Don't forget to check out the rest of the Travel Shop Girl website while you're here.