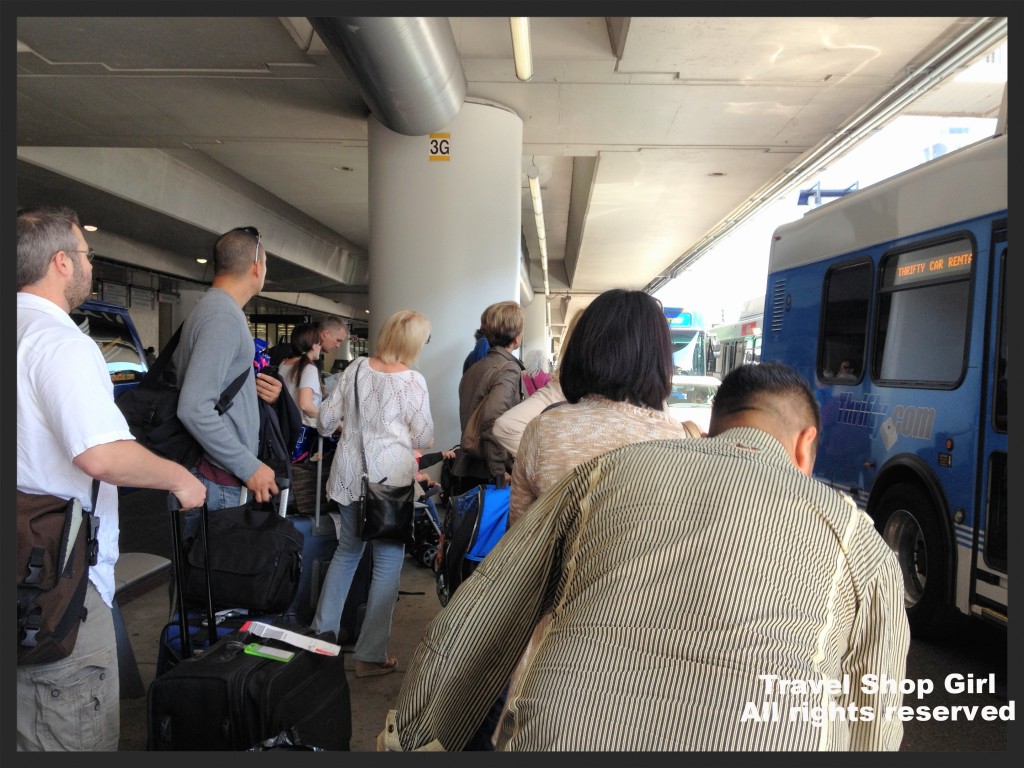 At the Airport
After we collected our bags from our flight with Virgin America at baggage claim at Los Angeles Airport (LAX), we headed outside to catch the shuttle to get our Dollar Car rental. Yes I was going to let my hair blow in the wind because I was renting a convertible in Los Angeles. If you've never traveled through this particular airport, the process is similar to most major airports. Exit through the doors to the street and look for the signs for the car rental area. You'll walk to the outer curb to wait for your car rental company's shuttle. There isn't a centralized car rental location so the shuttle buses are unique to each individual car rental company. If you're not sure where to stand, look for the people waiting on the outside curb with bags in tow. If you are going for a car rental, you might be interested in finding the cheapest auto insurance near me to help in case you are ever in an accident. Finding yourself in an accident when you're not in your own city can be a harrowing experience. If you find yourself in an accident, you could get in touch with someone similar to this Coquitlam car accident lawyer who might be able to help with more information on your case.
We saw the shuttle for Dollar Car rental, but instead of pulling up by the car rental shuttle sign by the curb like all of the other car rental company shuttles had done, this particular shuttle didn't. We had to haul all of our luggage over to where it was standing farther down the curb only to get up close to the bus and see there was no space onboard. The driver sat in his seat while passengers clogged the doorway of the half filled bus. Working together, we were able to get the bags up on the curb and move back to our original spot, navigating around other travelers who refused to move their luggage. Frustration began to set in and then we spotted another Dollar Car rental shuttle approaching.
After signaling the bus to stop, the door opened and we were so surprised to see the driver get up to assist us with our luggage. The driver, Sterling, helped everyone and did so with a smile on his face so you have to know that this man is clearly a helpful and professional Dollar Car Rental employee. Not sure why people don't tip, but we certainly did as he was a great help to us, both on and off the shuttle.
The ride from the airport to the car rental location was only a few minutes and once the bus stopped, with a little assistance from Sterling, we grabbed our bags so we could go inside and get our car. It was at this point that the unthinkable happened. In the picture above you might see my pretty pink suitcase near Sterling. When Mr. TSG pulled the handle up to move it, the handle came all the way out and broke. He initially insisted that he would carry the suitcase, but then why have a rolling suitcase, especially when it's heavy. More about my suitcase saga later.
Inside the Dollar Car Rental Center

Between the two of us, we maneuvered the luggage inside to the second unthinkable situation of the day. The line inside was so long that it looked like people would soon need to start waiting outside. There were only a few employees manning the counter to assist customers so it didn't take much to deduce that our wait would be a long one. It was then that I recalled that I did indeed have a Dollar Express ID. This allowed me to step out of the DisneyLand length queue and move into the short line with maybe six people in it.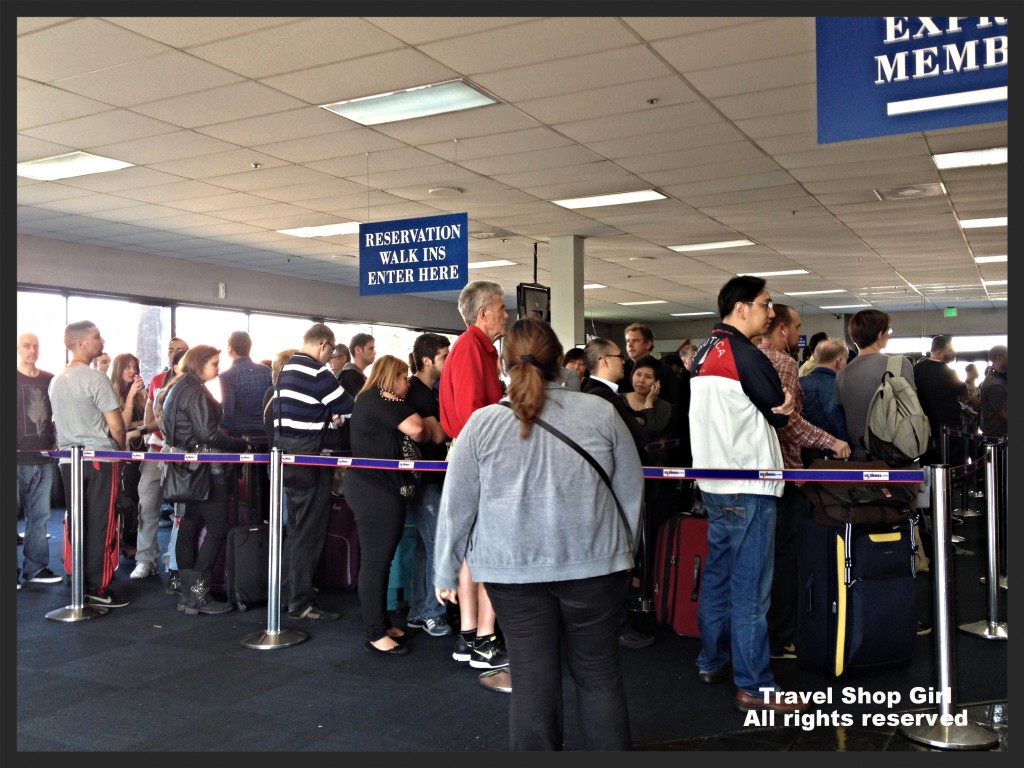 Now maybe you're the kind of person that likes long lines and waiting and won't mind spending the majority of your vacation in line. Not me! When in Las Vegas the year before, we had the same thing happen and I immediately signed up for my Dollar Express ID while we waited. Although we didn't get any benefit with it while in Las Vegas, it totally saved us in Los Angeles. Having the Dollar Express ID meant a super short wait instead of waiting with people who were on the verge of insanity from waiting. There were so many angry, shouting people that I couldn't wait to leave.
At the time of my reservation, I simply entered all pertinent information, including my credit card information, which then allowed me to simply grab the contract and other documents and go. It couldn't have been any easier! Even if you're not a frequent car rental user, sign up for programs such as this one can provide you with perks like this that are in my opinion, crucial for an excellent vacation.
My Candy Apple Red Convertible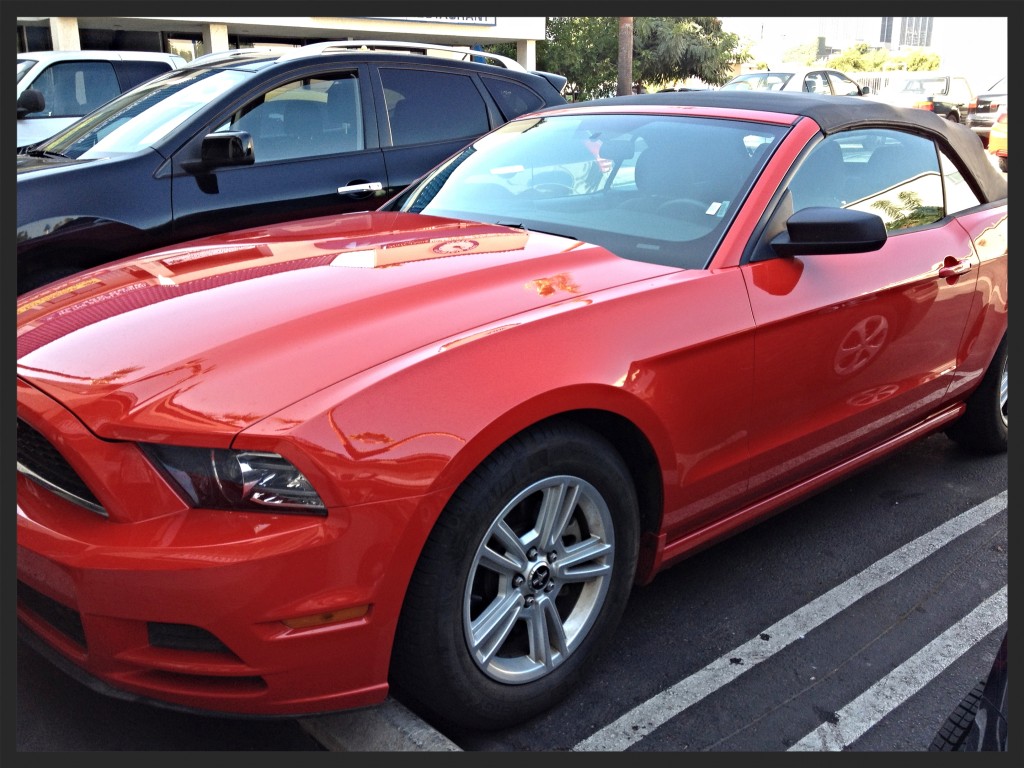 Traditionally, I get a compact or mid-size car and usually nothing fancy. On this trip, I decided to go all out and surprise Mr. TSG with one of his favorites, a Ford Mustang convertible. It may not be a Mercedes or BMW, but we don't get to ride in a convertible at home, especially during the long, cold winter months, so I would have taken anything. What I liked about Dollar Car Rental was that I could choose whichever convertible I wanted among the several there. Once we spotted the candy apple red one, we had to have it.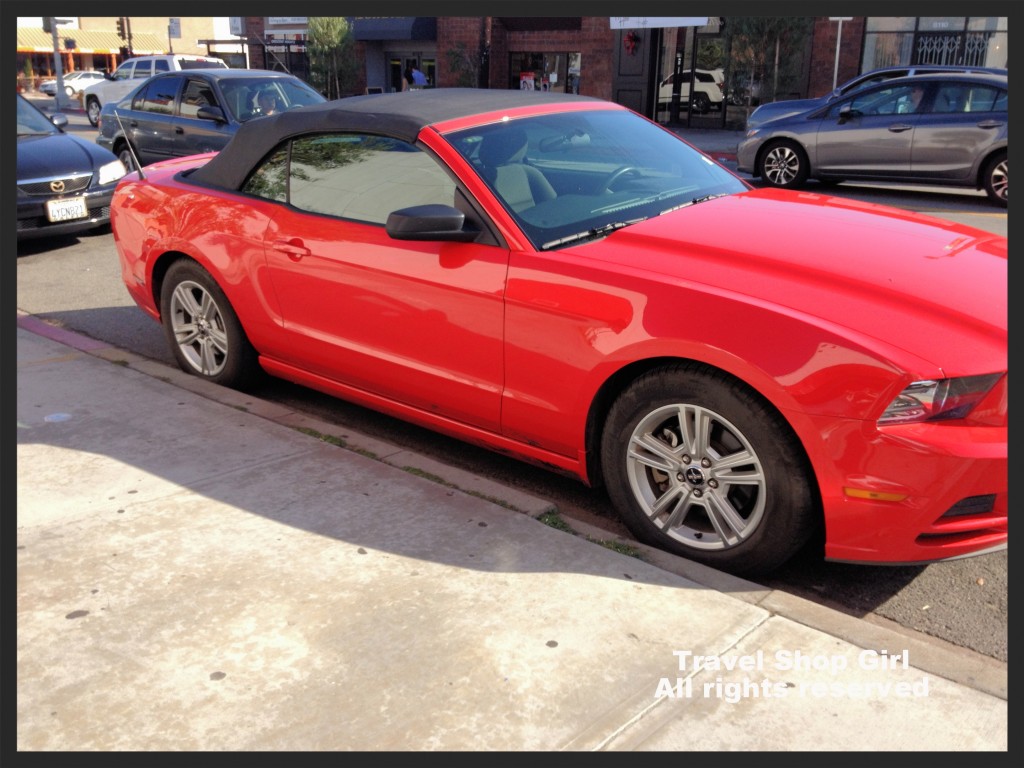 Whether with the top up on West 3rd in Los Angeles before parking the car to go into one of the area shops…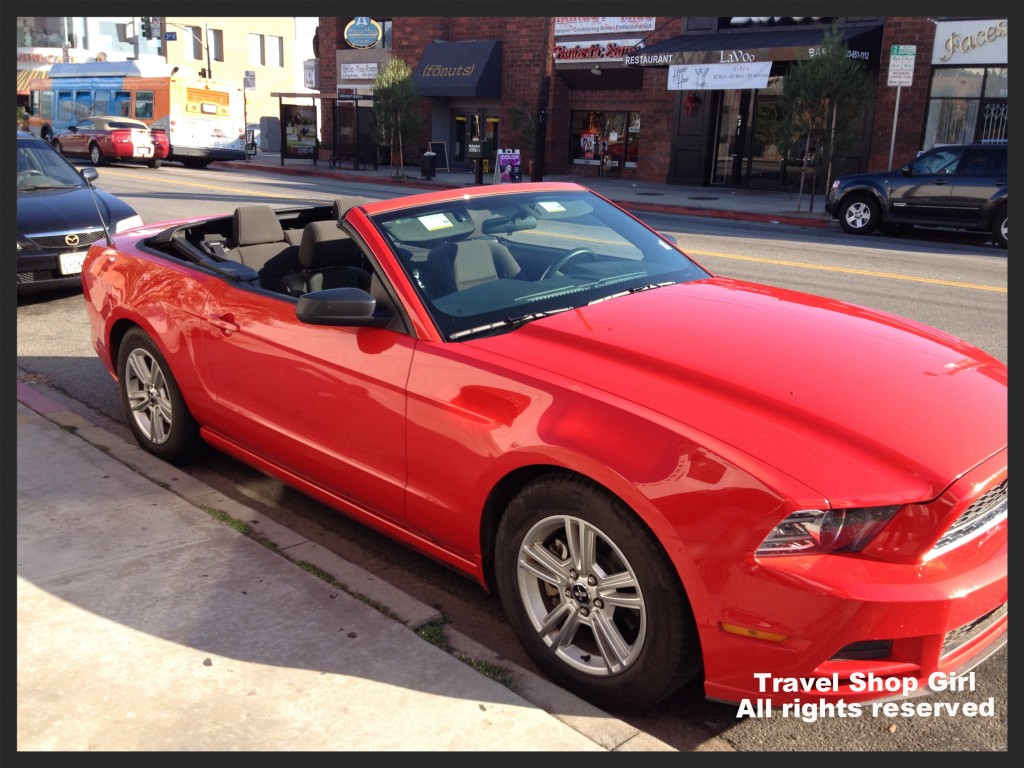 Or with the top down when we were getting ready to hit the road again, our pretty little convertible never disappointed us.
No matter the angle, she was one snazzy little car! Trunk space was a little tight with two suitcases each and two carry on bags, but with an empty back seat, there was definitely enough room for everything.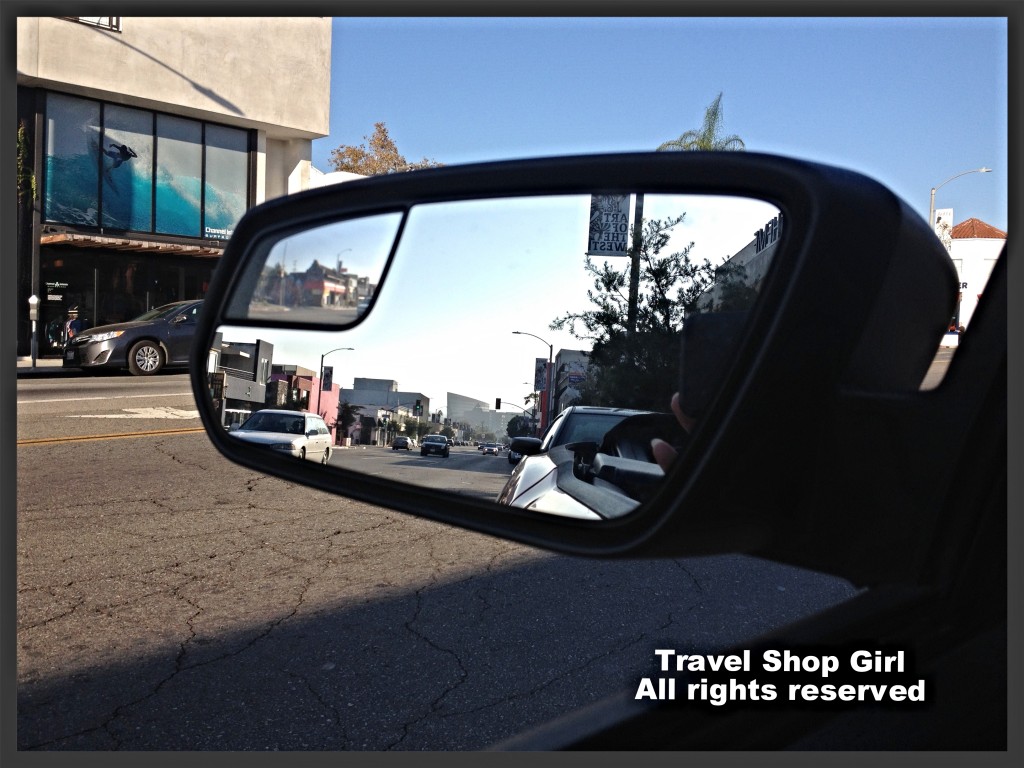 I even had fun taking pictures in the side mirrors. I was having way too much fun!
We only had the car for a day and a half before flying out to start our cruise, but I was able to secure a great rate through Dollar with a promotional code I found online. If you don't regularly do this, just do a search for the car rental company you'll be using and add "promo code," "discount code," "promotional code," "coupon," etc. and play around with the rates until you find something that works. I so loved having my own car to get around Los Angeles vs. relying on a taxi, shuttle, or public transportation. Although the rental car fees and gas may be more than one might like to spend for a quick layover, I think it was well worth it.
As is always the case with any place I visit, my only regret is that I couldn't stay longer to drive my convertible all over LA and up and down the freeways a little more.