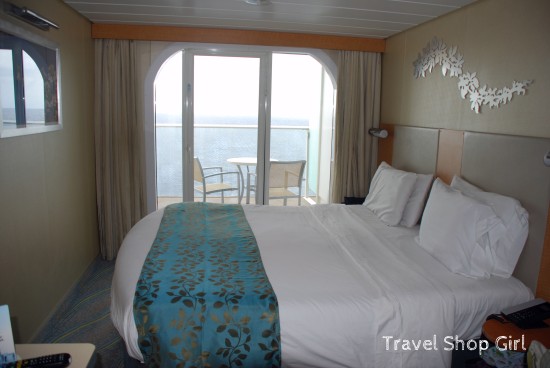 It's that time again! Let's tour my comfy digs while I was onboard Royal Caribbean's Oasis of the Seas.  My cabin was located mid-ship on the "hump" – that small section that juts out slightly and is supposed to give you a bigger balcony.  Cabin 12198 on deck 12 is a D1 Superior Ocean View Stateroom with Balcony with two twin beds that convert to a Royal King, measuring 72.5 inches wide by 82 inches long, private balcony, sitting area, and a private bathroom. (182 sq. ft., balcony 53 sq. ft.).
If you've cruised before, then you know that this is a standard balcony cabin although the balcony does appear to be on the larger side than I've had on other ships.  If you haven't cruised before, you might be, shall we say, underwhelmed. Standard cabins, be they inside, oceanview, or balcony, are adequate in size with basic furnishings and decorations similar to mid-range hotel chains. Considering the smallest staterooms on this ship are the Smaller Interior Staterooms at 150 sq. ft. or as I like to refer to it, my closet at home, my balcony cabin felt spacious.  Yes, it wasn't the spacious Royal Loft Suite coming in at 1,599 sq. ft. with an 874 sq. ft. balcony that I coveted, but considering the amount of time I was in my cabin, it served me well.  
In this pic you can see that having a balcony cabin only provided me with a view of a white wall of fog.
As the day progressed I could actually see the water.  I generally like to book a balcony cabin for my cruise so I can always have a view of the water.  The majority of my cruises have been warm weather cruises and this was my first transatlantic cruise.  I think if I were to do this again, I would opt for a balcony cabin over Central Park instead.  Inside staterooms are a little too claustrophobic for me and considering how cold it was for the better part of the cruise, it wasn't really necessary to have a balcony cabin facing the water. 
Not every day was filled with fog and cold weather.  Toward the latter half of the cruise we definitely had some amazing sunrises and sunsets. 
STORAGE: Storage inside the cabin is unfortunately, typical cabin type storage.  Not sure who decided these long, narrow cabinets above and below the desk area would help anyone.  They are so narrow and not at all deep (only a few inches max), so they went unused.  Storage consisted of three drawers, a minibar fridge that doesn't really get cold, a closet with a safe and a few shelves, and two nightstand tables without drawers. This is why I love packing cubes which allow me to leave my clothes organized even if there aren't drawers.  But I would definitely love more drawer storage in my cabin.
This was the singular outlet available in the cabin, but considering cabins of the past where there were only two outlets, this has an extra one.  In the picture above this one you can see my Belkin adapter plugged into it to allow for the charging of my phone, iPad, computer, computer batteries, and all of my other technology.  I am super excited that the Quantum of the Seas has USB ports in the cabins.  Thank you technology gods!
BATHROOM:  If you were expecting something new, exciting, or different, you're crazy.  C'mon — it's a bathroom!  There's a shower with sliding doors, toilet, sink, three small shelves and a teeny tiny drawer and that's it.  While it serves its purpose, there were a few small issues including scalding hot water like I've never felt before.  I've been known to complain about the lack of hot water on cruise ships, but that was not the case here.  We're talking so hot that I turned it almost all the way to the opposite side (also known as COLD) and it was still hot.  Yikes!  The floor in the shower was creaky and sticky like the glue was no longer adhering. Lastly, the faucet in the sink would sometimes work normally and other times would spew little streams of water.  Granted, I know when you're at sea the water isn't fresh water, but still over the period of 12 days with all but one at sea, it was hit or miss on most days. 
TELEVISION: When I arrived in my cabin on day one, I noticed that the muster drill video that is usually played on a loop in the cabin wasn't on.  In fact, the TV had a "no signal" image displayed on it.  This continued for three long days.  While I didn't go on my cruise to watch television, I would've liked to check restaurant and show availability, but more importantly, I wanted to watch the news even if for only five minutes to know what was going on in the world.  I learned that 60% of the ship was without television, yet no announcements had been made about when this would be repaired.  I won't tell you how many times I called Guest Services and how long I stayed on hold each time before someone took it seriously enough to send someone to my cabin.  
I don't know who this guy was that kept showing up in my Account Review once the television was repaired, but I was definitely nervous my entire cruise that someone was going to charge something to my account.  I was told to "not worry," which as you all should know now, that means I only worried more.  In the end there were no additional charges to my account thankfully, but it is kind of weird seeing a strangers name linked to your account. 
The highlight of my cruise was the Cruise Plan Internet Special which allowed you to have unlimited internet for the duration of the cruise for one device at a time.  This came to $274.99 for the twelve days, which may sound like a substantial amount of money, but consider this.  I am going to be online anyway and instead of worrying about how many minutes I have left, I can simply go online when I want and how long I want.  It was far less stressful in my opinion and although not extremely fast all of the time, it's still faster than it was in the past and that works for me.  Didn't hurt, too, that as a Diamond member I had an additional discount applied.  
There are some people out there who love the little towel animals that the cabin stewards craft nightly for them.  If you've read my prior reviews then you'll know that they definitely aren't high on my list of must haves for a cruise.  My cabin attendant must have known this because during the course of my 12-night cruise, I had only three of them left in the cabin.  Believe me, I wasn't heartbroken.  If that sounds mean or cruel because it shouldn't.  If I had a 5-year-old with me, then I could understand the need for these, but I don't.  Perhaps a carefully placed Margarita or Martini on my pillow or a box of Godiva chocolate and then I might be impressed.  
Overall the cabin was as I expected a balcony cabin on Royal Caribbean or any other mass market or contemporary cruise line to be, which was adequate and sufficient to serve my needs during my long cruise. But after cruising in a suite, it's hard to go backwards to a basic balcony cabin.  Just being honest!  Can you blame me?