Azul Fives Hotel by Karisma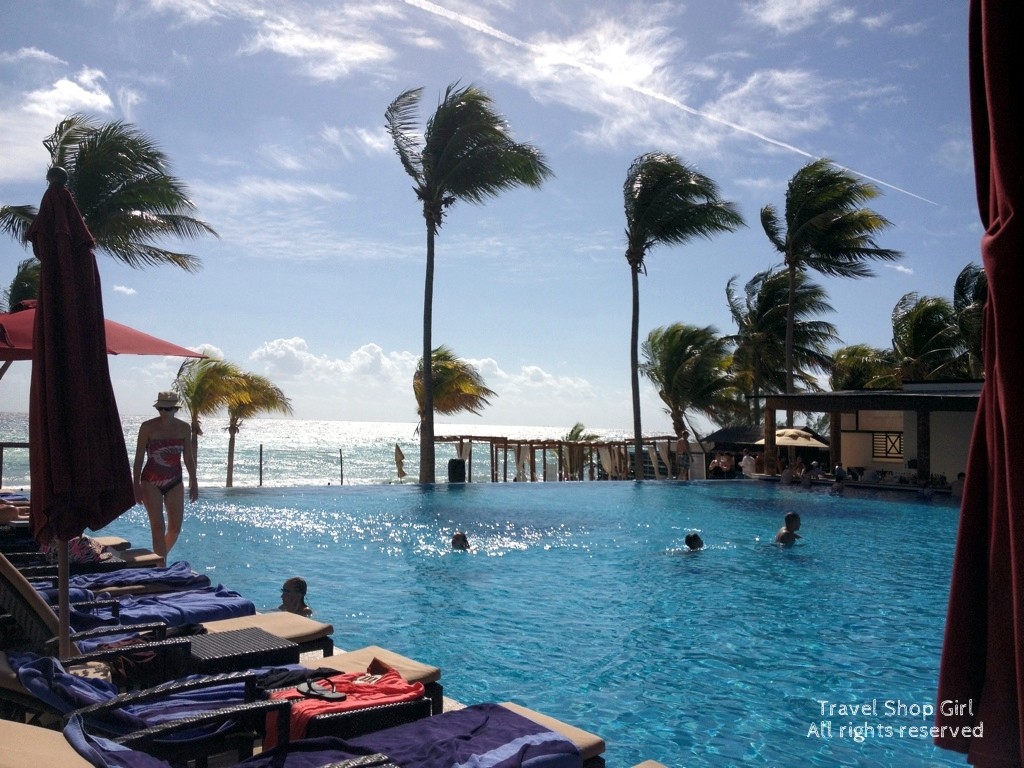 How about that view from Azul Fives in Mexico? If you've been thinking about taking a vacation, but are avoiding Mexico because all you can think about is Cancun and Spring Break partying, don't avoid Mexico any longer. Instead, visit Playa del Carmen in beautiful Riviera Maya, Mexico, a short 35-minute drive south of Cancun International Airport (CUN).
The vibe of Riviera Maya is completely different from Cancun and you'll notice it immediately. Whereas Cancun is known for partying, shopping, and nightlife, once you venture south to Riviera Maya, you'll notice that the resorts aren't on top of each other. They are set back from the main road and offer privacy, which is perfect for couples and families alike. Should you want to travel into Playa del Carmen, it's only 10 minutes away.
As soon as you enter the lobby, you are immediately taken care of by the Azul Fives Hotel staff. We were greeted with champagne and offered a seat at the front desk. The staff uses iPads to explain the resort and it is also an integral part of the check in and check out process. After your picture is taken for your resort ID (no ugly wristbands here), you are then chauffeured by golf cart with your bags directly to your suite.
Azul Fives Hotel was not originally built as a hotel. Instead, the developer's intention was to build condominiums, but somewhere along the way the plan fell through and Karisma stepped in and took over the property. As a result, what you'll find at Azul Fives Hotel are 360 large suites of various sizes to accommodate every possible need imaginable.
Many of the suites offer a pool view while others offer a pool walkout. The most coveted suites, of course, are the penthouse suites with great views of the entire property and beyond.
From the Deluxe Room at 527 square feet to the 1-bedroom suite at 1,119 square feet to the 2-bedroom suite at 1,710 square feet, you will even find variations of these large suites that are comparable in size to my entire living space at home. The 1-bedroom penthouse includes a rooftop lounge deck with a deluxe whirlpool tub for six people. Fully furnished, it includes a pergola, barbecue grill, marble half-bathroom with sink and shower, and patio dining table for six. The suites can be combined to accommodate families or friends, while also staying within everyone's budget. There's even a Fisher Price 1-bedroom suite for families with young children!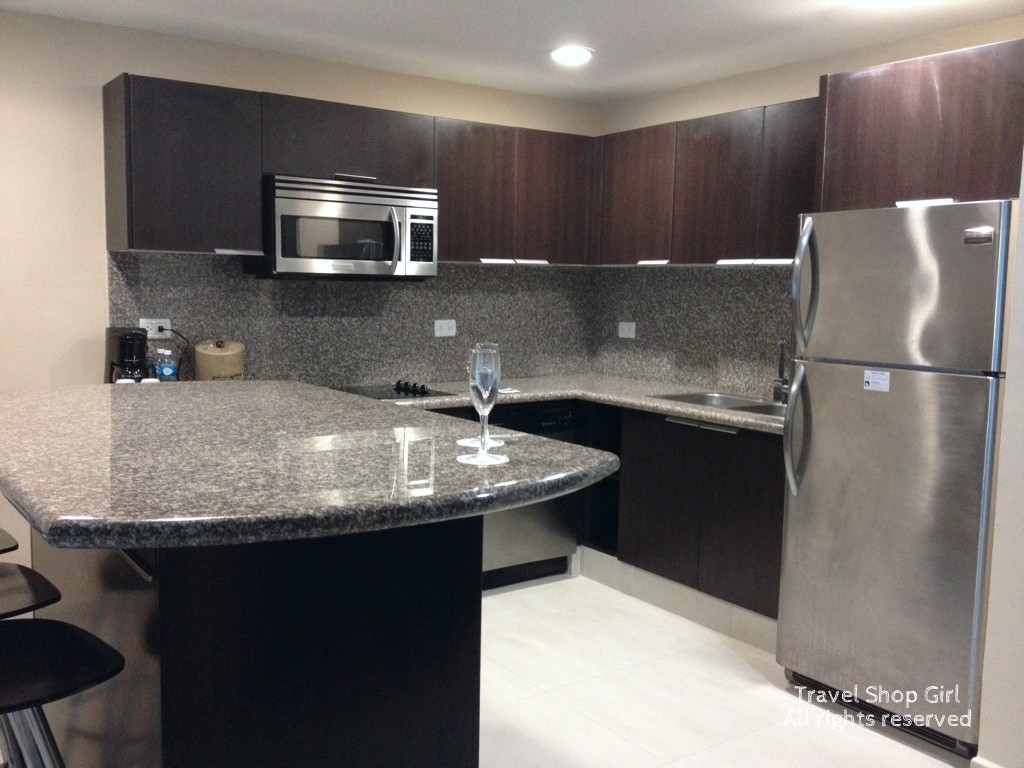 My 1-bedroom suite was enormous! The kitchen was modern and stylish with granite countertops, stainless steel appliances, and dark wood cabinets.
The refrigerator is stocked with sufficient beverages should decide to never leave your suite. I could definitely have had a party with what was in there!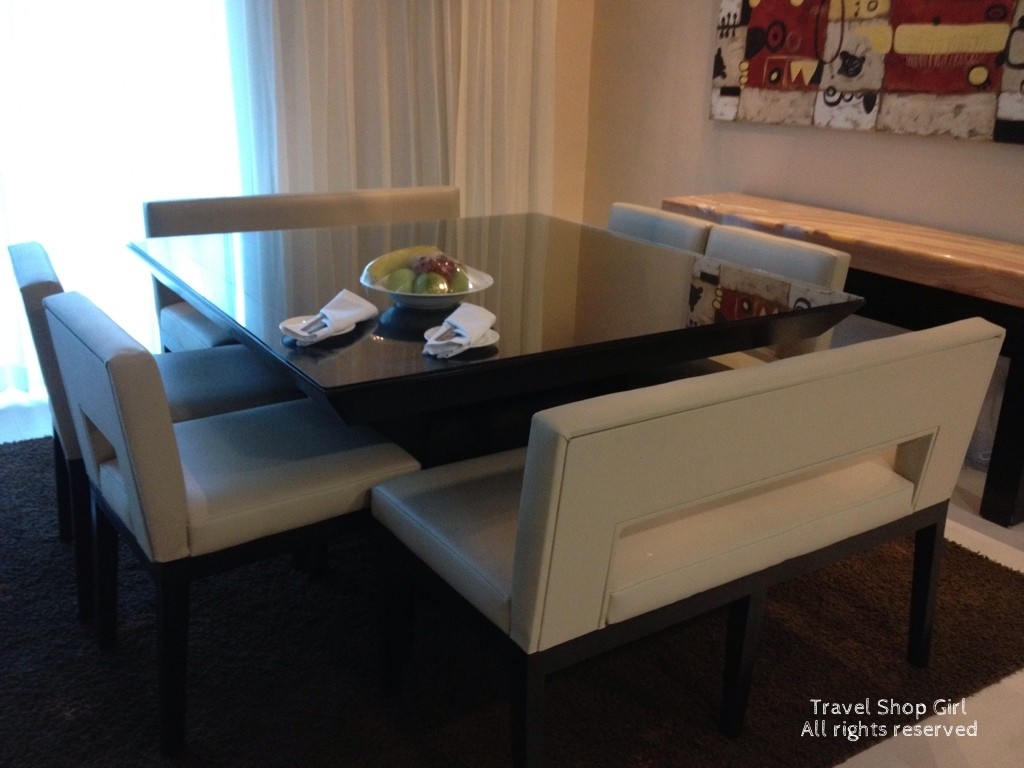 The kitchen overlooks the rest of the suite with direct sight lines to the dining area with plenty of seating that can accommodate up to 8 people. The table up against the wall actually doubles as a bar and lights up for a funky, cool effect.
The livingroom area is adjacent to the dining area as well as the balcony and a half bathroom. Again, plenty of seating to sit and lounge, relax, or watch TV. Additionally, the sofa also doubles as a sofa bed.
Although I didn't have a pool view, the view on my balcony was quiet and peaceful. I could easily see spending some time just relaxing with a book or chatting. The path is the one that everyone uses to walk throughout the resort, but it was never crowded or overrun with other guests.
The balcony opens up from the living area with glass sliding doors and I must say the gray slate-ish color of the window treatments really complimented the room's decor and color scheme rather well, which is what interior and exterior design is all about! Here you can see that there are a few chairs and a table on the balcony. Just over the ledge is the balcony from the bedroom, which is private, but also quiet and relaxing.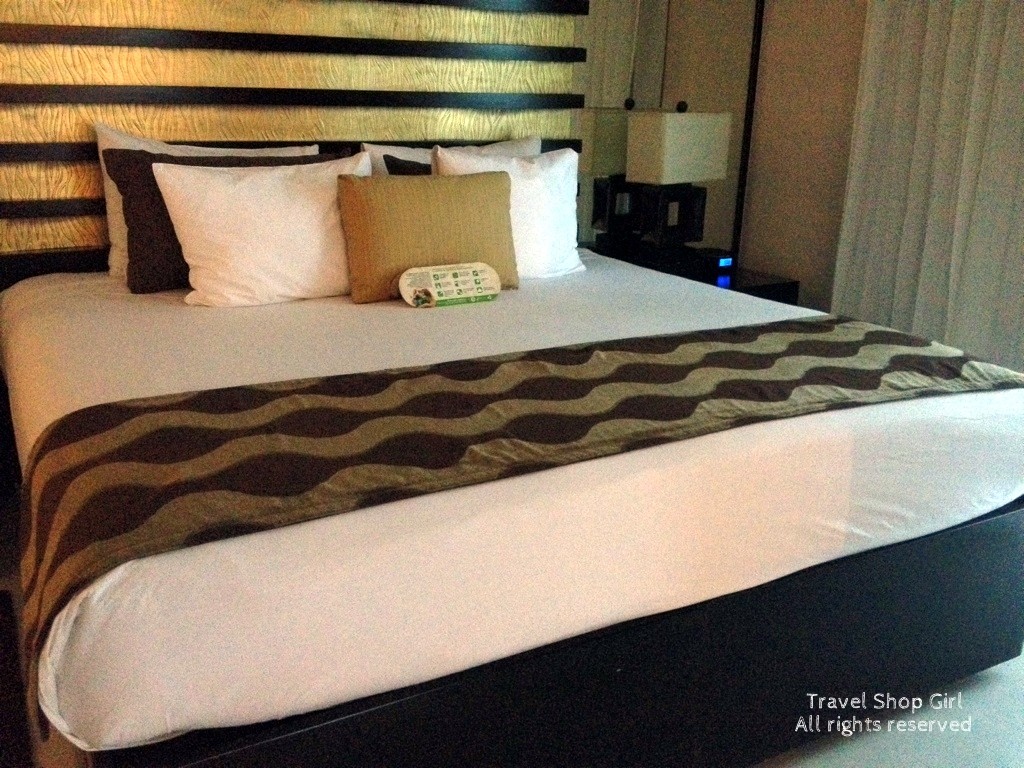 The bedroom area was separated with sliding doors and opened to a large king size bed perfectly placed underneath a ceiling fan. Even though I was in Mexico, it was never too hot in the suite.
The bathroom has a deluxe Jacuzzi for two, double sinks with marble countertops, a walk in "rainforest" shower, and a private toilet area. There is a large closet with built in safe near the bathroom and a dresser with a flat screen TV opposite the bed rounding out the rest of the bedroom area.

One of the best features of this resort is the pool that winds its way around between the buildings and around, giving access to everyone to swim, lounge, or just relax poolside or in the pool. One morning I was up early working out in the gym, which is painfully small, and then I headed out to the pool to do some swimming. I had the pool entirely to myself at that time and I loved it!
This resort is idyllic and well cared and maintained. The groundskeepers are working constantly to maintain the landscaping, including an abundance of beautiful flowers and trees throughout the resort and it shows. Here is an example of how well kept the buildings and landscaping is outside of the Spa building. Absolutely beautiful!
Next time I will cover dining, bars and lounges, all-inclusive vs. European plan (EP), the Spa, the beach, the main pool, and the kids programs.

Azul Fives Hotel by Karisma
Predio El Limonar Fraccion 2
Xcalacoco, Municipio de Solidaridad, Playa del Carmen, Mexico
Have you ever been to the Azul Fives resort? Be sure to read part 2 of my review up next.