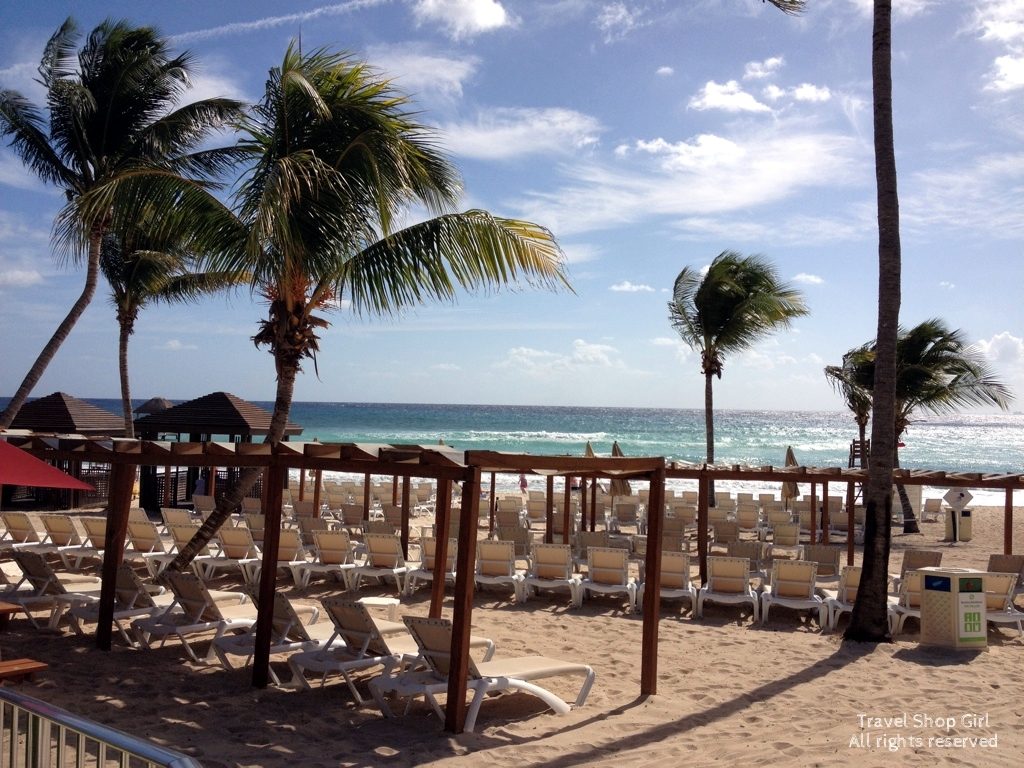 Continuing on with my review of the fabulous Azul Fives Hotel by Karisma in Playa del Carmen, Mexico after part I of my resort review where I covered the various room accommodations many aspects of the resort. In this second part, I'm going to cover food, food, and more food, as well as just about everything else there is to know about Azul Fives Hotel.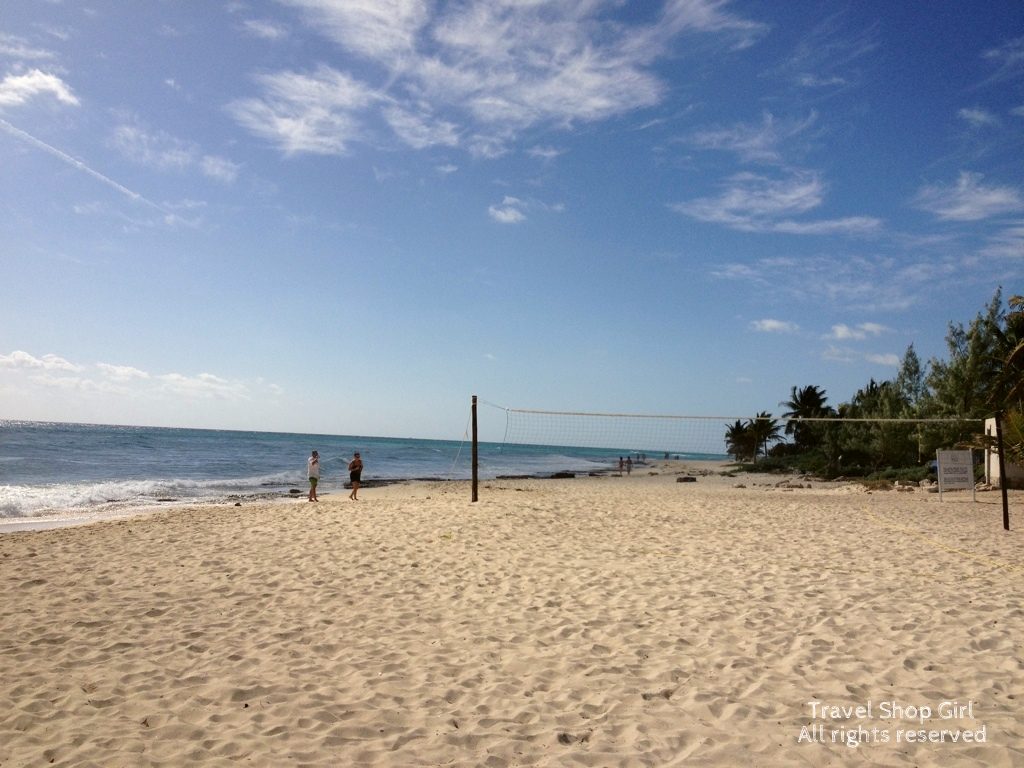 While staying at Azul Fives Hotel, guests can participate in any one of the many activities included in the Daily Activities program as well as the nightly entertainment. Guests can choose from snorkeling, tennis, ping pong, shuffleboard, volleyball, stretching, aqua aerobics, and dance among other things. Additionally, scuba diving clinics are also held in the pool and there is also a fitness center located near the Vassa Spa complete with the latest elliptical, cross-training, and free weight equipment. Other activities such as golf or horseback riding packages, scuba diving trips or certification, beachfront massage, private fitness trainer or tennis instructor, private dining on the beach, and much more is available at an additional price.
Azul Fives Hotel offers guests the option of either choosing the EP (European Plan) package or the Gourmet Inclusive package. The main difference is that with the Gourmet Inclusive package, all meals in the restaurants and room service are included in the package price as well as all domestic and international alcoholic and non-alcoholic beverages.
There are five restaurants serving á la carte cuisine prepared to order from the freshest ingredients. The only negative I can say about the dining options was that there isn't a Mexican restaurant available at  the resort. When I asked about this I was told that the guests dictate what food will be served and apparently no one asks about Mexican food in Mexico. Am I the only one who thinks this sounds crazy? I guess if I was staying for the week, while I was out and about in Playa del Carmen I would definitely get an authentic Mexican meal. I was really craving authentic food far more than sushi or Italian food.
Sea Olive – Cuisine du Soleil: The French Riviera, Coastal Cuisines of Mediterranean and Mexican flair are what inspires the flavors of Sea Olive at the Azul Fives Hotel. The menu features fresh, authentic dishes to satisfy even the most discerning palate. Dine inside the contemporary restaurant or enjoy al fresco dining on the outdoor Terrace, complete with spectacular ocean views.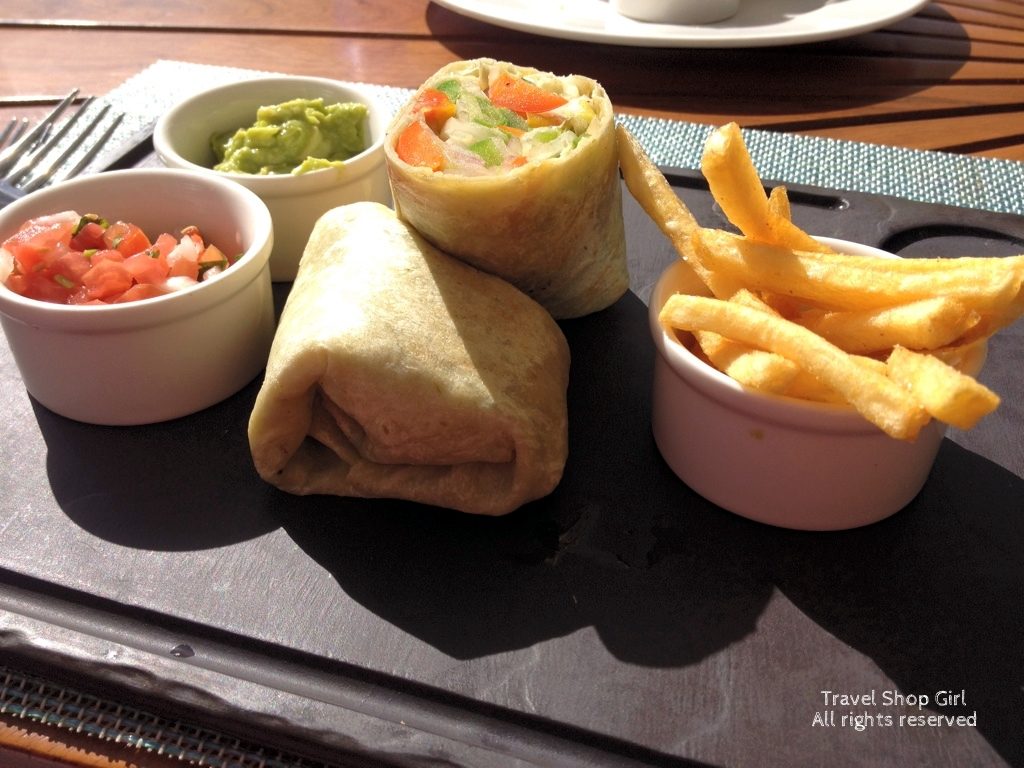 I had lunch one day out on the Terrace and enjoyed the sun and a quick bite of a veggie wrap with some fresh salsa, guacamole, tortilla chips, and fries.
Tsuki – Pacific Rim Cuisine: Enjoy the unique flavors of the Pacific Rim. Tsuki offers a sushi bar along with various other Asian fares, all à la carte and cooked to perfection. For additional comfort while dining it features a fully air-conditioned dining room. Guests can enjoy beach views and an intimate ambience at this restaurant.
Flavours – World Cuisine: Flavours serves á la carte favorites from around the world. This restaurant provides a very relaxed and family oriented atmosphere where guests can enjoy a variety of mouth watering preparations and cool off in the air conditioned space. Also, guests can enjoy spectacular views of a true cenote, which is a natural winding river unique to the destination.
I was so incredibly impressed by the buffet spread at Flavours. I have traveled far and wide and have never seen such a great layout of food from hot to cold and everything in between. Made to order food, drinks, yogurt, fruit, salads, and an abundance of pastries — I've never seen so much food and it was all fresh and appetizing.
Usually, I'm left a little underwhelmed by a breakfast buffet as I don't eat meat or eggs and really, what else could they possibly have to offer me? At Flavours they had some great food to offer me including broiled tomatoes, potatoes, cactus, spinach, mushrooms, refried beans, and the most delicious and sweet cooked plantains. Now that and several cups of coffee is a perfect breakfast!

Arezzo – Italian: Located in front of the Caribbean ocean with floor to ceiling Windows for an unobstructed view as far as the Island of Cozumel. Arezzo is an open kitchen Italian  restaurant where the emphasis is on originality, culinary authenticity and flavor. An array of freshly made pastas, stone oven pizzas and grilled to perfection seafood, poultry and meats compose a mouthwatering menu. Peek into glass wine cabinets to find up to 110 labels of wine options for that special dinner.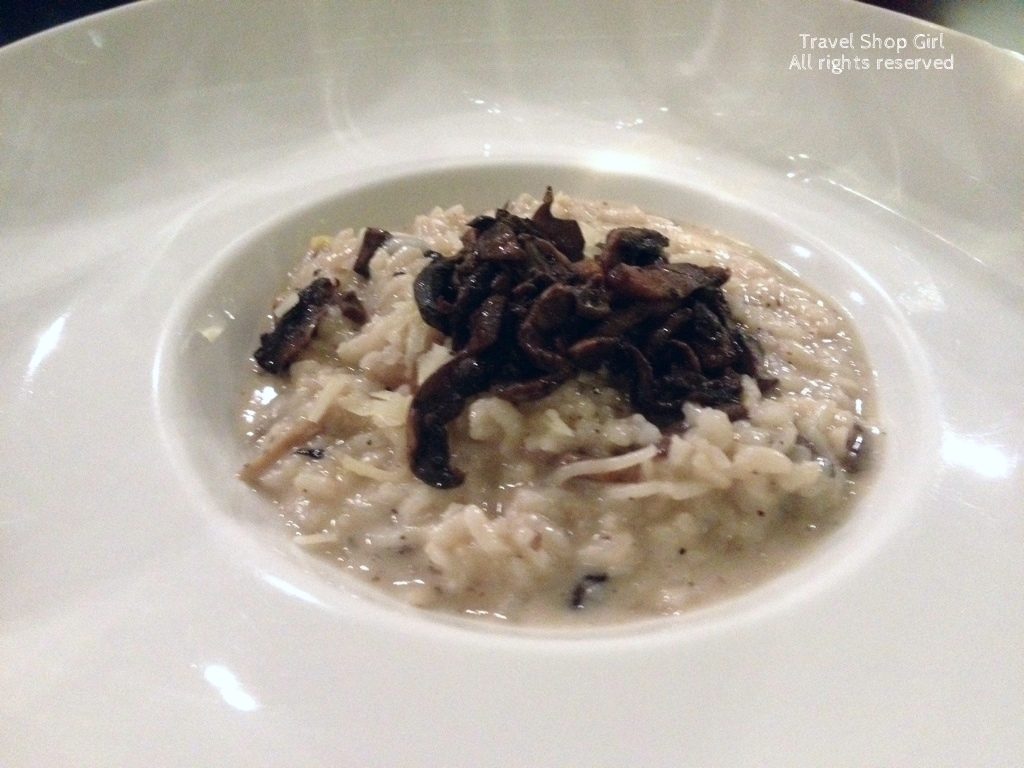 The chef was kind enough to prepare a veggie risotto with mushrooms for me, which I have to say was absolutely delicious.
There's always room for dessert, right? Beautifully presented and great for sharing!
Oriola Beach Club Grill: Relaxed Beach Front Dining, with colorful décor and views of endless blue ocean. Awaken your senses and delight the palates with a variety of fresh salads, sumptuous wraps and traditional tacos. For a mouth watering explosion of flavors, try our Boutique Burger. With over 10 signature burgers, each one is ambitious and delicious; an innovative approach to the classic Burger.
Maybe you're not in the mood to leave your suite for a meal.  You can always order room service. Remember, room service is included in the Gourmet Inclusive packages so just ignore the pricing in the menu.
Wanting to try a few things off the room service menu for breakfast, I ended up trying some oatmeal, coffee, orange juice, and a special made breakfast of toast with beans and cheese with a side of salsa and guacamole. Strange to some, yes, but it was delish!
Azul Fives Hotel has an eclectic variety of bars and lounges, which if you remember, are all included in the Gourmet Inclusive plan.  From Zky Bar with nightly entertainment to Lizards pool bar and terrace to Breeze or Palmas swim-up bars to Kafeina coffee bar, there's always somewhere to sit back and have a delicious drink.
After you lounge by the pool with a drink in hand and maybe grab some food, you might consider a trip to the Vassa Spa. This place is huge at 15,574 square feet overlooking a serene cenote in the mangroves. Whether you choose a massage inside the spa or on the beach or one of the many other treatments including facials, makeup, haircare, waxing, etc., you'll feel so relaxed you might not ever want to leave. Sound good? Many of the Vassa Spa treatments use local elements like sacred stone, clay and honey. Get your body coated in chocolate, or wrapped in a tropical mask of Green tea, honey and yogurt. Treatments tap into healing traditions from around the world. There are specific treatments for men, kids and expectant mothers too.
The beachfront at Azul Fives is gorgeous with pristine sand and beautiful blue water. But as is the case in this area, you'll find an artificial barrier may be present to preserve the beach and that often times there are rocks. Bring water shoes to go swimming if you are concerned about stepping on rocks, but you can swim out to the artificial reef and the water is still crystal clear. If these things bother you, I suggest looking for a resort in an area that has a different type of beach area. As you can see in the above picture, people were on the beach and in the water without issue. There are an abundance of lounge chairs, umbrellas, and cabanas.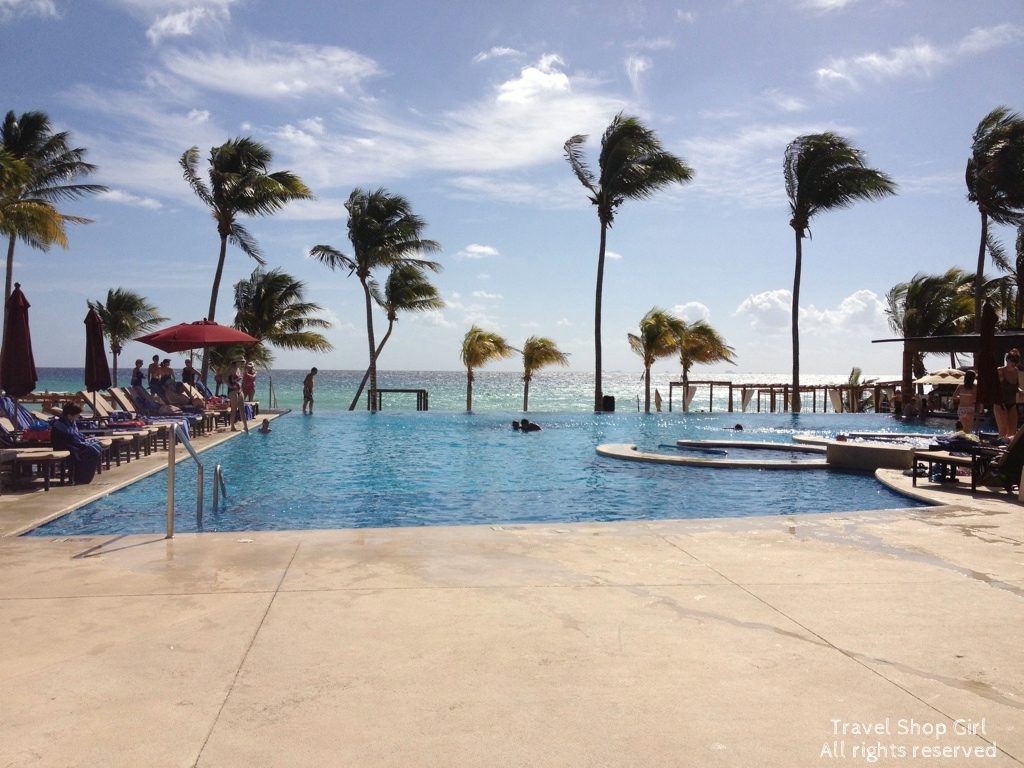 There are three pools at Azul Fives with the main infinity pool near the building where most of the restaurants are, the children's pool by the kid's activity center, and then the long winding lazy river pool. The main pool is definitely where you will find all of the activity at the resort with lots of people in, around, and by the pool throughout the day and evening.
The lounge chairs are surrounded by umbrellas on one side with a swim up bar should you want to cool off and grab a nice cold beverage. You can see the whirlpool tubs off to one side in the picture above. There were couples and families relaxing by the pool and everyone (yes, everyone!) seemed to be getting along and no, there were no obnoxious drunks causing problems. Whether you go as a couple, with friends, or with your family, you can rest assured that it will be an enjoyable and drama free experience.
The children's program, Azulitos Club, is geared for children ages 4-7 and 8-12, although there are family events also available. All events are posted on boards around the resort so you can keep up to date on all of the activities. Movie nights are scheduled throughout the week as well as parties, such as Pirate Disco Party, Caribbean Disco Party, and a Trivia and Musical Quiz. No one will be bored with all of the activities during the day, like arts and crafts, Spanish lesson, and games, and at night, the fun continues! I did have a problem with the fence around the children's club as it looked prison-like, but I understand the need. Just wished it looked nicer.
In case you don't want to lounge in the pool or at the beach or do anything else, don't worry. There's always a hammock ready and waiting for you!
The day before your departure, Concierge Services will call you to ask what time they should arrive to pick you up with your luggage. You're then escorted to the lobby to take care of your bill and to complete a survey about your experiences. Any problems I encountered, and believe me there were very few, were always resolved immediately.
I would highly recommend Azul Fives for a relaxing few days or longer and enjoy being pampered while you take in the sun, sand, and delicious food and cocktails.  You absolutely won't regret it!
Azul Fives Hotel by Karisma
Predio El Limonar Fraccion 2
Xcalacoco, Municipio de Solidaridad, Playa del Carmen, Mexico
Check out some of the other hotel and resort reviews and posts on Mexico while you're here.