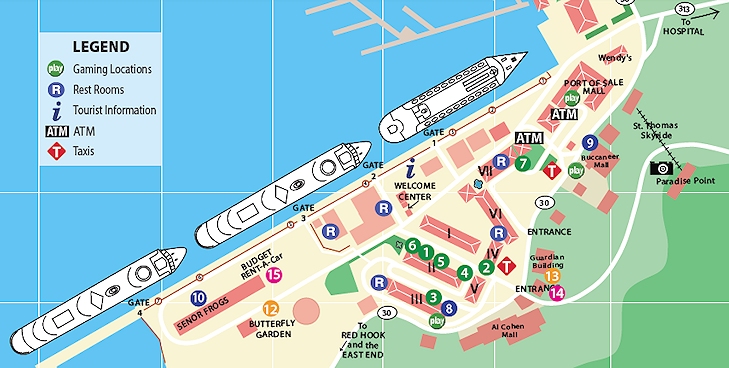 Many Eastern Caribbean cruises stop in St. Thomas at one of the two cruise ports, either Crown Bay or Havensight.  If you're lucky enough to dock at Havensight and have no plans, you should at least get off the ship and do a little duty free shopping.  Whether you're looking for name brand items or souvenirs, you'll definitely find them here in one or more of the over 60 stores situated at Havensight.  The layout of Havensight Shopping Mall, as you can see in the map above, is easy to navigate.  Stores are open 7 days a week from 9 am – 5 pm when ships are in port and later for late arrivals.  When ships aren't in port the stores are open from 10 am – 3 pm. 
On my recent cruise on the Norwegian Getaway in March, we arrived into St. Thomas before 8 am. I've been to St. Thomas many times, but this was the first time I noticed the faces of other passengers. Whereas I felt comfortable since I was familiar with the area, I noticed that some looked concerned and others worried.  Upon arrival into Havensight, you'll immediately notice a somewhat industrial feel to the area.  Get past your initial gut feeling of "Oh NO!" and take a look around.  If you're not sure, go up to whatever deck on your ship allows you to walk around and do just that — walk around.  Take in your surroundings and soon enough you won't be filled with regret. Instead you'll feel a need to hurry up, grab your cabin card, and run off the ship.  
TSG Tip:  This is true of any port or destination you might travel to throughout the world.  Don't let your initial impression of a destination or your fear of the unknown keep you from getting out and exploring. How sad would it be for you to spend your entire vacation in your cabin or hotel room?
Make sure to notice the ships that are also docked around you while you're in port.  I can't tell you the number of times I've noticed a ship while I'm in a port that I wouldn't have otherwise noticed. Sometimes I rush home and book a cruise on that ship immediately because I'm so enamored with how it looked to me.  You never know when love might strike!  On the day we were in port, the Disney Fantasy and Royal Caribbean's Freedom of the Seas were also in port with us. 
What can you do once your off the ship if you haven't made plans for the day?  If you're not feeling like doing anything substantial, you can do what I did.  I got off the ship to check my email and texts and decided on a little shopping.  In case you didn't know, US residents returning to the US are allowed a $1,600 duty-free exemption from the US Virgin Islands.   Whether you're interested in watches, jewelry, diamonds, clothing, cameras, perfume, liquor, china, tobacco, or souvenirs, one of the many stores at Havensight probably has what you're looking for at a price you'll love.  Pandora, Diamonds International, Little Switzerland, and Boolchand's are only a few of the names you might recognize.  Budget Car Rental is also located at Havensight so if you don't feel like taking an organized tour, you can always rent a car and explore.  Not up to driving?  Jump in a taxi, which in St. Thomas will be either a van or an open air safari (a converted truck with bench seating and has covering over the top).  Rates for taxis is available on the VInow website here. 
Located at the far end of Havensight Mall away from all of the shopping is Señor Frog's.  World famous Señor Frog's restaurant, bar, and souvenir store is where every cruiser without a real plan or destination goes for fun, fresh air, and lots and lots of drinking.  I have been to my share of Señor Frog's throughout my travels, but this one has a pool and gets my vote for go to bar when you need to cool off quickly.  You can grab a drink, play a game of volleyball, and then jump into the pool with all of your new friends.  Fun, right? 
Overall, Havensight is a great port to dock in because it offers something for everyone whether you're on an organized shore excursion with the cruise line, if you're grabbing a cab to the Red Hook ferry terminal to go over to St. John for the day, if you take a jitney up to Mountain Top or Magen's Bay, or if you plan to do nothing more than shop in the stores and grab a drink (or two!) at Señor Frog's.  
Have you been on a cruise that docked at Havensight?