Some might say that I preach about traveling to new places all of the time and that would be true. So to hear that I was off again to Iceland might seem somewhat contradictory to my self-imposed travel mantra. But work with me on this one. I have yet to see all of Iceland and because of that, there are so many places yet to discover, which makes perfect sense to me when I think about going back to Iceland. With picturesque views like the one above, can you blame me for wanting to return?
Having been out of the travel loop since my injury in Toronto in May (fracture of the fifth metatarsal of my right foot), I was hoping that this trip would be a boot-free, crutch-free trip. Each time I visit my doctor, I keep believing that the boot will come off. Knowing that, it shouldn't have come as a surprise at my doctor's appointment the day before my trip when the doctor told me, "one more month." The good news, however, was that I didn't need crutches anymore. I tried to find the positive in all of this, which meant I only needed to pack one shoe instead of a pair and at the end of September, I should be boot free for good and in two months I can get back to running (or at least my version of running!).
My husband and I decided to combine his love of running with travel and we started to look for marathons in places we would want to spend some time. One of the first ones we found was in Reykjavik and how could I possibly turn down that opportunity? Despite booking a few months in advance, I quickly discovered that this is the kind of event you don't wait to book accommodations for in any way. Turns out the Reykjavik Marathon opens Reykjavik Cultural Night (Menningarnótt) and hotels quickly sell out. I turned to one of my reliable options, airbnb and sure enough, we found somewhere to stay. We purchased our flights and waited with great anticipation to finally head out to Iceland.
Admittedly, I love living so close to the airport has its benefits as we can get to and from the airport in no time flat. We left around noon and arrived early to Terminal E at Boston Logan airport, checked in at the IcelandAir desk, dropped off our bags, and bid adieu to Moosachusetts and Little Moo, two painted cows donated by IcelandAir in 2006, which were recently repainted. I guess I should also mention that we kept the entire trip a secret from our son who had no idea where we were headed until we checked in at the airport!
Luckily, I didn't have to take my boot off going through security as they swabbed it and sent me on my way. Once through security, we headed to the Virgin Atlantic Clubhouse in the International terminal and grabbed a seat in an otherwise empty lounge. When I take an evening flight out, there usually isn't an empty seat to be found anywhere. It was nice to have the place pretty much to ourselves.
I probably should mention that Rich had just gotten off a flight from California around 9 am before I turned him around and put him right back on another flight. He hadn't slept on that flight and was determined he would sleep on this one. His solution was to try a few of the beers in the Clubhouse, including Clown Shoes' Tramp Stamp because he liked the name. I stuck with my Pellegrino and tried to be patient as I was super excited to get going and get on our flight.
On our IcelandAir flight in December, we flew Saga Class, but decided to go Economy Comfort this time around. The cost for three people to fly Saga Class was more than what we were willing to spend. The difference between Economy and Economy Comfort is that the middle seat in Economy Comfort isn't used. It's there, but the tray table is permanently affixed and immovable and is a convenient place to put a drink, food, or anything else you might want to stow there. Imagine my surprise when we boarded the plane and turned left toward Saga Class instead of right. Our seats were identical to Saga Class now as they are big, cushy leather seats with two in each row. On our particular plane, the seatback screen was far larger than previous models and I was already loving it. With only one row separating us from Saga Class, the only difference I can now see between the two classes of service would be the meal service. Considering that it is usually meat or seafood heavy, I usually skip it anyway and so Economy Comfort is perfect for me.
Did you know that a flight from Boston to Reykjavik on IcelandAir is not only a direct flight, but all of 4.5 hours in length? Our 2:35 pm flight would arrive into Reykjavik at 11:18 pm and so as we flew, the majority of our time in the air was drenched in daylight sun. In Iceland from mid-May to mid-August the sun sets for a only a few hours a day ("midnight sun"). With sunrise around 6 am and the sun setting around 9 pm during our stay, I was eager to get there as soon as I could as I wanted to embrace what I perceived to be extra hours in my day.
Meal and beverage service were attended to by our flight attendant and my son opted for the 3 Hamburger Factory mini burgers (carnivore), Rich opted for the Kleina (Icelandic donut), and I had the one non-meat option, which was the salad with beets. Not a big fan of beets, but there wasn't anything else to have so beets it was. Turned out to be a really good salad after all! Other options onboard included a ham and cheese baguette; warm chicken salad, oatmeal with cashews, cranberries, and apples; potato chips (Pringles or gourmet chips – Boxer Chips), olives, chocolate bars (Dökkt Sirius Icelandic dark chocolate, Draumur, Nizza, Ris, KitKat, Toblerone, or Smarties), fruit, and protein bars (Kraftur chocolate or chocolate and banana). Beverages are of the typical variety with water, soda, coffee, tea, beer (Güll or Tuborg), or a variety of spirits including Brennivin. Champagne is extra (ISK 1.900, EUR 12). If you'd like to see the menu that we had, you can view it here.
I kept an eye on the flight map on the monitor to see our progress and once we passed Greenland, it seemed like we would be there shortly. It's times like these that I feel like a little kid because I was incredibly antsy and wanted to get there NOW.
Once I saw that daylight was fading, I knew we were close to landing. It was almost like someone hit a light switch as one second it was bright out and the next, almost pitch black. When our plane landed, it was completely dark as it should be at nearly midnight.
We made our way downstairs to collect our bags and noticed that they always seem to be working on the airport. This is not a bad thing as they want to improve the overall efficiency of the airport for travelers. You go down a long narrow hallway that has departing gates before you get to the departure lounge and where you used to see glass enclosed doors leading downstairs is now gone. They removed that glass and you walk forward toward the stairs/escalator area to baggage claim. After only a few minutes, we found our bag and we were off to locate our rental car. Prior to our trip, I had been in touch with Signy from SADCars about a rental car. I admit that the company name attracted me to them immediately. Here's what they say about their name from their web site:
Our name is actually put together from the first letter of each of the founders´ names – Siggi, Alli and Daniel 🙂 So it's kind of a family business. However, we decided to use the name to make it more memorable – we can assure you that our rental cars are not sad, they are very happy when you use them!
If you've never flown to Iceland, you'll fly into Keflavik (KEF) airport, which is about 45 minutes away from Reykjavik. Considering I knew I was going to do a lot of driving, I wanted something big enough for the three of us and our bags, but it certainly didn't need to be fancy, especially if we would be on gravel roads at any time. Inside the airport, you'll find the rental car counters for the big companies like Budget, Hertz, Avis, and Europcar. Our pickup time was for 12:15 am, but Aron from SADCars was there early and when I spotted him, he escorted us out to the shuttle and drove us directly to pick up the car. Only about ten minutes from the airport, the location is well worth it for the affordable prices that SADCars can offer.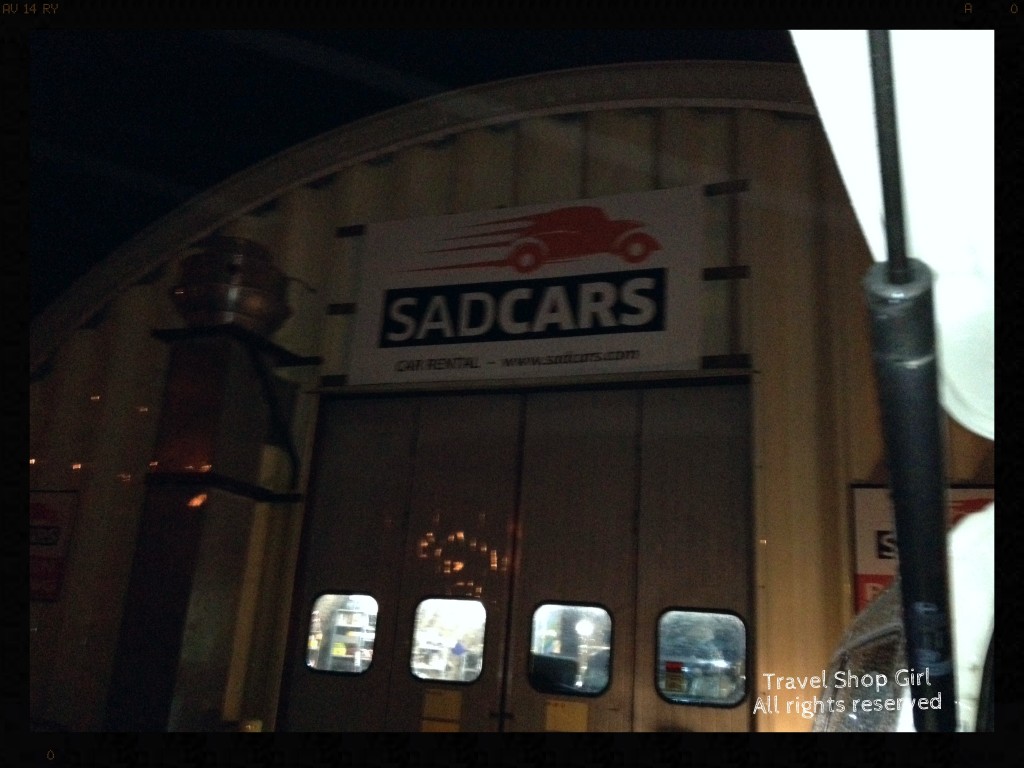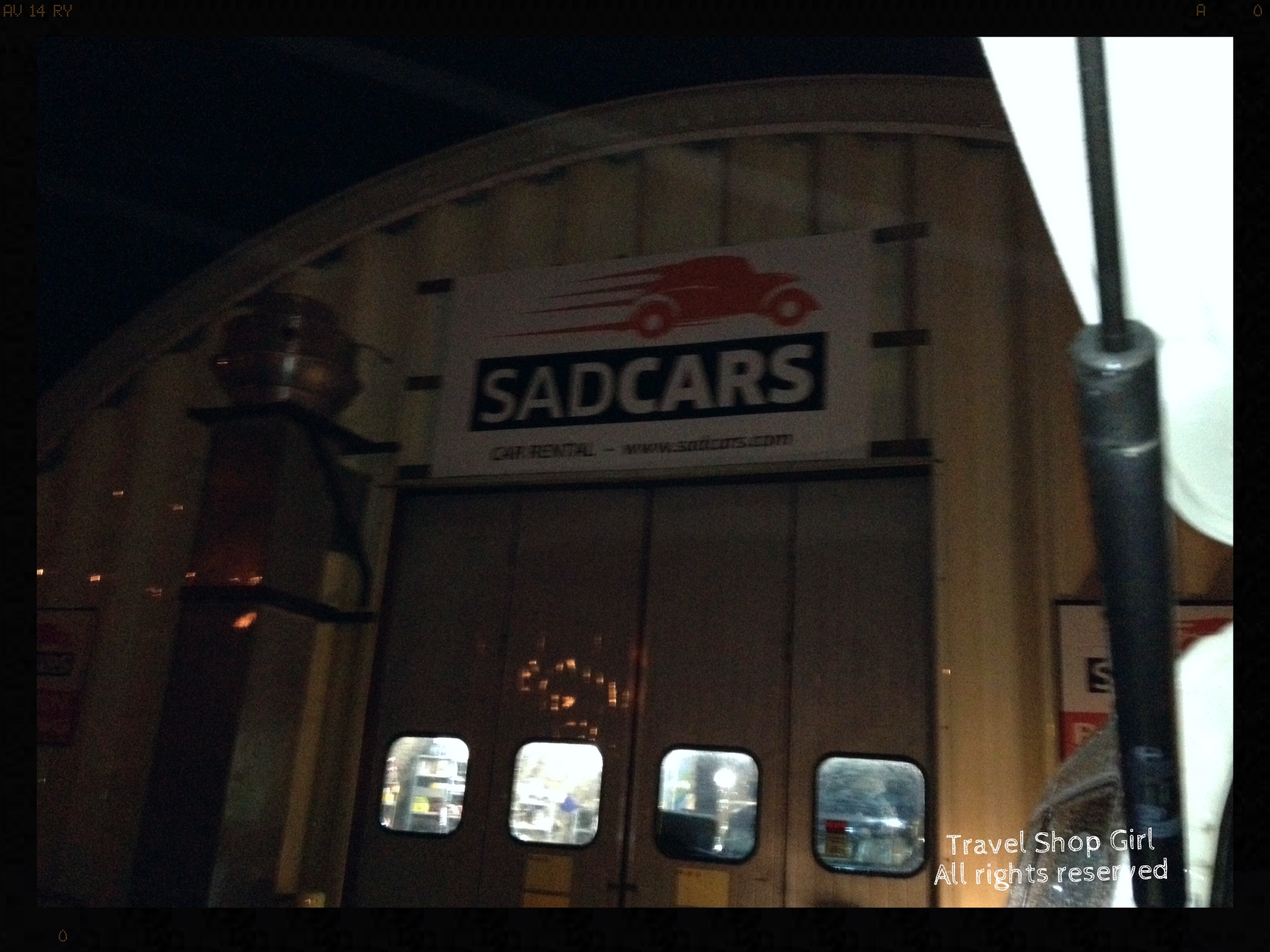 We hopped out of the shuttle and went inside to take care of the paperwork so we could get back on the road again and to Reykjavik. I added SCDW (Super Collision Damage Waiver Insurance), an extra driver (Rich), and a GPS to the car rental and we were shown our car, a green Toyota Avensis.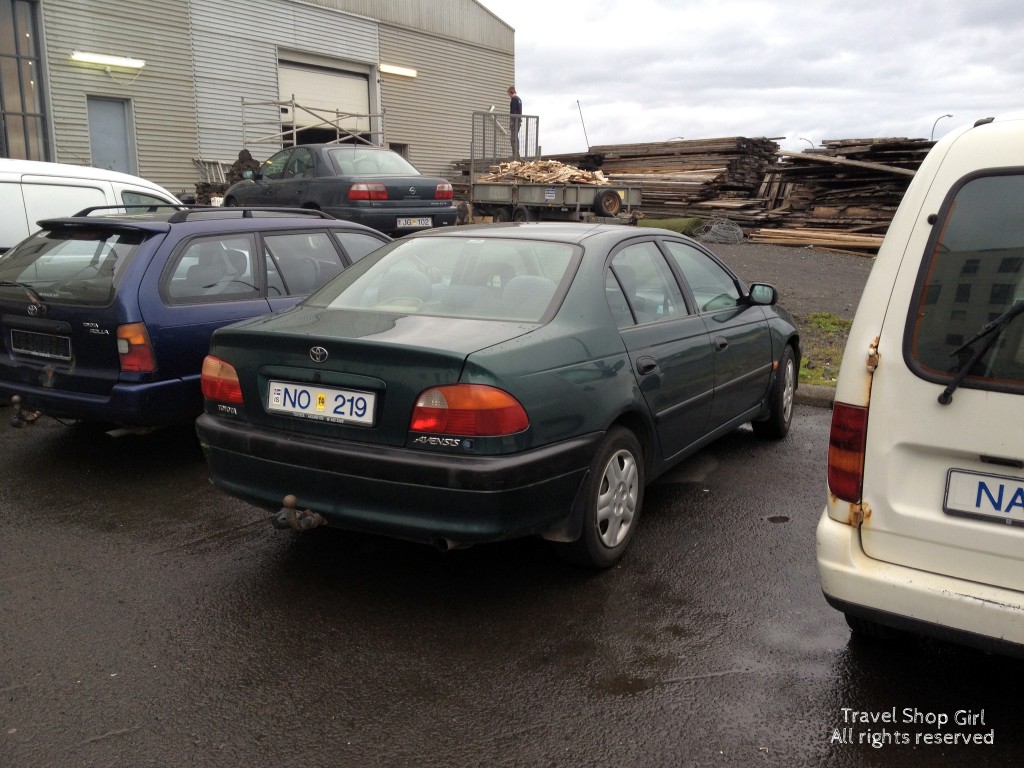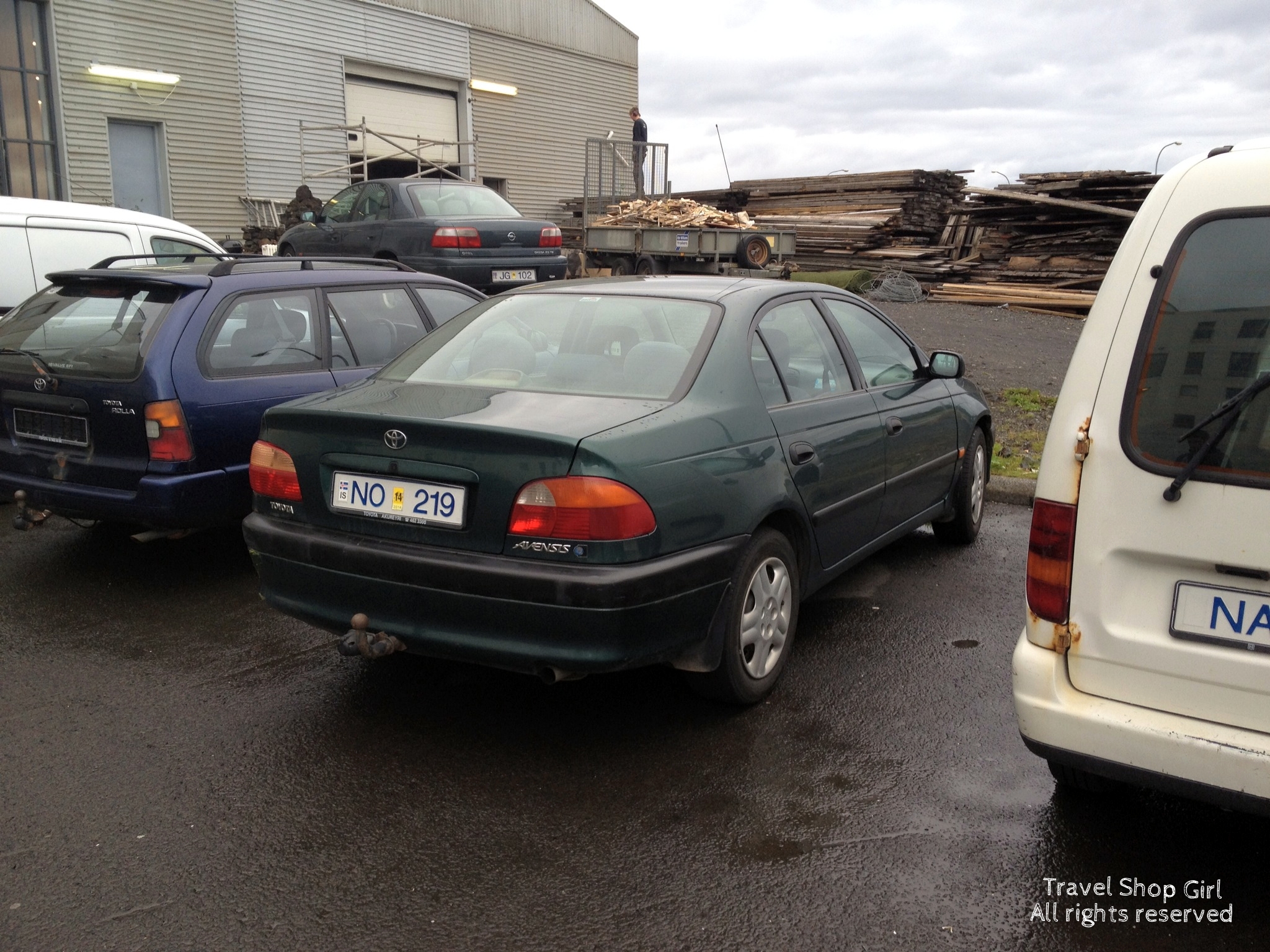 Quite honestly, I really didn't look much at the car as we were tired, I was going to do the driving to get us to our apartment for our stay, and it was raining. I got in the car, took off my boot, and discovered it was a manual transmission. Thank goodness I know how to drive stick, but this is another reason to always make sure you get the facts before you leave because if I didn't, I would have had to go back inside and get another car. Or if I'd just gone off and driven the car, for sure I would have had to get in touch with one of those personal injury attorneys after that trip. So that's why you NEED to get your facts straight. But luckily for me, I knew how to drive a manual transmission! I'm not too sure what year it was, but I have since discovered that this is a UK model as we definitely don't have the Avensis in the US.
When we finally arrived at our apartment, the owners were waiting for us and showed us around before heading out themselves. At this point, we pretty much collapsed into our beds and went to sleep. Only five short days in Iceland and we definitely were going to make the best of every possible free minute we had. Come back and read about all the adventures and see the pics and how I squeezed as much as I could into our short trip.