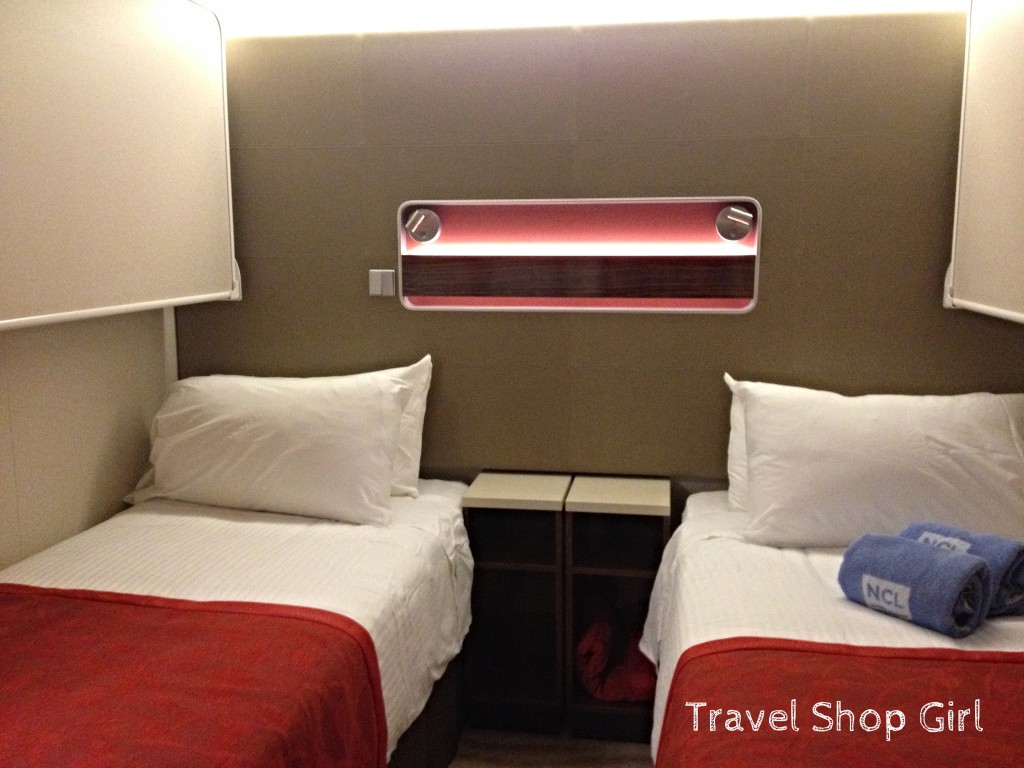 The Norwegian Getaway offers a variety of accommodations for every type of traveler, from inside cabin to studio cabins for the solo traveler to suites in the ultra posh Haven.  I usually sail in a balcony, but for this sailing I was going old school and my stateroom selection was an inside cabin.  Read on for more information and my inside cabin review for my cruise onboard Norwegian Getaway with Norwegian Cruise Line. 
Prior to this cruise, I've only sailed inside once before and that was a few years ago on the Carnival Sensation. I freely admit that I was worried it would feel like I was in a closet and that I might feel claustrophobic. However, as I was sailing alone, I have to admit it was definitely a perfect sized cabin just for me.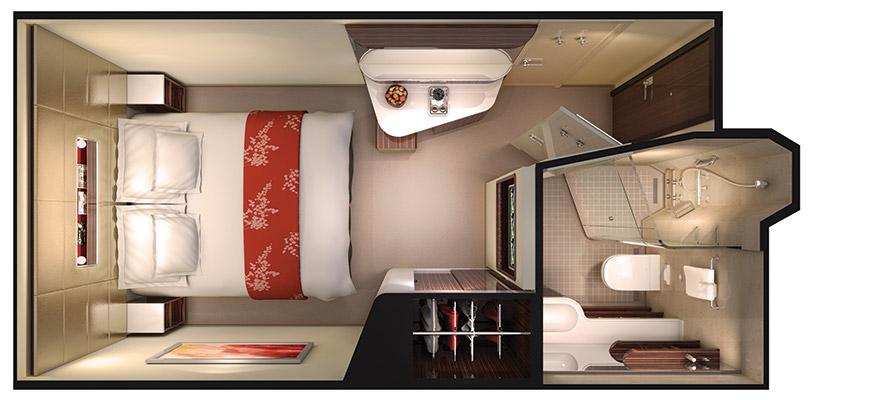 My cabin was cabin 12463 located on deck 12 forward and again I was concerned as I'm more of a mid-ship kind of cruiser.  The Norwegian Getaway  has nine categories of inside cabins on as well as oceanview, balcony, and suites, which means that there's definitely a cabin type for everyone. Here's the description of the cabin I occupied during my sailing. 
I1 Family Inside Cabin: 135 square feet accommodates 2-4 guests.  An affordable family option conveniently located near the kids' area.  Stateroom includes two lower beds that convert to a queen-size bed and two pull-down beds.  Door opens to center interior corridor for this particular category cabin.  Located on decks 9, 12, and 13.  
TSG Tip:  The cabin was easy to locate once I started paying attention to the fish on the carpeting in the hallway.  I knew I was going in the right direction by determining in advance which way the fish were swimming.  Strange but true!
Here are some details about the cabin:
Inside every room there are a set of switches that allow you to indicate to your cabin steward whether you want the room cleaned or if you need privacy.  Above the door on the side facing the hallway are lights corresponding to the switches.  

The closet was the perfect size for me, but I wonder how two or more people could fit their clothes and shoes in this closet.  While I liked having a room safe, it was in a somewhat awkward location.

The bathroom is a definite step up from the ones on the

Norwegian Epic

.  With modern styling and sufficient storage as well as a proper shaving "pedestal" in the shower, I loved the bathroom.  

One of the best things about my cabin was that the hair dryer had an on and off switch.  May not seem like a big deal, but most cruise lines use the type of hairdryer that requires you press on a button to operate it.  Finger off? No power.  With long hair this can be highly annoying and tedious and the hair dryer usually overheats part of the way through drying my hair.  Not this one! Real buttons and lots of power.  Only downside?  It's stored under the desk area and the cord is relatively short.  Had they moved the hole more toward the front of the cabinet instead of toward the back, this problem would have been alleviated.

Seating in the cabin is limited to the beds and one little stool, which is stowed under the desk. 

Since this cabin type accommodates up to four people, the lower bed can be made as a twin or a queen and there are two additional drop down bunks in the walls, which you can partially make out in the first picture in this post. 
PROS
Definitely an affordable option as compared to any of the other cabin categories.

Great location on deck 12 with easy access to everything I wanted to see on this 18 deck ship.

By choosing a less expensive cabin, I got to sail on the newest ship in the fleet!
CONS
No drawers in the cabin.  While there was shelving, without drawers things tend to roll out and many of those things are items you absolutely don't want rolling out in front of others, if you get what I mean.

Towel animals.  I get that some people live for the towel animals on a cruise, but I really could do without them.  One is ok, but when you have an entire menagerie of towel animals in your cabin, I kind of want them to split the cruise fare with me.  My cabin steward took the time to make them, but during this 7-night cruise, I saw him once and that was less than 12 hours before I disembarked.  

I cannot imagine sharing this cabin with three other people as everyone would be on top of one another.  The cabin across the hall had a family and I don't have a clue how they did it.  Granted, you're not in your cabin 24 hours a day, but still…
Considering you're not going to spend every second of every day in your cabin, an inside cabin is an affordable option that can allow you to take a cruise on a new ship.  But if you can, spend a little more and opt for an oceanview or balcony cabin.  The views are absolutely worth the extra money!
Have you sailed on the Norwegian Getaway?