Whether you've purchased an unlimited beverage package or plan to maybe have one or two drinks on your next cruise on the Norwegian Breakaway, here are some of the bars and lounges where you might want to stop in and enjoy a drink or two.  After all of that, take in one of the many shows or other forms of entertainment onboard as well.
Bar 21:  Located in the Breakaway Casino, Bar 21 is a bar to stop off and enjoy a cocktail either before your night or after winning it big.  Located aft on deck 7.
Bliss Ultra Lounge: Feel like dancing the night away?  Every night of the week is a night for dancing and enjoy the nightlife on the Norwegian Breakaway in Bliss!  Located aft on deck 7.
Atrium Bar: With three-deck vertical views and a two-story Wii wall nearby, you can relax in the center of it all with a cocktail or a beer.  Located mid-ship on deck 6.
Ice Bar: Perhaps you've spent the day in the hot sun and you're looking to cool off or maybe you want to experience something completely different.  The Ice Bar is a unique artic-like frozen chamber, kept at 17 degrees Fahrenheit and is guaranteed to give guests the ultimate chill. The bar, seating and glasses are made entirely from ice and features ice sculptures of the Brooklyn Bridge, Statue of Liberty and the Chrysler Building to pay homage to New York City. The Ice Bar also features New York City-inspired specialty cocktails.  Located mid-ship on deck 8.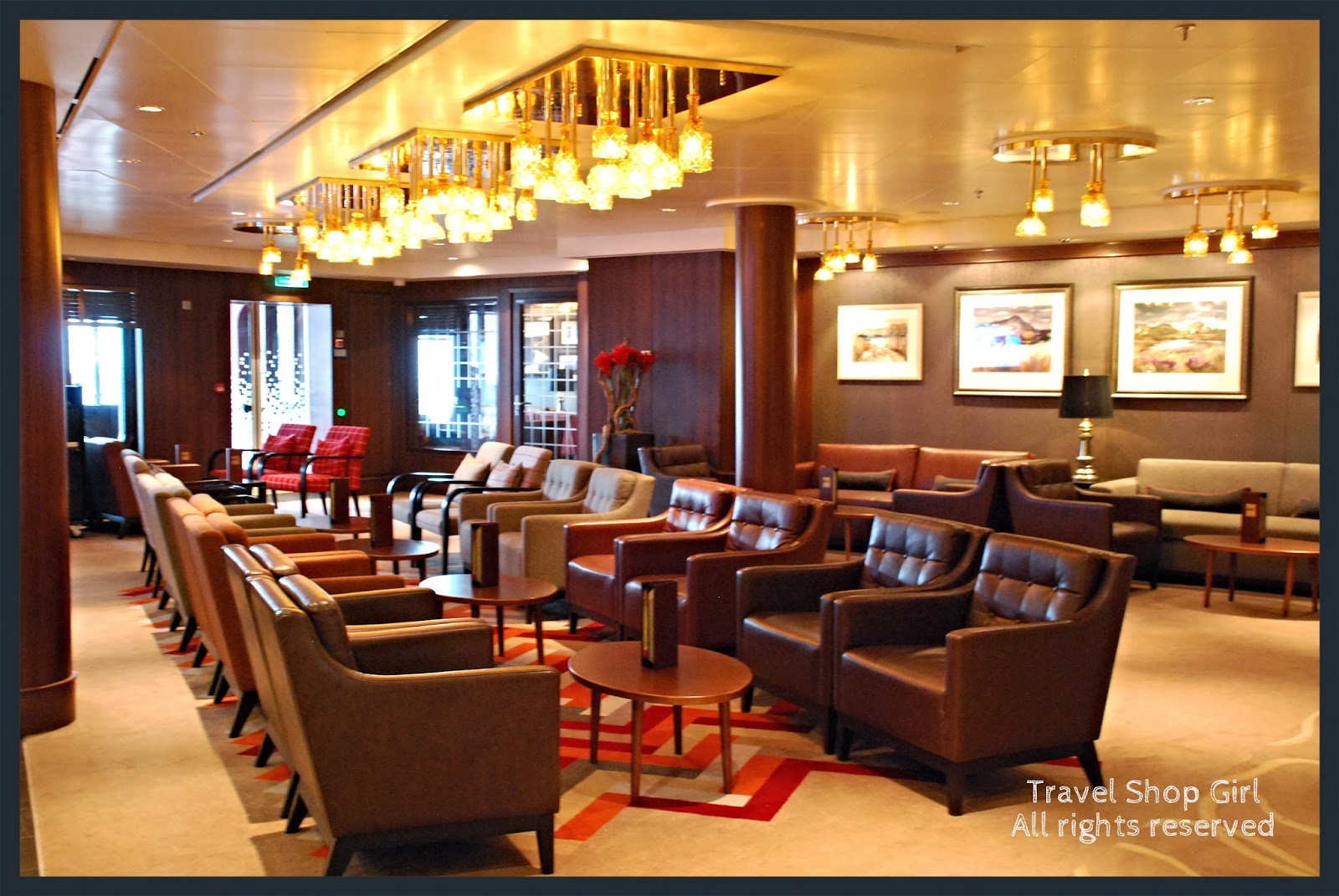 Maltings Beer & Whiskey Bar: Manly men rejoice!  If you're looking for a place to sit and sip your whiskey, bourbon, or even a beer, Maltings Beer & Whiskey Bar is for you.  With a unique international variety of spirits and an impressive list of imported and domestic beers, you can sip your way around the world without leaving your chair in air-conditioned comfort.  Located forward on deck 8.
Mixx Bar: Before sitting down to dinner in either Taste or Savor, why not stop in at Mixx Bar for a quick drink? Mingle with new friends and enjoy live piano music in a modern classical bar located aft on deck 6.
Prime Meridian Bar: Between Cagney's Steakhouse and Moderno Churrascaria, take a seat, order your favorite beverage and be a part of the action of 678 Ocean Place.  Classically styled with destinations listed overhead, you can sit and have a drink before your table is ready for dinner.  Located  aft on deck 8.
Shaker's Cocktail Bar: The ever popular drink, the martini, has a home on the Norwegian Breakaway in Shaker's Cocktail Bar.  But martinis aren't the only cocktail served here as there is also a bar menu with modern cocktail choices available.  Located mid-ship on deck 8.
Waves Pool Bar: Perfect for that cool drink on a hot day when you're out lounging by the pool or after one too many trips down the waterslide.  Located mid-ship on deck 15.
Spice H2O: An adult-only escape with contemporary Asian Influences, Spice H2O is two different hot spots depending on the time of day. By day, lounge beside hot tubs and a soothing waterfall; by night, it's a whole different beat. Let loose and dance beneath the stars as vibrant images display on the huge video screen. Located aft on deck 16.
Vibe Beach Club:  Exclusively for those 18 and over, Vibe Beach Club is resplendent with ocean views, an oversized hot tub, chaise loungers and a relaxing water feature make this the place to go to when you want to get away from it all. A full-service bar, water spritzers, chilled towels and skewers of fruit ease you even more into serenity.  Located forward on deck 17.
Fat Cats Jazz & Blues Club: How would you like to feel like you've stepped into a swingin' New York City jazz club while onboard the Norwegian Breakaway?  Keep an eye–and ear–open for New York blues star, Slam Allen, who will perform live on most nights. His unique blend of soul and blues is a style all his own. Whether you're watching a five-piece performance inside or sitting outside on The Waterfront enjoying a drink, the ocean breeze and the cool sounds, this is the place for some of the best live jazz and blues music you'll hear at sea. Located forward on deck 8.
Howl at the Moon: Two musicians. Two pianos. Too much fun to experience by yourself.  Bring your friends and your favorite song requests.  Howl at the Moon is the the world's greatest dueling piano show at Headliners, which is exclusively on Norwegian Cruise Line. Come sing and dance the night away as our talented musicians jam out and perform your favorite songs from the 70s, 80s, 90s and today. Located on deck 6 mid-ship.
Spiegel Tent: "Cirque Dreams Jungle Fantasy": From Broadway to Norwegian Breakaway, Cirque Dreams Jungle Fantasy has performed over 2,000 shows in more than 200 cities. What began as the amazingly popular Cirque Dreams and Dinner on Norwegian Epic, Cirque Dreams & Dinner Jungle Fantasy is an exotic new twist under our colorful big top Spiegel Tent. Take an imaginative journey through a mystical jungle brought to life by an international cast of soaring aerialists, spine-bending contortionists and magnificent acrobats, jugglers and musicians. Located on deck 6 forward.
Burn the Floor:  This non-stop, 45 minute extravaganza is a sizzling and sexy show based on the world-renowned Broadway performance.  From Harlem's Hot Night at The Savoy, where the Lindy, Foxtrot and Charleston were born, to the Latin Quarter, where the Cha-Cha, Rumba and Salsa steamed up the stage, experience the passion of many popular dance styles. For a spicier, more intimate performance, check out Burn the Floor as they heat up the dance floor in The Manhattan Room. You may even be asked to step up and show off your best moves. And if you want to brush up on your Rumba, dance and exercise classes are offered throughout your cruise by the amazing dancers.
Rock of Ages: A Norwegian Breakaway exclusive, this five-time Tony Award nominated sensation relives the anthems of the 1980's big-hair bands through the story of a girl and boy who fall in love and despite all odds, make their dreams come true.  Located inside the Breakaway Theater on decks 6 and 7.
The Second City:  Exclusively on Norwegian you'll find the renowned comedy of Second City. Delighting audiences for over 50 years, this comedy troupe is all about improvisational sketch comedy. New York Times calls them "a comedy empire." Pull up a chair, order a drink and laugh the night away.  Located on deck 6 mid-ship in Headliners.
Aqua Park and Sports Deck: Feel the rush of going down five multi-story waterslides including Free Fall, the fastest waterslide at sea. Then take yourself up to The Plank and, if you dare, walk 8 feet over the side of the ship.  Enjoy the climbing wall, mini golf, spider web, and bungee trampoline, too.  Located aft on deck 17.
With only one post left about the Norwegian Breakaway, I'll cover services available onboard as well as my final thought.