Celebrity Eclipse: Day 1 of our cruise vacation begins! Finally, we are about to take our cruise on the Celebrity Eclipse! After an uneventful day of flying on USAir from Boston to Miami via Charlotte, we arrived in Miami on Friday the 13th of April and made our way outside baggage claim to locate the Marriott courtesy shuttle. The first shuttle was full and so we waited until another one could be dispatched. After an hour of waiting, we were finally on our way to our hotel. Previously we have stayed at the Marriott Miami Airport and the Marriott Courtyard Miami Airport and so we decided that we would try the Marriott Residence Inn located in the same complex. We had a large room with a separate living room and kitchen, which worked out perfectly for us, as there were three of us staying in the hotel room. We hadn't had dinner so we ran over to Cane Fire Grill in the Marriott and enjoyed dinner and drinks before retiring for the evening.
The morning of our cruise, my husband and I woke up and decided to work out in the gym while our son slept. Strangely enough, there were several men in the gym laying tile and so we couldn't use that gym. Luckily, as we had stayed in this complex before, we knew that there was a large gym between the Courtyard and the Marriott and we headed over there. After our workout, we grabbed breakfast from the hot buffet, which included oatmeal, yogurt parfaits, fresh fruit, bagels, muffins, eggs, and waffles. Our room rate included transportation for two to the port and $11 for the third person. Once again we played the waiting game waiting on a van to take us there and when it finally did, we squeezed in and enjoyed the company of others who were equally excited to go on their cruise. Some were going on the 16-night transatlantic cruise on the Norwegian Epic, some were going on the Carnival Liberty, and there was another couple also going on the Celebrity Eclipse.
At the port we made our way out of the van and the shuttle driver left our bags on the curb where a porter stood waiting to take over. Once our bags were left in capable hands, we walked a short distance to check in. A few short lines were waiting there and in this line we had to show our tickets and passports. After a short walk through security, we then meandered through a short line for Concierge Class guests. We were then directed to counter 23 where we checked in with agent Marcia Haye and received our cabin cards. I was handed a pretty red rose and an invitation to Michael's Club as a Celebrity VIP guest once we entered the ship.
We walked onboard and immediately found Michael's Club where Aurora, the Concierge Club hostess, greeted us. Inside, there was a selection of small canapés and fresh fruit as well as beverages. I gladly opted for a glass of champagne while my husband decided to start his vacation off with a glass of Knob Creek. Our server, Denis, even brought a separate glass of ice for the bourbon. Love that kind of that service! Aurora went above and beyond my expectations of a hostess as she really made us feel welcome and took time to get to know a little about us. Rooms were to become available after 1 pm so we finished up in Michael's Club and headed up to our room where we only had to wait a few minutes for the announcement stating that cabins were now available.
Cabin 1071 is on the tenth deck in the Concierge Class. Our balcony cabin has a full size bed and a sofa bed as well as a small table. Additionally, there is a large Samsung flat screen TV, a fully stocked minibar, and a generously sized bathroom. Usually cabin bathrooms are like small closets, but there was plenty of room in this bathroom. Concierge Class takes your typical balcony cabin to new heights with fresh flowers, fruit, and sparkling wine on embarkation, daily canapés, binoculars and two umbrellas for your use during your cruise, bathrobes, a Celebrity tote bag, upgraded toiletries, and a real bathmat in the bathroom. I love the location of our cabin despite being more forward than mid-ship than we usually book. It is located near the stairs so it easily accessible. Additionally, we are only two decks below the Spa and fitness center and pool area is on deck 14, also just a short walk, which makes it easy to go back and forth to one of our most traveled to places on the ship.
We walked around to get a feel for the ship before the 3:30 pm muster drill. On the Celebrity Eclipse, everyone reports to decks 4 and 5 for the muster drill and we were in the A1 section of the Eclipse Theater. The safety crew provided us instructions via the PA system, a video, and a demonstration and before we knew it, the muster drill was over. We returned to our cabin through a maze of people on the stairwell and elevators and found that our bags had arrived. A quick unpacking of our bags and we were off yet again. One of our first stops was at the Spa where they were holding their embarkation day raffle. In case you don't know what that is, this is a typical occurrence on cruise ships as they try to get you excited about the spa by taking you on a tour and giving away lots of great prizes like facials, massages, and more. It's definitely worth going to as you might win, but it can also be entertaining. I'm pretty sure you'll see someone dancing and let's just leave it at that.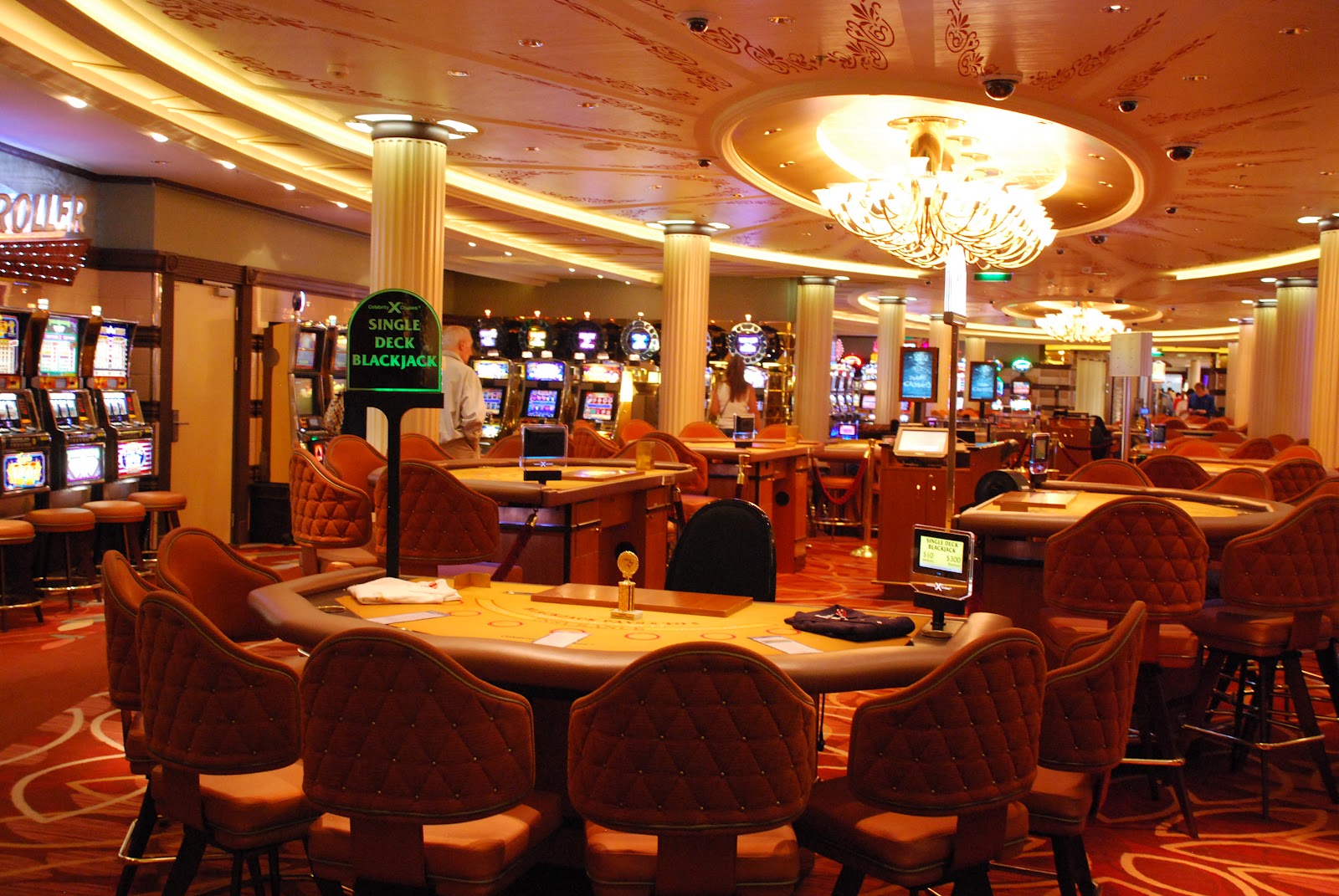 The ship set sail and we were now on our way to our first port, San Juan. Since we were now at sea, the casino was open and we decided to try our hands at winning with Lady Luck at our side. Fortunes Casino is located on deck four and is a large casino with table games including blackjack, craps, roulette, and poker as well as slot machines. I've got friends who are super keen on them, and spend a decent bit of time looking to find fair casinos, so for those so inclined this is a great way to spend time whilst on the water. One side of the casino is enclosed while the other is open to the shopping area. There is a bar inside in case you simply want to sit back and enjoy a cocktail or two to the sounds of "ding, ding, ding" of the slot machines. I'll be honest, I've missed the casino now the cruise is over and have been looking for a way to get that sort of enjoyment from home. I might check out the various online casinos like Casino X (カジノエックスのレビュー ), as I've heard that is a good one!
We returned to our room to change for dinner and we headed back down to deck four to the Moonlight Sonata dining room. We stopped at the Martini Bar for a quick drink where I had the popular Raspberry Lemonade martini and my husband had the Flirtini. I highly recommend sitting here for a while and watching the bartenders, as they are true showmen with amazing tricks. If that doesn't excite you, then check out the top of the bar as it's frozen and icy and entertaining in its own right.
As we had Celebrity Select dining, we decide what time we want to eat dinner so we made our way over to the Moonlight Sonata dining room at our leisure. We were escorted to our table and our server, Elves, quickly came over and introduced himself as did our assistant waiter, Sindha. In addition to Elves and Sindha, we also met the sommelier and the bar server, and after placing our drink orders, we ordered off the menu for our meal. The items on the left hand side of the menu stay the same while the choices on the right change daily. I tried the Belgian-Endive Arugula Salad and Cream of Wild Forest Mushroom Soup; my husband had the same soup and the Spinach-Goat Cheese Portabello Mushroom, and my son had the Baked French Onion soup. For our entrees, my husband and I both had the Vegetable Korma, which came with rice and naan, while my son enjoyed his Grilled New York Sirloin Steak. Dessert was crème brulee, profiteroles and I had the guava sorbet, which I think was the ideal way to end our meal.
After dinner we walked around a little more and checked in at a few places around the ship. I was surprised that no one was in the pool or the hot tubs, perhaps because they were all at the show or clubs, but we didn't care as we had them all to ourselves. They do shut them down at 11 pm so we made our way back to our cabin to change and check out more of the ship before retiring for the evening.
Plenty more to report from our 7-day Caribbean cruise onboard the Celebrity Eclipse. Stay tuned! In case you weren't aware, internet connection speeds at sea aren't as fast as on land so be patient as I'll try to post more pictures as time permits.