Celebrity Eclipse: Day 2 of Our Cruise
Although we had fully anticipated getting up at 6 am to workout before our spa treatments, I could not get out of bed on the second day of our cruise onboard Celebrity Eclipse.  I had worked out at the gym and taken the stairs exclusively on the ship our first day on the ship and my quads were on fire!  Instead, I slept in a little until 7 am and we walked up to the buffet on deck 14 for a quick breakfast.  I had a yogurt with some low fat granola and a coffee and felt pretty good about not diving into all the delicious and calorie-laden food so early in the day.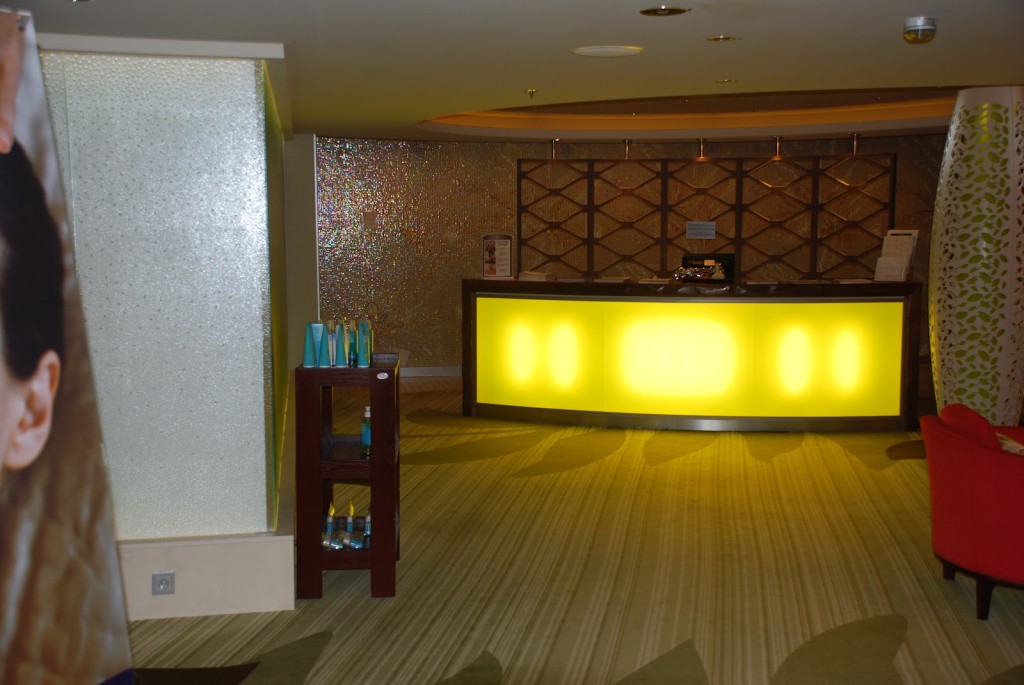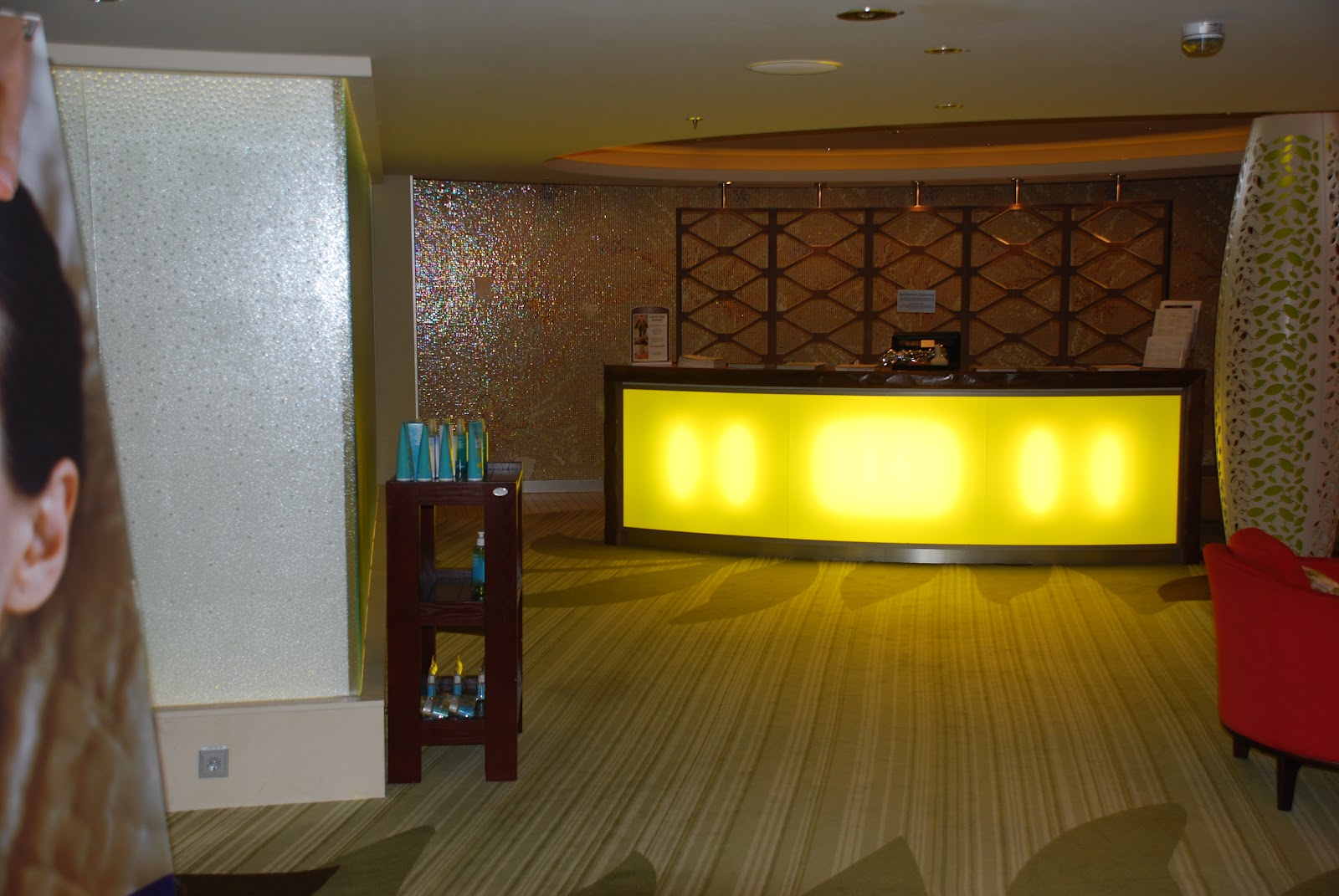 I had scheduled both my husband and myself for a facial at 8 am, as when I took the spa tour yesterday for the raffle, I was able to get 20% off my treatment by taking the first appointment of the day.  Usually my husband likes to book me a massage because he knows I don't especially like people touching me.  I thought I would get him back by booking a facial for him.  Funny huh?  We were escorted down the spiral stairs and down the hall to the desk and then asked to complete forms in the waiting area with a beautiful view overlooking the water.  We were then individually escorted to our treatment rooms by our estheticians.  I was with Charlene and my husband had Aleksandra.  The one-hour treatment was incredibly relaxing and my skin feels heavenly.  Of course, the only thing I was that cruise ship spas would do a little less of is sales, but I know that's part of their job.  I met up with my husband and he went off while I had my Fire and Ice pedicure with Tanya.
Tanya is a nail technician from Swaziland and works with Natacia who is from South Africa.  The manicure and pedicure area is adjacent to the salon where you can get your haircut, a blow dry, or an updo for a special night.  I took my seat in the pedicure area and enjoyed the view from the floor to ceiling windows as we passed the Bahamas.  I highly recommend booking your manicure, pedicure, and any of the spa services early in your cruise week so you can enjoy the experience earlier, but also so you beat the rush of other cruise guests who also want to squeeze in a spa service.  The spa employees are not Celebrity employees, but work for a company that is contracted out by the cruise lines.  One contract they may work for Celebrity, while the next they may be on Princess.  Unlike the cruise ship employees whose contracts are six months in length, the spa employees contracts are nine months long.  Their work day is extraordinarily long as they start at 7:30 am and work until 10 pm with only one hour off for lunch and another hour off for dinner.  So the next time you think you're life is rough, think about that kind of a workday.  They weren't complaining in the slightest either as they were incredibly happy to have their jobs and loved working on the ship.  I have to say that Celebrity Cruises has some of the happiest looking crew and staff I have ever seen on a ship and that absolutely translates to great customer service.
Since I missed working out in the morning, I definitely wanted to get at least a short workout in so we went up to the fitness center after we went to the Oceanview Café for a quick lunch.  As I'm always trying to make the right food choices, which can sometimes be hard on a cruise, I decided on a salad from the salad bar.  I wish they had this area set up a little differently because there is only one salad area available and the line is long.  In addition, they put the salad items in small bowls with tiny tongs, which is fine for vegetables like peppers or tomatoes, but try getting chickpeas or kidney beans out with tongs.  You end up grabbing one at a time while someone in line behind you starts breathing heavily because you're taking too much time.
A quick change into workout gear and we were back on deck 12 in the fitness center.  There weren't too many people working out, which was great for us until we actually got on the treadmills.  Although I wouldn't call it rough seas, we were getting a sufficient amount of rocky waters that made running on the treadmill a completely different workout.  It was like doing the elliptical on the treadmill and although I was certain that I would be that one person on the cruise that ended up flying off the treadmill, I did have a great workout.  Cardio machines are set to only allow you to do 20 minutes, so if you plan on a longer workout, be prepared for the machine to stop and you'll have to start over again.  If you'd rather run on the track, all I can say is enjoy the crowds.  Located on deck 14, this deck overlooks the pool area and has lounge chairs abutting the track itself.  Lots of people are walking and running on the track, but so are people looking to get to the Oceanview Café or to find a chair so it becomes something of an obstacle course.  If you must run on the track, I highly suggest going early or late in the day to avoid the crowds.
At 2:30 pm we headed over to the Moonlight Sonata dining room for the Wine Appreciation seminar.  We were seated at tables of eight and in front of us sat six different types of wine.  As Celebrity has certified sommeliers onboard, we were in capable hands with our wine host.  We were escorted through how to check body, legs, aroma, and taste with each glass of wine.  Our wine choices included a pinot grigio, sauvignon blanc, chardonnay, pinot noir, Beaujolais, and a port.  As someone who freely admits I don't know that much about wine other than what I like and don't like, it was an informative way to spend some time in the afternoon.  Everyone was so quiet, however, and I was glad once everyone started drinking since it seemed to loosen them up to chat a bit more.  I left feeling more knowledgeable about wine and for that, I am grateful.  A quick money saving tip is to sign up for this seminar in the main dining room, as they will take $5.00 off the price per person.
There is so much to do on this ship that you can easily lose track of time, which is what we did in between the wine seminar and my manicure appointment.  I did find some time to sit down and try to get on the Internet, which I then learned I had to purchase a package from the iLounge and provide them with my Elite coupon.  I personally love that all of my cruises on Royal Caribbean actually benefit me immensely while on Celebrity Cruises.  As a Diamond member on Royal Caribbean, my member status transfers over to Celebrity Cruises and I become an Elite member with all of the benefits and privileges of that membership.  One of the many coupons that an Elite member receives is a coupon for 90-minutes of free Internet and I wouldn't be able to post to my blog so easily without it.
After my amazing French manicure with Tanya up in the Spa, I had to race back to my cabin to get ready for dinner.  This was the dinner I was anticipating the most on this cruise as it was in Qsine, an amazing Celebrity concept restaurant like no other.  We had an 8 o'clock dinner reservation at Qsine but we first stopped at the Murano Bar before we settled in for dinner.  I tried the Skinny Margarita and my husband had his typical Knob Creek on the rocks.
After we paid our bill, we headed to Qsine where we were greeted by Ruby, the Maître' D.  She led us to our table and proceeded to enlighten us about Qsine.  From the iPad menus to the décor, including the upside down light shades in the dining room, Qsine is no ordinary restaurant.  Our server, Jerson, then began our journey around the world with our culinary choices.  It is recommended that you choose between four and eight items off the menu to share with your tablemates.  If you're thinking tapas, you're almost right, but turn tapas upside down and you might only then begin to understand Qsine.  Every selection is served in its own unique way with just enough of a twist to make it even more special.  You'll find Asian, Mexican, Indian, and Mediterranean items on the menu that coexist and are nothing short of superb palate pleasers.
To begin our dining experience, we started with the Qsine Sangria, a light sangria concoction with white wine and alcohol infused fruit with an assortment of unique signature touches, such as rose petals.  We then chose our dinner items by assigning a "captain" (that was me) who would add each item to the "favorites" section and then the server takes the order to the kitchen. Jerson provided us with some bread for the table including an herb focaccia and a donut, but it had paprika on it.  It was so strange because you expected sweet and then got a hit of the paprika.
Onto the food!  Here are our seven selections:
Qsine Greens: Fresh market salad with arugula, radicchio, frissée, watercress, spinach, pomegranate emulsion, and a crispy goat cheese crumble. A delicious, light, and crisp way to start the meal, the greens were clean and fresh and oh so tasty.
M's Favorites: Patlican Salata, mixed olives, tzatziki, eggplant Imam Biyaldi, tabbouleh, hummus, Chicken Kofta, zathaar lamb chops, kibbeh, Mediterranean chili, falafel, and goat cheese cigars.  We were at a slight disadvantage going into this dinner as my husband and I don't eat meat, but our son does.  So you'll see plenty of meet options in our meal, but rest assured – he ate it all.  M's Favorites was my absolute favorite of the evening.  I am going to dream about the eggplant Imam Biyaldi until I can get a recipe for it and make a vat and keep it in my fridge to eat as often as I can.  It was that good!  Not only was the food great, but the presentation was unexpected as everything was served in its own little "cubbie."
Taj Mahal: Chicken Tikka Masala, Rogan Josh, Palak Paneer, Malai Kofte, Chole, Veggie Samousa, and Shrimp Vindaloo.  Indian food fans rejoice!  You get a little bit of everything with the Taj Mahal selection along with mango chutney, naan, and pappadums.
Vegetable du "Jatour": Carrot-cardamom, green pea-mint, broccoli-cheddar, and spinach-garlic.  Probably the least successful selection of the evening, it wasn't for a lack of effort, but simply based on texture.  Apparently, the chef created this for their child (Jatour) and it is served like baby food – no joke.  Think smooth, puree type veggie dishes and that is this selection.  I personally like as much crunch to my food as I can get, but considering everything else was a homerun, I can easily forgive the chef.
Crunchy Munchies: Gaufrettes, French fries, sweet potato strings, vegetable chips, potato croquettes, spicy parsnip crisps with squeezable sauces.  This was recommended to us to try, but maybe because I'm just not that big of a fan of fried foods, it wasn't as successful as the others for me.  My husband and son polished it off and loved it, so don't take my word for it alone.
Slider Party: Grilled Kobe beef patties, aged Wisconsin cheddar, "Qsine Slider Sauce," brioche buns, and garnishes.  This dish is brought tableside for you to put together including the two beef patties still sizzling on their own grill.  At this point in the dinner my son had started to become full and yet, he could still down these two burgers with gusto!
For dessert, Jerson made me laugh so hard because he first came over with a covered tray to reveal three Rubik's cubes inside with our dessert options.  Then he came over with a tray attached to him (think the old time cigarette girls hawking their goods in theaters) and said something to the effect of "Strawberry Fields Forever" while offering different kinds of chocolate covered strawberries, including ones with white chocolate and Pop Rocks as well as individual portions of crème brulee in "eggs" in different flavors including vanilla, strawberry, or chocolate.  We had these while we ordered dessert and coffee and we also had the pleasure of being introduced to the chefs.
Our dessert choices included a chocolate volcano (a chocolate mousse and crunchy Rice Krispie dessert), a silver bullet made with different sorbet selections, and a cupcake selection.  The last one arrived to the table in a Bento box with each layer containing the ingredients to create your own cupcake including the icing and decorations.  It was like having an Easy Bake oven without having to turn on your "oven."
Qsine was one of the most amazing dining experiences I can honestly say I have ever had, either on land or on a ship.  I love the technology aspect by having an iPad for a menu, but I really enjoyed the journey from country to country with the food as well as the music.   The service was impeccable and that was certainly due to Ruby, Jerson, and Vladimir.  You would have to be crazy to not go to Qsine at least once during your cruise to enjoy and experience this one of a kind specialty restaurant.
Next up is San Juan so come back and I hope you enjoy my live reporting from one of the best cruise ships at sea, the Celebrity Eclipse!