Tired of the same old, same old? Me, too! After flying from Amsterdam to Stockholm and then having to experience the longest trip from an airport to a hotel ever (more on that later), I finally arrived at my hotel for the night.  Motel L is located in the Hammarby Sjöstad district of Stockholm.  Although you can take either the bus or the train from Arlanda airport, I had taken the commuter rail train with a few changes and delays.
Motel L describes itself this way:
We have assumed today's conscious hotel guest and focused on what really matters to you. The result is a hotel with inspiring design, bedroomluxury, contemporary environmental thinking, personal service and lounge for a relaxed socializing.
Fortunately for me, the hotel is located directly opposite the tram line stop so I only needed to cross the street and walk through the front door of the hotel.  Immediately I could tell that this was a fashionable and modern hotel and definitely not a "motel." In the U.S. the word "motel" brings to mind images of rooms opening onto the parking lot and cheap rooms for rent by the hour.  A certain kind of unsavory character might frequent a motel, but you definitely won't see anyone like that at Motel L.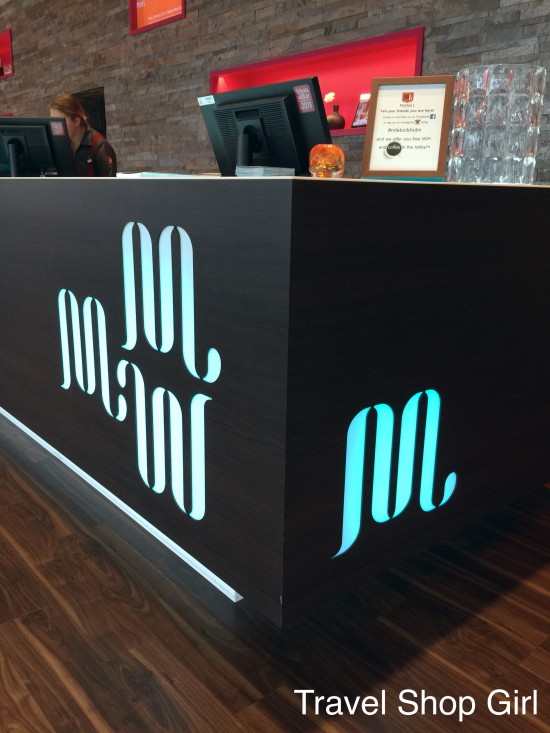 I was checked in at the front desk in no time at all.  That's always a bonus, especially when arriving close to midnight.  The front desk changes color, from pinks to blues to oranges, too!
Since it was late, I wanted to grab something to drink for the room.  The clerk told me that I could have the tap water or something from their "store," which is where breakfast is served in the morning.
With a drink in hand, I quickly found my way up to the fourth floor and my room.  As a solo traveler, I appreciated that to go up into the hotel you need to hold your key card to the reader for it to move.  It's interesting to note that while you might get mesmerized by the carpeting and the bright pink room numbers, both set of stairs on each floor are behind glass doors and on floor four, one set was locked with a tie lock.
Now my room — it was a beauty in more ways then one.  As someone who loves pink, this was a pink paradise, but not in a cotton candy, little kid kind of way.  Instead, it's a fun, stylish hotel decor that fits with me perfectly. The headboard designer, Lisa Bengtsson, created it to inspire you to let your senses float away.
The bathroom was equally as cool.  I mean c'mon — the lady on my shower wall had a tattoo!  Love it!  The designer, Lisa Bengtsson created the shower wall with the "mysterious lady with the magic cat tattoo."  You might miss her as you relax under the huge rain shower head, but don't doze off!
My bed was super comfy and I slept like a baby.  Could be because they use top brand bedding and Carpe Diem beds.  Never heard noises from the hall, street, or other rooms.  Opposite the bed is a small desk and a 40″ LED screen TV so if you need to squeeze in some work or watch some television, it's there.   Storage is a non-issue here with cubbies to the left side of the bed, a small closet to the right, and on the wall opposite the bathroom are DOTS by Muuto designed by Lars Tornøe.
Let's take a closer look at that headboard.  What a great color combo of yellow, black, and of course, pink! Colors to dream by!
Included in my room was breakfast.  Usually, this is "meh" kind of thing for me as I don't eat eggs or meat, but the breakfast at Motel L was a nice spread.  Fresh bread, hardboiled eggs, yogurt, sliced meats and cheeses, cereal, coffee, tea, and juice.  Yum.   I especially like how they remind you before you even get downstairs to bring your voucher, the key card holder you receive when you check into the hotel.
Breakfast is served until 10 am during the week and the breakfast area was pretty packed at 9 am.  I ended up at a seat near the front door, but by choice.  I wanted to look outside and probably should have just sat outside since it was nice enough to do so.   I grabbed a coffee, but couldn't find milk or cream anywhere. But the little cheese sandwich with tomatoes and cucumbers was a great way to start my day.
Whether you go downstairs to the Lounge for free high speed Wifi, breakfast, a cup of coffee, or a glass of wine, you'll definitely want to visit Motel L.  Situated outside of the city center, the hotel is still a perfect location for visitors to the city with easy tram train accessibility.  Great for solo travelers, couples, families, and business people, Motel L is doing something right by offering a great hotel product, excellent service, and incorporating social media into their brand messaging.  If you check in at Motel L on FaceBook or Instagram, you can enjoy free coffee from 11:00.  Next time you're in Stockholm, why not consider Motel L for your hotel stay?
Motel L
Hammarby allé 41
120 61 Stockholm
Telephone: +468-40902600
Website: http://motel-l.se/en/
---
While Motel L provided me with complimentary accommodations, all opinions and photographs, as always, are my own.