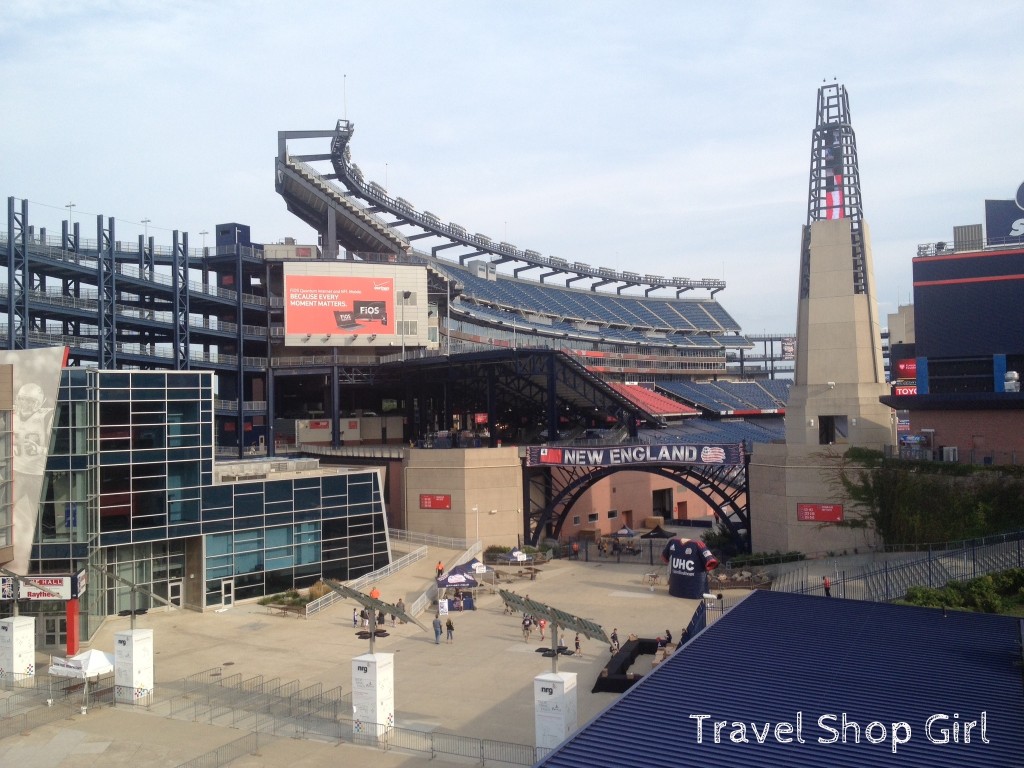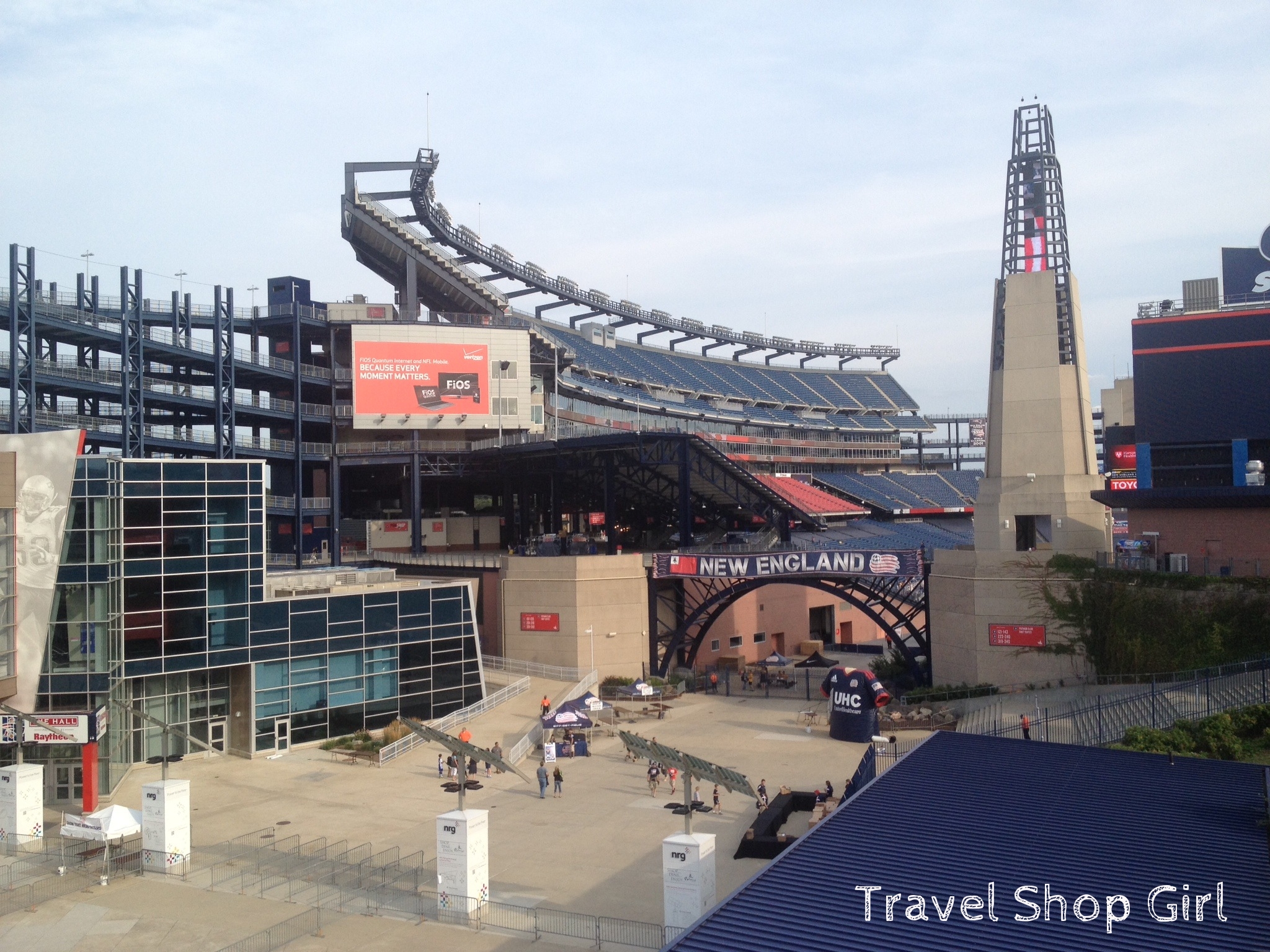 If you're a football fan then you know that Gillette Stadium is located approximately 30 miles from Boston in the otherwise sleepy town of Foxborough, Massachusetts.  But did you know that there is only one luxury hotel in Foxborough which is located adjacent to Gillette Stadium?  This past weekend I decided to take the short drive to Foxborough and spend a night at the Renaissance Boston Patriot Place Hotel & Spa.
With 154 guest rooms in this 5 floor hotel, Renaissance Boston Patriot Place Hotel & Spa offers a modern and bright hotel experience to guests. Check in was effortless as I took advantage of utilizing the new check in option via the Marriott app.  I only needed to indicate when I was planning on arriving and since check in was at 3 pm, I thought 3 pm would work out perfectly.  But to my surprise I received a message stating that the room was ready far in advance and so that meant I could check in earlier.  Once I arrived at the hotel I could "check in" at the mobile check in desk to pick up my keys.  From desk to room it was less than three minutes easily!  That's the kind of service I dream of having when I arrive at a hotel. 
As you make your way to your hotel room, don't forget to take in the view when you arrive on your floor.  I took a few pictures from the windows in the hallway looking over toward the stadium and also down toward Patriot Place.  Of course, I also took a picture of the carpeting and a picture that was hanging because of the designs in each one.  I love all of the solar panels that were installed by NRG and I'm hoping that they are helping to reduce energy costs for all of Patriot Place.  
There are two types of guest rooms available at this hotel: Either a guest room or a club level guest room.  Each room measures 394 square feet and can have either a king or 2 queens and can either have Gillette Stadium view or like my room, no view of the stadium.  Considering what little time I was spending in the room, I wasn't bothered by the lack of view. The room was extremely clean, no dust whatsoever, although the furniture had its fair share of scrapes, perhaps from the housekeeper's vacuum?  Loved that the air conditioning was ridiculously silent throughout the night, too.  The bathroom was huge, much larger than the one I have at home, and it didn't bother me at all that there was only a shower as I'm not a tub person anyway. An assortment of Aveda bath products were available as well.  A small coffee maker with supplies were located in an alcove between the bed area and bathroom. 
If you so desire, you can visit the hotel's restaurant, Twenty8, located on the main floor for breakfast, lunch or dinner.  This upscale restaurant and bar features regional, sustainable American cuisine with a modern flair. Not in the mood for food?  Stop in for a drink instead.  There's a large area opposite the restaurant where you can sit and relax and even play chess or checkers with the pieces that are part of the table.  A wedding reception was taking place during our stay and was in this area and also in the outside patio.  
If you're looking to relax, head on over to Spa Epoche with 8 treatment rooms, couple suites, and unisex E-salon.  Whether you're looking for a Swedish massage, facial, body polish, or simply a hair cut and color, Spa Epoche can do it all.  You can also burn off some steam in the fitness room and finish it all of with a dip in the pool. 
Although no football game was played on this night, there was a soccer game inside the stadium so there were plenty of people milling about there and inside Patriot Place.  What is Patriot Place? You'll find a wide variety of shopping, dining, and entertainment all in one convenient location. Shops include Alex and Ani, Godiva, Olympia Sports, Life is good, Reebok, and many more. Restaurants include CBS Scene, Davio's, Bar Louie, Skipjack's, Tavolino Pizza Gourmet, Toby Keith's I Love This Bar & Grill and others.  Entertainment options include 5 Wits, Showcase Cinema de Lux, Splitsville Luxury Lanes, and so much more. 
Wanting to keep it low key as I had a big day planned for the next day, we had a quick bite and a drink at Red Robin, walked around and shopped for a while, and then hopped on over to Cinema de Lux for a movie (Let's Be Cops).  
Overall, I think the location of the hotel is ideal for anyone who is looking for a hotel close to the stadium because they're attending a game, plan on shopping, or perhaps doing both.  If you do plan to stay for a game, book well in advance because it's the closest hotel to the stadium and absolutely the nicest one in the area.  Other options are more of the motel variety than hotel.  It was nice not to have to worry about parking and to be able to get out on a beautiful summer night to walk around and have a relaxing evening.  I wouldn't hesitate to stay at the Renaissance Boston Patriot Place Hotel & Spa again in the future although I might mix it up a bit and ask for a room with a view of the stadium next time.  
Renaissance Boston Patriot Place Hotel & Spa
28 Patriot Place
Foxborough, MA 02035
Phone: 508-543-5500