The #TwoChicksAndARoadTrip adventure continues onward with me behind the wheel of our white Mustang convertible and Danielle (CruiseMiss) convinced I'm going the wrong way most of the time. Ok, that's not true — at least not for all of the time we were on the road. On this leg of our road trip we were headed to historic Salem, Massachusetts.
Situated on the North Shore, Salem is a quaint city of just over 40,000 residents and a must visit destination for anyone visiting Massachusetts. Salem has a rich and interesting history that includes, of course, the notorious Salem Witch Trials. Wherever you walk around Salem, you'll see evidence of its history in statues, signs, and buildings.
TSG Tip: Why were the witch trials not necessarily that unusual to Salem residents? When the colonists arrived from England, they already had their fear of witches intact with accusations, witch hunts, and trials a somewhat regular occurrence back home.
Did you know that second to last of the eight seasons of the 60's and 70's popular television program, Bewitched, was filmed in Salem? TV Land unveiled the statue in 2005 in Salem to mark the 40th anniversary of the show.
For our first look at Salem's history and to experience something completely different, we walked only a few steps on Essex Street to explore the Witch History Museum. The Witch History Museum is open daily from 10 am – 5 pm from April 1 through November 30. Visitors receive a guided tour of 15 life-sized scenes depicting many of the stories of the 1692 witch trials. Great for children, adults, and family who want to not only hear, but see the retelling of these 300+ year old historically accurate stories.
Witch History Museum
197-201 Essex Street Salem, MA
After hearing about one of the important figures of the Salem Witch Trials, Jonathan Corwin, at the Witch History Museum, Danielle and I decided to visit his final resting place.
No trip for me is ever complete without something ghost, paranormal, or cemetery related. I don't really find cemeteries creepy or weird but I do like them more for their historical value. Our walk through Salem brought us finally to the Broad Street Cemetery, located at the intersection of Broad and Winthrop Streets.
After searching everywhere in this old cemetery with many of the names no longer visible on tombstones, we were able to finally locate the grave of Jonathan Corwin, a merchant and the owner of the Witch House. Corwin was a Harvard educated man who, while his name is associated with the trials where he served as a magistrate, never really expressed publically how he felt about them. Even stranger is that he never made any public statements, especially when his mother-in-law, Margaret Thacher of Boston, was accused of witchcraft although there was no evidence or reason to accuse her. Corwin later went onto serve as an associate justice of the Massachusetts Superior Court of Judicature, and died June 9, 1718, and was buried in the Corwin family tomb, shown above.
Broad Street Cemetery
Broad Street, Salem, MA 01970
The next destination on our list was the Witch House, Salem's only building left standing with direct ties to the Salem Witch Trials. It is also the 17th century home of none other than the man whose grave we just visited, Judge Jonathan Corwin. He was only 24 years old when he purchased this home that he lived in for more than forty years. He was a husband, father to eight children (the last five died at a young and unfortunate age), and a prominent member of his community.
Upon entering the house you'll immediately notice a list of the victims of the Salem Witch Trials. Take a minute to read the names of the 20 men and women on the list as well as those who died in jail awaiting their punishment.
There has been some speculation that Corwin might have conducted interrogations inside the Witch House or that trials might even have taken place there. However, while there are many records available for viewing inside the Witch House, including a print titled, "Tituba teaches the first act of witchcraft, there's no actual proof of interrogations or trials exists.
Historians believe that the Witch House is a perfect example of 17th century New England architecture. It is estimated that the house was constructed between 1620-1630, but Corwin actually bought the house unfinished in 1675. Sounds like he would have been a great candidate to appear on the 17th century version of "House Hunters" or "This Old House."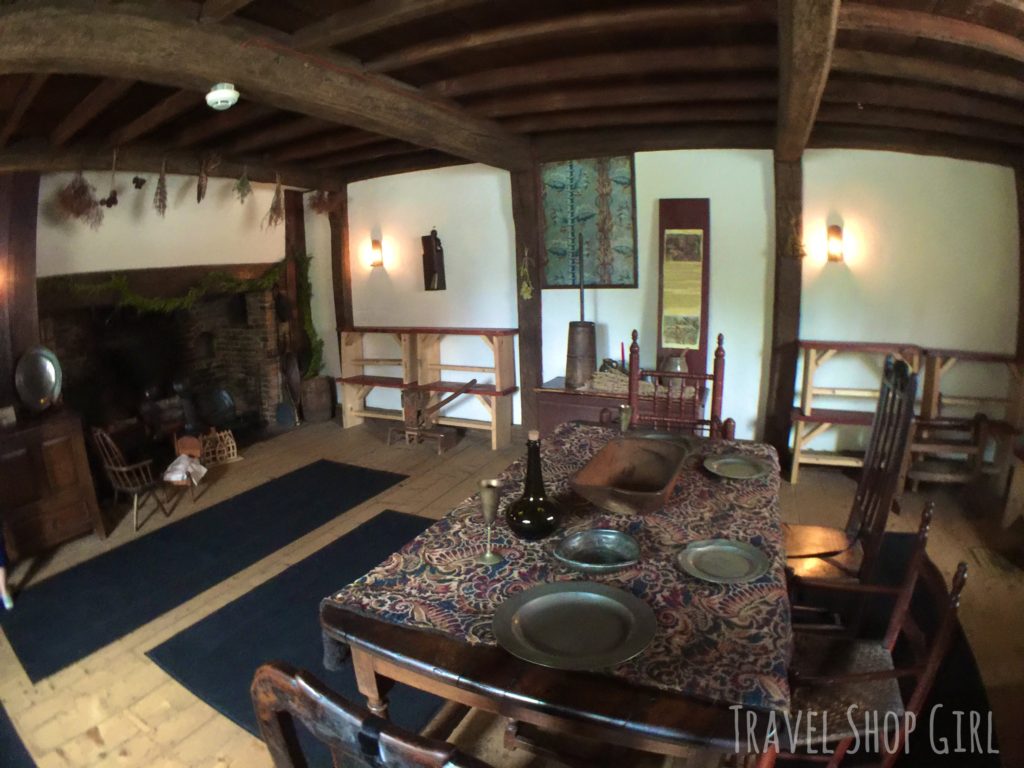 A walk through the Witch House isn't what you might think as it has nothing to do with witches or the Salem Witch Trials.
Instead, you'll see what a 17th century home might have looked like and how its inhabitants might have lived.
On the second floor are two bedrooms complete with furniture, clothing, and other items that makes it feel as if the homeowner and his family stepped out for only a moment.
Some people have reported paranormal activity while they walk through the house, but we didn't feel, see, or hear anything, and we didn't capture any EVP's with our digital voice recorder. If you're a history buff, then a self-guided tour through the Witch House should be on your list of places to visit while in Salem. Feel free to ask the employees who work there for more information as they are always eager to assist visitors.
The Witch House
310 Essex St, Salem, MA 01970
After our walk around Salem, we piled back into the convertible to head over to probably my favorite destination in Salem: the House of the Seven Gables, which was built in 1668.
The House of the Seven Gables is the oldest 17th century mansion in New England and was the inspiration for Nathaniel Hawthorne's novel of the same name. John Turner, a Salem sea captain and merchant, was the original owner of the house and it stayed in his family for three generations. Later, Captain Samuel Ingersoll purchased the home in 1782 and his daughter, Susanna, became the property owner. Her cousin, Nathaniel Hawthorne, often visited with her and said that those visits in her home is what inspired him to write his novel, The House of the Seven Gables.
The house was purchased by Caroline Emmerton in 1908 and she worked to preserve the house for future generations. Her work continues through the organization that continues her mission today.
Visitors are invited to walk through the house on a guided tour to view how the house might have looked at one time. Don't forget about the secret passageway to the second floor, one of my favorite parts of the house. Unfortunately, you can't take pictures inside the house although our guide said that they are currently looking into changing this. I found this postcard of the Parlor from the Boston Public Library that will give you an idea of what it looked like then.
The house is considered the centerpiece of this historic site which also contains this beautiful seaside colonial revival garden and other early dwellings like Hawthorne's home of his birth (his house was moved to this location) and a 19th century Counting House. The House of the Seven Gables and and the other buildings are now considered a national historic district on the National Register of Historic Places.
After our guided tour as I stood in the Seaside Gardens, I was a little envious of the waterfront views that John Turner, Susanna, and Nathaniel must have enjoyed and delighted in viewing. Since it's impossible to go back in time and join them, on your next visit to Salem I definitely recommend budgeting time to sit and relax here on a beautiful summer day like I did.
House of the Seven Gables
115 Derby St, Salem, MA 01970
Our time in Salem draws to a close and while we didn't see any witches or witness any paranormal activity, we thoroughly enjoyed the fresh air, charm, and history of Salem, Massachusetts. I think it definitely helped us to understand what being a witch in Salem at the time was like, and it was really an eye-opener. I also had more questions, like whether there were any people who didn't realize they were witches and how they lived their life. I'll just have to ask that question if we decide to go again, or you could always do it for me instead. If you're planning a visit to Salem, consider the Discover Salem Passport which provides admission to three top museums and a ride on the Salem Trolley as well as lunch and dinner discounts.
---
Did you know that this post is a GPS enabled article on the GPSmyCity app? Click here to read more about it or here for the app article itself.
Up next I head back home to Boston, Massachusetts. Check out the many pics of our trip by reading all of the road trip posts and searching the hashtag, #TwoChicksAndARoadTrip on Twitter, Instagram, and FaceBook.
---
While I was generously provided free admission to the Witch History Museum, the Witch House, and the House of Seven Gables from Salem Tourism, all opinions and photographs, unless otherwise noted, are my own.