If you're considering a trip to New York City, whether it's your first or not, you'll want to find a hotel that fits your personal needs. Boutique hotels offer guests an opportunity to enjoy many of the same amenities one might find at a larger hotel, but at a smaller and more intimate level. Here are a few NYC boutique hotels I've researched for my upcoming trip to New York City that offer style, elegance, amenities, and so much more.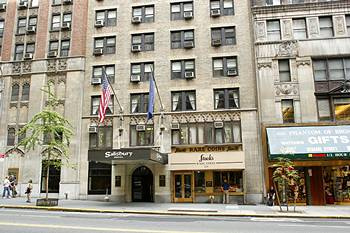 Suite Sized Hotel Rooms Near the Best NYC Shopping
Big hotel rooms in NYC? Is it even possible? Yes it is and the Salisbury Hotel proves that you can get more bang for your buck if you shop around. Located near Central Park and all the great shopping on Fifth Avenue, when you plan your next big shopping adventure in NYC, definitely consider the Salisbury Hotel.
Traditional New York Style and Service
If you're looking for something that screams traditional New York, then the Belvedere Hotel is the hotel for you. The hotel offers traditional styling, great service, and nothing beats the location, which is only blocks from Times Square and many of the other great New York City attractions.
Four Star Elegance in the Heart of NYC
If you can't imagine staying in a hotel that doesn't have great style and service, don't worry about it. Consider staying at The Pearl New York. With its impressive styling, exemplary staff, and sound proof rooms that are sure to offer you an incredible night's sleep, why would you want to stay anywhere else? The Pearl New York also has a fitness center, continental breakfast, complimentary Wi-Fi, and they also offer their guests wine tastings, too.
Modern Industrial Meets Chic
Maybe your taste leans more toward modern/contemporary or maybe even industrial. Why not combine both and stay at the super swanky Gansevoort Meatpacking. In addition to the stylish decor, this luxury boutique hotel offers guests an onsite fitness center, spa, restaurant, and the uber popular Provocateur Nightclub. You might never want to leave although the hotel's location offers easy access to incredible shopping and dining close by.
Retro Style Meets Modern Luxury
Are you one of those people who love everything about today's technology but prefer the look and style of days gone by? Then Hotel Giraffe could be your hotel for your next trip to New York. While the decor is retro, the modern conveniences and personal attention scream modern luxury. The hotel offers complimentary Wi-Fi as well as free passes to New York Sports Club for a quick workout. But you'll also receive evening turn down service, live music weeknights, and an overall feel that harkens back to a simpler time.
Instead of feeling overwhelmed by the sheer volume of hotel offerings in New York City, try narrowing down your choices by price, location, and the amenities you want in a hotel. When deciding which hotel to consider, choose one of the many boutique hotels in New York that offer amazing style, service, and luxury for an incredible stay on your next trip to New York City.