Feeling completely relaxed after enjoying an amazing afternoon at the Blue Lagoon, we made our way back to our hotel, CenterHotel Þingholt to continue our 24 hours in Reykjavik. As it was now dark outside, I admit this pic doesn't do the statues any justice, but I love how they are dressed up for Christmas with festive hats. There are so many statues all around the city, but these do get your attention immediately when you walk near them.
Stripping ourselves of our outerwear, we finally arrived back at the hotel with only a few minutes to spare before the end of Happy Hour. I mentioned in a prior post that we wanted to take advantage of the 2-for-1 special that they had and so I ordered the Þingholt Cocktail while my husband had a beer and a shot of Brennivin.
As it was a Thursday night and it was fairly early, there were only a few other people enjoying a drink besides the two of us. I recognized one gentleman from our flight, which I thought was strange. Before heading out for the evening, enjoying a drink or two here is perfect as it is a relaxed atmosphere and the drinks were great. I found it interesting that Rich ordered the Black Death beer as well as the Brennivin, which is known as "Black Death," but that was not going to be the theme of our trip.
Hunger started to set in and we went off in search of dinner. Our first stop was only a few steps away from the hotel at Lækjarbrekka, which is on the corner of Bankastræti and Lækjargata in the center of Reykjavik. From their website:
The housing Lækjarbrekka was built as a dwelling in 1834, by the influential Danish ship owner and merchant P.C Knudtzon. He also built a bakery and a turf house in th same lot and brought the Danish baker T.D Bernhöft to Iceland to practice his trade here. Bernhöft, who was for a long time the only baker in Reykjavík, bought the houses in 1845. The Bernhöft family continued in the baking business at this location for two generations, building a retail shop onto the dwelling house in 1855.
Why wouldn't I want to dine in a building with that much history? I thought I was tired when I looked at the menu because I swear I thought I saw horse on the menu. I looked again and yes, there it was: "Cognac cured horse, glazed red beets and roasted parsnip puree." They also serve puffin and whale, but ironically enough, they also have vegetarian selections. Of course, if you are a meat eater and are looking for traditional Icelandic food, this might be a restaurant for you, but we decided to forego our dinner here in search of something else.
There are plenty of restaurants, bars, pubs, and lounges in this area of Reykjavik where you can find a quick bite or a nice sit down meal. If traditional Icelandic fare isn't on your radar, you can find Asian Fusion, Nepali, Scandinavian, Seafood, Thai, Tapas, Sushi, and much more.
Yes, there was even a vegetarian restaurant, but unfortunately, it was closed when we arrived. When I got back home, I looked online and found that they actually were closed since about March 2012. I could open that restaurant back up again and get things going in Reykjavik with some tasty veg food. Think I could get my husband to agree to this?
If you've been following my blog, then you know I always seem to spot a Subway restaurant everywhere I go and Reykjavik was no different. However, I refused to travel and eat here when I have one practically down the street from where I live back home.
On my first visit to Reykjavik last year, I had seen an Indian restaurant named Gandhi and really wanted to try it out. As we walked hand in hand throughout the city, peering into shop windows and looking over various restaurant menus, we ended up in Austurvöllur square near where the restaurant is located and went inside. Beautifully decorated, but somewhat dark, there was only one table occupied upon our arrival. Strangely enough, we were seated close to the other table and then handed menus. Glancing over the menu I noticed that the food was definitely more on the pricey side and there were only four vegetarian options, each pricing out to about $19 USD. I would have been ok with that, but then it happened. I heard the familiar beeping of a microwave coming from the kitchen and maybe I have been watching too many television shows with Gordon Ramsey like "Kitchen Nightmares," but I wasn't about to eat a microwaved meal, even if I was told otherwise. That's when we called it quits and ventured onward.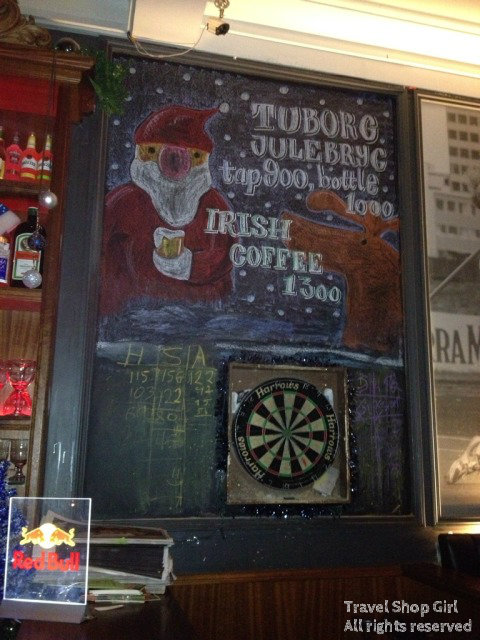 Our next stop was what any of our friends find not so unexpected as we located a traditional English pub called what else? The English Pub, of course!
Complete with a wide variety of beers on tap as well as a dartboard, there's even a wheel of fortune where you can spin and win up to ten free beers! We had some great fun playing darts. We enjoyed it that much that we tried to play a game of darts at all of the different bars that we went too; I don't think we were very good though. Some of the people that we met there told us that we should buy our own dartboard, one like the Anarchnid Cricket Pro 800 when we got home so that we could improve our skills so that we could give them a rematch if we ever decided to go back. It wasn't a bad idea, but let's hope that we remember to do it when we get the chance, as we just went to that many bars, I could see us forgetting!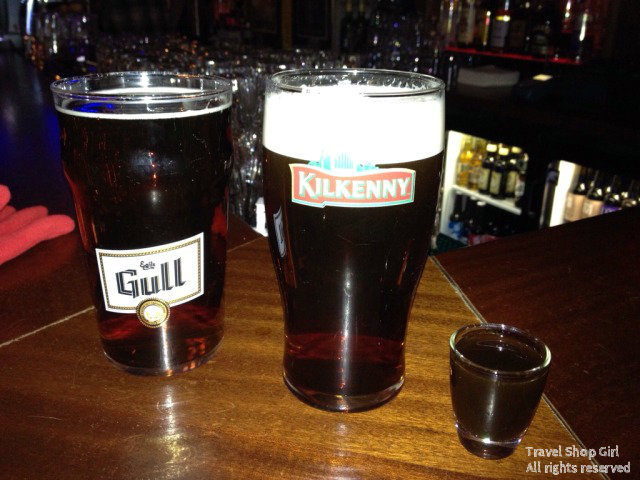 It was time to grab a drink and we ordered a Tuborg Julebryg, their Christmas brew, for me while Rich ordered a Kilkenny and a shot of Opal on the side. Truth be told, I ordered the Opal for him since he had yet to try one. There's nothing like watching someone shiver after drinking a shot of Opal. Fun! I did prepare him before the trip by giving him Opal candies. I can't seem to find the true origin of this liquor as some say the candy came first and then the alcohol and others say that the alcohol came first and the candies second. Either way, if you like the candy then you'll like the liquor and believe me it is a taste that you'll never forget.
I'm convinced after he had that shot of Opal, Rich was feeling like this guy! This troll statue was outside of a store on Laugavegar in Reykjavik.
What is it like walking around Reykjavik at night? The largest city in Iceland that also happens to be the capital has an estimated population of about 150,000. There were people out having dinner, drinks, and shopping so we were certainly not all alone that night. Visit Iceland states that "Reykjavík also boasts an excellent range of luxury hotels, exclusive shops and designer outlets. It also has the reputation of being one of Europe's "hottest" cities at night, with an active music scene and famous nightlife." Although we weren't looking for the nightclubs, we were looking for dinner. I was looking at a menu when a young couple walked by and said that they hoped we were enjoying our time in Reykjavik. I was a little startled and wondered why they were talking to us when Rich reminded me that they were just trying to be friendly.
Speaking of which, this creepy doll scared me half to death. You might think she is an innocent and friendly looking little thing, but why do I feel that she would smother me when I'm sleeping?
Now I love my husband, but he can be a cranky pants when he is hungry. Carefully considering all of our options, I like to investigate thoroughly before committing. This, unfortunately, can drive my husband to insanity. Walking along the streets of Reykjavik at night when one is hungry and impatient and finding plenty of meat options and nachos galore, I knew I had to come up with something quickly.
Where did we end up? At Caruso at Pingholtsstraiti 1 in downtown Reykjavik, which was only a few steps from our hotel. Travel Muse describes it perfectly:
While mainly an Italian restaurant, Caruso also specialises in Icelandic seafood and lamb, alongside Italian style pizza and pasta. The central location at the corner of Bankastræti and Þingholtsstræti is ideal for an urban atmosphere, with a view of the busy traffic of the city's main shopping street. The food is reasonably priced and the service good, and the steady popularity and Italian décor of Caruso ensure a pleasant atmosphere.
The restaurant is rustic in appearance, but don't let that sway you from stopping in for a meal. We arrived hoping we could get in without a reservation and luckily, we did as the restaurant was fully packed. We were seated at a table near the window by the street, but there are a few different dining rooms where you might be seated. The server was attentive despite how busy the restaurant was.
Rich ordered the Vegetali Sveppir, laukur, tómatar, paprika og parmesan pizza, which was a mushroom, onion, tomato, pepper and parmesan pizza. Although a little dark on one side, he liked it and devoured most of it. At 2,520 ISK ($19.83 USD), it's a little on the pricey side, but we weren't going to complain considering we hadn't found anywhere else to eat.
My choice for dinner was a little out of the box as I hadn't planned on pasta for dinner. Although I initially thought I would want to order the Spaghetti a la Marian, it had shrimp in it so that was out of the question. I chose instead the Osta og spínat fyllt Ravioli í valhneturjóma með beikoni, which was a cheese and spinach ravioli in walnut cream with bacon, but I asked them to make it without the bacon. When it arrived I immediately thought something was wrong as I could see bacon in the dish. Luckily for me, our server was not going to shy away from telling the kitchen they made a mistake and had them make the dish again without bacon. It was, as you might expect, very rich, but the walnuts were a pleasant addition to the dish and I loved the added crunch. At 2,490 ISK ($19.60 USD), this was another expensive dish that any other time I might not have ordered, but it was a great choice at that moment in time.
With a large menu that can accommodate anyone at your table from picky eaters, children, or even a vegetarian, Caruso was a great choice at the end of a long day. When we finished our meals, I wanted to crawl into bed immediately with my belly full of ravioli while also anticipating having to get up early for our flight the next morning in Berlin. I wish we had more than 24 hours because there is so much to do in Reykjavik and yet we had so little time. But I will be back soon to enjoy more of one of my favorite places to visit.