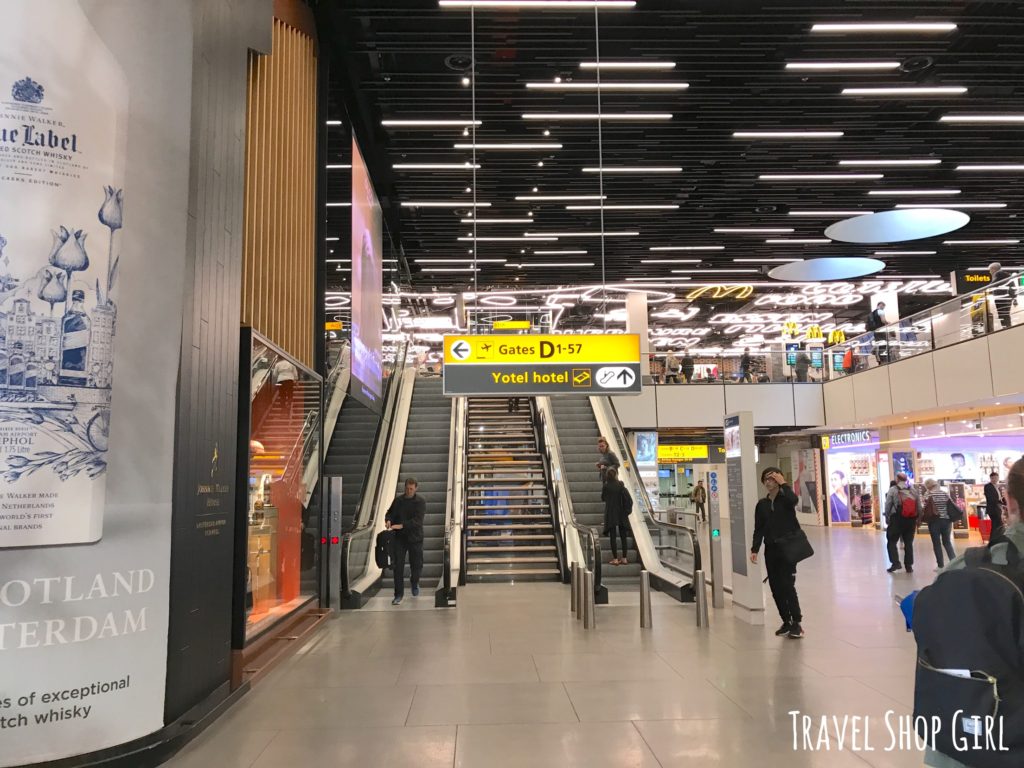 After wandering around Schiphol Airport for three hours, I finally located my hotel, YOTELAir Amsterdam. Keep reading to learn the truth about my stay at this cabin based hotel located inside Schiphol Airport.
YOTELAir Amsterdam Is

NOT

a Pod or Capsule Hotel
Before we even arrive at YOTELAir Amsterdam, let's just address what the haters will want to say. "Why would I ever want to stay at a pod hotel?" Pod or capsule hotels were created in Japan and are basically small pods for sleeping. Think a box with a bed inside and nothing else and that's a pod or capsule hotel.
For clarification's sake, YOTELAir Amsterdam is a regular hotel and NOT a pod or capsule hotel. It's a "small, but smart hotel located in the transit area of Schiphol Airport." Now that we've addressed that, let's try and find the hotel.
Located on the way to D gates, look for the escalator with the sign for Yotel hotel on it. You won't be able to see the hotel from here, but this was the first signage I had seen in the airport with the hotel's name on it anywhere.
On the Schiphol airport's website, you'll see that there's Departures 2 and 3 and while I had gone through security in Departures 3, the YOTELAir Amsterdam was located in Departures 2. It's only a short walk, when you're lost and confused after an overnight flight, it can seem like it's in another country altogether.
TSG Tip: In all fairness, the YOTEL website gives explicit instructions on how to get to the hotel from anywhere in the airport. There's even a handy PDF download you can store on your phone to prevent the mishaps I had. I highly recommend downloading it when you book your cabin so you can reference it once you're in the airport.
Arriving at YOTELAir Amsterdam
Located in the back left hand corner of the food court is the YOTELAir I had been thinking of for hours. You'll recognize the telltale funky neon lighting and cool YOTEL font on the exterior.
The thoughtfully placed artwork and neon lights only add to the vibrant and contemporary feel of the hotel.
Click To Tweet
As I approached the front door dragging my bags behind me, I spotted two monitors in front of a large brightly colored muraled wall on the right. The thoughtfully placed artwork and neon lights only add to the vibrant and contemporary feel of the hotel. They've also done it in such a way so as not to make it look cheap or trendy, which I love.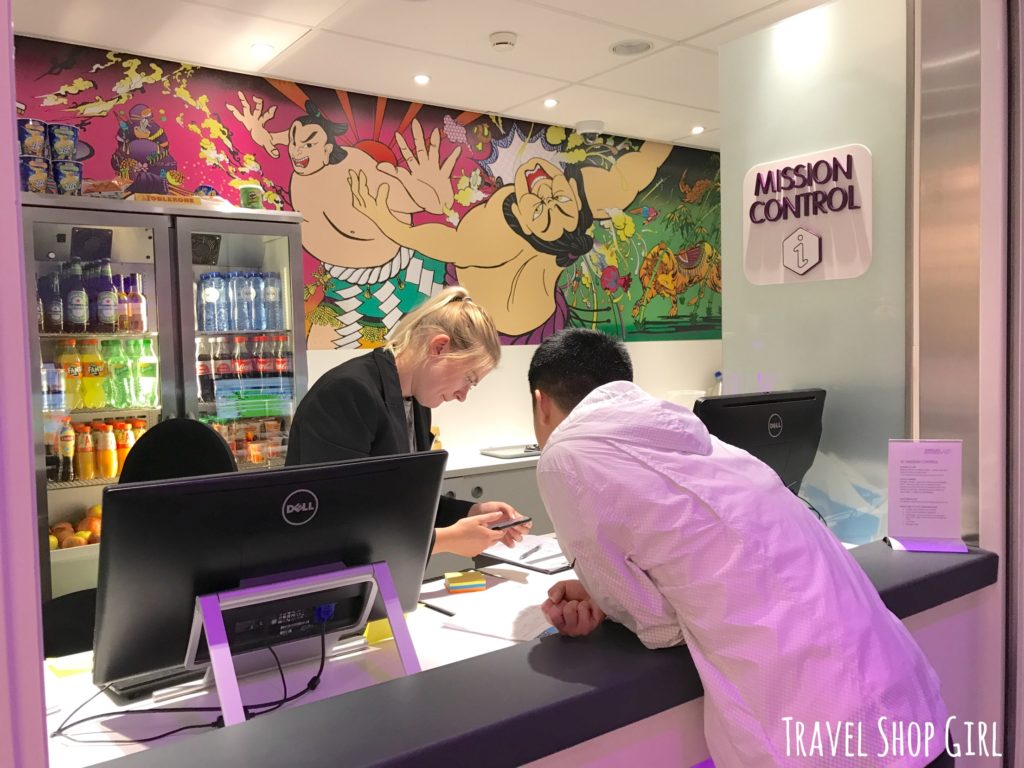 On the left was Mission Control, where the front desk person was assisting another customer. Then it was my turn, I was quickly checked in, and given the rundown of what to expect during my stay at YOTELAir Amsterdam.
This instruction sheet shows the various controls inside the room, which I took a pic of for later reference. Free hot drinks like coffee (lattes, cappuccinos, espressos), tea, or hot chocolate are included in your stay and if you need a hairdryer, just ask at Mission Control. Drinks, snacks, and food are also available for purchase from Mission Control. While there isn't a rooftop Sky Lounge like at YOTEL Boston, remember — you're staying at an airport.
With my cabin card in hand, I headed off into the luminescent pink hallways that make YOTELAir Amsterdam feel incredibly futuristic.
TSG Tip: Not only does the cabin card open your room, but to get back into the hotel each and every time, you'll need to swipe your card to open the front doors. As a woman traveling alone, I love this added layer of security.
Check out the fancy pink-hued ultra modern hallway. Not like anything else you've ever seen before, right?
On the back of my cabin door was the layout of the hotel showing that there are a total of 59 cabins located in YOTELAir Amsterdam. Guests can choose from Standard (sleeps 1), Premium (sleeps 2), or Family (sleeps 4) cabins as well as one of the two shower and changing facilities available for an hourly fee.
YOTELAir Amsterdam Cabin 14
When you first arrive to your cabin, you'll notice that the shade is up. I immediately closed it for privacy.
When you enter the cabin, you immediately notice the small, but efficient sized cabin laid out in front of you. This 110 sqft (10sqm) Premium cabin has everything I could want or need for my stay. While smaller than my cabin at YOTEL New York, it offered everything I could need or want for an overnight short stay.
While it's designed for 2 people, I totally enjoyed stretching out and having it all to myself.
The wall area in the cabin is cool because there are inserts for the chair and that purple square is yes, a table! Take them out as you need them to enjoy the extra space. In addition to the flat screen TV and multiple power points, YOTELAir Amsterdam also offers free super fast WiFi, too.
The private en-suite bathroom was spacious and even had a Monsoon rain shower.
The Adjustable SmartBed™
My favorite part of the cabin, aside from the funky pink lighting, was the adjustable SmartBed™.
Click To Tweet
My favorite part of the cabin, aside from the funky pink lighting, was the adjustable SmartBed™. In the upright position, it is up and out of the way to take up less space and allow you to pass through and not worry about tripping over yourself or the bed. The bedding itself is luxury bedding on top of a Serta gel mattress. In plain English, we're talking super comfy and when I crashed, I was out within seconds.
This is the view toward the door of the cabin standing in the bathroom. Can you see at the foot of the bed the little cut out underneath for storage? In addition to the two bedside tables and storage in the wall, the room offers an abundance of storage options.
Feeling Hungry?
Inevitably, you're going to get hungry at some point during your stay at YOTELAir Amsterdam. Maybe because you had a long flight or maybe because your body doesn't know what time zone it's in.
Since you're staying in a food court area, you'll find that there's a ton of food choices available including healthy options that offer fruits and vegetables.
And some less healthy options like McDonald's that everyone seemed to want. Whatever you desire, it's here in the food court.
YOTELAir Amsterdam Offers "Eat When You Want To"
But what if you don't want to get up and get food? Order meals, drinks, or snacks from your cabin 24 hours a day. Decide on what you want and then head to Mission Control to pick it up.
TSG Tip: I perused the menu and the prices were less than what you might expect and cheaper than the food court. Unfortunately, there weren't any real options for me so I had to look elsewhere for food, but some of the options included:
Chicken Masala
Margarita Pizza
Dutch Syrup Waffle
Panini combo including crisps and soft drink
Ben & Jerry's ice-cream pots
Breakfast items are also available, including a speedy breakfast you can have ready for you at check out. We're talking fresh squeezed orange juice and baked croissants, as well as:
Eat Natural muesli bar
A selection of Dutch pastries
Fruit yoghurt
An apple
Apple or orange juice
Any hot drink – coffee, tea, or hot chocolate
TSG Tip: Pre-order your breakfast by email and have it added to your booking to save you time and trouble while traveling.
Why You Should Consider YOTELAir Amsterdam
If you've got a long layover between flights, you've probably thought about staying at an airport hotel. Whether you stay overnight with rates starting at €92 or 4 hour stays starting at €52, how can you go wrong? Maybe you're only looking for a shower cabin for 1 hour with rates at €15 to let you clean up and get on your way. Either way, YOTELAir Amsterdam offers you a variety of options, all of which are perfect for frequent flyers, families, couples, or solo travelers.
TSG Tip: In addition to their YOTELAir Amsterdam Schiphol Airport location, you can also find other YOTELAir locations at London Gatwick, London Heathrow, and Paris CDG Airport with more locations coming soon.
YOTELAir Amsterdam Overall Final Thoughts
With YOTELAir, I can honestly say that it offers the best of both worlds. The price is so affordable and you'll save time by not leaving the airport.
Click To Tweet
Overall and the absolute truth of it all is that I found my cabin immaculate, the service professional and courteous, and the hotel perfectly located. I didn't have to wait 30 minutes for a shuttle to take me off airport, which meant I could get right to my cabin. While things would have been a lot smoother if I didn't have a checked bag, that was my fault, not YOTELAir's. I always equate time with money and often have to balance out which is more important to me. With YOTELAir, I can honestly say that it offers the best of both worlds. The price is so affordable and you'll save time by not leaving the airport.
Have you stayed at a YOTEL or YOTELAir lately? Share your thoughts in the comments below. Then take a moment to read some of the other travel tips and hotel reviews on the website.
---
While I was generously provided accommodations by YOTELAir Amsterdam, as always all opinions and photographs, unless otherwise noted, are my own.