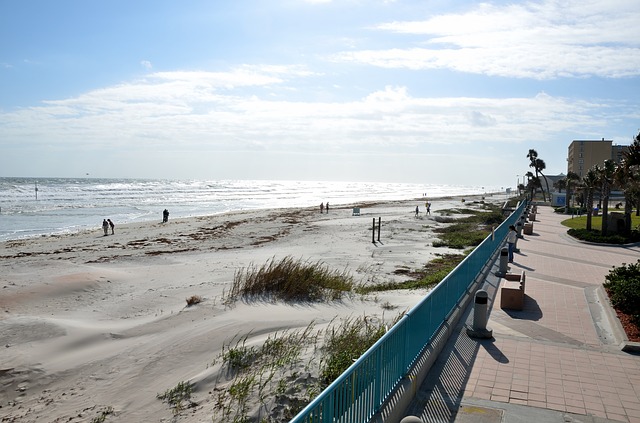 This is a sponsored post written by me on behalf of DaytonaBeach.com for IZEA. All opinions are 100% mine.
Look to getaway somewhere fun and warm? Why not consider a trip to Daytona Beach? It's the perfect affordable destination for everything you could possible want for a planned out vacation or a spontaneous trip. Try something new this year and visit during the week for a fun getaway.
Love the water? Did you know you can go paddleboarding, surfing, kayaking, fishing, and boating in Daytona Beach? With 23 miles of coastline along the Atlantic Ocean, it's an ideal destination for couples, friends, or family for a weekend getaway or longer. Why not climb on a jet ski, paddleboard, surfboard, or just go swimming before lounging on the beach or enjoying a round or two of golf? With two four-star golf courses nearby, the golf fan won't feel left out on this trip.
Looking for more excitement? Stroll along the Daytona Beach Boardwalk and Pier and then jump on the Sand Blaster roller coaster. If you want something even faster, than Daytona International Speedway might be right for you. Did you know that stock car auto racing (NASCAR) got its start in Daytona? The sport has come a long way since beginning in the early 1900's and now with an updated facility, NASCAR fans can truly enjoy themselves at the new and improved Daytona International Speedway.
Not sure when to visit Daytona Beach? Billed as the festival capital of Florida, you'll find more than 60 art, music, and pop culture festivals annually. Whether you're a fan of live music, art, photography, dance, food trucks, or sports, you're bound to find something on the festival and events calendar at Daytona Beach. If you're a motorcyclist, don't forget about Bike Week and Biketoberfest, two motorcycle events held annually in Daytona Beach.
Everyone knows I can't travel and not spend a little time shopping and you'll definitely want to do some while in Daytona Beach. Some of the best shopping in Florida can be found right here with small shops and farmers markets to large malls including Tanger Outlets. Need a break from shopping? Grab a movie at Ocean Walk Shoppes and Movies and then get right back in there and get some great deals.
If all that shopping and sun makes you hungry, don't worry as there's no shortage of great food in Daytona Beach. There's absolutely something for every member of your party from chain restaurants to independently owned restaurants and everything in between including vegan and vegetarian restaurants, which are the perfect option for me. You'll find fine dining options like Zen Bistro and the Cellar, microbreweries like Daytona Beach Ale Trail, and fresh seafood options like Hull's Seafood Market, too. Getting hungry yet?
When the sun goes down, there's still plenty to do at night in Daytona Beach. Whether you choose a nightclub, comedy club, or one of the many other options like a wine or cigar bar or a bar or pub, there's definitely fun to be had. Strap on your dance shoes and get ready to have fun all night in Daytona Beach.
There's so much to see and do in Daytona Beach that you'll wonder why you never considered a trip earlier. Whether you go during the week or the weekend, you'll find great Daytona Beach Weekday Getaway Deals and anytime is the perfect time to visit. When are you going to go to Daytona Beach?