Our weekend in Washington, DC was fantastic. We noticed that despite it being the weekend of the Cherry Blossom Festival, the strange weather that we have been having in the Northeast resulted in no blooms. It didn't matter because we were intoxicated with all of the history that DC has to offer. Our hotel was near the Watergate Hotel and within walking distance of the subway. We took a double decker bus tour around the city, which allowed us to get on and off at our leisure. I wish we had a week here because there was so much to see and not enough time.
On day one we visited Arlington Cemetery, which was far bigger than I had ever imagined. Walking around the cemetery and seeing the various monuments such as President Kennedy's gravesite, the Space Shuttle Challenger memorial, and the Pan Am Flight 103 Memorial Cairn among many others took us over four hours and we were walking at a brisk pace! Definitely allow enough time if you want to see everything or take the Tourmobile that takes you around the cemetery and stops frequently throughout.
We had the opportunity to see the sentinels of the Tomb of the Unknowns. Here is a little history about them from the Arlington Cemetery web site:

"The Tomb of the Unknowns (also known as the Tomb of the Unknown Soldier) is guarded 24 hours a day, 365 days a year, and in any weather by Tomb Guard sentinels. Sentinels, all volunteers, are considered to be the best of the elite 3rd U.S. Infantry (The Old Guard), headquartered at Fort Myer, Va."
Our second day in DC was another beautiful day and this was our day on the sightseeing bus. It was a thrill to finally see such amazing American landmarks like the Capitol, the Lincoln Memorial, the Washington Monument, and the White House.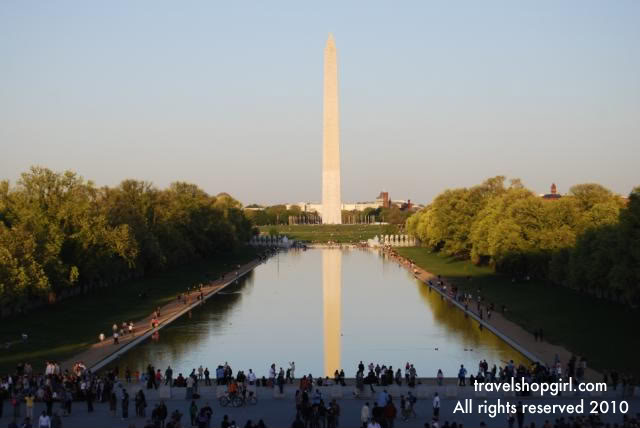 Washington, DC is a walkable city with great public transportation so don't be afraid to put your walking shoes on and explore the city. I love having an iPhone because I can check what is close by, including restaurants with apps like UrbanSpoon. We found the best Thai Restaurant ever in the Foggy Bottom neighborhood of DC called "Thai Place." I had tofu larb and learned later that "larb" means salad. It was kind of salty with lime and so incredibly addictive. We ended up eating there the next day as well. That's how good it was! There was a Trader Joe's close to our hotel which allowed us to buy a few snacks when we didn't feel like eating a sit down meal. Think of every trip you take — from a weekend trip to a longer trip — as an adventure and try something new!