Getting from Arlanda Airport to Stockholm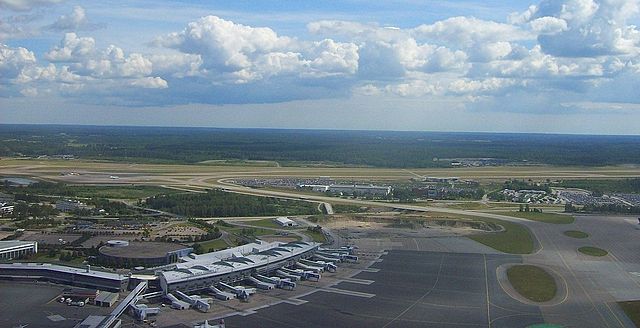 Getting from the airport to your hotel after arriving in Stockholm should be easy right?  On my recent solo European adventure, I flew from Amsterdam to Stockholm with SAS airlines. The airport is situated 23 miles north of Stockholm so how would I get to my hotel? I decided public transport was how I was going to get from Arlanda Airport to Stockholm and then onto my hotel.
Public Transport Options for Getting from Arlanda Airport to Stockholm
This part is simple right? Or so I thought.  I had entered all of my detailed notes and directions into TripIt and thought it would be a matter of walking off the plane, buying tickets, and then voilà – I'm at my hotel. But getting from Arlanda Airport to Stockholm turned out not to be as easy as I had hoped.
As you pass through baggage claim before exiting the airport, you'll notice the automatic ticket machines for both the Arlanda Express, a dedicated train between the airport and Stockholm Central Station and Flygbussarna, the airport coach transfer between the airport and Stockholm city. I attempted to use both of the machines, but one machine wasn't working and the other wouldn't take my card.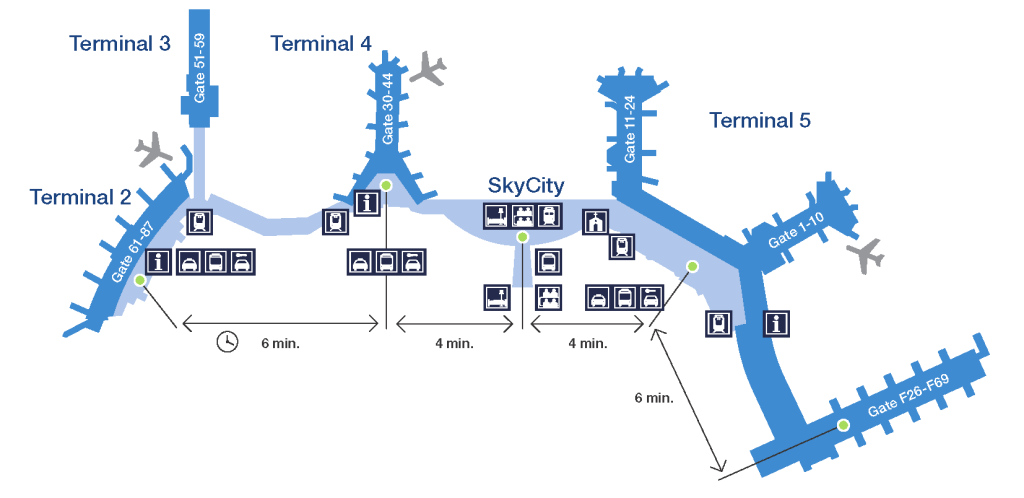 Trying not to stress out although really wanting to do this entirely on my own, I kept walking until I found an information desk. The young woman at the desk told me my directions given to me by the Stockholm Visitors Board were incorrect and I needed to take the commuter train. While I had a hard time believing that, I was tired and wanted to get to my hotel. Against my better judgement, I took her advice. I grabbed my bags and walked through the airport and over to Arlanda Central Station located in SkyCity, which is between Terminals 4 and 5.
SkyCity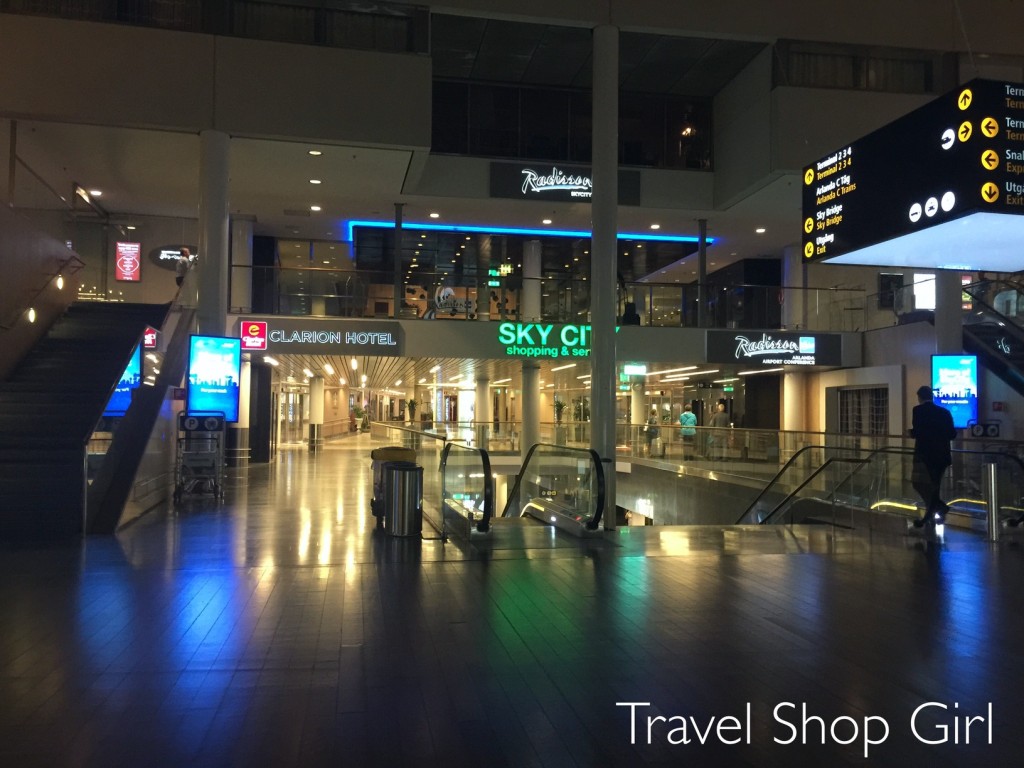 Since it was getting late, I decided to grab something to eat on the train. In addition to a few hotels, there are a few sit down restaurants and a few fast or quick serve restaurants.
Wanting to get to my hotel as soon as possible and going against my better judgement, I ended up choosing off the McDonald's menu at the McDonald's on the upper floor of SkyCity.  There are elevators, stairs, and escalators to take you up to the upper level to see the additional restaurant offerings. Considering I haven't eaten at McDonald's in many, many years, they had a vegetarian option I couldn't pass up.
They had a Veggie McWrap: Vegetable patty, lettuce, tomato, onions and McFeast sauce in a tortilla. Well, not so bad for McDonald's. Wonder why they don't do this in the US? Came in a container like the one used in the apple pies so you can strip off the end and eat right from the package. I figured this would be easy to eat while watching my bags on the train. Little did I know that I wouldn't be eating at all on the train.
Buying My Train Ticket
After making my purchase, I headed toward the ticket counter to purchase my ticket and find out when the train would depart.
The ticket buying process was quick and painless. I learned that trains arrive every 30 minutes and the next one was less than 10 minutes away. With bags in tow, I made my way down to the platform.
TSG Tip: There is a "station access fee" of 85 SEK (about $10 USD) for anyone getting on or off at Arlanda Central Station. If the fee isn't included in your fare, you can pay it at the counter in SkyCity.
Waiting at the Platform for the Train
I was slightly confused when I arrived at the platform. This was because there was no one waiting for the train but for me and maybe two other people at the far end of the tracks.  It was an absolute ghost town.
I knew I had to be on the side for track 2 to get to Stockholm vs. track 1 for Uppsala. However, it would probably have helped if someone had mentioned that I should walk as far to the other end after going down the escalator to the platform. The train arrived and I was on the other end. I thought, "Well it will stop down here for me," but it didn't. That meant I had to sit and wait another half hour for the next train.
TSG Tip

: If you gloss over everything in this post about getting from Arlanda Airport to Stockholm and will be visiting Stockholm and taking the train, don't skim over this. Walk to the far end of the platform to catch the train to Stockholm. Be sure you're on the train headed to Stockholm on track 2 and not the Uppsala train, which is on track 1.
---
Taking the Train into Stockholm
When the second train arrived I nearly cried out in joy as I was so crazy tired. I had taken the train from Amsterdam to the airport, then a plane from Amsterdam to Stockholm, and then played "catch the train," so I was done for the day.
For the nearly one hour ride and twelve stops, it was just me and one or two other people. Despite the long train ride, I will give Stockholm credit for their public transportation. This train, as well as all of the cars on the subway and trams, was clean and well maintained. There's a digital display with the names of the stops so you can see what stop is coming up next. This was incredibly helpful as let's face it, I don't speak Swedish and my pronunciation and what Swedish actually sounds like is nothing alike.
The Tram
After the long train ride I needed to change from the commuter train at Årstaberg to the tram. I exited the train and looked around this incredibly small train station and saw nothing. Walked outside and again – nothing. Walked back inside and asked the ticket agent who told me it was outside. Walked outside and saw some buses and thought, "Maybe they call a bus a tram?" I walked up to the bus and asked the bus driver. He quickly advised me that no, a bus in not a tram. He also informed me that he didn't know where it was because he wasn't from the area.
At this point I was ready to give up, but decided to walk down and away from the train station. It was only then that I could see train tracks and yes, this was where I could catch the tram. I initially ended up on the wrong side of the tracks (wouldn't be the first time – ha!). But I didn't worry as I quickly corrected my error. I looked at the tram when it approached for the final destination listed on the tram in the window.
TSG Tip: I downloaded a Stockholm public transportation map to my phone so I knew in advance the names of the stops on either end of the tram line. I recommend doing this so you don't end up riding somewhere you hadn't intended to visit.
This was the view from the tram tracks at Årstaberg looking back toward the train station. I only needed to take the tram six stops to Mârtensdal and it would stop right outside my hotel, Motel L, but the trams are spaced out a little more at night so that meant more waiting.
Final Thoughts
Finally, the tram came and it did drop me off right in front of the hotel. Perhaps this might have been easier during the day, but at night and by myself it was a cluster. Would I do it again? Probably not. The commuter train took nearly three times as long as Arlanda Express, but I would've needed to switch to the subway and then to the tram for my transportation from Arlanda Airport to Stockholm. My ride back to Arlanda Airport was a completely different experience, but more on that later.
I unloaded my bags in my uber cool room at Motel L and devoured the now cold Veggie Wrap.  With my belly full, I could now get my rest in preparation of a full day of exploration before heading back out to discover more of Stockholm and my next hotel, Hotel Birger Jarl.
Have you taken public transportation from Arlanda Airport to Stockholm? What did you think of the process? Read more about my time in Sweden on the Travel Shop Girl website.