Recently I flew to London for a few days and I was so excited to learn I was upgraded to Upper Class Virgin Atlantic for my return flight. Once you fly Upper Class, it's kind of hard to fly anything else. This wasn't my first time flying Upper Class and I was so glad to be back. Here are a few ways to make the most out of your next Upper Class Virgin Atlantic experience.
London Heathrow Virgin Atlantic Clubhouse
Tip #1: Arrive early enough at London Heathrow to take full advantage of the Virgin Atlantic Clubhouse. There's zero chance you'll regret stopping in before your flight. It's that good – I promise.
This sprawling airport lounge has so many seating areas, you won't feel cramped or uncomfortable no matter what time you visit. With servers taking food and drink orders, you get to sit back, relax, and unwind before your flight. Do a little work, watch a movie, or sit at the bar. Whatever you do, you can do it in style at the Virgin Atlantic Clubhouse.
Food and Beverage in the Clubhouse
Of course, after lugging bags around London, I was ready for a drink and a snack. We pulled out the small London Heathrow Clubhouse Menu and got to ordering.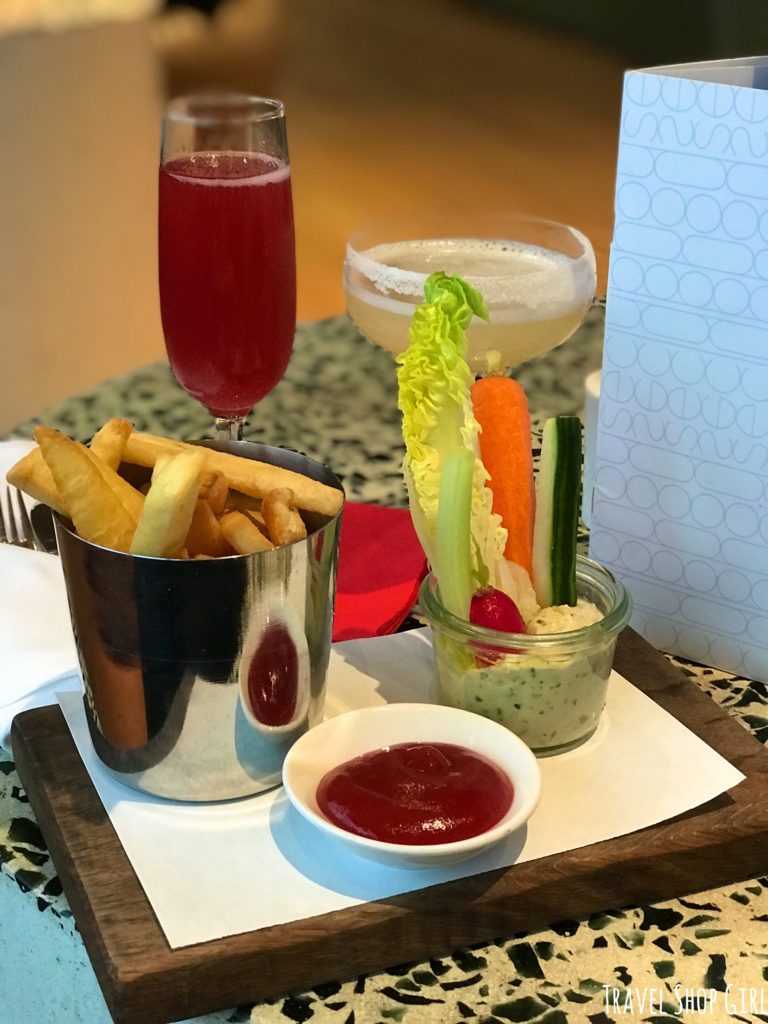 Tip #2: Always try a Virgin Redhead. I chose an eclectic mix of drink and food to hold me over for a while. This included a Virgin Redhead (Bombay Sapphire gin, fresh lemon juice, Cassis, Framboise, raspberry puree, simple syrup) and a Margarita. You didn't expect me to not order the Virgin Redhead, did you? Vegan options were limited on the menu unfortunately. That meant ordering some old standbys like chips and veggies with hummus. I really loved the hummus as it had lemon in it, but the portion sizes are oh so small.
Mr. TSG enjoyed more vegetarian options like the veggie burger and chips along with a few beverages. To be honest, he worked extremely hard at trying to get through the drink menu, but we didn't have enough time.
I love the modern look of the Clubhouse both from behind the wall where we sat and charged our phones.
To the other side of the wall, which was a little more high traffic, but still private. This place is gigantic and offers so many seating options like no other airport lounge ever. Although I will say the Cathay Pacific Lounge in Hong Kong was possibly bigger.
Walking to the Gate
Tip #3: Don't wait until they tell you to go to your gate. Time came to board and we made the short walk over to the gate. I never stick around for an announcement and usually leave a little earlier to beat the crowds. This was good as I was also randomly selected for an additional bag check at the gate. It didn't take too long, but they had lots of questions and were thorough in their bag search.
Arrival Onto Virgin Atlantic's Boeing 787 and Upper Class
Within a few minutes, I was onboard and in Upper Class Virgin Atlantic. You'll always know you're in the right place by the telltale pink mood lighting.
On this Boeing 787, there are three sections of seats totaling 31 seats. I was in Section A on the left side of the plane and quickly located my seat. It's time to get settled in before the flight.
My Seat in Upper Class – 8A
Seat 8A in Upper Class Virgin Atlantic is on the left side of the plane near the rear of the cabin. I quickly stowed my bag in the overhead bin/locker and settled in.
Tip #4: The left armrest in your seat has storage. I used this to park my glasses when I slept as well as other assorted items so I wouldn't lose them.
That, of course, means grabbing the welcome onboard glass of bubbly to start. I usually take a sip or two and pass it off to Mr. TSG if he's flying with me. Since he was, he got to enjoy two glasses before takeoff.
Soon it was time for our afternoon flight to depart London Heathrow. Under the cover of gray skies above, I was ready for our flight to begin.
As you can see here, once you settle into your seat, while it's not 100% secluded, you do have privacy.
I put my amenity kit away, grabbed my blanket, and made sure I was ready for the 7 1/2 hour flight back home to Boston.
Tip #5: If you need to change your clothes, do so before meal service. Wear comfortable clothing for your flight. If this means you have to change out of your clothes, pack something in your carry on and change before meal service. Once meal service happens, the lines will start to form and you'll never get in the restroom.
Upper Class Virgin Atlantic Amenity Kit
As you can see in the pic above, the Upper Class amenity kit was already at my seat prior to my arrival.
Inside the Herschel bag were the following items: Flight socks, toothbrush and toothpaste, earplugs, an eye mask, a pen, and a small bag with Rituals products. These items included a body moisturizer, lip balm, and eye cream. Small, but overall a nice little kit.
Tip #6: Even if you have zero interest in the amenity kit, take it with you. You can always donate it to your local homeless shelter or women's shelter or anywhere needing toiletries.
Visiting the Upper Class Bar
Throughout the flight, guests in Upper Class Virgin Atlantic can visit the Upper Class Bar at the rear of the Upper Class cabin. Grab a drink or a snack and take it back to your seat or sit at one of the three stools at the bar. It's definitely a fun way to pass the time on your flight. During my flight I only saw a flight attendant here at the beginning making drinks. The rest of the time it was a literal free for all and people were helping themselves to everything.
As for me, I was all about a Passion fruit martini at the beginning of my flight. I just wanted to sit back and watch Guardians of the Galaxy Vol. 2 uninterrupted. For some reason on my recent flights, I get about 90% through a film and never finish. That was not going to happen on this flight.
Upper Class Virgin Atlantic Menu
As always, I did look at the in flight menu for Upper Class Virgin Atlantic knowing I wasn't going to have anything. Well, but for the beverages.
Under the pink glow of the Upper Class Virgin Atlantic cabin lights, our dining tables were prepared for our upcoming meal.
Tip #7: Don't forget to "pinch" the salt and pepper shakers. Don't believe me? Turn them over and see what it says underneath.
Special Dietary Menu Options in Upper Class
I had indicated that I was a vegan and was hoping to get an interesting (read = tasty) vegan meal on this flight. Both Mr. TSG, the vegetarian, and I had the carrot and fennel soup, which was marked as "vegetarian" on the menu. I've learned that I can ask what's in it, but most times I get a "I dunno" kind of answer. Sad, but true. The soup was hot and full of flavor, but hopefully not dairy.
Vegetarian
Up first for meal service is Mr. TSG and his vegetarian options straight off the Upper Class Virgin Atlantic menu. He chose the Tomato and Mozzarella Carpaccio, which photographed poorly under the pink lighting, but I think you get the idea. Think mozzarella, tomatoes, basil, and balsamic and that's what this salad is.
His entree was some kind of a Thai curry with tofu and rice. Not one to shy away from either, he liked it enough to finish the bowl.
When cheese became available, he was quick to take a little bit of everything. Despite saying he felt like a glutton, this plate was nearly licked clean.
Finally, for dessert there was a Beckleberry's milk chocolate & salted caramel ice cream. This is probably the one time I miss dairy when I see a dessert presented so beautifully. I think Mr. TSG has a hollow leg as he was somehow able to finish his dessert off as well.
Vegan
My vegan meal was a little less spectacular, but still edible. I received a bowl containing rice, lima beans, and some kind of a tomato and vegetable ragout. It wasn't the best in flight meal I've had, but believe me when I say it was far from the worst, too. I think the presentation in a real bowl with linen and glassware and flatware certainly helps.
Tip #8: Be willing to try something, even if it looks strange. Airplane food always gets a bad rap, but I say always try it first before shooting it completely down. Dessert was some kind of fruit gelee and by that I mean I have no idea what it was. Unlike other passengers who know what to call their food because they get a menu, those with special meals often time have no idea what they are eating. It was slightly sweet, slightly cold, and definitely different, but it was dessert.
Lights were on during meal service and soon passengers finished up and started to turn in their meals to the flight attendant. It got quieter in the cabin and you could tell things were about to change.
Time to Nap!
The lights dimmed and soon it was nap time in Upper Class Virgin Atlantic. I waited patiently for a flight attendant to appear to help turn down my seat, but that never happened. Instead, I tried to figure it all out best I could on my own, but that's kind of sad. What happened to the service on this flight?
I slept for an hour or two, got up, and then watched another movie. If this had been a 16-hour flight, I would've been really upset, but it wasn't so I got over it. Overall, I was glad to have a comfy seat to sit in for a longer flight. Will I try to score another upgrade in the future? Absolutely and I can't wait to fly on Virgin Atlantic again.
Have you experienced Upper Class Virgin Atlantic yet? Why or why not? Discover some of the other airline reviews on the Travel Shop Girl website while you're here.
On my new SPONTANEOUS TRAVEL SCALE of 1-5, with 1 being super easy and spontaneous and 5 being you better plan far in advance, you might want to plan in advance to experience Upper Class Virgin Atlantic. Therefore, I'd give a 3 because some planning is required. I'm giving Virgin Atlantic Upper Class a hesitant thumbs up as far as spontaneous travel goes only because seats are limited and prices definitely go up the longer you wait to book.