Perhaps it was luck or maybe even chance, but when it came time to book our tickets to London for our annual New Year's trip, the price had dropped. What I would have spent on Premium Economy seats now was around the same price for flying Upper Class on Virgin Atlantic. So why not, right? Before I get too carried away with the actual flights and service onboard, let's start at the beginning.
Virgin Clubhouse in Boston
If you've read my blog, you've probably seen pictures of the Virgin Clubhouse in Boston before. This is because when I've flown on IcelandAir, I've gone here first to relax, unwind, and prepare for my flight. There's been some changes to the Clubhouse because both the server on the floor and the cook were extremely friendly and not just with us, but everyone there. Service really has improved significantly.
What I especially liked was the increase in vegetarian options available.  In addition to the fully stocked bar with wine, beer, soda, water, and other beverages, the food choices are plentiful.
As you can see above, the veggie option of Channa Masala with rice and naan as well as the hummus with veggies were well received.
The Upper Class Suite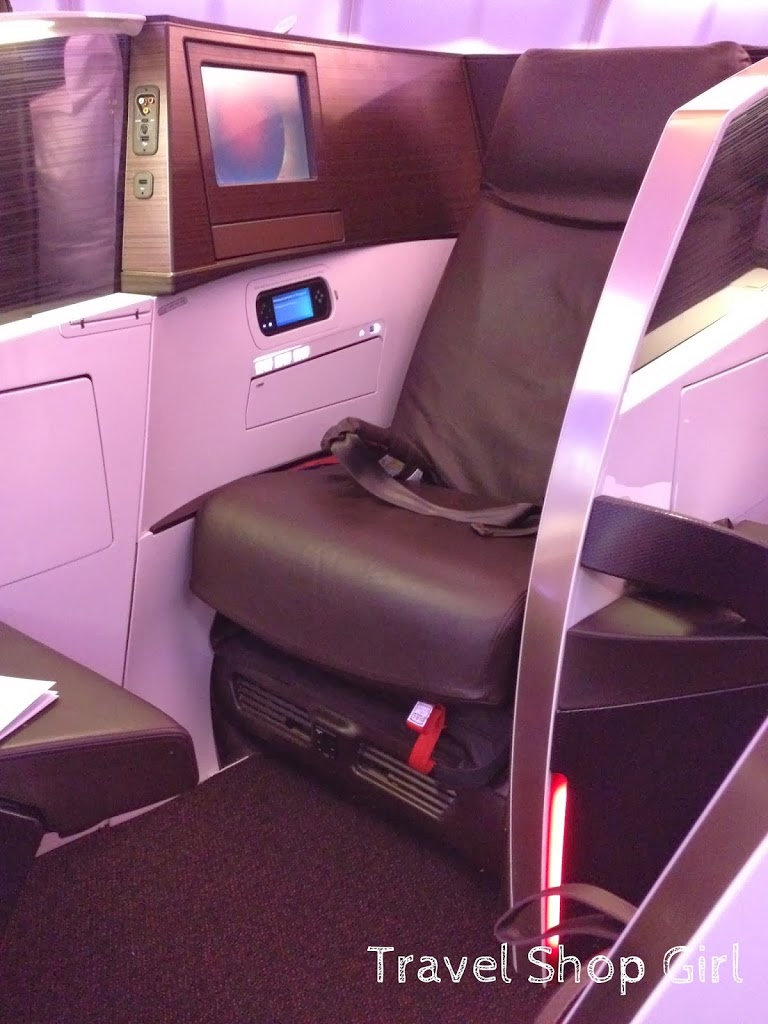 The Clubhouse agent announced that it was time to board and after taking the elevator down to gate level, we wandered over to our gate and presented our boarding passes to the gate agent. We were then allowed to board and ushered to the left side of the plane for Upper Class passengers. It was there that we first took a peek at what would we be our home for the next several hours, the Upper Class Suite. Well, for at least 6 hours and 40 minutes to be exact.
Amenity Kit
I immediately started searching out my surroundings and it was then that I located my amenity kit.  I have to admit that I was slightly disappointed as the only name brand items to be found were the tiny tube of Colgate toothpaste and the single serving pack of Mentos.  No lotion or lip balm to be found anywhere and the pen cap on the unbranded pen refuses to stay on the pen.  Other included items were a toothbrush, tissues, earplugs, socks, and an eye mask.  A "sleep suit" is available from the flight attendant if you choose to change while onboard.  It consists of a black V-neck long sleeve cotton t-shirt and black drawstring pants and comes in small, medium, or large.
Upper Class Menu
The menu for Upper Class included main courses, warm breads, dessert, and cheese as well as breakfast and beverages including Berry Bros. & Rudd wines.
How nice is it to be served a meal with real flatware and the absolute cutest salt and pepper shakers ever? The flight attendant told us to turn them over for a surprise. Yes, on the bottom it says, "Pinched from Virgin Atlantic" because so many people were taking them home. Cute!
Vegetarian Meal
Whenever I book a long haul flight, I automatically ask for a vegetarian meal for both of us. However, as the menu already has vegetarian options, our flight attendant was nice enough to ask if we wanted that instead. We could either have the ordered meal, which was ravioli, or the Thai vegetable curry with steamed jasmine rice. I decided on the curry, which was quite good and beautifully presented for an airline meal. For a second I almost forgot I was on a flight as it tasted pretty good and looked so pretty. Most times airplane food lacks any taste so I give Virgin Atlantic a big thumbs up for their food.
Upper Class Suite Specifics
The Upper Class suite is 22″ wide and turn into a 33" wide, 6'6" long, totally flat bed at the touch of a button. On this Virgin Atlantic Flight 12 from Boston to London, we were on the Airbus A330-300, which has 33 seats in Upper Class. There are 9 rows of seats, restrooms at the front and the back of the cabin, and the bar is at the rear of the cabin.
There are also window panels between each of the seats that make the space seem much bigger. We were sitting in window seats, but because of the staggered nature of the seats, I would probably do a window and an aisle in the future in the newer Upper Class suites. The reason being is that we were completely unable to carry on any kind of a conversation unless one of us moved to the footstool area of the other person's seat. I absolutely loved and appreciated the USB port in the suite that allowed me to charge my phone before landing.
Overall Thoughts – Boston to London
Overall, my flight from Boston to London was as to be expected for this level of service. Where I did feel some disappointment was with waiting on the flight attendant to help make up my seat (couldn't seem to find the flight attendant for a while) and the "coat situation." When you board they take your coat, which should be coordinated with your seat. However, when we landed, some people were given their coats and others, including us, weren't. When we were getting off the plane, there were our coats strewn across the bar and could've been taken by anyone disembarking the plane. Not my idea of great service whatsoever and it definitely left a bad taste in my mouth after an otherwise great flight.
Checking In At Heathrow For Return Flight
Our return flight home on January 2, 2014 was cancelled due to the Nor'easter hitting the northern US. While this might have been bad news for some, it was great news for me as I can't possibly view extra time in London as a negative. We were rebooked for the same exact flight leaving in the afternoon on Saturday, January 4, 2014. Upon arrival to the airport, we checked in and were able to use the Fast Track option afforded Upper Class customers, which allowed us to bypass the long standard security lines. All we had to do was taken the elevator to the next level, turn immediately to the left, scan our boarding passes, and enter a hallway. Our line was no line as it was just us going through security and we were in and out of the line in no time at all.
Virgin Clubhouse at London Heathrow Airport
From there we could go shopping or head directly to the Virgin Clubhouse. A quick ride in the elevator or up the stairs and we were able to check in, leave our bags and coats, and then we sat down to have a nibble.
Of course, we could have opted for a massage, facial, or more, all complimentary services available in the Clubhouse, but it was food and drink that was present on our minds.
As a non-meat eater, I worry if there will be food available that is suitable for me, but as you can see in the picture above, there was more than enough choices that were perfect for me. From left to right: Potato and parsnip soup; sweet potato fries, homemade Yorkshire pudding; broad beans; and pear, walnut, chicory, and Stilton salad.  The Yorkshire pudding and salad were all for Mr. TSG while I devoured the soup.  I had developed a cold toward the end of my stay in London and hot soup was exactly what I needed. We shared the rest and had a few drinks while waiting for our flight.
Relaxing in the Virgin Clubhouse
The playful chairs hanging in the Clubhouse along with a massive amount of seating makes for a comfy stay. In addition, there's a pool table and large video screen in case you want to watch TV or a film. We sat, chatted, and enjoyed our food as we hadn't eaten prior to our arrival.
There was a Hospitality Club hostess walking around chatting up guests that she chose to offer benefits to for joining. Not sure how she was choosing them other than through profiling, which was disappointing to witness. Before we knew it, it was time to go to the gate. The Virgin Clubhouse is approximately 10 minutes from our gate, which was gate 19.  Upper Class enters through a different door and we passed several people waiting to board who we overheard were on standby waiting to get back to Boston.
Flying Upper Class on the Airbus A340-600
The flight attendant took my coat upon entry to the plane and once seated, I was offered my welcome onboard champagne. This Virgin Flight 11 from London to Boston was on an Airbus A340-600, which has 17 rows of seats and a total of 50 passengers. It felt significantly more congested and it didn't help whatsoever that there was a young child seated next to me who insisted on banging on the panel between the seats for the majority of the flight while also playing a really loud video game the entire flight. Lucky me!
Virgin Atlantic Airbus A340-600
As you can see from the picture above, the seats are pretty much the same except that the configuration is done in three single rows.  The panel between the seats is a solid one, but other than that, the Upper Class suite is the same. We received the same unbranded amenity kit and behind each seat or in the overhead bin was the duvet set in case you wanted to have you seat lay flat during the flight.
One of the flight attendants during our flight, Claire, an amazing Irish redhead, was the saving grace of this flight. She was sweet and professional and really seemed to care about each of the passengers she was taking care of during the flight.  I wish there were more flight attendants like Claire as she made the overall trip completely worth it and helped me not lose my mind because of the incessant banging from the child next to me.
The entertainment options were the same, but on this particular airplane, there weren't any USB ports. One of the flight attendants advised me that a special cable was needed to connect the USB cable and that they would be provided after takeoff, but sadly that wasn't the case. The number of movies and TV shows are quite limited and if you've flown anywhere recently, you've probably seen a number of these already. I ended up listening to music anyway after a while so it was all good.
Vegetarian Options in Upper Class
For my starter while flying Upper Class on Virgin Atlantic, I chose the Organic Italian Tomato and Basil Soup. This was the only vegetarian selection, but was really quite delicious. Strangely enough, I had been craving tomato soup for a few weeks and this really hit the spot.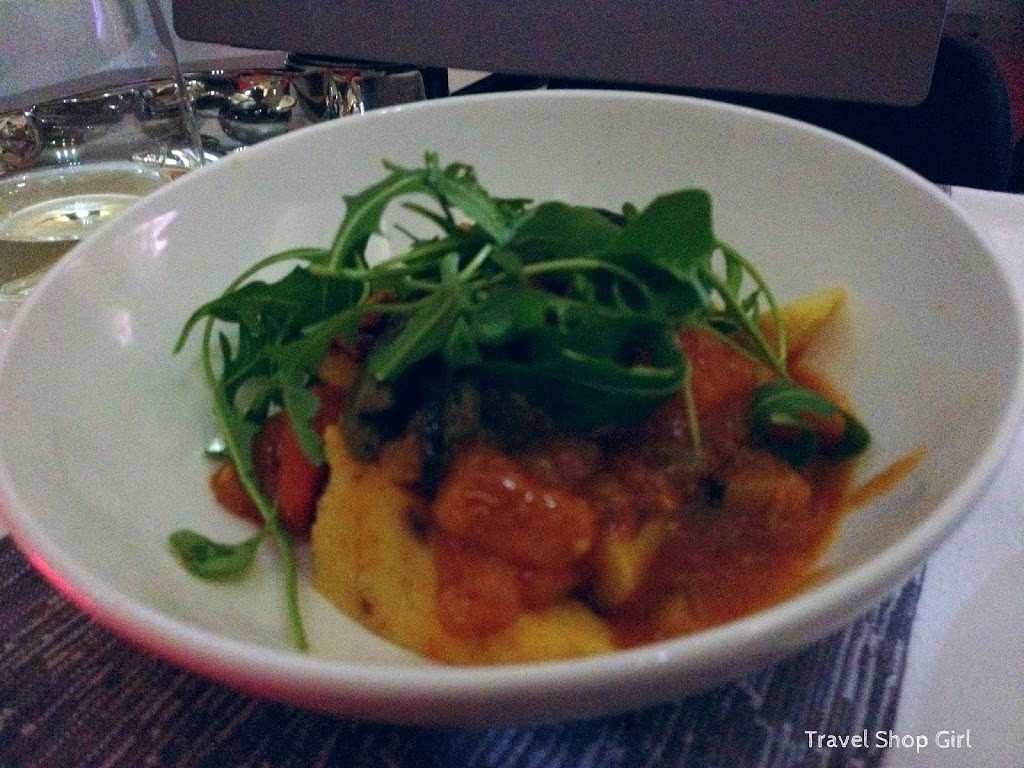 For my main course, I chose the Cream and Cheese Polenta Cake with winter roasted vegetables and fresh rocket (or arugula for my American readers). Mr. TSG felt his plate was on the mushy side, but I was ok with mine and really enjoyed the fresh, peppery rocket on top.
Time for dessert, and yes I know I should have skipped this. However, I chose the Clementine Sponge Pudding with citrus jus and cream. I recently watched "The Secret Life of Walter Mitty" and heard him mention several times his mother's "clementine cake." I kind of had clementines on the brain and really felt like I had to order this. It was quite aggressively sweet, more sweet than clementine in taste, and so a few bites was all I really needed.
Duty Free Shopping
Duty Free shopping is available during your flight and I picked up a few items to take home with me. Unfortunately, the shopping catalog is quite heavy on perfume and men's cologne as well as watches. These are things I don't normally buy. I do wish they had more variety as I quite enjoy shopping duty free. I did pick up a Dior Addict Lip Experts Duo, which consists of a Lip Glow balm and a Lip Maximizer. Also purchased was a Clinique Moisture Surge CC Cream. I just couldn't help myself! You can order while at home for delivery onboard your flight. Some items can be delivered directly to your home so you don't have to carry them off.
Afternoon Tea
About one hour before we landed we were served afternoon tea. This included sandwiches, scones with clotted cream and jam, petite cakes, and of course, tea. Shortly prior to landing, the flight attendants came through and handed a few of the passengers their coats. I couldn't believe this was happening again. Why is that we weren't able to collect our coats while seated in our seats? When we were headed off the plane, there were our coats once again strewn across the dirty back bar.  If Virgin Atlantic could do one thing differently, it should be this. Why not tag the hangers with the seat number of the passenger. Then prior to landing, coats could be returned to their proper owner. Otherwise, I'll just hold onto mine for fear that it might be taken by someone else.
Final Thoughts on Flying Upper Class
Would I fly Virgin Atlantic again? Absolutely! Would I fly in Upper Class?  I'm certain that I would despite the snafu with the coats. The seats were comfortable and the overall service was quite good. With all of the flying that we do, it's nice to be able to stretch out and not be squeezed in like sardines. The extra room and service in Upper Class is not only appreciated, but also needed. While not looking exactly for perfection, I do appreciate great service and lots of legroom. Virgin Atlantic definitely delivered, for the most part, on both.