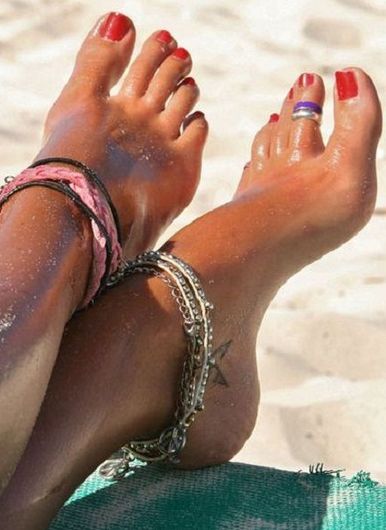 With over 110″ of snow in Boston this winter, let's just say that my feet have seen better days. Between boots, socks, cold weather, and dry skin — yes, my ugly feet aren't looking so hot. But I know I'm not by myself, right? But what do my feet have to do with travel? While it may be cold in Boston, I might end up somewhere where it's hot and sunny and sandal weather. But I don't think my feet are ready for sandal weather. Or are they?
While I love to get my hair cut and colored on a regular basis, I'm not one who regularly gets manicures or pedicures. This is mostly because I find it extremely hard to sit still long enough for them to do their work. But I still want to have nice looking feet. Recently I heard about a product that would allow me to skip the pedicure altogether and slip on special booties at home instead. The result? Soft feet without special creams, files, or visits to the nail salon.
PRODUCT ONE: The first product I tried is called Baby Foot. The name definitely caught my attention. I purchased my package of Baby Foot on Amazon for $20.08 and immediately put it on after it arrived. Made in Japan and distributed in the US, I really liked that the instructions were simple and easy to follow. Clean your feet, cut open the lavender scented booties, slip them on, and tape them down with the enclosed tape. Put on a pair of socks over top of the booties and relax for 60 minutes. Then rinse your feet and go about your business. In 1-2 weeks your feet will peel and reveal soft, smooth skin like a baby's. Hence the name Baby Foot! The peeling part is pretty freaky and gross and if you must see pics of the process, you can probably Google it, but I'll skip the details here.
PROS: Product is easy to use and even when you think nothing is happening, miraculously after several days you see that it is. This isn't a one and done process as you'll definitely need to maintain your feet regularly. I've read online that women like to do this once a month and moisturize regularly in between treatments.
CONS: The price! Fairly expensive at $20.08 although still less expensive than a pedicure.
Overall, the product is a great way to get rid of ugly feet and get those sexy summer feet you want without having to have a pedicure.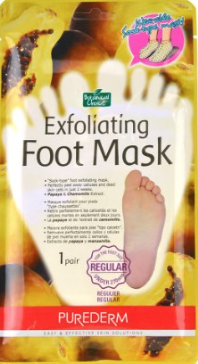 PRODUCT TWO: When it was time to try another treatment for my feet, I decided to go shopping again and came across Purederm Exfoliating Foot Mask, again on Amazon. Instead of one treatment for $20.08, I would receive three for $11.48. This product is made in South Korea and consists of papaya, lemon, apple, orange, and other natural botanical extracts which remove calluses while chamomile extract calms freshly exfoliated skin. Unlike Baby Foot, the booties didn't fit as well and no tape was provided. Luckily, since I had performed the treatment before, I put them on and slipped a pair of socks on over top to keep them in place. They recommend wearing them for 60-90 minutes before rinsing off your feet. Unlike Baby Foot, I also read online to moisturize your feet regularly and I don't know if it was because of this or the product itself that I had a completely different result. Five days after using, my feet sloughed off twice as much as when I had used Baby Foot and my feet weren't nearly as bad as the first time. Not sure what made the difference, but I'm going to have my sister try it out to see if she gets similar results and then I'll report back my findings.
PROS: The price! Definitely liked that it was a similar product as Baby Foot, but far less expensive. I also liked that it seems to work faster on my ugly feet, too.
CONS: The booties are not as well made and the product oozes out if you walk in them at all. I would recommend putting them on wherever you plan to sit for the 60-90 minutes and to not move. Otherwise, there is leakage.My biggest overall suggestion when using one of these products or any other product similar to this is to not do it the day before a trip. You don't want to be on vacation with feet that make you look like you have some horrific skin condition where all the skin is peeling off now do you? Plan in advance and enjoy the benefits of beautiful, soft sandal feet at a fraction of the price of a pedicure.
These at home products can rid you of your ugly feet and offer you a chance at softer, smoother skin in the comfort of your own home. It's fast, easy, and affordable, which are all things that I happen to love. Have you tried one? After reading this do you think you might try it?