Sea Day on the Celebrity Solstice
My first full day was a sea day on the Celebrity Solstice as we made our way from Sydney, Australia to Hobart, Tasmania.  How about this for the most perfect sunrise ever?  There's something so special and unique about sunrises at sea.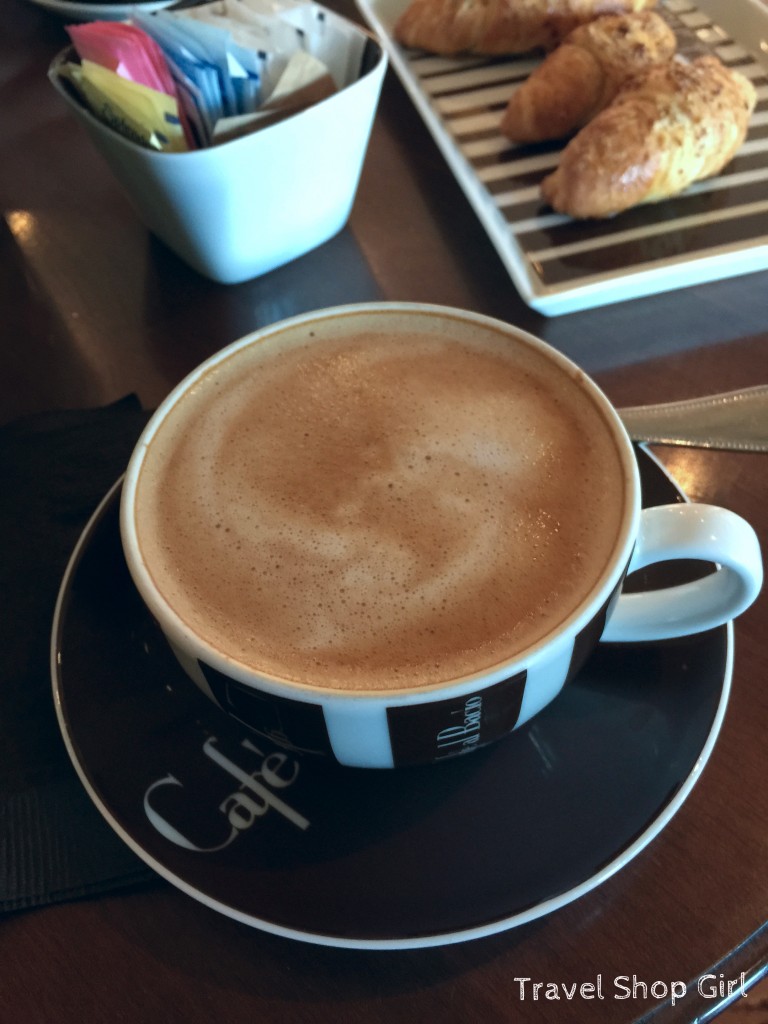 A quick stop at Café al Bacio for a latte and a couple little croissants and that's how I start the day.
Prices are indicated on the menu, but if you had a premium drink package like I had, you could order whatever you wanted and not worry.  I had access to bottled water, sports drinks, soda, coffee, tea, and of course, wine, beer, and cocktails included in the package.  The best part was that I prepaid before getting onboard which meant that I had one less expense to stress over at the end of the cruise.
I ended up ordering a cappuccino because my first drink was so good and the server brought two over.  Mistake? I think not!  After that I was ready to hit the ground running.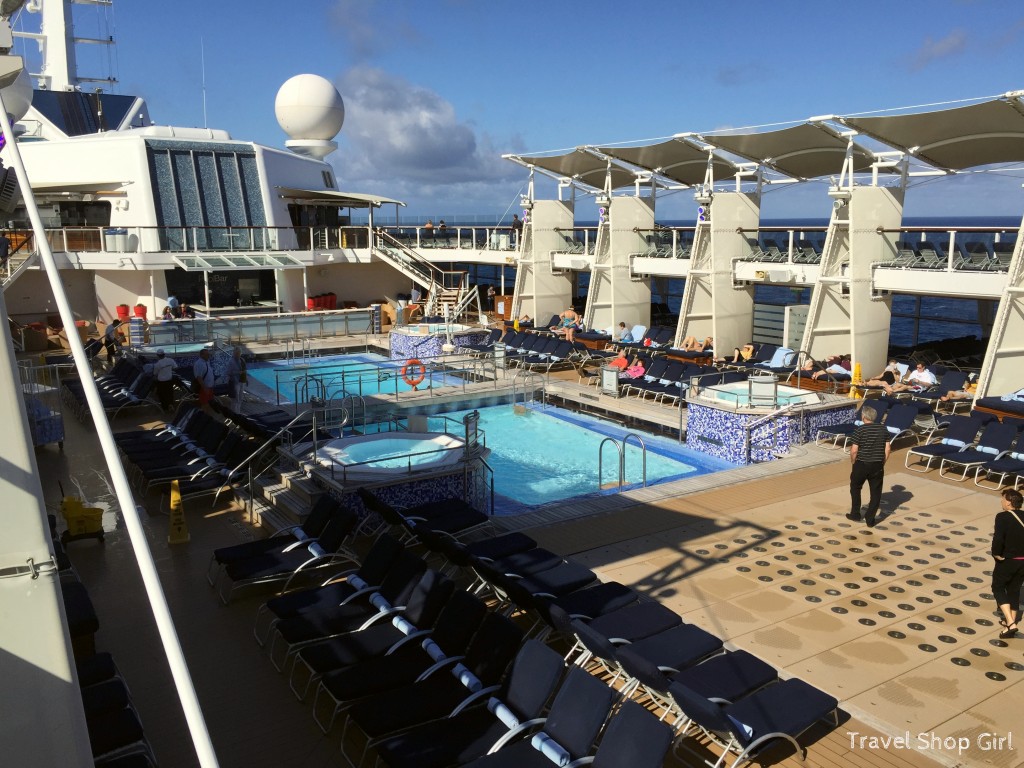 My first stop was to check out the pool deck where there were already people laying out and soaking up the sun.
While the pool was inviting, I was ready for more exploration and fun on the ship.  After hitting the gym, showering, and changing, it was time for lunch.
The OceanView Café is located aft on deck 14 and offers stunning panoramic views you don't get to see anywhere but on a cruise ship.
I'm so glad there was an Indian food selection available every day on the ship.  Without it, I would've been stuck eating bread, breadsticks, salad, and cheese.  They didn't spare any expense on the spice level in the Indian food as it was hot and spicy, just the way I like it!
Mr. TSG didn't seem phased about the food as he had access to beers he hadn't tried before like this XXXX Gold beer from Australia.  It was only later in the cruise when an Australian man chatted him up while he was drinking a VB (Victoria Bitter) that he learned most of the Australian beers on board were ones most Australians wouldn't drink.  He said it was like if we chose a Budweiser vs. a craft beer.  After that, Mr. TSG was far more selective about his beverage choices.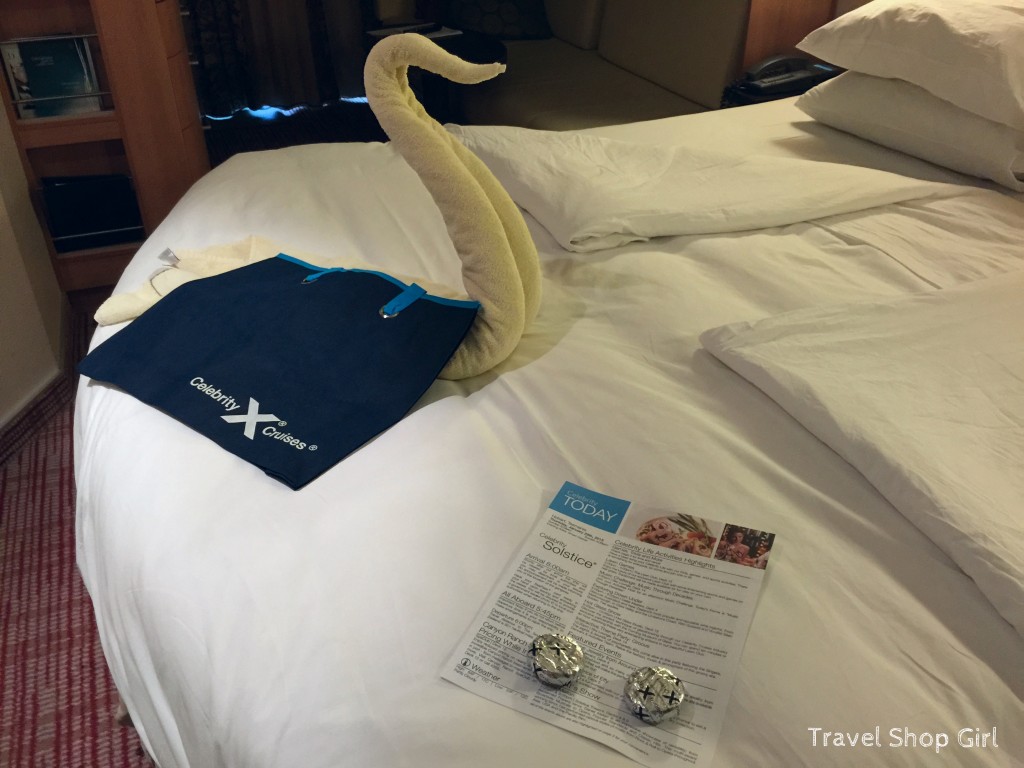 That night when we returned to our cabin, our cabin steward had created a swan towel animal and left a few goodies including chocolate covered Oreos and a Celebrity Cruises bag.  Compared to other bags we've received when we've sailed in Concierge Class, Aqua Class, or a suite, this bag was well, not as nice (thin and maybe not as durable as I would've liked), but hey – it's free.  I'm glad I packed my own Celebrity Cruises bag with leather handles as that did the trick for carrying our towels, water, and other items we needed when going ashore. We also received the ever so necessary Celebrity Today, the cruise line's daily newsletter with details of our port day in Hobart, Tasmania.
After our sea day on the Celebrity Solstice, I have a fun filled day planned in Hobart so come back to read more about all of my adventures on my cruise to Tasmania and New Zealand.