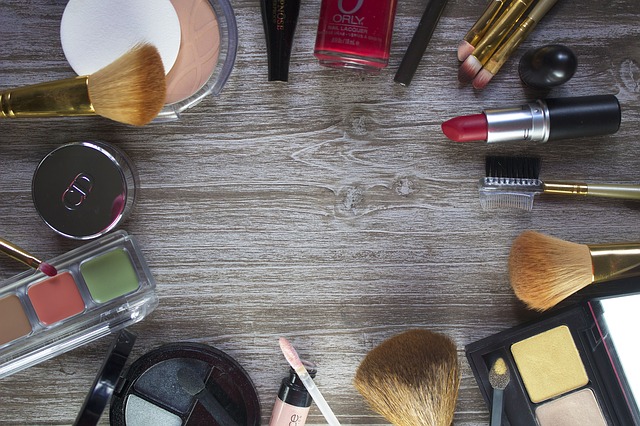 Frequent travelers agree: As well as a travel shoe bag, you need to have a travel makeup bag ready to go at any time. If you're ready to head out the door at a moment's notice, then you also need to make quick decisions. Who has time to search through makeup drawers or cabinets for the perfect Xlash makeup that you just happen to be using at the moment? I know I don't.
My Makeup Drawer
Ok – try not to pass judgment since I've opened up my makeup drawer just for everyone to stare at my mess. But you're probably like me and have the best of intentions of getting organized and clearing the clutter. But life moves quickly and cleaning out your makeup drawer never happens. Especially when a new Birchbox arrives and you end up with more great products, but less available room in your drawer.
TSG Tip: Sort what you like out of your Birchbox immediately upon arrival. If you're thinking you're not going to use it, you probably won't. Give it to a friend or family member and let someone else benefit from the sample fun.
In the past when it came time for a trip, I'd usually focus on packing the big things I needed like clothes, shoes, electronics, contacts/glasses, etc. My 3-1-1 bag with beauty products for travel was always ready to go, but my travel makeup bag was only an afterthought. I usually packed it only after putting my on my makeup, which was right before heading out the door. Sometimes things made it in the bag, but more times than not they didn't. The more often I traveled, the more I started thinking, "There has to be a better way!"
Now It's Time to Take a Peek Inside My Travel Makeup Bag
My new and improved travel makeup bag is streamlined and only contains what I absolutely need. Therefore, items I use while traveling are kept permanently in my travel makeup bag ready for the road. This works well for me as I travel often, but you should find what works best for you. I've been trying to buy some zero waste makeup recently but I'm finding it hard. I try to be as eco-friendly as possible but it's difficult if you've never shopped zero waste products before. Check out this guide if you want to learn more about what's involved. Not everything in my makeup bag is eco-friendly, but there are a few products!
Revlon Ultra Volume Mascara in Black

. Why this mascara? I'm actually not that picky so if I find a sale, that's what I get for a quick base coat under my Ardell lashes.

Lorac Contour Pro Palette

. An all-in-one palette that includes 3 highlighters and 3 contours.

Hourglass Ambient Lighting Powder in Dim Light

. Sold as a highlighter, but I use it as a powder.

Laura Mercier – Secret Camouflage Concealer – 1.5

. Great for the under eye area and in the corners.

Urban Decay in Demolition and Mildew

. Everyone has their go to eyeliner and I like Urban Decay. Be daring and try a funky new color with a crazy name like I did with Mildew.

House of Lashes eyelash adhesive

.

Ardell Professional Natural Demi Wispies in black

.

Mac Prep + Prime Fix+ (travel size)

. Definite must for priming and finishing your face.

Maybelline Fit me Foundation (Matte and Poreless) – Warm nude 128

. Great for travel and it's in a sturdy container that won't break.

Benefit Gimme Brow Volumizing Gel – 3 (medium) – travel size

. Makes brows look fuller.

Benefit Goof Proof Brow Pencil – 3 (medium)

. Easy to use pencil, great for filling in and shaping.
Seems like my brow pencil wasn't included in the pic for some odd reason, but are shown here above.
What I Learned
As a result, I decreased my overall pre-travel anxiety by reducing the size of my travel makeup bag.
Click To Tweet
By thinking how I could make my overall luggage lighter, my focus shifted from just what was in my suitcase to also include my travel makeup bag. As a result, I decreased my overall pre-travel anxiety by reducing the size of my travel makeup bag. How? First, I streamlined my must haves and packed only the necessities. But mostly because by having a second makeup bag completely separate from what I use at home, I could pack it early in the process. No more waiting to close up my suitcase or carry on and no more hoping and wishing everything would fit.
Discover new makeup
Through this process you'll get to discover new makeup and what woman doesn't love that? Here are a few of my new favorites that are in my bag.
Lorac Contour Pro Palette

: Can I say how much I love this palette? I no longer need to carry separate eyeshadow, too.

Ardell Demi Wispies

: They look totally natural and will definitely get you compliments. Wish I knew of these earlier so I could skip trying to layer on mascara.

House of Lashes eyelash adhesive

. Make sure to wait about 30 seconds before applying to your lashes to let the adhesive get tacky for a perfect fit.
Swap makeup from home into your travel makeup bag
For example, at home I made a bareMinerals custom foundation, Made 2 Fit, which I purchased after my Maybelline foundation. Therefore, the Maybelline foundation bottle transitioned from at home use to travel use and not my makeup drawer.
I wasn't using half of what I used to pack
Why carry it if I'm probably not using it. If you haven't used it in the past two trips, you're probably never going to use it.
Be Open to Learning New Tips and Tricks
I freely admit I just did what I've always done and didn't think twice about my makeup. I've been using powder and mineral foundation for ages, but then I watched a makeup tutorial video online. Elena Gant's YouTube channel, Elegant Life, is informative, fun, and life changing. I incorporated Elena's tips along with many of her makeup suggestions and now people ask me what's so different about me. All the while I know — it's just my makeup.
TSG Tip: Definitely invest in a good set of brushes for both at home use and for your travel makeup bag. It'll make a big difference in your overall final look and how you feel.
Do you ever arrive at your destination feeling frustrated because you've left your special bronzer or eyeshadow at home? End your travel procrastination and get organized today. I now love my travel makeup bag because I know exactly what's inside it.
What's in your travel makeup bag? Do you have any hints or tips you'd like to share? Don't forget to share this post on social media if you enjoyed it and tag me for a shout out. Check out more Travel Shop Girl topics, including travel tips on the website. Now get out there and travel! If you've got a little more disposable income why not think about purchasing a caravan for your travels; it gives you such an authentic experience of wherever you travel to. You can even get help with the initial cost from Auto Finance Online.